Disclosure:
Your support helps keep Commodity.com running! We earn a referral fee for some brokers & services we list on this page.
Learn more...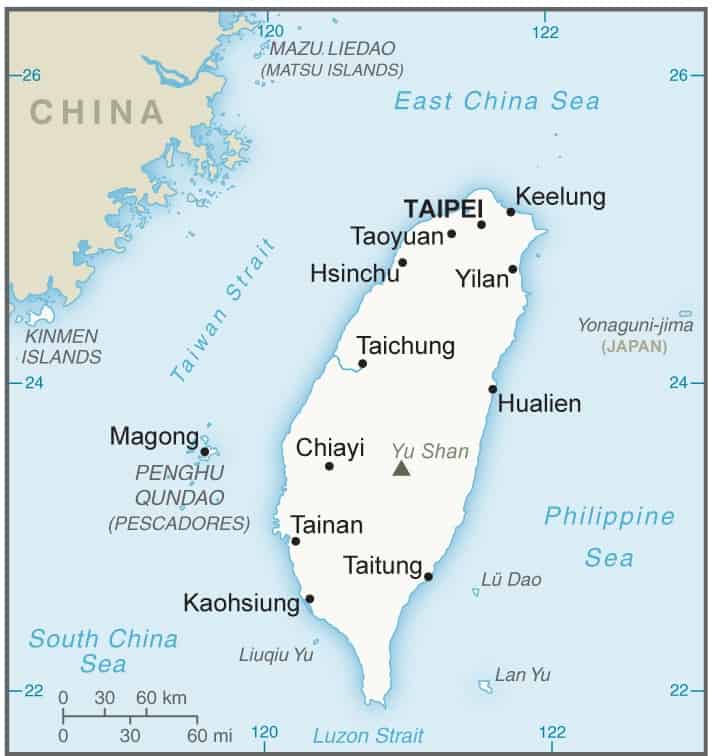 Economy of Taiwan -Overview
Taiwan has an economy that's largely driven by its reliance on a strong export economy and it's particularly reliant on the exports of electronics, machinery and petrochemicals.
Analysts tend to view this as a fairly unique situation with a specific set of challenges to contend with, such as a heavy dependence on exports, diplomatic isolation, and increasing competition from China at a time when the country has a low birth rate and a rapidly aging population.
The island runs a trade surplus with many economies, including China and the United States.
Taiwan's annual exports total $302 billion and total imports are $272 billion.
Taiwan's Top 5 Commodity Exports
| Commodity | Amount (Annually) |
| --- | --- |
| Refined Petroleum | $21.1 billion |
| Flat-Rolled Stainless Steel | $2.09 billion |
| Coated Flat-Rolled Iron | $2.08 billion |
| Silver | $1.93 billion |
| Copper Foil | $1.57 billion |
Taiwan's Other Notable Exports
Integrated Circuits – $57.9 billion
LCD's – $16.8 billion
Telephones – $10.6 billion
Semiconductor Devices – $8.26 billion
Printed Circuit Boards – $5.97 billion
Top export destinations for Taiwan are China ($73.9 billion), Hong Kong ($38.4 billion), United States ($33.6 billion), Japan ($19.6 billion) and Singapore ($16.2 billion). Over 73% of all Taiwan's exports are delivered to other Asian countries and trade partners.
Taiwan's Top 5 Commodity Imports
| Commodity | Amount (Annually) |
| --- | --- |
| Crude petroleum | $35.9 billion |
| Refined petroleum | $14.6 billion |
| Coal Briquettes | $8 billion |
| Soybeans | $1.46 billion |
| Corn | $1.42 billion |
Taiwan's Other Notable Imports
Integrated Circuits – $81.7 billion
Semiconductor Machinery – $10.2 billion
Cyclic Hydrocarbons – $3.92 billion
Oscilloscopes – $2.56 billion
Raw Plastic Sheeting – $2.36 billion
More Information About Taiwan's Imports/Exports
Refined Petroleum
Refined petroleum is the third most traded product in the world and the annual export market is worth $412 billion with Taiwan taking a 3.5% share.
Refined petroleum oil is the second largest export of Taiwan and represents 7% of their total exports, behind integrated circuits (19%).
Three of the top 5 products imported by Taiwan are crude oil petroleum (13%), refined petroleum (5.4%) and petroleum gas (3.9%).
Flat-Rolled Stainless Steel
The annual export market for large flat-rolled stainless steel is worth $20.8 billion and Taiwan enjoys a 10% share of this trade.
Finland, China, and Belgium are the only other countries to export more flat-rolled stainless steel each year.
Coated Flat-Rolled Iron
Coated flat-rolled iron is the 72nd most traded product with annual exports worth $37.8 billion and Taiwan has a 5.5% market share.
Taiwan is the sixth largest exporter of coated flat-rolled iron. China is the largest exporter (28%), followed by South Korea (13%) and Belgium (7.4%).
Silver
The global export market for silver is worth $18.2 billion and Taiwan is among the top exporters alongside Mexico and South Korea.
The value of all silver exports has fallen by an average of 49% in the last five years and China is the only country among the top 15 producing countries to have registered sales growth in that period.
Copper Foil
The global annual export market for copper foil is worth $3.46 billion and the Asian region is a dominant force with 78% of all exports of this product coming from the region.
Copper foil is integral to the production of printed circuit boards (PCB) and due to Chinese incentives relating to increased electric car production, which rely on copper foil to make the electric vehicle batteries, there could be a potential copper foil shortage looming, as a production shortfall will affect the PCB industry as well.
A Few Interesting Facts
Taiwan has a higher percentage of women working than the United States and they represent 50.4% of the workforce.
Taiwan has a fertility rate of just over one child per woman, which ranks as one of the lowest in the world.
The Official name of Taiwan is the Republic of China but it is commonly referred to as Taiwan.
Taiwan is the largest economy and the most populous state that is not currently a member of the United Nations.
All Figures based on OEC/IMF 2016 projections unless otherwise stated.
Interested in Trading Commodities?
Start your research with reviews of these regulated brokers available in .
Loading table...
CFDs are complex instruments and come with a high risk of losing money rapidly due to leverage. Between 73.90%-89.00% of retail investor accounts lose money when trading CFDs. You should consider whether you understand how CFDs work and whether you can afford to take the high risk of losing your money.