In this economic guide to Estonia we'll give you an overview of the Estonian economy, including the country's primary imports and exports of goods and services.
Estonia Economy Overview
The Republic of Estonia garnered the 101st spot in the world when it came to GDP, according to the most recent data.
Estonia border neighbors are Russia, Finland, Sweden, and Latvia.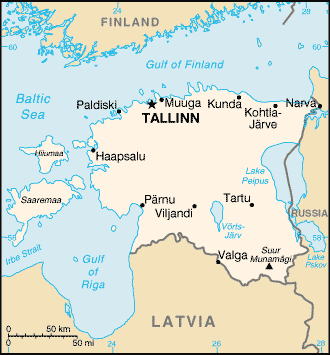 Estonia posted a negative trade balance of -$3.39 billion with exports totaling $17.6 billion and imports of $21 billion. Per capita, imports were also higher ($15.9k) than exports ($13.3k).
GDP of Estonia
Estonia's total GDP was $30.7 billion, ranking it in the near the middle of 196 countries. Globally, this northeastern European country ranks 77th in total exports and 76th in imports.
Estonia is the 24th most complex economy in the world, according to the Economic Complexity Index (ECI).
Estonia's Top 5 Commodity Exports
Estonia's top commodity exports are:
Refined Petroleum for $1.14 billion
Coal Tar Oil for $692 million
Sawn Wood for $383 million
Wood Carpentry for $341 million
Fuel Wood for $270 million
Estonia sends most of its exports to neighboring countries: Finland ($2.33 billion), Sweden ($1.72 billion), Russia ($1.54 billion), and Latvia ($1.35 billion). But it also sends $1.21 billion to the United States ($1.21 billion)
Estonia's Other Notable Exports
Other top Estonian exports include:
Broadcasting Equipment for $1.18 billion
Cars for $524 million
Prefabricated Buildings for $465 million
Telephones for $275 million
Electrical Transformers for $271 million
Estonia's Top 5 Commodity Imports
The top commodity imports of Estonia are:
Refined Petroleum for $1.82 billion
Coal Tar Oil for $606 million
Sawn Wood for $390 million
Mixed Mineral or Chemical Fertilizers for $345 million
Petroleum Gas for $150 million
As with its exports, Estonia's imports benefit its neighbors first and foremost. It's largest imports come from Russia ($2.45 billion), Finland ($1.79 billion), Lithuania ($1.46 billion), and Latvia ($1.45 billion). Its EU partner Germany also sent a hefty $2.22 billion in goods to Estonia.
Estonia's Other Notable Imports
The rest of Estonia's top imports are:
Cars for $1,33 billion
Broadcasting Equipment for $440 million
Packaged Medicaments for $402 million
Integrated Circuits for $335 million
Telephones for $256 million
Details About Estonia's Imports/Exports
Let's get into more details on Estonia's imports and exports.
Refined Petroleum
Estonia was the 57th largest exporter of Refined Petroleum, ranking it just above Cote d'Ivoire.
This former Soviet-bloc country sends a large portion of its Refined Petroleum to the US ($234 million), but other destinations include Saudi Arabia ($136 million), Nigeria ($83.5 million), Togo ($70.7 million), and the Netherlands ($68.3 million).
However, on the whole, Estonia imports more Refined Petroleum than it exports:
$1.82 billion in imports
$1.14 billion in exports
Estonia ranks 73rd for global imports of Refined Petroleum. It comes from Russia ($898 million), Lithuania ($500 million), Finland ($251 million), the United Kingdom ($30.9 million), and Denmark ($23 million).
Coal Tar Oil
Coal Tar Oil is another commodity which Estonia both imports and exports. Exports totaled $692 million, making it a heavy hitter for that commodity. Estonia ranks 12th globally for Coal Tar exports.
Destinations for Estonia's Coal Tar Oil include Singapore ($294 million), the Netherlands ($84.6 million), Latvia ($60.8 million), Switzerland ($54.4 million), and the United States ($48.7 million).
Incoming Coal Tar Oil imports totaled $606 million for Estonia, giving it a deficit with exports of around -$86 million. Estonia is the 13th biggest importer of Coal Tar Oil worldwide.
Estonia's imports of Coal Tar Oil came from Belarus ($305 million), Russia ($250 million), Denmark ($18.7 million), Ukraine ($16.2 million), and Finland ($13.5 million).
All figures based on OEC/IMF 2018 calculations and projections unless otherwise stated.
A Few Interesting Facts About Estonia
Estonia joined the EU and NATO in 2004.
Estonia is a mineral powerhouse with stores of oil shale, peat, phosphorites, limestone, dolomites, and other valuable commodities.
Traditional Estonian dishes include leavened rye bread, stews, berry jams, pickled gherkins, pearl barley, potato porridge, headcheese, and salt herring.
Regulated Brokers: Where Can I Trade Commodities?
Start your research with reviews of these regulated brokers available in .
CFDs are complex instruments and come with a high risk of losing money rapidly due to leverage. Between 74%-89% of retail investor accounts lose money when trading CFDs. You should consider whether you can afford to take the high risk of losing your money.
Further Reading