Disclosure:
Your support helps keep Commodity.com running! We earn a referral fee for some brokers & services we list on this page.
Learn more...
Risk Warning: Your Capital is at Risk.
Gold is one of the most traded commodities in the world. But it is also one of the most challenging because of its use in various industries and as a store of wealth.
This guide will help you understand how and where to get started buying or trading gold.
In a hurry? If you want to get started trading gold, here are brokers available in to consider:
There are several ways to trade gold. Some of these are derivatives like contracts-for-difference (CFDs) and options. We included a list of regulated brokers for traders who are ready to bet on gold prices.
Ways To Trade Gold
Ways to trade gold include derivatives like CFDs or physical trading with products like bullion.
This table gives a quick overview of the ways you can trade gold.
| Trading Method | Ownership | Management Costs | Expiry Date | Leverage |
| --- | --- | --- | --- | --- |
| Bullion | ✅ | ✅ | ❌ | ❌ |
| CFDs | ❌ | ❌ | ❌ | ✅ |
| Futures | ❌ | ❌ | ✅ | ✅ |
| Options | ✅ (if executed) | ❌ | ✅ | ✅ |
| ETFs/Mutual Funds | ✅ | ✅ | ❌ | ❌ |
| Shares | ✅ | ❌ | ❌ | ❌ |
How To Trade Gold Bullion
One way to speculate on the price of gold is to hold physical gold bullion such as bars or coins.
Bullion traders may choose to securely store their gold at home in a safe, or trade additional funds to hire an external high-security storage facility.
Here are some online gold bullion dealers you might consider:
BullionVault.com: A UK-based company shipping 100g gold bars to the UK, Austria, Belgium, Denmark, France, Finland, Germany, Ireland (Republic of), Italy, Luxembourg, Monaco, Netherlands, Portugal, Spain, Sweden, Croatia, Cyprus, Czech Republic, Estonia, Gibraltar, Latvia, Lithuania, Malta, Norway, Poland, Romania, Slovakia, Slovenia, Switzerland, Australia, Hong Kong, Japan, Malaysia, Mexico, New Zealand, Singapore, UAE, the US, and Canada. Bigger orders can be arranged to be shipped to other countries.
BullionStar.com: A Singapore-based bullion dealer having shipped to over 90 countries in 2018.
How to Trade Gold Stocks
Purchasing stocks in exploration and mining companies supposedly allows traders to make a leveraged bet on the price of gold. In theory, many of the costs of running a mining company are fixed.
Therefore, as the price of gold increases, the additional revenues should flow to the bottom line in the form of profits.
Markets assign a multiple to these profits, so in bull markets, traders should make more money from owning shares.
Gold Explorer and Mining Stocks
Here are a few leading gold explorer and mining stocks:
Top Gold Stocks by Market Capitalization
Overview
Listings
Founded
Interesting Fact
Barrick Gold
Largest gold mining company in the World, headquartered in Toronto.
Toronto (TSX)
New York (NYSE)
1983
Originally founded as an oil and gas company.
Newmont Mining
US gold mining company based in Colorado.
New York (NYSE)
1916
Newmont is the only gold company in the Standard & Poor's 500 Index
Polyus Gold
Russian gold mining company headquartered in Moscow.
London (LSE)
Moscow (MCX)
2006
The largest gold miner in Russia.
AngloGold Ashanti
Johannesburg based global miner and explorer.
Johannesburg (JSE)
New York (NYSE)
Sydney (ASX)
2004
The company has 17 mines in 9 countries.
Newcrest Mining
Australia's leading gold mining company.
Sydney (ASX)
1966
Originally a subsidiary of the Newmont Mining Company.
To get started you can read our introduction to online stock brokers.
How To Trade Gold ETFs
ETFs are financial instruments that trade like stocks. They are baskets of company shares traded during the day on stock exchanges.
The number of shares in ETFs vary based on the number of company shares available at the time.
Biggest Gold ETFs
Here are the live prices for the five biggest gold ETFs ranked by total assets under management as of 2020.
| SPDR Gold Trust | iShares Gold Trust | SPDR Gold MiniShares Trust | ETFS Physical Swiss Gold Shares | GraniteShares Gold Trust |
| --- | --- | --- | --- | --- |
| | | | | |
Here is a fifty-year historical price chart of gold prices, to put the above ETF tickers into perspective.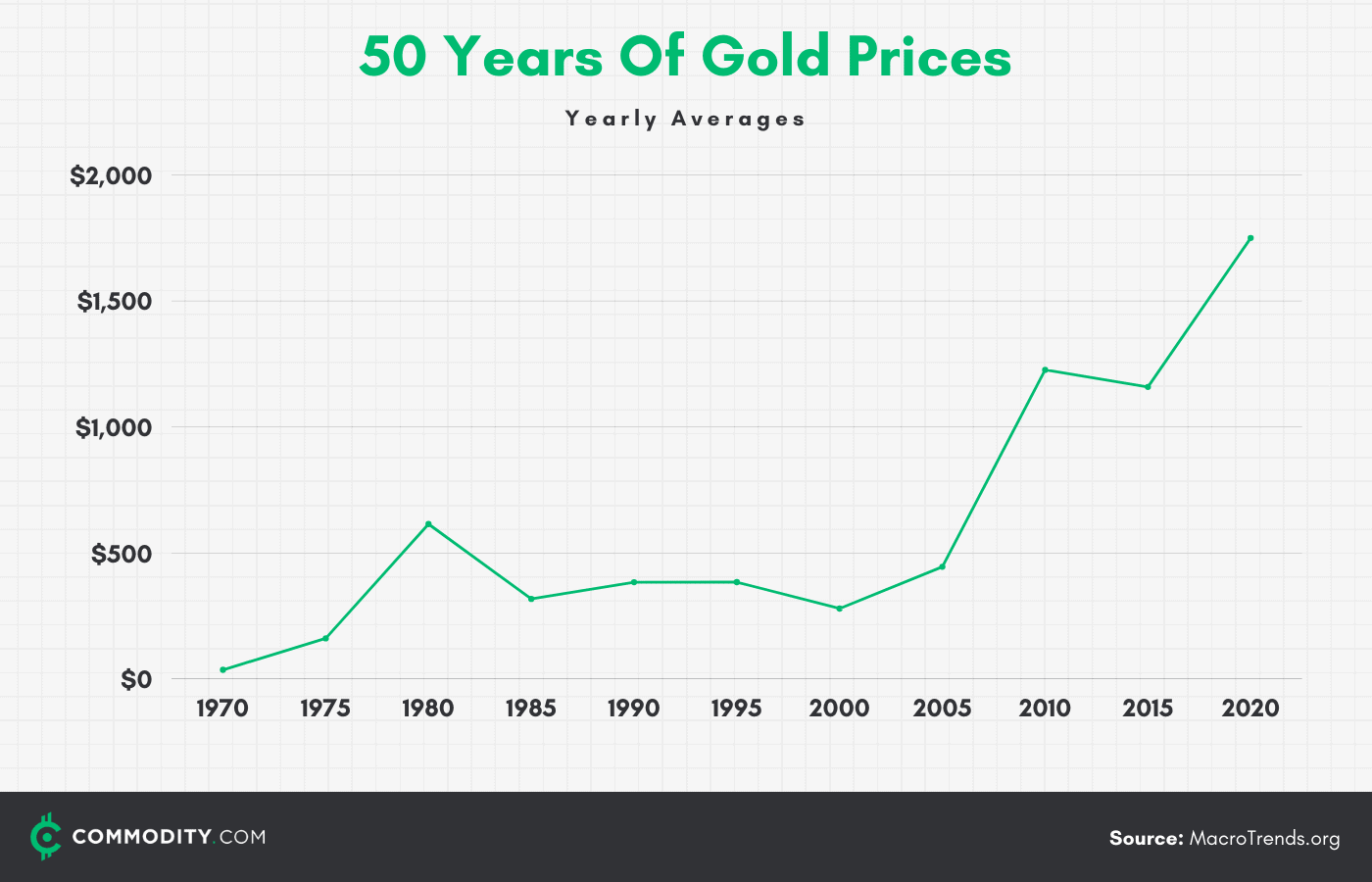 How To Trade Gold CFDs
Contracts for difference (CFD) allow traders to speculate on gold prices without actually owning physical gold, mining shares, or financial instruments such as ETFs, futures, or options.
The value of a CFD is the difference between the price of a gold instrument at the time of purchase and the current price. The price difference can be based on the likes of gold's spot price, gold ETFs, gold futures, and gold mining shares.
How Do CFD Traders Get Started?
CFD traders open an account with a broker and deposit funds. The funds serve as a margin against the change in the value of the CFD.
Trading gold CFDs doesn't include storage costs, since there is no physical trading involved.
However, CFDs are still high-risk financial instruments, and your capital is at risk so you should be an experienced trader or seek out a broker that offers a demo account to allow you to develop your knowledge in advance of risking real money.
IMPORTANT: CFDs are not available in the USA due to local regulation, and regulated brokers do not accept US citizens or US residents as clients.
How To Trade Gold Futures
These gold trading derivative instruments allow traders to speculate on the future gold price movements through the purchase of exchange-traded contracts.
Such gold futures contracts can be found on exchanges like the Chicago Mercantile Exchange (CME), Tokyo Commodity Exchange (TOCOM), and the London Metal Exchange (LME).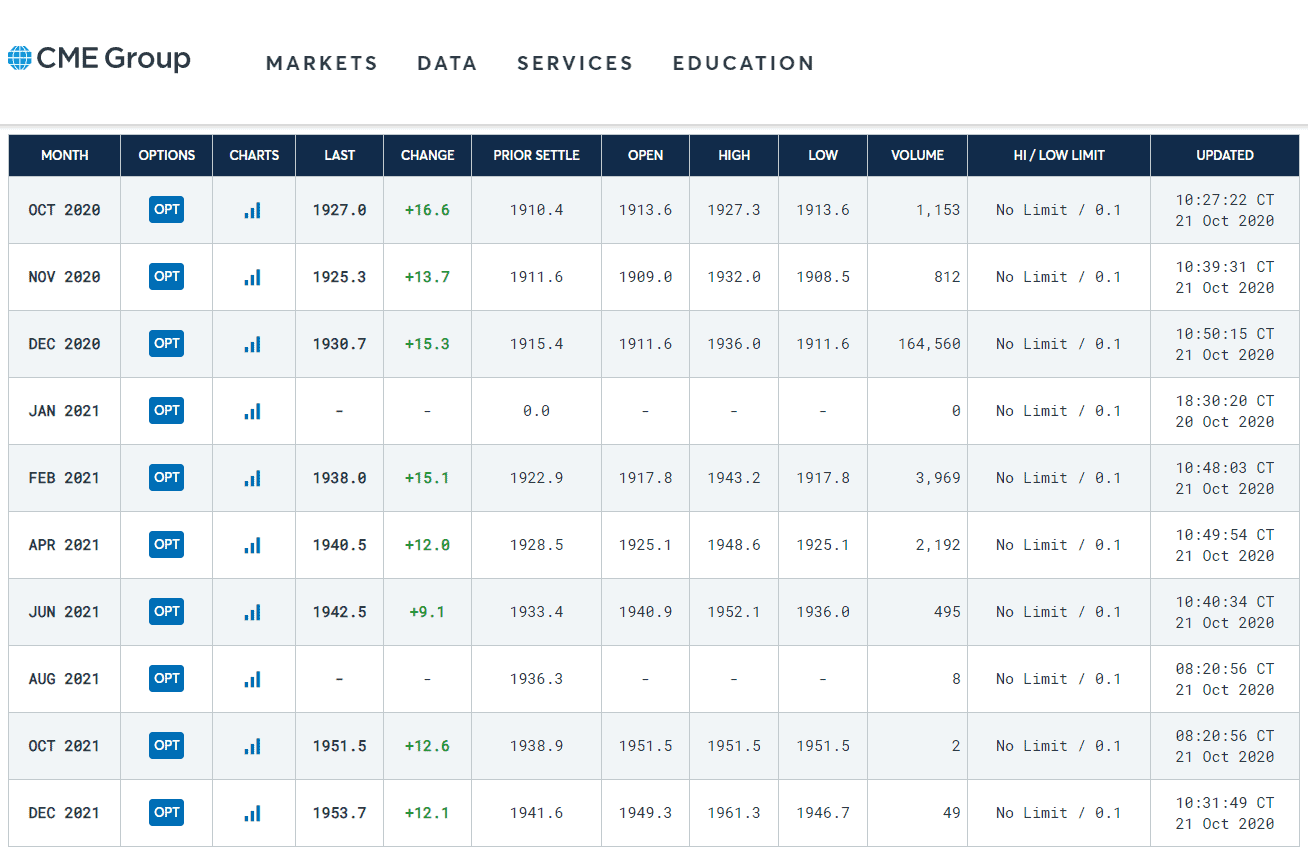 Futures contracts come with a fixed or variable margin and leverage. When purchasing a futures contract, the trader has the choice to accept the agreed-upon delivery date or perform what's called a 'rollover'.
A rollover means that the contract is extended for a later delivery date.
Gold Futures Contracts Explained
Gold futures trade on the COMEX, which is part of the Chicago Mercantile Exchange. The following is a summary of the contract specifications for Gold Futures (symbol GC), along with E-Mini Gold, and Micro Gold.
| | Gold | E-Mini Gold Futures | Micro Gold Futures |
| --- | --- | --- | --- |
| Contract Unit | 100 troy ounces | 50 troy ounces | 10 troy ounces |
| Price Quote | U.S. Dollars and Cents per troy ounce | U.S. Dollars and Cents per troy ounce | U.S. Dollars and Cents per troy ounce |
| Min. Price Fluctuation | $0.10 per troy ounce | $0.25 per troy ounce | $0.10 per troy ounce |
| Listed Contracts | Trading is conducted for delivery during the current calendar month; the next two calendar months; any February, April, August, and October falling within 23 months; and any June and December falling within 72 months beginning with the current month. | Trading is conducted for delivery in any February, April, June, August, October, and December falling within a 24-month period for which a 100 Troy Ounce Gold Futures contract is listed. | Monthly contracts listed for any Feb, Apr, Jun, Aug, Oct, and Dec in the nearest 24 months. |
| Settlement Method | Deliverable | Financially Settled | Deliverable |
How To Trade Gold Options
Options contracts are also a leveraged way of trading gold. The trader purchasing the contract can buy an options contract to sell or to buy gold at a future date.
The term options is short for the "option to execute." The trader pays what's called an option's premium, a fee, which buys the freedom to withdraw from the purchase before the execution date.
Options traders may find that they were right about the direction of the gold market but still lost money on their trade.
Trading Gold With Forex
If you already trade on the foreign exchange (forex), an easy way to get into gold trading is with metal currencies pairs. It is roughly the same as with regular currency pairs like GBP/USD (Great Britain pound — US dollar).
But instead of two currencies, there is a metal and its spot price in a particular currency. The most common are for gold (XAU/USD) and silver (XAG/USD).
Best Brokers For Gold in
The following regulated brokers offer bullion, CFDs and other derivatives that allow traders to speculate on gold prices.
CFDs are complex instruments and come with a high risk of losing money rapidly due to leverage. Between 71.00%-89.00% of retail investor accounts lose money when trading CFDs. You should consider whether you understand how CFDs work and whether you can afford to take the high risk of losing your money.
Useful Gold Trading Strategies
There are countless gold trading strategies used to determine when to buy and sell gold. As we've discussed, gold trading is a complex venture and must be studied carefully.
However, below we outlined two of the more popular strategies using the gold/silver spread and gold-stock pairs.
The Gold/Silver Spread
One popular trading strategy employed by some longer-term traders is the gold/silver spread.
Historically, these two metals have both been viewed as stores of value with commercial uses.
Some gold and silver traders choose to track this ratio and develop pairs trading strategies based on which asset is cheaper relative to the other. When the ratio is high, it may indicate that gold is overvalued or that silver is undervalued.
However, there is no guarantee that historical correlations will remain the same in the future.
Gold Stocks Pairs Trade with Gold
Another popular strategy is to trade gold as a pairs trade against gold stocks.
Some traders track the historical relationship between the price of gold and the price of gold stock indices such as the Philadelphia Gold and Silver Sector Index (XAU) or the AMEX Gold BUGS (Basket of Unhedged Gold Stocks) Index (HUI).
The idea is that gold stocks – particularly those companies that don't hedge their exposure to the metal – are a leveraged way to purchase gold and that the two asset classes may be positively correlated.
Gold Trading Tips: The Basics
Before trading gold, traders should determine what's right for their unique situations:
Purchase size: Consider how much exposure you want to have. Many traders get carried away and take outsized positions in the metal.
Physical gold: Some traders avoid physical gold because it's easy to gain exposure through stocks or ETFs. However, physical gold is often used as a storage of value in times of inflation — by no means does this mean it's a safe one.
The US dollar: The movement of currency markets may have a significant impact on gold prices, especially the world reserve currency, the US dollar.
Take a long-term view: Gold is a volatile asset and can be subject to some wild price swings. At the same time, the metal has a long trading history. Traders may want to pay attention to key long-term support and resistance levels for clues about where the metal is heading next.
Important: This is not investment advice. We present a number of common arguments for and against investing in this commodity. Please seek professional advice before making investment decisions.
FAQs
Below we answer some common questions about gold and gold trading.
What was the highest price of gold?
In terms of fiat currency price, the highest price of gold in modern times was $1,895 in September 2011. However, the price of gold has varied widely for hundreds of years. If we look only since the 1970s, gold reached its highest level in inflation-adjusted dollars in 1980. Before the introduction of fiat currencies, historical gold prices were higher.
What is the disadvantage of gold?
Like all commodities, gold has some disadvantages. Some forms of it can be costly to trade or store in case of trading gold physically, like bullion bars and coins. But the biggest disadvantage of gold for some traders is that its price is historically volatile.
What does "spread" mean?
The spread is the difference between the buy and sell price of a financial instrument like gold CFDs. A lower or "tighter" spread is better for the trader, a higher or "wider" spread generally means the broker is making more on the trade. Spreads can be fixed or variable.
Is trading gold profitable?
Looking at gold prices since 1970, there were close to as many opportunities to lose money as to gain it despite the fact that the current price is much higher. Successful gold trading requires expertise, but expertise alone doesn't ensure success. And some aspects of trading gold are simply out of the trader's hands.