Last Updated on
4 Reasons To Trade Gold
Investors purchase gold for a variety of reasons, but the following are the most common ones:
Hedge against inflation
Hedge against global instability
Speculate on demand growth
Portfolio diversification
How Does Gold Act as an Inflation Hedge?
Gold represents a viable way to hedge against weakness in the largest global economy – the United States.
US economic weakness is likely to spill over into other economies, and central banks typically react by lowering interest rates and increasing the money supply. When these remedies fail to spur demand, they can lead to significant inflation and loss of purchasing power.
Unlike fiat currencies, gold maintains its purchasing power in periods of inflation.
How Does Gold Perform Amid Global Instability?
Gold generally performs well during global crises. Wars, terrorist attacks and pandemics, for example, often produce a flight to safety. Gold generally benefits at the expense of other assets during turbulent times.
Speculate on Rising Gold Prices 
Investors optimistic about the economic prospects of developing nations such as China and India may see gold investing as a way to profit from this view. Gold has played an important role historically in these countries, and more wealth will likely translate into more demand for gold.
Diversify Your Investment Portfolio 
Many traders view gold as a way to balance their investments. Historically, gold has a lower correlation to many asset classes, which makes it an attractive instrument to diversify.
How Do Gold Investments Work? 
Think of investing in gold as a four-tiered pyramid, with the safest tier as your foundation (at the bottom) and then the risk (and reward potential) rises as you climb upward on the pyramid.
Insurance – gold bullion in your possession.
Investment / Saving – gold bullion on deposit, gold certificates, allocated gold accounts.
Investment – producing gold mining company shares, gold ETFs.
Speculation – gold CFDs, gold explorer shares, gold futures, gold options.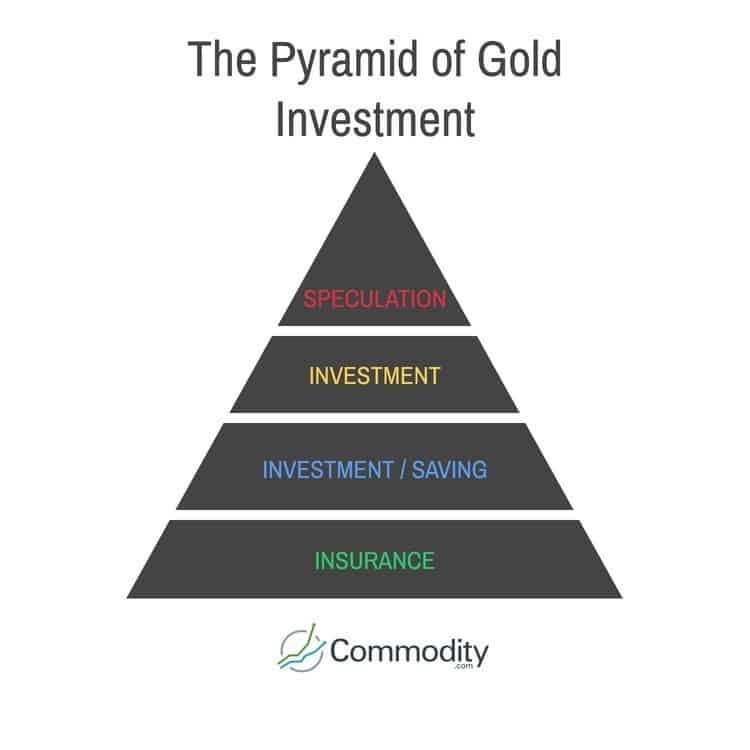 Should I Invest in Gold?
The following is not investment advice, it's intended for information only. We lay out a number of the reasons for and against investing or trading gold, it is up to you to make up your mind or seek professional advice.
As with any investment, there are both risks and rewards to investing in gold. In the case of both economic calamities and geopolitical turmoil, gold may provide portfolio protection. For this reason, traders might consider investing at least a small portion of their assets in gold.
Gold also offers traders a way to cash in on strength in emerging markets. Many emerging economies have experienced long periods of economic and political instability, meaning citizens have probably experienced devaluations in their local currencies and are less likely to trust fiat currencies.
As wealth expands in these economies, so too should demand for gold. Investors who want exposure to growth in emerging economies without investing in local stock and bond markets in these countries should consider gold.
Investing in gold, however, is not without risks. Strength in the US dollar and fiscal hawkishness from central banks may lead to significant price declines for gold. A slowdown in China and India or large sales of gold reserves by central banks could also cause the price to head lower.
Finally, traders should consider that gold is a commodity that is subject to the whims of the market. If trader sentiment toward gold sours, the price will head lower.
Never invest more than you can afford to lose.

What Do the Experts Think About Gold?
Investment experts have divided opinions on gold investing.
Legendary trader Warren Buffett holds a longstanding negative opinion of gold. Buffett argues that gold doesn't have earnings or pay dividends and is therefore inferior to stocks.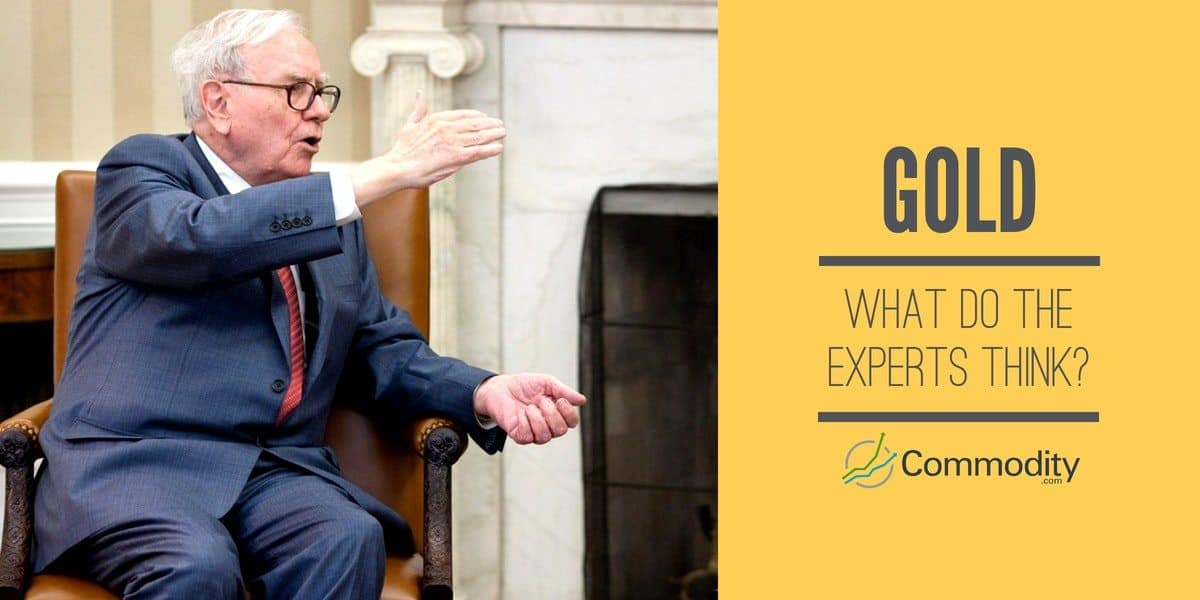 "Gold gets dug out of the ground in Africa, or someplace. Then we melt it down, dig another hole, bury it again and pay people to stand around guarding it. It has no utility. Anyone watching from Mars would be scratching their head."

Warren Buffett – on why he doesn't invest in gold
Buffett has a simple tenet when it comes to picking winning securities. "All there is to investing," he says, "is picking good stocks at good times and staying with them as long as they remain good companies." Sticking with that philosophy, Buffett's results speak for themselves. A $10,000 investment in Berkshire Hathaway in 1965 would be worth nearly $50 million today.
But one investment Buffett won't stash in his portfolio is gold, a stance that has vexed gold bugs for decades.
Gold has most of the value components Buffett likes to see in each of his portfolio holdings:
Exposure to a high-quality, growth-oriented investment
Protection against economic volatility
Leverage in gaining quick cash liquidity
Famed hedge fund manager, Jim Rogers, has long argued that every trader should hold physical gold coins in their portfolio as a hedge against the collapse of other assets.
Superstar hedge fund manager, George Soros, has often held positions in gold mining stocks. Soros and hedge fund manager Stanley Druckenmiller see irresponsible actions by the Federal Reserve Bank as a reason to hold gold assets.

How to Trade Gold
Gold traders have several ways to invest in the commodity:
Gold Trading & Investing Methods Compared
| Method of Investing | Complexity Rating (1 = easy, 5 = hard) | Storage Costs | Security Costs | Expiration Date | Management Cost | Leverage | Regulated |
| --- | --- | --- | --- | --- | --- | --- | --- |
| Gold Bullion | 1 | YES | YES | NO | NO | NO | NO |
| CFDs | 3 | NO | NO | NO | NO | YES | YES |
| Futures | 5 | NO | NO | YES | NO | YES | YES |
| Options | 5 | NO | NO | YES | NO | YES | YES |
| ETFs | 2 | YES* | YES | NO | YES | NO** | YES |
| Shares | 2 | NO | NO | NO | NO | YES | YES |
*Storage costs are passed on to traders in the form of management fees.
**Some metals ETFs offer exposure to 2x or 3x the movement in gold prices.

Gold Bullion
One way to speculate on the price of gold is to hold physical gold bullion such as bars or coins. While this is the most direct way to invest in gold, investing in bullion requires a secure storage facility. Ultimately, the cost of this storage could make holding physical gold an expensive proposition.
Here are some online gold bullion dealers you might consider:
Gold CFDs
There is a way to trade gold that some may find beneficial in many ways to the alternatives discussed in this guide. Through a derivative instrument known as a contract for difference (CFD), traders can speculate on gold prices without actually owning physical gold, mining shares or financial instruments such as ETFs, futures or options.
The value of a CFD is the difference between the price of gold at the time of purchase and the current price. In other words, the value of a CFD increases as the price of gold increases, but falls when gold prices decline.
CFD traders open an account with a regulated broker and deposit funds. The funds serve as a margin against the change in the value of the CFD.
Investing in CFDs does not require the trader to pay for gold storage or roll futures contracts forward every month. Traders also don't have to worry about getting the timing and size of markets move correct in order to profit on their trades.
CFDs are still high-risk financial instruments, however, and your capital is at risk so you should be an experienced trader or seek out a broker that offers a demo account to allow you to develop your knowledge in advance of risking real money.
*The spread is the difference between the buy and sell price of a financial instrument. A lower or "tighter" spread is better for the trader, a higher or "wider" spread generally means the broker is making more on the trade. Spreads are variable. 
**You should consider whether you can afford to take the high risk of losing your money.
Start Trading Gold
<!–
–>
Start trading today at
Plus500
.com.

One of the leading CFD brokers for trading precious metals, like gold, is Plus 500. Here's why:
No commission on trades (other charges may apply)
Free demo account
Easy to use (mobile-friendly) platform
Industry-leading risk management tools
Trade gold and hundreds of other CFDs
Your funds are safe – publicly listed company regulated by the UK's Financial Conduct Authority and Cyprus' Securities and Exchange Commission
Start Trading at Plus500.com
CFD Service. 80.6% lose money.
Important: CFDs are complex instruments and come with a high risk of losing money rapidly due to leverage. Between 74-89% of retail trader accounts lose money when trading CFDs. You should consider whether you understand how CFDs work and whether you can afford to take the high risk of losing your money.
Gold Futures
These gold trading derivative instruments allow traders to speculate on the future price of gold through the purchase of exchange-traded contracts.
Futures markets offer traders a liquid and leveraged way to trade gold. However, leverage can lead to margin calls when prices decline. Also, futures contracts come with definite expiration dates. This requires the trader to either accept delivery of gold or roll the contract forward to the next month. In other words, trading futures requires active and onerous maintenance of positions.

How Can I Trade Gold Futures?
Gold futures trade on the COMEX, which is part of the Chicago Mercantile Exchange. The following is a summary of the contract specifications for gold (symbol GC):
| | Gold |
| --- | --- |
| Contract Unit | 100 troy ounces |
| Price Quote | U.S. Dollars and Cents per troy ounce |
| Min. Price Fluctuation | $0.10 per troy ounce |
| Listed Contracts | Trading is conducted for delivery during the current calendar month; the next two calendar months; any February, April, August, and October falling within a 23-month period; and any June and December falling within a 72-month period beginning with the current month. |
| Settlement Method | Deliverable |
Gold Options
Like futures, options are a leveraged derivative instrument for trading gold. However, options traders must be correct on the timing and the size of the market move to make money on a trade. Options traders may find that they were right about the direction of the gold market and still lost money on their trade.

Gold ETFs
While ETFs may seem like the perfect proxy for investing in gold, traders should be aware of their considerable risks and costs. Many ETFs invest in gold futures or options, which have the risks outlined above. As for the ETFs that invest in gold itself, these funds incur the same storage and security costs just as individuals do. Ultimately, these costs get passed on to the trader.
Finally, ETFs are financial instruments that trade like stocks. When stock markets decline, ETFs are not immune from the same pressures that drag stocks down. Investors may find that their investment in gold is behaving more like a stock investment.
Here are some leading gold ETFs (based on assets under management):
Top 5 Gold ETFs by Assets Under Management
| SPDR Gold Trust | iShares Gold Trust | ETFS Physical Swiss Gold Shares | PowerShares DB Gold Fund | Van Eck Merk Gold Trust |
| --- | --- | --- | --- | --- |
| | | | | |
Top 5 Gold Stocks by Market Capitalization
Purchasing shares in exploration and mining companies supposedly allows traders to make a leveraged bet on the price of gold. In theory, many of the costs of running a mining company are fixed. Therefore, as the price of gold increases, the additional revenues should flow to the bottom line in the form of profits. Markets assign a multiple to these profits, so in bull markets traders should make more money from owning shares.

The flaw in this argument, however, is that gold prices rarely rise in a vacuum. When the price of gold increases, usually oil and other commodities needed to run a mining company rise as well. In fact, mining shares have rarely if ever outperformed gold prices during bull markets.

Here are a few leading gold explorer and mining stocks:

Current Price
Overview
Listings
Founded
Number of Employees
Interesting Fact
Barrick Gold
Largest gold mining company in the World, headquartered in Toronto.
Toronto (TSX)
New York (NYSE)
1983
11,000
Originally founded as an oil and gas company.
Newmont Mining
US gold mining company based in Colorado.
New York (NYSE)
1916
34,000
Newmont is the only gold company in the Standard & Poor's 500 Index
Polyus Gold
Russian gold mining company headquartered in Moscow.
London (LSE)
Moscow (MCX)
2006
4000
The largest gold miner in Russia.
AngloGold Ashanti
Johannesburg based global miner and explorer.
Johannesburg (JSE)
New York (NYSE)
Sydney (ASX)
2004
62,000
The company has 17 mines in 9 countries.
Newcrest Mining
Australia's leading gold mining company.
Sydney (ASX)
1966
1,500
Originally a subsidiary of the Newmont Mining Company.
What Are Some Gold Trading Strategies and Tips?
There are countless strategies traders use to determine when to buy and sell gold. However, we outlined three of the more popular tools, tips and strategies traders use in constructing gold trades:
Follow the Yen
The Japanese yen has historically enjoyed an extremely high correlation with the price of gold. In fact, charts of gold priced in dollars over multiple timeframes typically look almost like the mirror opposite of the price of USD/JPY.
The main reason for this tight relationship is the perception that both gold and the yen are safe havens.
In addition, both the USD/JPY and gold price are largely a function of real interest rates and perceptions about where they are headed. Traders looking for setups in gold may want to analyze the yen to see if similar setups prevail in the currency.
The Gold/Silver Spread
One popular trading strategy employed by some longer-term traders is the gold/silver spread. Historically, these two metals have both been viewed as stores of value, although silver has developed many more commercial uses, perhaps as a function of its lower price.
Some traders choose to track this ratio and develop pairs trading strategies based on which asset is cheaper relative to the other. However, just as with the yen or with any pairs trade, there is no guarantee that historical correlations will remain the same in the future.
Gold Stocks Pairs Trade with Gold
Another popular strategy is to trade gold as a pairs trade against gold stocks. Some traders track the historical relationship between the price of gold and the price of gold stock indices such as the Philadelphia Gold and Silver Sector Index (XAU) or the AMEX Gold BUGS (Basket of Unhedged Gold Stocks) Index (HUI).
The idea is that gold stocks – particularly those companies that don't hedge their exposure to the metal – are a leveraged way to purchase gold and that the two asset classes should be positively correlated.
How Should Beginners Invest in Gold?
As we've seen there are several ways to invest in gold, and for beginners, each of these requires some homework:
1) Bullion
The most direct way to own gold is through the physical purchase of bars and coins. The most critical factor for beginners is to find a reliable bullion dealer for their physical purchases:
Reputation: There are many online resources for conducting due diligence. Make sure your bullion dealer has an unblemished track record and positive feedback from customers.
Client References: Ask for references from clients and speak to them about their purchasing experiences.
Compare Prices: A reputable dealer will charge an equitable price for coins and bars. This price will vary by item, but with a little comparison shopping, you can make sure you are paying a fair price. Bear in mind, physical gold prices can vary from futures or ETF prices.
2) ETFs
A critical component of ETF investing is the fees funds charges to clients. Funds incur costs such as bullion storage in the case of physical gold or trading costs in the case of ETFs that invest in gold futures. These costs get passed on to ETF buyers and are part of the management fee.
Sites such as ETF database (http://etfdb.com/) can provide a wealth of information on funds including costs. Make sure to do an apples-to-apples comparison when evaluating funds. That is, compare funds with other funds according to their methods of buying gold (i.e., futures, equities, bullion, etc.).
3) Equities
Precious metals equities are not only affected by the price of gold, but also by the vagaries of the stock market. However, gold traders can protect themselves by investing in companies with successful track records and experienced management teams. Company annual reports and analyst reports are a great place to start your investigation.
4) CFDs
Beginners purchasing gold through CFDs should first and foremost make sure they are working with a regulated broker with a good reputation. Traders should also carefully investigate the brokers' fees and charges so they can compare them with other providers.
What Are Some Gold Trading Basics?
Here are a few tips traders may want to keep in mind when trading gold. However, these tips should not be construed as investment advice. The individual must determine on their own what's right for their unique situations:
Purchase size: A popular reason for holding gold is as a safe haven or insurance for your portfolio. Therefore, consider how much exposure you want to have. Many new traders get carried away and take outsized positions in the metal.
Physical gold: Some traders avoid physical gold because it's easy to gain exposure through stocks or ETFs. However, if insurance against a financial debacle is your reason for holding gold, then it may make sense to have a portion of your investment in physical gold.
The dollar: Probably the single most important data new traders should focus on is the dollar and the factors that move the currency markets. These factors are likely to have the biggest effects on gold prices.
Be a Contrarian: Perhaps more than any other asset, gold prices are often subject to a herd mentality. When sentiment for gold is at its worst, it often represents a good time to buy. Similarly, when the markets become too bullish about gold, it often means it's time to sell. There are a variety of ways of measuring sentiment including the Commitment of Traders reports published by the Commodity Futures Trading Commission (CFTC).
Take a long-term view: Gold is a volatile asset and can be subject to some wild price swings. At the same time, the metal has a long trading history. Traders may want to pay attention to key long-term support and resistance levels for clues about where the metal is heading next.