Disclosure:
Your support helps keep Commodity.com running! We earn a referral fee for some brokers & services we list on this page.
Learn more...
Last Updated on
Risk Warning: Your Capital is at Risk.
Crude oil is the most traded commodity. While the renewable energy movement is developing rapidly, oil remains one of the key resources of the world.
In this article, we introduce you to the oil market, the types of oil trading, and how oil trading works and how to get started.
In a hurry? If you are looking to get started trading oil ASAP, here are our broker suggestions to consider:
Continue reading to learn about the commodity itself, why traders are interested in it, and how you can trade it.
Understanding Oil Trading
Perhaps the most significant advantage of trading oil is that demand is virtually guaranteed.
There may be fluctuations in supply—and therefore price. Experienced traders with a high tolerance for risk aim to make substantial profits on low capital outlays, especially with CFDs, but also with oil ETFs and futures contracts.
The major risk with commodities in general—and oil trading in particular—is the extreme volatility in the market. The risk of loss is high, especially with derivatives, due to factors entirely beyond the trader's control.
A High-Risk Safe Haven?
In the case of oil, traders often use the commodity to counter price movements. What this means is that when the market moves in a particular direction, oil prices have tended to be stubborn and prevail, irrespective of the high volatility and risk involved.
Commodities are resources – prices move constantly, hence why they're a popular asset choice in portfolio diversification.
Commodities are often correlated with other asset classes like stocks.
Pros and Cons of Oil Trading
Oil is a popular commodity on a global scale, but trading it has its ups and downs.
Pros
Potential for huge profit margins upon well exploration/discovery
Opportunity for tax advantages
Cons
Promising profit margins due to high volatility also mean high risk
Oil isn't without competition – renewable and nuclear resources are on the rise
Important: This is not investment advice. We present a number of common arguments for and against investing in this commodity. Please seek professional advice before making investment decisions.
3 Reasons People Trade Oil
Crude oil trading has several advantages over traditional equities for certain investor classes. Depending on your objectives, oil trading can be used for:
Diversification – Adding oil commodities to an equities-only or fixed-income portfolio can lower the overall volatility because there is a varying correlation between these asset classes.
Inflation Hedging – Commodities have an intrinsic value independent from currency, which means they hold their value even as the value of the currency falls in an inflationary environment. However, as of April 2020, this isn't applicable to oil, give the sudden drop in demand.
Speculation – There are often wild swings in commodities prices; trading in oil futures and derivatives can be a way to profit quickly from movement in oil prices, which are notoriously volatile. It's not unheard of for prices to move 5% or 10% in a single trading session.
How to Trade Oil CFDs
One of the easiest ways to start trading is with oil CFDs.
A "Contract For Difference", or CFD, is a contract between a trader and a broker to exchange the difference in value between when a trade is entered and exited. Standard leverage varies, although lower-end margins are more typical.
IMPORTANT: CFDs are not available in the USA due to local regulation, and regulated brokers do not accept US citizens or US residents as clients.
Just about every CFD broker provides the facility to speculate on the price of oil futures contracts but contract sizes are typically much smaller than standard futures contracts.
A crude oil CFD order can be for as little as 25 barrels (depending upon the firm) compared to 1,000 barrels for a standard futures contract.
A 24-Hour, Commission-Free Market
CFD trades are typically commission-free (the broker makes a profit from the spread), and since there is no underlying ownership of the asset, there is no shorting or borrowing cost.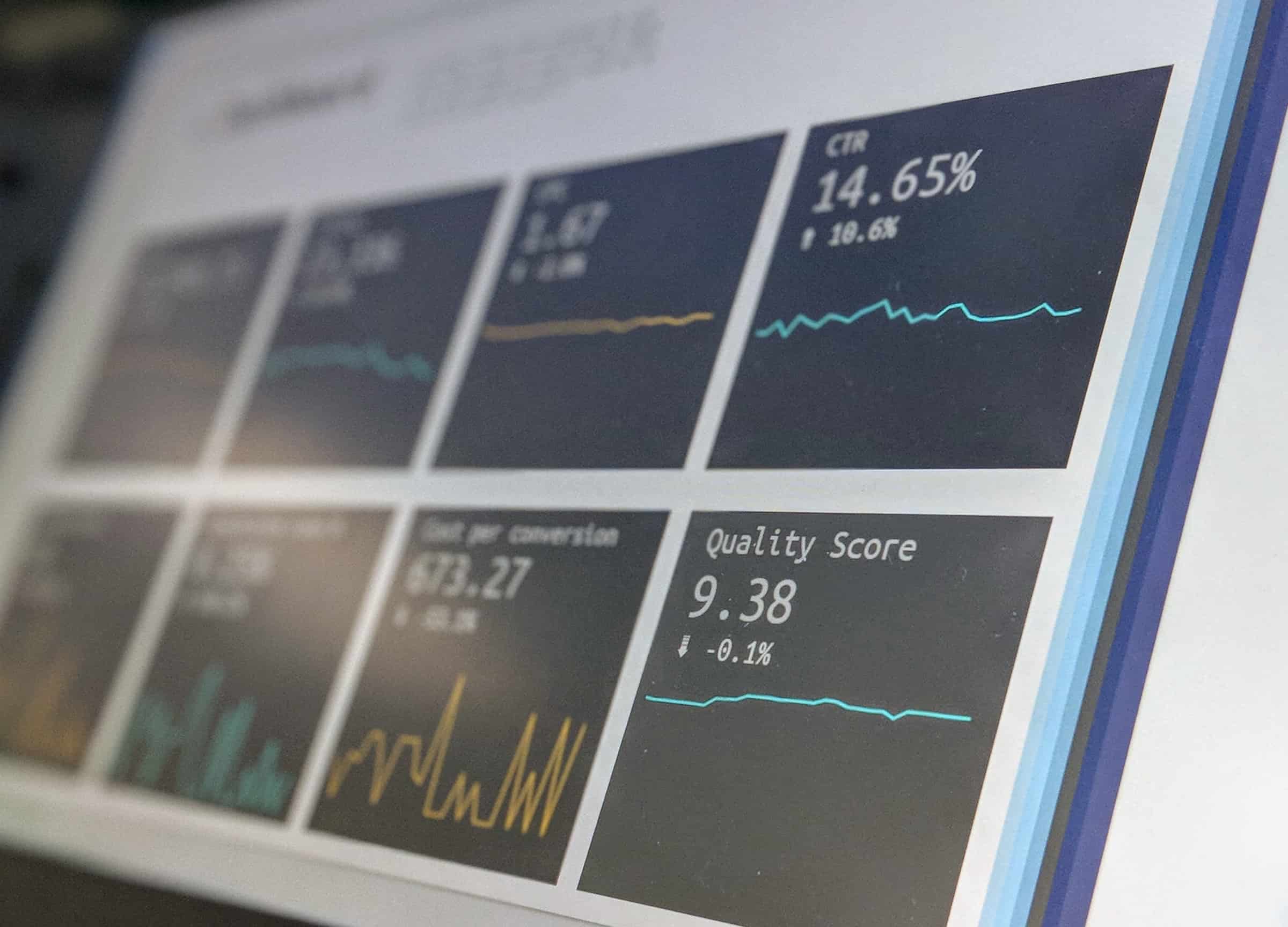 Oil is a global 24-hour market with constantly moving prices; it's an ideal medium for day traders to profit from fast movement. It's also a highly liquid market, so it's easy to get in or out, regardless of the size of the trade.
How CFDs Work
Important: This is not investment advice. We present a number of common arguments for and against investing in this commodity. Please seek professional advice before making investment decisions.
You're bullish on WTI, so you decide to buy oil CFDs at the quoted price of $60.25 to $60.50 (the lower price is for a short contract, the higher for long).
To buy 10 long CFDs on 3% margin, you would need $1,815 in your account ($60.50 [long price] x 10 [number of contracts] x 100 [number of barrels in a standard contract] x 0.03 [margin percent]). You would then "control" $60,500 worth of oil for your $1,815.
That afternoon, you notice the price is $62.75, so you exit the trade, which now has a value of $62,750. You pocket $2,250 on the deal. Of course, if the price ticks down, the degree of leverage works against you rather quickly.
CFDs are complex financial products and are only recommended for experienced traders. You will not own the oil itself.
Choosing a Broker: We've reviewed dozens of CFD brokers based on 10 key criteria such as fees, functionality, and security (see full list).
Plus500 is one of the top brokers for oil CFD trading.

No commission on trades (other charges may apply)
Free demo account
Easy to use (mobile-friendly) platform
Industry-leading risk management tools
Trade oil and hundreds of other markets
Your funds are safe – publicly listed company regulated by the UK's Financial Conduct Authority (FCA) and the Cyprus Securities and Exchange Commission (CySEC)
Start Trading Oil at Plus500.com
4 Important Factors to Help You Understand the Oil Market (Beginners)
Every market has its distinctions — oil is no different.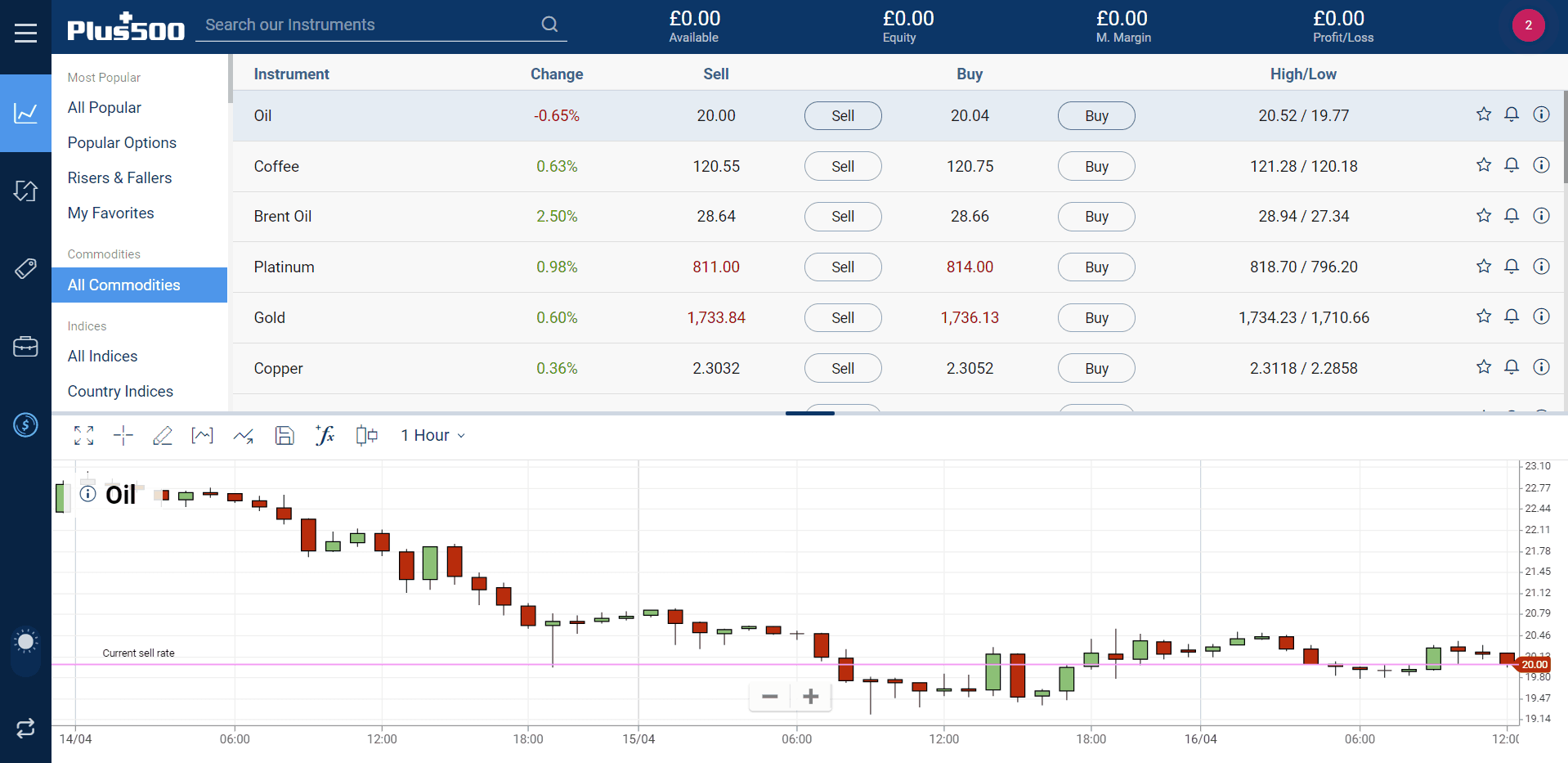 To make the best of your time and money while trading this commodity, here are some things to keep in mind:
Technical Indicators: When you start trading, charts can become key tools. It is important that you learn how to read a chart, and to do that, you need to understand what technical chart indicators are. Most importantly, you need to understand what these indicators mean, and how you can act on that knowledge to maximize your gains.
Brent and WTI: The two primary grades, thus pricing benchmarks for crude oil are Brent Crude, and West Texas Intermediate (WTI). The difference is the location of where their oil comes from – this automatically affects the quality and disposition of the oil. Brent Crude oil comes from North Sea oil fields, while WTI oil comes from U.S oil fields.
Trading Psychology: When investing in any asset, it is important to understand the crowd psychology of the traders of that asset – in this case, oil. By getting a better idea of how oil traders act in certain situations, you'll have a better handle on prospective market movements.
Supply and Demand: As with any other commodity, supply and demand determine pricing. You can keep up to date with global supply and demand metrics by following selected news outlets.
Other Ways to Trade Oil
Trading oil requires a bit more consideration than other types of assets because there are many product choices you can use to get into the market, from pure-play oil derivatives to oil and gas company equities. Each type has its advantages and set of complicating issues.
Most oil commodity traders will choose one of the following options:
| Method of Investing | Storage Costs | Security Costs | Expiration Date | Management Cost | Leverage | Regulated |
| --- | --- | --- | --- | --- | --- | --- |
| Buy Oil Barrels | YES | YES | NO | NO | NO | NO |
| CFDs | NO | NO | NO | NO | YES | YES |
| Futures | NO | NO | YES | NO | YES | YES |
| Options | NO | NO | YES | NO | YES | YES |
| ETFs | YES | YES | NO | YES | NO | YES |
| Shares | NO | NO | NO | NO | YES | YES |
Oil Shares
This is perhaps the least complex method of crude oil trading. You simply purchase equities in an oil company that you believe will remain profitable.
It's important to keep in mind that although there is usually a correlation between the price of crude and oil company profitability, this isn't always the case—and disasters like the Deepwater Horizon Spill (BP oil spill) or a global pandemic can do serious damage.
Interested in oil stocks? Here are the 5 biggest listed oil companies:
| Company | Current Price | Overview | Listings | Founded | Number of Employees | Interesting Fact |
| --- | --- | --- | --- | --- | --- | --- |
| Aramco | | Multinational oil company based in Saudi Arabia | Tadawul | 1933 | 70,000+ | Recent 2019 IPO on the Tadawul stock exchange |
| ExxonMobil | | American multinational oil and gas corporation | New York (NYSE) | 1999 | 80,000+ | Largest refiner in the World with a capacity of nearly 6m barrels per day |
| Total SA | | French multinational | Paris (CAC), New York (NYSE), Amsterdam (Euronext) | 1924 | 100,000+ | Total has over 900 subsidiaries covering all areas of energy |
| CNPC | | Chinese oil company with headquarters in Beijing, China | Shanghai (SSE), Hong Kong (SEHK), New York (NYSE) | 1999 | 500,000+ | Once relocated to Taiwan during the 1949 revolution |
| Royal Dutch Shell | | British-Dutch multinational headquartered in The Netherlands | London (LSE), Amsterdam (Euronext), New York (NYSE) | 1907 | 90,000+ | Shell have over 40,000 service stations worldwide |
| Sinopec | | Chinese oil and gas company based in Beijing | Shanghai (SSE), Hong Kong (SEHK), New York (NYSE), London (LSE) | 2000 | 350,000+ | Largest oil refiner in Asia |
| BP | | Headquartered in London but the USA houses the lion share of its operations | London (LSE), Frankfurt (FWB), New York (NYSE) | 1908 | 74,000+ | Burmah Oil Company, the company that eventually became BP, was the first to discover oil in the Middle East |
Oil ETFs
Exchange-traded funds or ETFs are one of the ways traders can gain a piece of the oil market.
Choose funds that track the performance of oil prices using futures contracts or funds tied to a basket of oil company equities.
Some oil ETFs are leveraged. The two types of leveraged oil ETFs are:
Standard Leveraged: delivers a multiple of a particular performance index.

3X Leverage Example: 1.5% rise in the market, a 4.5% gain.

Inverse Leveraged: delivers a multiple of the opposite of a performance index.

3X Leverage Example: 1.5% fall in the market, a 4.5% gain.
For example, City Index offers the following oil ETFs:
ETFS 2X Daily Long Wti Crude Oil CFD
ETFS 2X Daily Long Wti Crude Oil DFT
ETFS 2X Daily Long Wti Crude Oil June 20 Spread, 1D
ETFS 2X Daily Long Wti Crude Oil Sep 20 Spread, 1D
ETFS Crude Oil CFD
ETFS Crude Oil DFT
ETFS Crude Oil Jun 20 Spread
ETFS Crude Oil Sep 20 Spread
This screenshot is only an illustration. Current market prices can be found on the broker website.
Oil Futures
A futures contract is simply an agreement to buy or sell a quantity of oil at a specified date for a specified price. These are standardized instruments for WTI and Brent; the standard contract is for 1,000 barrels of oil, so a $1 movement in price is equal to $1,000.
Here are a few important things to know about oil futures:
Margin: Most oil futures contracts require about a 10% margin, which is rather high given the cost of 1,000 barrels of oil, although margins can change depending on volatility—don't be surprised to get a margin call on oil futures contracts.
Physical Delivery: Futures contracts are settled by physical delivery of the crude oil, which is something most speculators don't want to deal with, due to logistical efforts. It's important to keep track of delivery and expiration dates and either roll the position over another month or close it entirely before the contract expires. If you don't you may lose your money unexpectedly.
Complexity: Trading oil futures are typically for professional traders due to the high cost and complexity involved. However, contracts for difference or CFDs provide a convenient way to "access" the crude oil futures market.
Oil Options
With oil options, a trader essentially pays a premium for the right (not the obligation) to buy or sell a defined amount of oil at a specified price for a specified period of time.
Crude oil options are the most widely traded energy derivative in the New York Mercantile Exchange (NYMEX), one of the largest derivative product markets in the world
Despite their name, the underlying basis of these options is not crude oil itself, but crude oil futures contracts. Options in the oil market—and the commodities market in general—are more expensive due to the high perceived volatility of commodities prices.
Is Oil Trading Worth The Risk?
It isn't that simple. Whether oil trading is a worthy risk depends on the individual and how much they can afford to lose.
Trading oil has some great advantages, as well as pitfalls. However, it must be noted that the commodity is undergoing an especially unpredictable period with the likewise uncertain global state of affairs in 2020.
If you do decide to trade oil, ensure that you are prepared to take the risks that come with it.
Start Trading Oil at Plus500.com
Frequently Asked Questions
There are many common queries about oil trading, especially from novices. Here are a few answers to help get you started if you're considering trading crude oil.
How do I start trading oil CFDs?
The first step to trading oil CFDs is to understand how CFDs work and to find a reliable broker. Oil CFDs are complex, as well as high-risk. Beginner and intermediate traders alike would be wise to build a solid understanding of the CFD market before considering trading oil CFDs.
What are oil options?
The basis of oil options or crude oil options is a futures contract. Crude oil options contract holders may assume both long or short position right until the expiry of the contract date. Like CFDs, oil options is also a challenging and advanced method of trading.
What are Brent Crude and WTI in oil?
Brent Crude and WTI are both oil grades, with WTI standing for West Texas Intermediate. Oil prices are typically determined by the continuous movement of Brent Crude and WTI. The main difference between the two is the location, and thus the quality and constitution of the oil.
Credits: Original article written by Lawrence Pines. Major updates and additions in May 2020 by Marko Csokasi with contributions from the Commodity.com editorial team.