Overview
Copper is one of the most widely used metals found on planet Earth. The shiny, reddish-orange element is believed to be the first metal used by humans thousands of years ago. In modern society, copper plays a vital role in everyday life. Its physical properties, which are similar to gold and silver, make it perfectly suited for a range of industrial uses including electric wiring, plumbing, roofing and industrial machinery. Copper is soft, pliable and malleable, and it conducts heat and electricity very well. However, unlike gold and silver, copper is not widely viewed as a currency. Therefore, copper costs far less than precious metals.
The global supply of copper comes principally from underground mines and from recycling copper products.
Underground mines – Miners extract copper from ore deposits found in underground or open pit mines. Successful copper mining requires concentrated ore, which can be ground into fine material. The copper is then separated from waste materials and is then refined further through the smelting process. Although copper has been used by humans for many centuries, more than 95% of all the copper ever mined and smelted has been extracted after 1900.
Annual copper mining typically exceeds 19 million tons. South America has the most copper mines, and China is the source of the greatest production of refined copper. Copper is mined in countries all over the world, with the following countries accounting for the most of the mining:
Australia
Canada
Chile
China
Congo
Mexico
Peru
Russia
Zambia
Recycling: Converting old scrap metal into refined copper accounts for almost 10% of the annual global copper supply and more than 30% of US annual supply. Fabricating operations including brass mills, copper smelters, refiners and ingot makers all serve as sources for recycled copper.
Demand for copper has steadily grown over the years as the global economy has expanded. Developing nations have increased their demand for copper as their infrastructure needs have expanded. The main consumers of copper are China, Russia, the European Union, the United States and Japan. China, Russia and Eastern Europe have experienced the largest increases in copper demand and are likely to be big determinants of copper demand in the future.
The vast majority of copper demand derives from the following industries:
Building Construction – These applications include electrical wiring, plumbing and weatherproofing of homes and commercial buildings.
Transportation Equipment – Copper's excellent conductivity makes it an important component in electric motors.
Electric and Electronic Products – Integrated circuits and printed circuit boards use copper because of  its excellent electrical conductivity properties. Copper is also found in electromagnets, vacuum tubes, cathode ray tubes and magnetrons in microwave ovens
Consumer and General Products – Copper has strong anti-microbial properties and the US Environmental Protection Agency has approved the registration of certain copper alloys for anti-microbial materials including cookware, bed rails, hand rails and door knobs. Copper is also used in many musical instruments.
Industrial Machinery and Equipment – Copper is used in stills for producing whisky and in glassmaking, engraving and printing equipment.
Copper Price
What Drives the Price of Copper?
Copper has many uses in a diverse array of industries. Therefore, its price is a good barometer for the overall strength of the global economy. The following four areas represent the biggest determinants of copper prices:
Emerging Markets: Because infrastructure represents such an important part of demand, emerging markets are a key driver of copper prices. Fast-growing countries such as India and China are accumulating vast amounts of wealth as their economies grow. As a result, they have a growing need for housing and transportation infrastructure and other types of construction. Not surprisingly, Asia comprises an increasing share of global copper demand. The price of copper may depend greatly on the ability of these countries, as well as other emerging economies such as Brazil, to continue to grow. A growth slowdown in emerging economies will almost certainly have a negative effect on copper prices.
US Housing Market: The US homebuilding industry uses copper in electrical wiring, roofing, plumbing fixtures and insulation among other things. Therefore, factors that affect US housing demand, including nonfarm payrolls, mortgage rates, US gross domestic product ("GDP") and demographics, play an important role in determining copper demand. The building construction industry comprises almost half of copper use in the United States. Investors should pay close attention to trends in this market for clues about future copper prices.
Supply Disruptions: Political, environmental and labor issues can have a big impact on copper prices. South America produces a significant amount of the overall supply of copper, particularly in Chile and Peru. Historically, countries in this region have at times chosen governments that have nationalized the mining industry, such as in Bolivia in 2007. Such events can disrupt supplies and lead to higher prices. Events such as miner strikes can also produce supply disruptions and higher prices. Finally, events such as earthquakes and landslides can slow down mine output. Investors in copper should pay attention to geopolitical news and natural disasters that affect the mining industry.
Substitution: The economic principle of substitution represents a risk of investing in any commodity, and copper is no exception. As prices climb, buyers will seek cheaper substitutions, if available. Cheaper metals such as aluminum now substitute for copper in power cables, electrical equipment and refrigeration equipment.  Nickel, lead and iron also compete with copper as substitutes in some industries.
Ready to Start Trading Copper?
Our recommended brokers for trading copper are:
Reasons to Trade Copper
Commodity traders often refer to copper as Dr. Copper. They say the metal has a PhD in economics because its price is a reliable barometer of the overall health of the global economy. In fact, investing in copper is a way to express a bullish view on world GDP.
Here are some specific reasons you might consider trading copper:
Speculate on Industrial Growth: Copper has so many industrial uses that it would be virtually impossible to build the infrastructure of a country without it. As developing regions such as the African continent, Eastern Europe and Asia modernize their economies and expand their infrastructure, copper demand will grow. Any trader optimistic about international growth should consider copper investing.
Speculate on the Housing Market: The global housing market overheated and took a tumble during the Great Recession of 2008. Investors who believe the worst is behind us may want to have copper in their portfolios. Furthermore, as emerging markets grow, demand for housing should follow in those regions as well. Copper benefits from strong housing markets.
Speculate on Supply / Demand Imbalance: Copper mining and recycling routinely fall short of copper demand. Mine expansions and new mines may help soak up some of this excess demand, but many fear that that environmental concerns and limitations on land usage will keep the imbalance in place for many years. Investing in copper is a way to bet on a long-term supply /demand imbalance.
Should I Trade Copper?
All investments carry the potential for risks and rewards, and traders should weigh these carefully before making a decision. In the case of copper, traders might consider purchasing the metal as a way to lower the overall risks of their portfolios. Most traders have the overwhelming majority of their assets allocated to stocks and bonds. Trading copper provides asset class diversification, which can be an effective way to lower the overall volatility of a portfolio.
Copper also provides another way to invest in the global economy, particularly in the emerging and developing sectors where infrastructure needs are greatest. Investing in copper also provides a way to bet on a rebounding housing sector in more mature economies. In fact, copper provides one of the purest and more direct ways to bet on global growth.
Copper trading, however, also carries risks. If the global economy were to experience a severe economic slowdown or, worse yet, a global recession or depression, copper prices would almost certainly suffer. Also, lower prices for other industrial metals compared to copper could lead buyers to substitute their purchases of copper for similar metals. However, traders can mitigate this risk by buying a basket of industrial metals.
What Do The Experts Say About Copper?

Most experts agree that the big unknown for copper prices is how strong the Chinese economy will be over the next decade.
As the biggest growth engine in emerging markets, China plays the most critical role in determining copper prices. Goldman Sachs believes that strong Chinese demand will produce higher prices for the metal over the long term.
Similarly, BMI Research commodities analyst Molly Shutt sees the combination of strong demand growth in China and decelerating production supplies, particularly in Chile and China, as a catalyst for bullishness.
Some analysts, however, are less optimistic about the Chinese demand story.
Julius Baer analyst Carsten Menke thinks that Chinese demand and a US infrastructure rebound have been overstated, and that copper prices should suffer as a result.

How to Trade Copper
There are a number of ways to trade the commodity
| Method of Investing | Complexity Rating (1 = easy, 5 = hard) | Storage Costs | Security Costs | Expiration Date | Management Cost | Leverage | Regulated |
| --- | --- | --- | --- | --- | --- | --- | --- |
| Copper Bullion | 1 | YES | YES | NO | NO | NO | NO |
| CFDs | 3 | NO | NO | NO | NO | YES | YES |
| Futures | 5 | NO | NO | YES | NO | YES | YES |
| Options | 5 | NO | NO | YES | NO | YES | YES |
| ETFs | 2 | YES* | YES | NO | YES | NO** | YES |
| Shares | 32 | NO | NO | NO | NO | YES | YES |
*Storage costs are passed on to traders in the form of management fees.
**Some metals ETFs offer exposure to 2x or 3x the movement in copper prices.

Copper Bullion
Investors can purchase copper bullion bars and coins from metals dealers in the same manner in which they can purchase gold or silver bullion. Dealers offer a variety of sizes. Typically investment-grade copper is refined to a purity level of .999 copper. As a result of this purity, prices for bullion trade at a significant premium to other copper markets such as futures. This premium, along with the cost of storing the metal, may make bullion an impractical way to invest in copper.
Fewer dealers offer copper bullion than gold bullion but you can still buy online. Here are some online copper bullion dealers you might consider:
Copper CFDs
One way to invest in copper is through the use of a derivative instrument known as a contract for difference (CFD). CFDs allow traders to speculate on the price of a commodity such as copper without actually owning copper bullion, ETFs, futures, options or mining shares.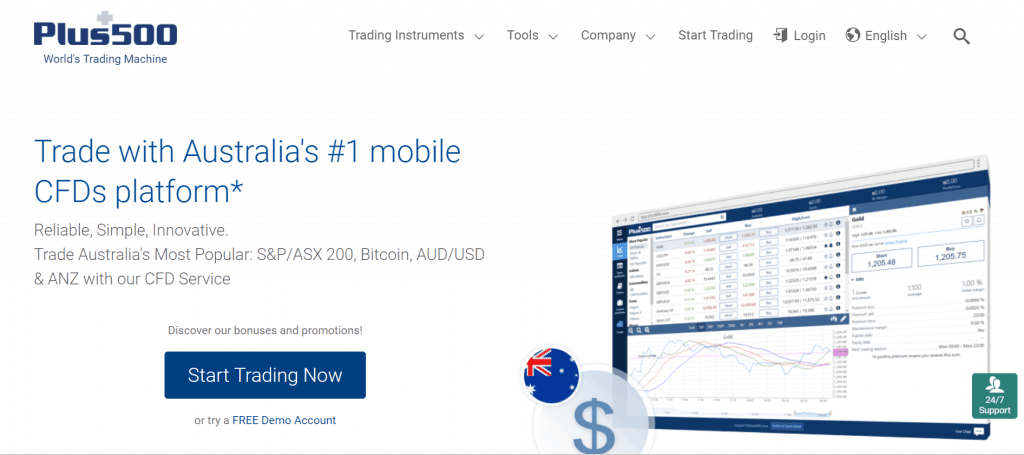 The value of a CFD is the difference between the price of copper at the time of purchase and the current price. As copper prices increase, the value of the CFD goes up, and as copper prices decline, the value of the CFD declines.
Start Trading Copper

One of the leading brokers for trading precious metal CFDs, like copper, is Plus 500. Here's why:
No Commission on trades (other charges may apply)
Free demo account
Easy to use (mobile-friendly) platform
Industry-leading risk management tools
Trade copper and hundreds of other markets
Your funds are safe – publicly listed company regulated by the UK's Financial Conduct Authority and Cyprus' Securities and Exchange Commission
Start Trading at Plus500.com Important: Your capital is at risk. CFD services are suitable for experienced traders only.
Copper Futures
These are derivative instruments that allow traders to speculate on the future price of the metal.
Investors in futures use leverage to purchase contracts on an exchange. If prices decline, the trader must put up additional margin to maintain the position. In addition, when the futures contract is about to expire, the trader must either accept physical delivery of the commodity or roll the position forward to the next month.
Investing in the futures market requires a high level of sophistication and active maintenance of positions by the trader.

Copper Options
These are another derivative instrument for trading copper. Like futures, options have a limited shelf life and an expiration date.
However, unlike futures, option bets are successful only if the price reaches a certain level by the expiration date. In exchange for a potential payout, option buyers pay a premium to own the option.
To be successful, the price must make a big enough move to compensate the option buyer for the premium paid for the option. In other words, options traders must be correct on both the size and timing of the move.

Copper ETFs
These financial instruments trade as shares on exchanges in the same way that stocks do. There are several ways to invest in copper using exchange-traded funds (ETFs). Investors can purchase ETFs that invest in bullion, futures, options or some combination of the above. There are also ETFs that invest in baskets of copper mining stocks. ETFs have management fees that get passed on to shareholders.
Here are some leading copper ETFs (based on assets under management):
| iPath Dow Jones-UBS Copper ETN | United States Copper Index Fund | iPath Pure Beta Copper ETN |
| --- | --- | --- |
| | | |
Copper Stocks

Copper traders can also invest in companies that mine copper. However, such investments are not pure plays on copper. Investment returns will depend on other factors such as how well management performs and the quality of the mines the company owns.  Furthermore, increases in mining input costs such as the price of oil and equipment can adversely impact share prices.
Here are some leading copper mining company shares you might consider (inclusion here is NOT a recommendation for investment):
Current Price
Overview
Listings
Founded
Number of Employees
Interesting Fact
Freeport McMoran
The second largest copper producer in the World. (Codelco the Chilean state owned company is #1)
New York (NYSE)
1912
30,000
Originally a sulphur mining company based in Freeport, TX.
BHP Billiton

Anglo-Australian multinational mining, metals and natural gas company.
London (LSE)
New York (NYSE)
Johannesburg (JSE)
Sydney (ASX)
1885
60,000
The World's third largest copper producer.
Southern Copper

Headquartered in Phoenix, AZ. It's a major producer of copper, molybdenum, zinc, silver, lead, and gold.
Lima (BVL)
New York (NYSE)
1952
12,000
Owned by Mexican mining conglomerate Grupo México
Rio Tinto

Australian-British multinational with operations in mining and metals.
London (LSE)
New York (NYSE)
Sydney (ASX)
1873
50,000
The company has operations on six continents.
Anglo-American

Major producer of copper based in Johannesburg.
London (LSE)
Johannesburg (JSE)
1917
135,000
Produces around 40% of the World's platinum.
Further Reading