Today's Ethereum price is $1,625.21 USD. See more on price analysis, comparisons, and historical price data below.
Tip: Click the 'Advanced' button to access technical indicators and oscillators. Click 'Reset' to start over or 'Embed' to add this chart to your own site.
From the previous trading day, ETH is up 1.68%. Compared to one week ago, ETH is up 2.61%.
Since the beginning of the year 2022, ETH is down 56.84%.
Keep reading to see a timeline of Ethereum's price history since its launch and ICO in 2014 — we pair significant events and corresponding news to major price moves.
We also explain the relationship between Bitcoin and Ethereum prices, ETH price vs other crypto prices, and some key price drivers.
Ethereum Price History Timeline
The ETH story starts in 2015 when Vitalik Buterin and a team of developers released the Ethereum network. However, Ethereum was founded in 2013, and developments started in 2014. At this time, 1 ETH was sold for $0.31 as part of the crowdfunding campaign.
Here's a timeline with key price points, price swings, and some corresponding media releases at the time: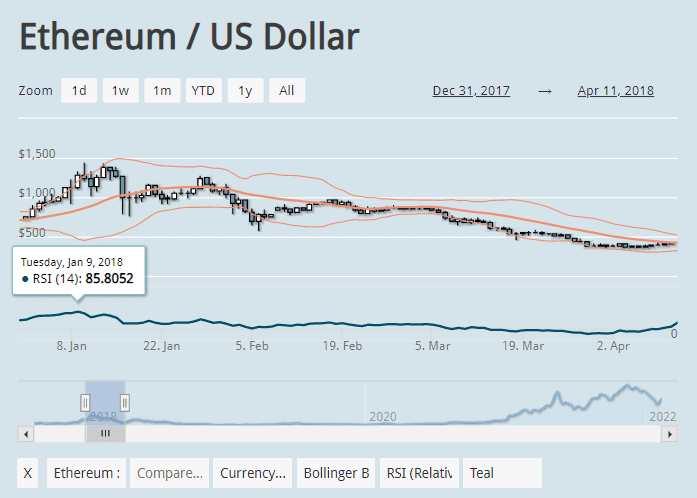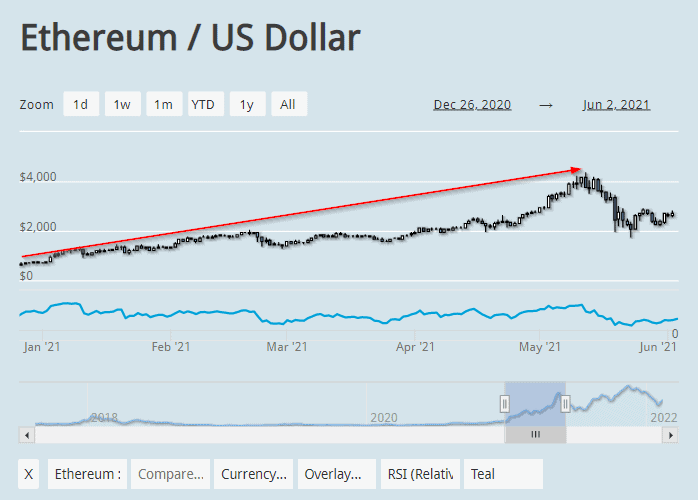 BTC's Impact On ETH Price
When cryptocurrencies first turned up on charts, it was common knowledge that Bitcoin had an impact on all other coins. As Ethereum gained prominence as the #2 crypto, it stuck closer and closer to Bitcoin as a 'serious' coin.
However, as the Ethereum network builds a reputation of its own, the ETH price also moves at its own pace.
1-Month
7-Days
24 Hours
Today's Price
ETH

-3.94%

-1.8%

-0.08%

$

1,592.91

BTC

+0.28%

-3.53%

-0.16%

$

26,165.48
Short-term price-performance comparisons between ETH and BTC may show smaller deviations, but the further back you look, you can see where Ethereum traders acted in opposition to those who trade Bitcoin.
ETH Price vs Other Cryptocurrency Prices
Here's a summary of recent ETH price-performance alongside other popular cryptocurrencies from the top 100:
1-Month
7-Days
24-Hours
Today's Price
ETH

-3.94%

-1.8%

-0.08%

$

1,592.91

BTC

+0.28%

-3.53%

-0.16%

$

26,165.48

BCH

+14.76%

+5.39%

+5.78%

$

227.00

DASH

+1.98%

-0.9%

-0.87%

$

26.32

DOGE

-4.53%

-3.74%

-0.45%

$

0.06

IOTA

-0.71%

+0.34%

-0.29%

$

0.15

LTC

-2.89%

-1.63%

-0.47%

$

63.50

NEO

-1.1%

-4.91%

-0.42%

$

7.16

XMR

-0.14%

-2.02%

+0.28%

$

145.20

ZEC

+3.51%

-0.88%

-0.92%

$

25.93
What Drives the Price of Ethereum?
Demand for Ethereum is driven by two fundamental factors. First, ETH has benefitted from bullish market sentiment on cryptocurrencies in general.
Traders often see Ethereum and other cryptocurrencies as an alternative to traditional assets like physical commodities or fiat currency-pinned derivatives. ETH has a short price history, and price correlation with major fiat currencies like the USD, and key stores of value like gold, are inconsistent.
Ethereum benefits from trader concern over fiat currencies (dollar, euro, yuan) as reliable stores of value. Still, Ethereum has shown frequent synchronized movement with Bitcoin's price since it began trading in 2014.
Efficient Technology Development
Ethereum price has benefitted from its robust technology platform. Whereas the market sees Bitcoin as a system for payments, it views Ethereum as having greater potential.
For example, Ethereum's adoption in the smart contract space has fueled speculation by traders that the cryptocurrency is better poised than Bitcoin for mainstream adoption in the near future. Since its launch, ETH has produced returns that have exceeded those of Bitcoin.
Ethereum is currently transitioning from Proof-of-Work (PoW) to Proof-of-Stake (PoS), which may also result in unexpected price movements.
Despite its seeming technological edge over BTC, the Ethereum network has competitors that seem to be closing in, like Cardano and Solana, both of which already operate on the PoS model.
Supply And Demand Fundamentals Of Ethereum
The best way to forecast the future price of Ethereum is to examine supply and demand fundamentals for the cryptocurrency.
There is almost 120 million ETH in current circulation. However, the circulating supply is expected to drop significantly after the PoS transition. This will cause a change in the coin's price, and given that the transition goes to plan, increased demand from commercial cash holders.
More, the platform's ability to handle and execute smart contracts will create increasing demand for ETH in the financial services space.
Mainstream Smart Contracts: Barclays Bank
Barclays is using smart contracts to trade derivatives. A group called the Enterprise Ethereum Alliance ("EEA") facilitates the development of applications on the Ethereum platform by large corporations in finance and other industries.
Ethereum's usage in blockchain applications could grow conservatively over the next five to seven years. The increasing value of the platform to corporations in need of the technology could spur further investment demand.
The Ethereum Investment Trust: ETFs On The Way?
The creation of the Ethereum Investment Trust and the likelihood of an Ethereum ETF and Ethereum IRA would also serve to bolster investment demand.
The upshot is that an Ethereum investment could easily increase over the next two to three years as more traders learn how to buy Ethereum.
What Is the Price Outlook for Ethereum?
The limited trading history makes the technical analysis of the ETH price chart less accurate. An ETH chart shows a virtually parabolic rise since it began trading.
Such a chart doesn't lend itself to traditional technical analysis where high and low trading levels provide clues with relative accuracy about future movements. Another factor is the lack of technological understanding among retail traders, though speculators are becoming more aware of the Ethereum platform's fundamental mechanics.
Other factors like the NFT craze may likewise contribute to sudden retail-driven price surges and even attract thick-wallet speculators.
Learn More About Ethereum
See the following resources to learn more about Ethereum:
We also have a Cryptocurrency 101 Guide where we discuss the fundamentals of crypto trading. In the meantime, you can keep up with the live BTC Price Guide and DOGE Price Guide.
FAQs
What was the lowest ETH price?
At the time of the crowdfunding campaign, one ETH was reportedly sold at just over $0.30. However, following some time on the open market, ETH quickly surged to $1.8278 by August 2015. After January 2016, ETH didn't see a single-digit dollar price until the end of that year, when it swung down to a year-low of $6.8271. See Ethereum's price history for more.
Will Ethereum 2.0 increase ETH prices?
There is no accurate prediction as to how a successful Ethereum 2.0 upgrade would impact ETH prices. At the moment, the Ethereum community is still waiting for an upgrade that troubled founder, Vitalik Buterin, since 2017. A transition from proof-of-work to proof-of-stake would change the network's consensus mechanism, the actively circulating supply, and in turn, ETH's value dynamics.
Can Ethereum reach $10,000?
Media speculation has seen increasing excitement over five-digit ETH prices. For Ethereum to reach $10,000 per coin, the network would need to hit an overall market capitalization of close to $1.2 trillion (USD). If the crypto market continues its upswings, it is possible for ETH to reach $10,000. However, increased awareness of the underlying technology's potential means that competing platforms are on the rise.
Today, ETH is at $1,625.21.
Can Ethereum surpass Bitcoin's price?
For one ETH to surpass Bitcoin's price, ETH needs to first become a five-figure fiat value cryptocurrency. Hypothetically, if BTC is at $50,000, it has a market cap of around $960 billion. Given Ethereum's current consensus mechanism and distribution model, for one ETH to be worth $50,000, it would need to hit a market cap of $6 trillion (USD). That's around half of China's national annual GDP.
Can Ethereum surpass Bitcoin's market cap?
Yes, if more cash flows into Ethereum to surpass the overall amount of monetary value in Bitcoin. The two systems are fundamentally different, for now. However, if Ethereum successfully transitions to a PoS model, it may have an edge over Bitcoin in particular use cases, more specifically, in government and corporate adoption.