In this economic guide to Latvia we'll give you an overview of the Latvian economy, including its primary imports and exports of goods and services.
Latvia Economy Overview
A GDP of $34.4 billion makes Latvia the world's 99th largest economy. Based on the diversity and complexity of its exports, the country ranks number 36 on the Economic Complexity Index.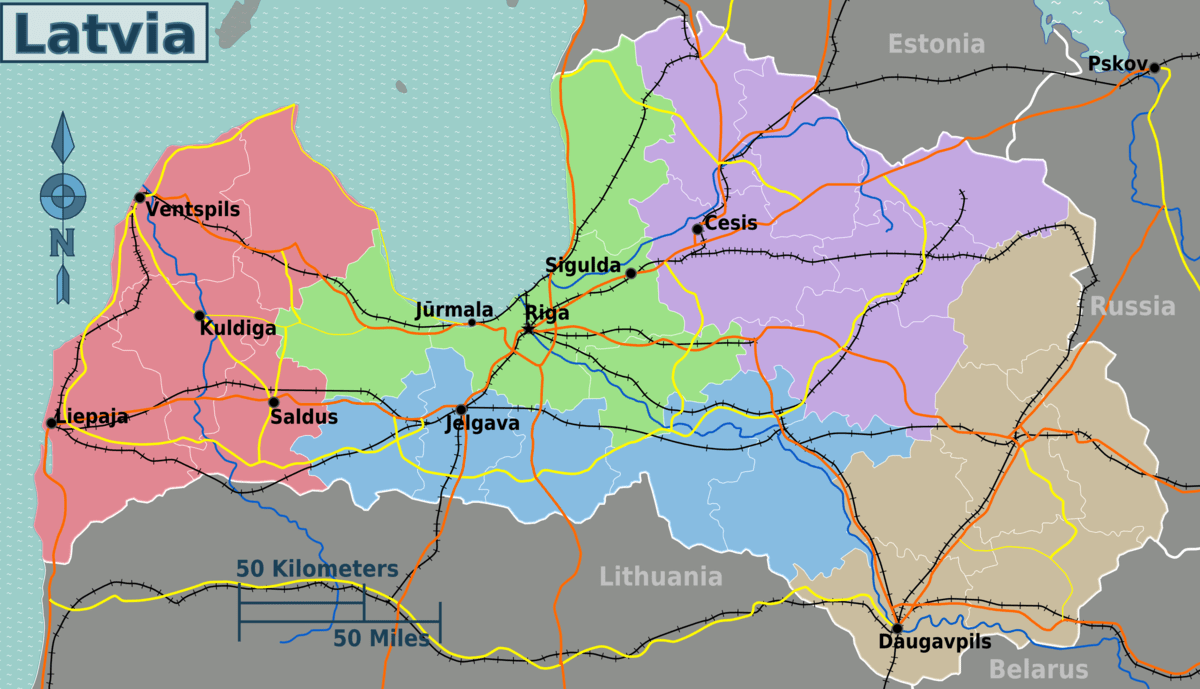 With imports of $22 billion exceeding exports of $15.8 billion, Latvia has a negative trade balance of -$6.23 billion. Imports per capita are $11,400 while exports per capita are $8,200. Sawn wood is the most exported product and Lithuania the biggest export destination. The most imported product is refined petroleum from Russia.
GDP of Latvia
Latvia's GDP is $34.4 billion, representing a negative growth of -3.5% between 2008 and 2018. However, its GDP per capita of $17,861 grew by 9.06% over the same period.
In terms of its GDP, the country ranks number 99 in the world. Russia and Lithuania count among Latvia's top trade partners.
Latvia's Top 5 Commodity Exports
Sawn wood – $867 million
Refined petroleum – $495 million
Fuel wood – $435 million
Wheat – $409 million
Rough wood – $363 million
Other Notable Latvian Exports
Broadcasting equipment – $703 million
Hard liquor – $561 million
Packaged medicaments – $501 million
Gas turbines – $405 million
Plywood – $332 million
Latvia is the world's 78th biggest exporter with total exports growing by $2.71 billion to $15.8 billion between 2013 and 2018. The top 3 export destinations from Latvia are Lithuania ($2.25 billion), Estonia ($1.45 billion), and Russia ($1.32 billion).
The United Kingdom is the biggest export market for sawn wood, receiving 38.5% of total exports of $867 million.
Latvia's Top 5 Commodity Imports
Refined petroleum – $2.83 billion
Petroleum gas – $477 million
Coal tar oil – $385 million
Wheat – $266 million
Other Notable Latvian Imports
Cars – $718 million
Broadcasting equipment – $689 million
Packaged medicaments – $597 million
Planes, helicopters, and/or spacecraft – $549 million
Gas turbines – $522 million
Latvia is the 74th largest trade destination in the world with refined petroleum making up the biggest chunk of its total imports of $22 billion. This represents an increase of $5.12 billion in the five-year period from 2013 to 2018.
Russia is Latvia's biggest import partner, with 62% of the $2.83 billion worth of imported refined petroleum coming from this neighboring country. The total value of imports from Russia is $4.18 billion.
Details About Latvia Imports/Exports 
Sawn Wood
Latvia is the world's 11th largest exporter of sawn wood. Annual exports total $867 million of which 38.5% ($334 million) is destined for the United Kingdom.
Other big export markets for sawn wood from Latvia are Estonia ($62.3 million), the Netherlands ($47.4 million), South Korea ($47.3 million), and Germany ($40.4 million). Australia is emerging as one of the fastest-growing markets.
Hard Liquor
Hard liquor exports and imports make up an important part of Latvia's economy. Annual exports of $561 million make it the 12th biggest exporter of hard liquor, while imports of $486 million mean they rank number 14 globally.
Almost two-thirds of hard liquor from Latvia is destined for Russia. The biggest import market is the United Kingdom, with $153 million of Latvia's hard liquor coming from there.
Broadcasting Equipment
Broadcasting equipment is the 2nd most exported and 3rd most imported product in Latvia. Annual exports amount to $703 million and imports to $689 million.
Lithuania is Latvia's top trading partner for this equipment with $146 million destined for and $179 million originating from this country. The fastest-growing export markets are Germany and Estonia, while Vietnam and China are the fastest-growing import markets.
All figures based on OEC/IMF 2018 calculations and projections unless otherwise stated.
Regulated Brokers: Where Can I Trade Commodities?
Start your research with reviews of these regulated brokers available in .
CFDs are complex instruments and come with a high risk of losing money rapidly due to leverage. Between 74%-89% of retail investor accounts lose money when trading CFDs. You should consider whether you can afford to take the high risk of losing your money.
Further Reading