Disclosure:
Your support helps keep Commodity.com running! We earn a referral fee for some brokers & services we list on this page.
Learn more...
Palm oil has a wide range of uses and spans several industries.
On this page, we explore what the primary uses of palm oil are in the global market, why it's valuable, and which countries produce the most of it.
Some palm oil experts don't see a promising outlook for the commodity, although our additional material at the end of the article should help you form an opinion of your own about palm oil.
If you want to trade palm oil, head straight over to our palm oil trading guide.
4 Main Uses of Palm Oil
Here are some of the most common uses of palm oil that greatly impact global supply and demand.
Use of Palm Oil
Description
Food

Palm oil is

rich in carotenoids and vitamins D, E and K.

It has a high resistance to oxidization, which gives it a long shelf life. In addition to its use as a frying oil, palm oil is found in many foods including the following:
Margarine
Non-dairy creamers
Ice cream
Cookies
Cereals
Consumer Items

Many everyday consumer items contain palm oil:
Soaps
Detergents
Greases
Lubricants
Candles
Personal care and cosmetics (mainly palm kernel oil)
Bactericides
Pharmaceuticals
Water treatment products
Animal Feed


Palm kernel expeller is used in some animal feed.
Biofuels

Palm oil is often the feedstock for the production of biodiesel.
Why is Palm Oil Valuable?
Palm oil is an edible vegetable oil derived from the reddish pulp of the palm fruit. The fruit grows on the oil palm tree, which is native to West Africa.
The history of the oil palm plant spans more than 5,000 years. Evidence shows that early West Africans consumed the fruit as a food staple, while the ancient Egyptians buried their dead with casks of palm oil.
When Did Palm Oil Become A Key Commodity?
However, it wasn't until the 1700s that palm oil became an important international commodity. The use of palm oil in industrial lubricants, candle-making, and other industries fueled the British Industrial Revolution and ushered in the modern era.
Today, palm oil is used in everything from food products to detergents to cosmetics.
It is even increasingly being used as a biofuel. The size of the global market for palm oil is expected to reach more than $90 billion by 2021. As a result, the commodity plays an important role in world markets.
How Is Palm Oil Produced?
Oil palm trees are tropical plants that grow in climates with warm temperatures, sunlight, and plenty of rainfall. The crops do not produce fruit until three to four years after planting, so establishing a profitable plantation requires advanced planning.
Oil palm production begins by clearing the site of the palm grove and removing tree stumps. However, the crops do not get planted in the grove for another 19 to 20 months. Growers must first nurture the seeds in other environments.
Step 1: The Germination Process
The process begins by germinating the oil palm seeds in very hot rooms. The high temperatures help facilitate faster growth.
Typically after about 90 to 100 days, a seed germinates and produce a seedling with a young stem and root.
Step 2: Re-Planting To New Containers and Nurseries
The seedlings are then planted in small plastic containers to mature. They remain in the containers for four to five months, where they grow a new leaf about every month.
When a plant grows a two-pointed (bifid) leaf, it is removed from the container and transplanted into a nursery.
The seedlings stay in the nursery for about a year. When the plant has 15 green leaves, it is planted in the palm grove.
Step 3: Time to Sprout
For the next several months, the plant begins to produce first male flowers, which are grouped in spikes, and then female flowers, which form their own clusters.
The male flowers fertilize the female flowers and produce clusters of fruit.
Oil palm trees have trunks and leaves, but no branches. The trunk, called the stipe, contains one bud, which is the growing point.
If this dies, the tree dies as well. The growing point produces 20 to 25 leaves each year, and each leaf produces a flower that eventually yields fruit.
How Is The Oil Extracted?
Each fruit of the oil palm contains pulp, which is crushed to yield palm oil, and a single seed, which is crushed to yield palm kernel oil.
Oil palms generally produce fruit around 30 months after planting in the fields and harvesting begins six months later. Plants between 7 and 18 years old yield the most fruit. Once harvested, the fruits must be processed within 24 hours to prevent a buildup of fatty acids.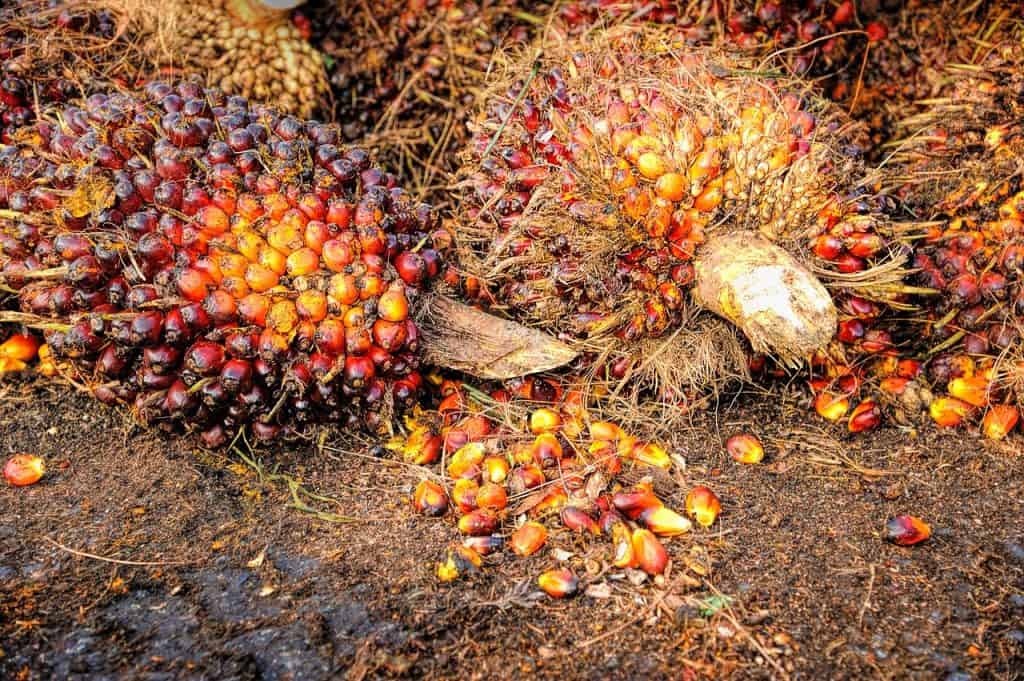 Fresh fruit bunches are transferred to palm oil mills where they are sterilized with high-pressure steam.
After steaming, pressing machines crush the fruit to extract crude palm oil. The palm seed (or kernel) is crushed to produce palm kernel oil.
Top 5 Palm Oil Producing Countries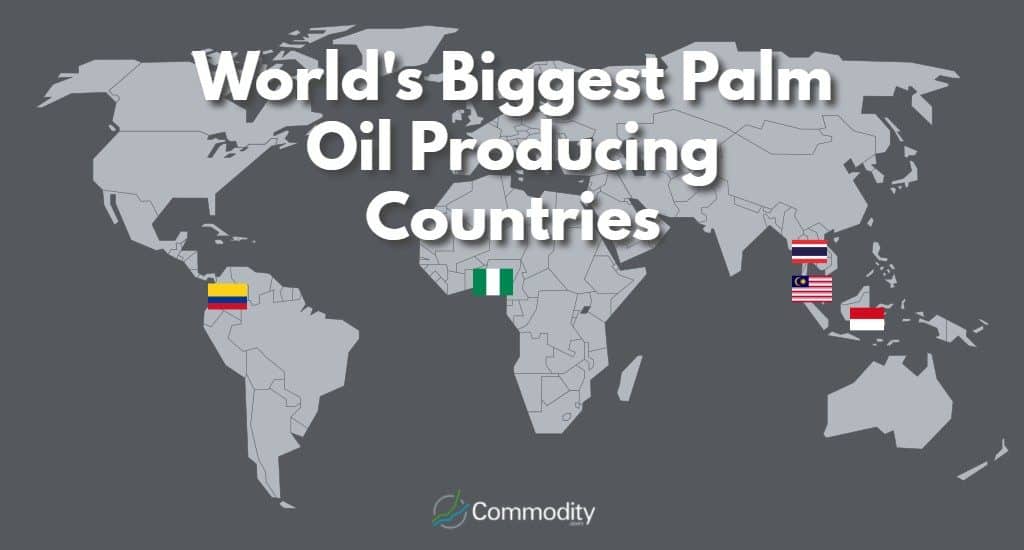 Palm oil is cultivated in 43 countries in Asia, Africa, and South America. However, 85% of production takes place in Indonesia and Malaysia.
| Rank | Flag | Country | Annual Production (Thousand Metric Tons) |
| --- | --- | --- | --- |
| #1 | | Indonesia | 38,500 |
| #2 | | Malaysia | 20,500 |
| #3 | | Thailand | 2,700 |
| #4 | | Colombia | 1,269 |
| #5 | | Nigeria | 970 |
The top importers of palm oil are India, European Union, China, Pakistan and Bangladesh.
The versatility of palm oil makes it popular in a variety of products. An estimated 50% of food and non-food items on supermarket shelves contain palm oil.
What Do the Experts Think About Palm Oil?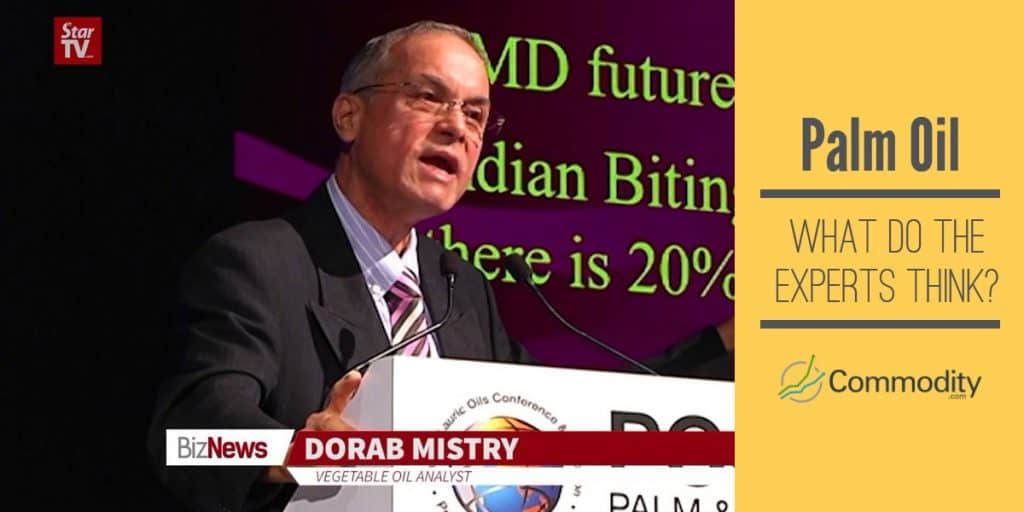 One of the leading experts on palm oil is bullish about the prospects for prices.
He cites the tightness of supply and weakness in production from the two main suppliers – Indonesia and Malaysia – as sources for his optimism:
Peak stocks in Malaysia will not exceed 2.3 million tonnes by January 2018. After that stocks will decline … all the way to July 2018 and we shall have a period of the tightest ever stocks in history.

– Dorab Mistry, leading edible oils analyst
Further Reading
If you are interested in agricultural commodities like palm oil, see our Agricultural Commodity Guide where we provide specified trading guides for commodities like:
Other relevant sources: