Review
AvaTrade Review: How Does This Irish CFD Broker Measure Up? [2020 Update]
Last Updated on
Risk Warning: Your Capital is at Risk.
AvaTrade Overview
AvaTrade is an online brokerage firm offering its customers access to forex and Contracts for Difference (CFD) trading in shares, bonds, indices, ETFs, commodities, and cryptocurrencies.
The firm also offers spread betting to residents of the United Kingdom and Ireland. CFDs allow traders to speculate on the price of assets without actually owning them in their accounts.
In this review, we'll provide all the details you need to know before deciding to trade with Avatrade.
AvaTrade customers have access to several customizable trading platforms. Traders can choose between the proprietary AvaTradeGo platform and the industry-leading MetaTrader4 (MT4) platform for manual trading.
Both platforms offer full mobile trading supports. Traders also have automated trading platform choices including ZuluTrade, which can be integrated into MT4, downloaded as an app or traded over the web.
This AvaTrade review will cover all of the important details about the broker and discuss its major advantages and disadvantages.
Why Choose AvaTrade?
Pros

Cons

Trustworthy broker (we scored AvaTrade 75/100 in our broker trust rating)
Demo account limited to 21 days
Islamic accounts available
High minimum deposit amounts
11 cryptocurrencies available to trade
AUD and GBP currencies only available to Australian and British clients, respectively
24/5 customer support via phone, live chat or email in 26 languages
Withdrawals can take up to 10 days - however, they do tend to be 1/2 working days
Robust mobile application for on-the-go trading
Up to 400:1
leverage
Essential Details About AvaTrade
Overview
Overview
One of the UK's top spread betting & CFD providers
Our Overall Rating
Broker Trust Rating
75/100
Founded
2006
Product
CFDs, Forex
Markets
Indices, Shares, Bonds, Commodities, Cryptocurrencies, ETFs
Countries Served
More than 150
Fees
AvaTrade is a no-commission broker. It makes money through the market bid/ask spread (See below). See here for full list of fees and funding/withdrawal limits.
Regulator(s)
Central Bank of Ireland
Australian Securities & Investments Commission (ASIC)
Financial Services Agency - Japan
Financial Services Board – South Africa
Customer Support
24/5 email, live chat and phone in 14 languages
Demo Account
Yes - for 21 days
Regulation: Can I Trust AvaTrade?
AvaTrade is regulated by several well-respected international regulatory bodies. All of the below bodies provide protection over clients' funds by ensuring they are kept in separate bank accounts.
More, the Markets in Financial Instruments Directive (MiFID) allows AVA Trade Ltd. to operate throughout the European Union. The company is also regulated by B.V.I Financial Services Commission.
However, the firm has been sanctioned by regulators in 2016 and 2017 for its actions in Belgium, Israel and Canada.
Agency
Date
Violation
Fine Amount
Financial Services and Markets Authority (FSMA)
August 2017
Failure to provide a prospectus in connection with a public offer of investment instruments in Belgium
Failure to seek approval from FSMA for advertisement or other document relating to the said public offers
€175,000
Israel Securities Authority (ISA)
May 2017
ATrade subsidiary (atrade.co.il) of global retail forex broker AvaTrade has been fined due to a misleading video the company circulated as part of a recent promotional campaign
150,000 NIS (New Israeli Shekel)
British Columbia Securities Commission
May 2016
Issued regulatory warning for placing advertising despite not being registered to trade in, or advise on, securities or exchange contracts in British Columbia
N/A
AvaTrade offers customers dedicated 24/5 customer support in 24 languages. Traders can contact the AvaTrade customer service support team by phone, email, and live chat.
Where Does AvaTrade Operate?
AvaTrade has its administrative headquarters in Dublin, Ireland, and regional offices in Paris, Dublin, Milan, Tokyo and Sydney. The firm also has a presence in Madrid, Mongolia, China, Nigeria, Chile and South Africa.
IMPORTANT: CFDs are not available in the USA due to local regulation, and regulated brokers do not accept US citizens or US residents as clients.
However, US traders in 40+ states & territories are welcome at eToro, who hold a US license for cryptocurrency trading, including Bitcoin, Ethereum & many more.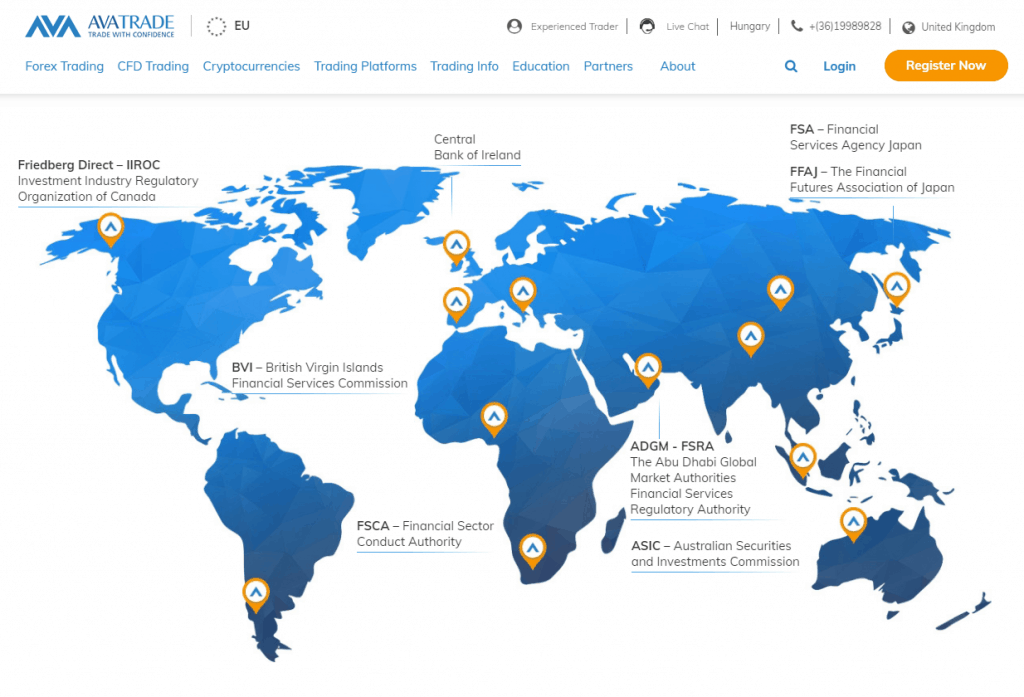 AvaTrade servers traders in over 150 countries, including Italy, Spain, Germany, Brazil, United Arab Emirates, Sweden, Finland, South Africa, Australia, China, Russia, Poland, Hungary, and Chile.
However, AvaTrade is not available in the United States. Other countries AvaTrade doesn't operate in and where trading is banned include Iran, Syria, North Korea, New Zealand, Turkey, and Sudan.
The website and platform are available in 24 different languages, including Dutch, English, Finnish, French, Italian, German, Korean, Spanish, Portuguese, Arabic, Russian, Chinese, Swedish, and Turkish.
History of AvaTrade
AvaTrade was founded in Dublin, Ireland, in 2006 by Emanuel Kronitz and Negev Nosatzki. The firm began operations as forex trading firm Ava FX, but soon branched out into other asset classes.
In 2013, the firm recognized that it had become a multi-asset brokerage firm and rebranded itself as AvaTrade.
Who Runs AvaTrade?
AvaTrade is currently lead by CEO Dáire Ferguson. Ferguson joined AvaTrade in 2008 from a background in pharmaceuticals, and a degree in Computers and Business from UCD, Dublin.
The team of executives are a mixture of experienced and younger members.
Start Trading Now at AvaTrade.com
Risk Warning: 79% of retail trader accounts lose money when trading CFDs with this provider. You should consider whether you can afford to take the high risk of losing your money.
Getting Started With Trading
AvaTrade offers customers forex and CFD trading in more than 250 financial instruments. AvaTrade divides the products it offers to traders into six categories: forex, indices, shares, ETFs, commodities, and cryptocurrencies.
Forex
AvaTrade provides its traders with access to more than 50 forex pairs, including all the major currency pairs, minors and exotics.
Indices
AvaTrade offers CFD markets on 19 stock indices:
Shares
AvaTrade currently offers more than 100 different stocks to traders, including the following:
Apple
Barclays
Berkshire Hathaway
Coca-Cola
Google
Groupon
Snapchat
Telefonica
Tesla
Twitter
ETFs
AvaTrade customers can trade CFDs on the following ETFs:
Commodities
AvaTrade offers CFD trading on the following commodities:
Cryptocurrencies
Bonds
AvaTrade offers European and Japanese government bonds with a maximum leverage of up to 5:1.
AvaTrade Spreads
AvaTrade is compensated through the Bid/Ask spread. The broker offers both fixed and variable spreads depending on the specific market being traded.
Fixed spreads: These spreads don't change, regardless of market conditions like volatility or liquidity.
Variable spreads: These spreads may fluctuate throughout the day in accordance with factors like liquidity or volatility. AvaTrade informs traders on its website of the minimum variable spreads as well as the average spreads over a recent timeframe.
AvaTrade obtains spreads data from reputable third-party sources, which in turn obtain the data from exchange feeds.
Forex Fixed Spreads
Indices Spreads
Shares Spreads
ETF Spreads
Commodities Spreads
Cryptocurrencies Spreads
Leverage and Margin Requirements
The maximum leverage when trading with AvaTrade is 30:1. This maximum leverage is available on numerous forex pairs.
However, different CFD assets have specific margin requirements. Traders should consult the Trading Conditions & Charges section of the AvaTrade website for the specific margin requirements for each instrument.
Traders who fall below the AvaTrade margin requirements risk receiving a margin call and having their position closed prematurely.
Deposits, Withdrawals, and Fees
| Fee Type | Charges |
| --- | --- |
| Deposit Fee | None |
| Withdrawal Fee | None |
| Inactivity Fee | $/£/€50 per quarter after 3-months of inactivity |
| Administration Fee | $/£/€100 after 12-months of inactivity |
| Overnight Fee | Overnight fees (or credit) are charged when a position remains open past 22:00 GMT. According to AvaTrade's website, overnight fees are subject to change. |
| Commission | AvaTrade is compensated via their Bid-Ask Spreads (Pip). Click here to see the Pip calculation formulas for each asset class. |
| Optional Add-Ons | Customers may incur fees if they want to purchase additional optional value-added services offered by AvaTrade. |
Deposit Methods and Process
AvaTrade offers several deposit methods. These include:
Credit and debit card (not available to traders from Canada)
Wire transfer

Duration: Up to 7-10 days*

E-wallets: Skrill, WebMoney, and Neteller (not available to traders from the UK and Australia)

Duration: Within 24 hours*
*Subject to the expected operation of payment providers and adequate account verification with AvaTrade.
The minimum deposit is $/£/€100 across all methods. Deposits can be canceled by contacting AvaTrade's support team on business days (excl. Saturdays and Sundays). If deposits do not arrive in traders accounts, they can also contact the support team.
AvaTrade Withdrawals
In order to withdraw funds, traders need to fill out a withdrawal form through MyAva. Traders must verify their account to be eligible for withdrawals.
For compliance purposes, AvaTrade must transfer your funds back to the original source you used to fund your account. This account needs to be in the same name as the account maintained with AvaTrade.
After you have withdrawn up to 200% of your initially deposited funds (upon profit) to your funding card, you may choose other methods to withdraw the rest of your funds.
Withdrawal Times
AvaTrade typically processes withdrawals within 1 to 2 business days after they are approved. However, the broker notes that processing and receiving your funds may take up to 10 business days. (* Saturday, Sunday and US Public Holidays are not considered business days).
AvaTrade notifies customers via email about any problems regarding withdrawal requests. AvaTrade will not approve withdrawal requests until all requirements are met.
AvaTrade notes that once they send the funds, it may take a few extra days to reach the trader's account depending on their bank/credit card company.
Bid-Ask Spread (Pip) Calculation
AvaTrade do not charge commissions, but are compensated through the bid-ask spread (Pip) charged during each trade. Traders can calculate the Pip charges using the following formulas for each asset class:
Forex, AvaOpions: Spread x Trade Size = Spread Charge in Secondary Currency*
Commodities, Stock Indices, Bonds, Individual Equities, ETFs: Spread x Trade Size = Spread Charge in Currency Instrument is denominated in
*Secondary Currency stands for the second currency presented in an FX pair
Start Trading Now at AvaTrade.com
Risk Warning: 79% of retail trader accounts lose money when trading CFDs with this provider. You should consider whether you can afford to take the high risk of losing your money.
Account Types and Requirements
AvaTrade offers two live trading accounts (retail and professional) and a demo account. The firm also offers Islamic accounts. Traders can open a live trading account with a minimum deposit of $\£\€100 by credit card deposit and $/£/€500 by wire transfer.
Traders can open accounts denominated in USD, EUR, GPB, and AUD. AUD is only available for Australian clients, while GBP is only available for clients from the UK.
Demo Account
AvaTrade offers a 21-day demo account. Users get a total of 100,000 demo currency credits to test the platform with. Both live and demo accounts have live price feeds.
Traders who want additional time on top of the standard 21-day demo account can contact your account manager for an extension.
Switching over to a real account from a demo account can be done via the demo dashboard by clicking on the 'Upgrade to Real' button.
Traders need to fill in some personal details to verify themselves, along with details on trading knowledge, experience, the preferred platform, and currency. Live chat is also available to assist with upgrades.
Account Requirements
The sign-up process is quick and simple with AvaTrade:
Click the 'Register Now' button on the AvaTrade website
Choose between a real or demo account
Enter your name, email and phone number
Enter your address and date of birth (not needed for demo)
Fill out basic information about your trading experience and trading knowledge (not needed for demo)
Select a password, choose a trading platform (not needed for demo)
Select the currency for your account (not needed for demo)
The next AvaTrade screen asks you for basic information such as your estimated annual income, savings, expected annual investment of funds and source of account funding.
Identity Verification
To pass the AvaTrade identity verification, you will need to upload both an ID and proof of residence. However, traders can make deposits prior to being verified by AvaTrade.
Document
Commentary
Identification (ID)

Acceptable forms of ID:


Valid Passport
National ID
Driver's Licence


Customers must send copies of the front and back of ID card


ID card must present the following details:


First name
Last name
Date of birth
Issue date
Expiration date
Proof of Residence (PoR)

Acceptable forms of PoR:


Utility bills (gas, electricity, water etc.)
Bank statements (A/C statements, mortgage statements, etc.)
Visa statements
Household insurance policy
Vehicle insurance policy
Taxation documentation
Other PoR requirements:


The document must be dated within 6 months before the current date
Address must appear on the bill, in order to establish your place of residence
Traders can make deposits and withdrawals by Visa, Pay.com, or wire transfer. The minimum deposit for new customers is $/£/€100 via credit/debit cards, wire transfer, and e-wallets (including PayPal
Traders then choose the currency they want for their account – USD, EUR, GBP, or AUD. However, AUD is only available for Australian clients, while GBP is only available for clients from the UK.
Retail and Professional Accounts: What's the Difference?
AvaTrade offers two types of accounts. Retail accounts, and professional trading accounts.
Professional traders have the benefit of pre-ESMA leverages, including 400:1 on forex pairs and 25:1 on selected cryptocurrency assets.
In order to qualify for a professional account, traders have to meet an eligibility criteria. The criteria involves:
Sufficient trading activity over the past 12 months (inc. size, transaction volume).
Minimum 10 trades per quarter in the past 12 months
At least one year of relevant experience in the financial services sector
Financial portfolio of over $/£/€500,000 (inc. cash and instruments)
Start Trading Now at AvaTrade.com
Risk Warning: 79% of retail trader accounts lose money when trading CFDs with this provider. You should consider whether you can afford to take the high risk of losing your money.
Mobile Trading: AvaTradeGO
When it comes to mobile trading, AvaTrade caters for traders of all levels with AvaTradeGo.
AvaTradeGo is an on-the-go trading platform designed and released as a mobile application in the App Store for iOS users, and on Google Play for Android users.
Mobile users who are not yet ready to trade live can access a practice account with AvaTradeGo.
Mobile Platform Features
The mobile application is feature-rich. Traders are not asked to compromise any of the desktop and web trader features, receiving:
A three-tiered dashboard with a watchlist, hot trades, and trending trades sections
All 9 asset classes
An overall P/L indicator (wallet dashboard)
An overall margin level indicator (wallet dashboard)
Order management dashboard
Full-feature trade execution with P/L limits
AvaProtect – lets traders define trade duration as protection
Tutorials and educational resources
Executing Trades
The trade execution screen seems busy at first, although is well-designed and straightforward to navigate. The top of the screen presents a choice to buy or sell, followed by a slot to define the exact amount.
At the bottom of the trade execution screen, users can access a small chart of their selected products.
Traders can choose from Stop-Loss and Take-Profit limits, as well as AvaProtect.
Signing Up on Mobile
The mobile sign-up process is relatively quick. Users can choose between a practice account or a real account.
As per the web trader registration, traders are asked to fill in a set of personal and experience-related details. Demo account traders are not required to complete the verification process.
Upgrading to Live Trading on Mobile
Traders can upgrade to a real trading account directly from the mobile application, either from the homepage dashboard, or the account settings section.
This process is completed once traders' accounts are verified.
AvaOptions Mobile Trading
AvaOption is AvaTrade's mobile-exclusive options platform. Traders can execute, and manage FX and option trades on-the-go with 13 different options strategies available.
The AvaOptions mobile app includes an integrated strategy guide and 40+ currency pairs.
Start Trading Now at AvaTrade.com
Risk Warning: 79% of retail trader accounts lose money when trading CFDs with this provider. You should consider whether you can afford to take the high risk of losing your money.
AvaTrade Platform Review
AvaTrade offers traders access to several third-party trading platforms including:
AvaTrade Web: AvaTrade's own in-house trading platform accessible through desktop and larger tablets.
AvaTradeGo: A full-featured mobile application version of the AvaTrade web trader.
MetaTrader 4 & 5: A popular industry-wide trading software that's accessible through mobile, tablets, and desktop.
DupliTrade: A social trading platform with the option to automate trades, integratable with AvaTrade web.
MQL5: Social trading integratable with MetaTrader 4 and 5.
ZuluTrade: Social trading with trade protection features.
This review in particular focuses on AvaTrade's web trader and its features.
The Dashboard
The AvaTrade web trader's dashboard welcomes traders with a shortcut menu on the left-hand side, offering tabs like trading, position management, open orders, and order history.
The hamburger menu allows access account settings, personal preferences, and various trading tools like the trading calculator.
Given that the page is split into asset browsing and charting, it has a simple and uncluttered design. The top-bar crowns the page with overall account balance statistics, like the available and total balances, along with the trader's profit/loss and equity data.
Live chat is available directly from the AvaTrade web trader dashboard.
Key Features
By key features, we mean those features with which a trader is bound to interact with while executing a trade.
Assorted Asset Browsing: Traders can access various trending asset classes, like 'Hot', 'Most Rising', or 'Most Falling' amongst a few, as well as specific asset classes like commodities and bonds.
Two-Click Trades: Trades can be executed in as little as two clicks.
One-Click Favorites: Each tradeable product has a star next to it. By clicking it, traders can add the product to their list of favorites.
Risk Management Tools: When buying or selling, traders can set limits for specific profit and/or loss amounts.
Future Trade Limits: Set the price at which you want a trade to be executed in the future.
Order History: A comprehensive order history tab that keeps track of past trade statistics, navigatable by custom time periods
Trading Calculator: A simple calculator that allows traders to project and calculate the minute details (spread cost, margin, profit/loss) of prospective trades.
Charting Features
The charting tab is located under the trading dashboard. Unfortunately, trader's can't customize the size of the chart.
There are four main features of the charting functionality:
Time frame: A choice of chart timescales between minutes (1, 5, 15, 30), hours (1, 2, 4), 1 day, and 1 week.
Chart type: Traders can choose between bar, candle, or line chart design.
Cursor type: Crosshair or plain cursor.
Studies: A charting tool that allows traders to draw up to five different indicators on the chart. These indicators vary from the simpler 'standard deviation' index to the likes of a linear regression curve or gator oscillator. There are a total of 90 indicators available, although only 5 can be drawn up at a time.
Start Trading Now at AvaTrade.com
Risk Warning: 79% of retail trader accounts lose money when trading CFDs with this provider. You should consider whether you can afford to take the high risk of losing your money.
AvaTrade Education Resources
There are two types of educational resources offered by AvaTrade. The main resource library is the Education tab on the AvaTrade website.
It offers several resources to help traders improve their skills. These include the following:
Trading for Beginners: A basic description of the terms and products on the AvaTrade platform.
Videos: A library with a total of 55 videos on trading strategies, tools, safety, and generic beginner lessons.
Sharp Trader: A premium educational website with exclusive content for AvaTrade customers. Sharp Trader offers videos, articles, daily news, and trading tools that teach fundamentals and advanced strategies used by professional traders.
Economic Indicators: An explanation of different types of statistics about particular countries' economies and how they are used.
ebook and Blog: Forex First Steps is an eBook for new traders. Traders can learn forex trading and other trading concepts. There is also a blog with various trading tips and insights.
Order: The section named 'Other Type' in the dropdown menu leads to a page that explains different types of orders and how they are used.
Customer Support
AvaTrade has an extensive customer support center with phone support numbers in 38 countries.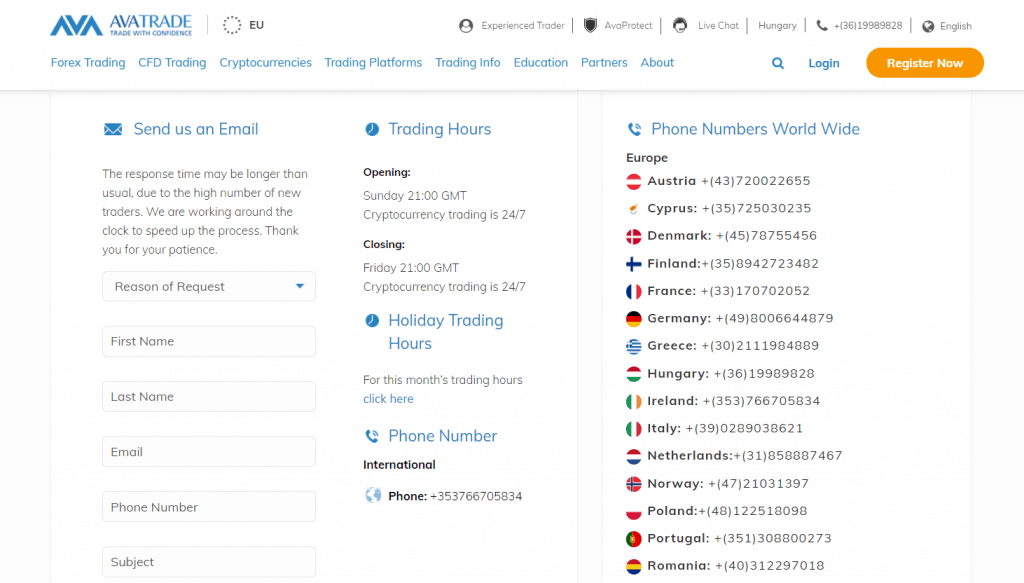 While there is an international phone number available on AvaTrade's context page, it is unclear whether dedicated phone support is also in local languages.
AvaTrade also offers live chat and email support. All support avenues are available 24-hours-a-day, 5 days-a-week.
Official trading hours are from 21:00 GMT on Sundays to 21:00 GMT on Fridays.
Start Trading Now at AvaTrade.com
Risk Warning: 79% of retail trader accounts lose money when trading CFDs with this provider. You should consider whether you can afford to take the high risk of losing your money.
FAQs
Given that there is a great bundle of information on this page, here are a few common queries to get you started with finding out about some of the basics.
What is the minimum deposit for AvaTrade?
The minimum deposit for AvaTrade is $/£/€100. This deposit can be made through various methods. You can fund your AvaTrade account via credit and debit card, wire transfer, Skrill, Neteller, and WebMoney.
Note that credit and debit card payments are not available for Canadian residents, while Skrill, Neteller, and WebMoney are not available for the UK and Australian residents.
Is AvaTrade regulated?
AvaTrade is regulated by several authorities, including the Central Bank of Ireland (CBI), Australian Securities and Investments Commission (ASIC), Financial Services Agency in Japan (FSA), and the Financial Sector Conduct Authority in South Africa (FSCA).
AvaTrade is also regulated by the Markets in Financial Instruments Derivative (MiFID) with permission to operate in EU countries.
How long do AvaTrade withdrawals take?
AvaTrade claims that the withdrawal process takes one to two working days (Mon to Fri).
The arrival time of your funds depends on the payment method used for your withdrawal. The fastest withdrawals are usually processed via credit and debit cards, alternatively via e-wallets like Neteller and Skrill. Wire transfers may take the longest.
How do I withdraw money from AvaTrade?
Before you can withdraw your money from AvaTrade, you need to ensure that your AvaTrade account and identity have been fully verified and confirmed by the AvaTrade team.
Once the KYC and verification process is completed, you may proceed to withdraw your funds. The process takes one to two working days, although your funds may take longer to arrive.
It must be noted that initial deposits must be withdrawn with the payment provider you deposited with.
Start Trading Now at AvaTrade.com
Risk Warning: CFDs are complex instruments and come with a high risk of losing money rapidly due to leverage. 79% of retail trader accounts lose money when trading CFDs with this provider. You should consider whether you can afford to take the high risk of losing your money.
Credits: Original AvaTrade review written by Lawrence Pines. Major updates and additions in May 2020 by Marko Csokasi with contributions from the Commodity.com editorial team.