Disclosure:
Your support helps keep Commodity.com running! We earn a referral fee for some brokers & services we list on this page.
Learn more...
Many industries use aluminum in their products, so aluminum demand is a good barometer of the strength of the manufacturing economy.
Manufacturing represents an important part of GDP, particularly in the fast-growing emerging economies, so investing in aluminum is a way to bet on global GDP growth.
Some of the commonly cited reasons for investing in aluminum include:
Bet on Chinese Demand
Bet on Transportation Demand
Portfolio Diversification
Learn more about these or jump ahead to learn where and how to start trading aluminum.
Betting on Chinese Demand
China produces and consumes a large percentage of the overall global aluminum market. The fast-growing Chinese economy has needed aluminum in recent years for construction, transportation and electronics, and Chinese companies supplied the metal.
However, as Chinese GDP slowed, internal demand could not absorb the large supply, and Chinese producers increased exports of aluminum to the United States and other countries. If Chinese economic growth picks up, then the country's demand for aluminum will grow. This could create a supply shortage and higher prices.
Speculating on Transportation Demand
The global economy depends on transportation to support growth. The market for aluminum in aerospace equipment and automobiles could grow as the global economy expands. Individuals need cars and trucks to travel to work.
Pro-growth policies in industrial and emerging economies should boost demand for aluminum in transportation products.
Diversify Your Portfolio
Investing a portion of a portfolio in aluminum along with other metals and other commodities in general is a great way to achieve asset diversification. Baskets of commodities including aluminum insulate traders from declines in any one particular commodity.
How to Trade in Aluminum
| Method of Investing | Storage Costs? | Security Costs? | Expiration Dates? | Management Costs? | Leverage? | Regulated Exchange? |
| --- | --- | --- | --- | --- | --- | --- |
| Aluminum Futures | N | N | Y | N | Y | Y |
| Aluminum ETFs | N | N | N | Y | N | Y |
| Aluminum Shares | N | N | N | N | Y | Y |
| Aluminum CFDs | N | N | N | N | Y | Y |
Aluminum traders have several ways to invest in the commodity:
Aluminum futures
ETFs
Shares of Aluminum Companies
CFDs
Aluminum Futures
The COMEX, which is part of the New York Mercantile Exchange (NYMEX) and Chicago Mercantile Exchange (CME), offers a contract on Aluminum MW US Transaction Premium Platts that settles into 25 metric tons of the metal.
The contract trades globally on the CME Globex electronic trading platform. Futures are a derivative instrument through which traders make leveraged bets on commodity prices. If prices decline, traders must deposit additional margin in order to maintain their positions.
Aluminum futures contracts expire on the last business day of the contract month and are financially settled. Investing in futures requires a high level of sophistication since factors such as storage costs and interest rates affect pricing.
ETFs
These financial instruments trade as shares on exchanges in the same way that stocks do.
There are currently two exchange-traded funds (ETFs) that invest in aluminum futures:
iPath Dow Jones-UBS Aluminum ETN (NYSEARCA: JJU)

iPath Pure Beta Aluminum ETN (NYSEARCA: FOIL)
There are also several ETFs that invest generally in industrial metals including the following:
UBS E TRACS CMCI Industrial Metals Total Return ETN (NYSEARCA: UBM)

SPDR S&P Metals & Mining ETF (NYSEARCA: XME)
*UBS E TRACS CMCI Industrial Metals and SPDR S&P Metals & Mining invest generally in industrial metals.
Shares of Aluminum Companies
There are many companies engaged in mining and processing bauxite and other ores. While these companies are not pure-play investments in the commodity aluminum, the performance of their shares is generally correlated with the price of aluminum and other industrial metals.
A few popular mining stocks include:
Aluminum Mining Stocks
Current Price
Overview
Listings
Rio Tinto


Developed some of the world's largest and best quality mines and operations.
New York (NYSE)
London (LSE)
Sydney (ASX)
Alcoa


Invented the aluminum industry in 1888 and continue to innovate with new technologies and processes.
New York (NYSE)
Hydro


A global, integrated aluminum company.
Oslo (OSE)
OTCQX International
Alumina Ltd

Invest in bauxite mining and alumina refining through Alcoa World Alumina & Chemicals (AWAC)
Sydney (ASX)
New York (OTCQB)
Century Aluminum


Global producer of primary aluminum. Operates aluminum reduction facilities in the US and Iceland.
NASDAQ (New York)
Aluminum CFDs
There is an easy way to trade aluminum that is superior in many ways to the alternatives discussed in this guide. Through a derivative instrument known as a contract for difference (CFD), traders can speculate on aluminum prices without actually owning physical aluminum, mining shares or financial instruments such as ETFs, futures or options.
Many regulated brokers worldwide offer CFDs on aluminum. Customers deposit funds with the broker, which serve as margin. The advantage of CFDs is that traders can have exposure to aluminum without having to purchase shares, ETFs or futures. Traders also don't have to worry about getting the timing and size of markets move correct in order to profit on their trades – like they would trading aluminum futures.
Where Can You Trade Aluminum?
If you are looking to get started trading aluminum and other commodities, here's a list of regulated options available in to consider.
Top Aluminum Brokers Available in
Loading table...
CFDs are complex instruments and come with a high risk of losing money rapidly due to leverage. Between 73.90%-89.00% of retail investor accounts lose money when trading CFDs. You should consider whether you understand how CFDs work and whether you can afford to take the high risk of losing your money.
Should I Invest in Aluminum?
Investors should consider both the pros and cons of investing in aluminum. Some of the best reasons for making an investment include:
To divest your portfolio
To bet on global growth
To bet on manufacturing growth
Portfolio Diversification
This may be the best reason to invest in aluminum. Commodities such as aluminum provide traders with a way to mitigate the risk of having assets concentrated solely in stocks and bonds.
Global Growth
Investing in aluminum is a great way to bet on a global growth boom. Both developed and emerging countries will need aluminum for transportation and construction projects in the years ahead. If growth accelerates in both the emerging and developed world, there could be fierce price competition for industrial commodities such as aluminum, and prices should respond favorably.
Manufacturing Demand
Strong global growth usually boosts demand for manufactured goods such as refrigerators, cars, electronics and packaged goods. Investment in aluminum is a way to bet on a robust manufacturing economy.
3 Risks in Investing in Aluminum
Overproduction glut
Advances in composite materials
Strengthening US Dollar
Investing in aluminum, however, has its risks. There are three compelling reasons aluminum prices might decline in value:
Overproduction
The Chinese have a recent history of overproducing commodities and dumping them on global markets. If internal demand for commodities does not pick up in China, markets might suffer from a glut of aluminum supply.
Substitution Effect
Aluminum faces serious competition from composite materials. Technological innovations have created products that are lightweight and priced competitively. If these advances continue, then aluminum prices could suffer.
Strong US Dollar
A strong US currency is usually the enemy of commodity prices. If the US Federal Reserve turns hawkish and aggressively raises rates, the dollar may rally and commodity prices including aluminum may suffer.
What Do the Experts Think About Aluminum?
Experts are ambivalent about the prospects for aluminum prices over the coming years. Some analysts optimistic on the commodity point to the correction of global supply/demand imbalances.
JPMorgan, for instance, notes that supply reform should lift markets in the future. It points to the closing of smelters in China as a positive catalyst, although it also notes that these smelters will likely reopen as the price of aluminum rises.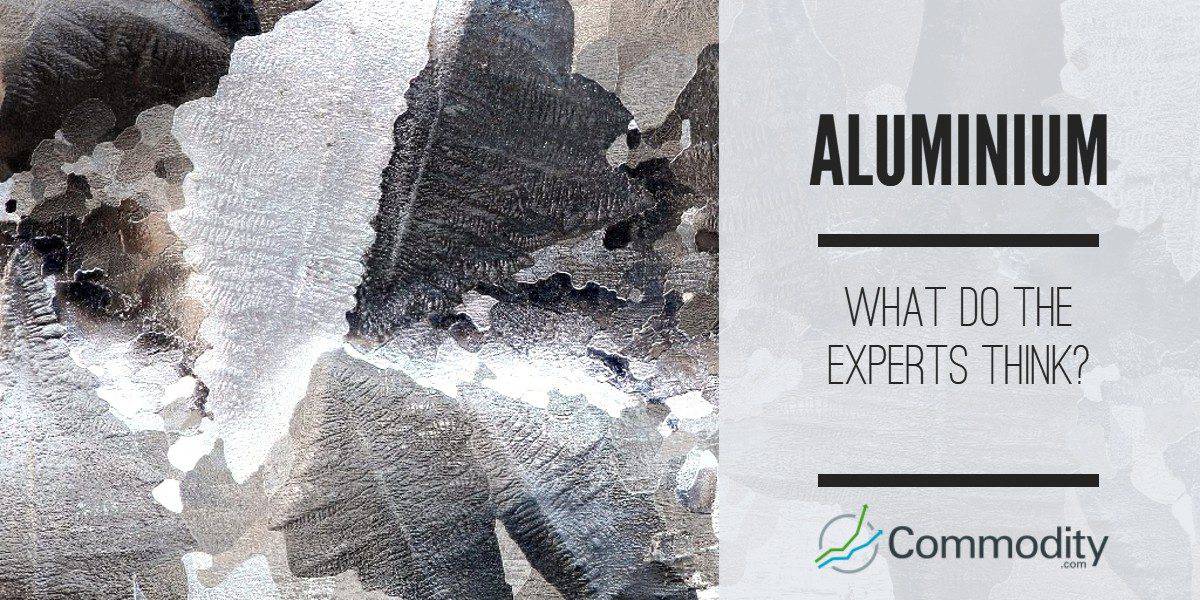 Andrew Estel, vice president of strategic planning and analysis at Alcoa, said that Chinese demand for aluminum is expected to increase by 7 percent this year, ahead of the global rate of 5 percent. Estel said China represents over 50 percent of world demand for primary aluminum.
He notes that growth in Chinese demand should exceed the rest of the world, but that Chinese surplus production remains an overhang on prices.