We begin Slovenia's economic overview by assessing the country's global position by GDP, as well as the country's trade balance.
Then, we explore Slovenia's top export and import partners, the most exported and imported commodities, and other high-volume trades in various products.
We conclude this guide with a list of regulated brokers and further resources on commodity trading.
Slovenia Economy Overview
The Republic of Slovenia, had the 83rd highest GDP in the world, according to the most recent data. Product exports totaled $37.8 billion and imports topped $40.8 billion.
It ranked 61st in overall exports and 59th in total imports out of 196 countries. As a result, Slovenia had a negative trade balance of $3 billion.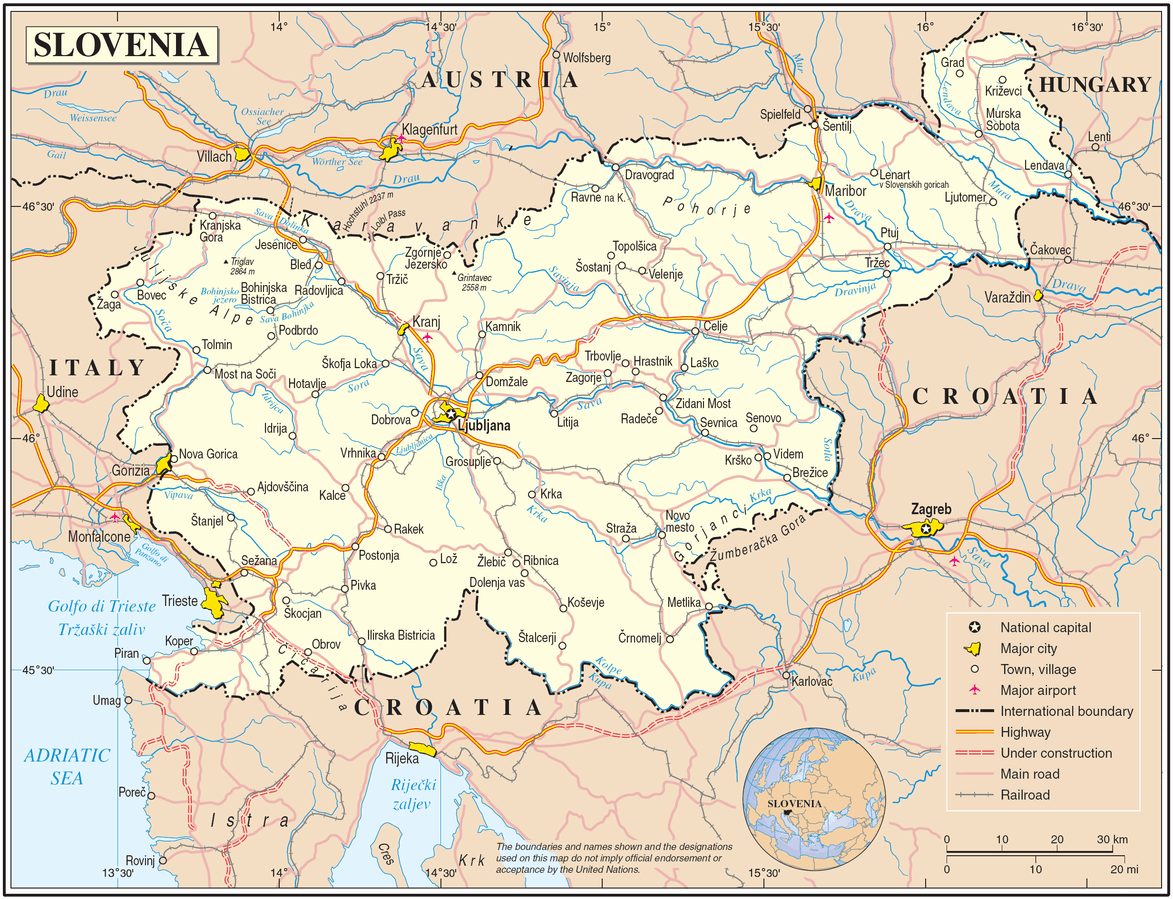 Located in central Europe, Slovenia's top export partners are Germany, Italy, Croatia, Austria, and France. The same countries top the import partners' list, with China as an addition.
Slovenia was part of Yugoslavia until 1991. It joined NATO in 2004 and the European Union in 2007. The country shares borders with Austria, Croatia, Italy, and Hungary.
Slovenia's Top 5 Commodity Exports
Slovenia's five most exported commodities by trade volume are:
Slovenia's Other Notable Exports
Cars – $4.38 billion
Packaged Medicaments – $3.18 billion
Vehicle Parts – $1.26 billion
Electrical Lighting and Signaling Equipment – $623 million
Electricity – $513 million
Slovenia's Top 5 Commodity Imports
Slovenia's top five commodity imports overlap with the exports.
Slovenia's Other Notable Imports
Cars – $2.6 billion
Packaged Medicaments – $1.66 billion
Vehicle Parts – $1.45 billion
Delivery Trucks – $798 million
Broadcasting Equipment – $496 million
Details on Slovenia's Imports/Exports
Here are some additional details about some of the most exported and imported assets in Slovenia, and the volumes traded with mostly European countries.
Cars
Slovenia's number one export was cars ($4.4 billion), which they primarily sent to Germany. They are the 28th biggest exporter of cars in the world, trailing Morocco but leading Portugal in car exports.
After Germany, the biggest purchasers of cars from Slovenia were France, Italy, Croatia, and Spain.
Slovenia also imports cars — again, primarily from Germany — worth upwards of $2.6 billion. They ranked #42 in overall car imports, ahead of Egypt but behind Ireland.
After Germany, car imports came to Slovenia from Turkey, France, Czechia, and Spain.
Raw Aluminum
Slovenia was the 34th largest global exporter of raw aluminum worldwide ($314 million), behind Brazil but ahead of Egypt. This EU member state sends most of its raw aluminum to Croatia, Germany, Italy, Hungary, and Poland.
Slovenia imports more raw aluminum ($388 million) than it exports with a negative trade balance of about $74 million. Slovenia gets about 30% its Raw Aluminum from Italy, but also from Mozambique, India, Germany, and neighboring Romania.
All figures based on 2018 OEC and GlobalEdge.msu.edu trade data and projections unless stated otherwise.
Where Can I Trade Commodities?
Start your research with reviews of these regulated brokers available in .
CFDs are complex instruments and come with a high risk of losing money rapidly due to leverage. Between 74%-89% of retail investor accounts lose money when trading CFDs. You should consider whether you can afford to take the high risk of losing your money.
Sources & Further Reading
If you'd like to learn more about Slovenia's economy, you can see the Slovenia's debt clock.
Read on to learn about ways to trade Slovenia's most traded commodities via our guides on different instruments to trade like contracts-for-difference (CFDs), options, stocks, and bullion dealers.
To browse other commodities and see how they produced and traded, see the following commodity guides on:
All currency reported in US dollars.