Last Updated on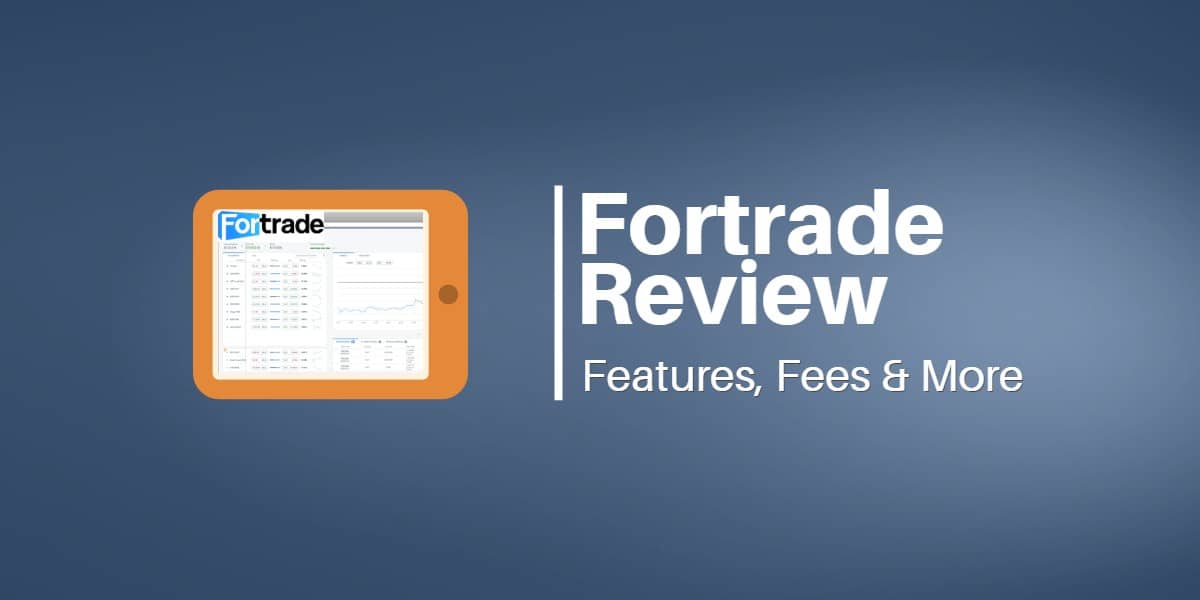 Overview
Risk Warning: Your Capital is at Risk
Fortrade is a UK-based derivative brokerage firm that offers customers a platform for trading forex and Contracts for Difference (CFDs). CFDs allow traders to speculate on the price of assets without actually owning them in their accounts. Fortrade offers customers CFDs on forex, cryptocurrencies, stock CFDs, index CFDs, precious metals, energy products, agricultural products, US Treasuries and ETFs.
Fortrade traders have a choice between the broker's proprietary Fortrader platform and the popular MetaTrader4 (MT4) platform. Both are available via web-based, desktop or mobile interface. Traders can access over 300 financial assets and employ leverage of up to 1 to 200 on forex pairs and 1 to 50 on commodity and index CFDs.
Fortrade emphasizes its user-friendly technology, scalable platform and its regulation by one of the top international regulatory bodies – the Financial Conduct Authority – as its strengths. Traders looking for a broker that is regulated across the European Union and offers access to CFDs across several major asset classes may want to investigate the offerings at Fortrade. Please remember that trading CFDs exposes traders to the possibility of losses. While Fortrade won't allow you to lose more than you have invested in your Fortrade account, CFD trading is for experienced traders.
This Fortrade review will cover all of the important details about the broker to help you make an informed opinion about its products and services.
Why Choose Fortrade?
| What's Good About Fortrade? | What Could Fortrade Do Better? |
| --- | --- |
| Trustworthy broker (we scored Fortrade 80/100 in our broker trust rating) | International Telegraphic Transfer (TT) Fees are passed onto the customer for withdrawals (approx. $40) |
| Extensive educational tools available, however, this may be quantity over quality | Fees charged for wire transfers and these can take up to 5 business days to process |
| Handy tutorial to help get you started with the platform | Withdrawals can take up to 15 business days for debit/credit cards |
| Islamic accounts available and run in accordance with Sharia law (these require a min. deposit of $2,000, however) | Platform may be too basic for some traders but the MT4 platform is also supported by Fortrade |
| Support and website available in multiple languages | |
| 12-hour customer support via email, live chat and phone between 9 am and 9 pm | |
Fortrade - Essential Information

www.Fortrade.com
Overview
Leading provider of online trading solutions for individual and institutional clients
Our Overall Rating
Broker Trust Rating
80/100
Founded
2013
Product
CFDs
Forex
Markets
Stock CFDs
Index CFDs
Forex
Cryptocurrencies
Commodities
US Treasuries
ETFs

Countries Served
150+ (Full list below)
Minimum Deposit
£100 (with a suggestion of £500)
Fees
Fortrade is a no-comission broker, recieving its compensation in the form of the market bid/ask spreads on each instrument. (See below for a full list of fees)
Regulator(s)
Financial Conduct Authority (FCA)
Customer Support
Between 9 AM and 9 PM daily by phone, email or live chat
Demo Account
Yes
History of Fortrade
Fortrade is operated by Fortrade Limited. The privately held firm was incorporated in the United Kingdom on July 22, 2013, under the name Integrisafe Ltd. The firm changed its name to Fortrade on May 19, 2014, and was registered by the Financial Conduct Authority (FCA) on May 20, 2014.
Fortrade has headquarters in London, United Kingdom. Its Financial Reference Number issued by the Financial Conduct Authority is 609970.
Fortrade provides customers with customer support 12 hours a day between 9 am and 9 pm local time in the United Kingdom. During this period, traders can contact the firm by phone or by live chat.
Traders can also contact Fortrade customer support by email and through an online form where they can leave a callback number and/or email for Fortrade to contact them. Traders can view the Fortrade website in English, German, Spanish, French, Croatian, Italian, Dutch, Polish, Portuguese, Slovene, Swedish, Russian, Arabic, Albanian and Macedonian. Phone customer support is also available in multiple languages.
Where Does Fortrade Operate?
Fortrade serves clients in countries across the globe. However, Fortrade is not able to accept applications from residents of the following countries:
Afghanistan
Algeria
Angola
Australia
Belgium
Burundi
Cambodia
Canada
Central African Republic
Chad
Congo Republic
Cuba
Democratic Republic of the Congo
Eritrea
Guinea-Bissau
Guyana
Haiti
Hong Kong
Iran
Iraq
Israel
Japan
Korea (North)
Laos
Liberia
Libya
Myanmar
New Zealand
Panama
Papua New Guinea
Puerto Rico
Singapore
Somalia
South Sudan
Sudan
Syria
Tajikistan
Turkmenistan
Uganda
United States
Uzbekistan
Venezuela
Yemen
Zimbabwe
US Dependencies including:
American Samoa/Guam/Northern Mariana Is/Puerto Rico/US Minor Outlying Islands/US Virgin
Languages
Fortrade supports 15 different languages on its platforms. The website is available in:
English, German, Spanish, French, Croatian, Italian, Dutch, Polish, Portuguese, Slovene, Swedish, Russian, Arabic, Albanian and Macedonian
Can I Trust Fortrade?
We believe Fortrade is trustworthy since it is registered with one of the leading international regulatory bodies. The Financial Conduct Authority (FCA) regulates the firm in the United Kingdom (FCA registration number FRN 609970), while the Markets in Financial Directive (MiFID) allows the company to operate as a regulated entity throughout the European Union.
Fortrade clients can also take comfort in the fact that the broker's financial statements are audited by Fisher Sassoon and Marks – one of UK's specialist financial services accounting firms.
| Regulator | Countries Covered | Protection Offered | Additional Protection Offered |
| --- | --- | --- | --- |
| Financial Conduct Authority (FCA) | Austria, Belgium, Bulgaria, Croatia, Czech Republic, Denmark, Estonia, Finland, France, Germany, Gibraltar, Greece, Hungary, Iceland, Ireland, Italy, Latvia, Liechtenstein, Lithuania, Luxembourg, Malta, The Netherlands, Norway, Poland, Portugal, Romania, Slovakia, Slovenia, Spain, Sweden, UK. | All client funds are held in a segregated client bank account | Financial Services Compensation Scheme (FSCS) may cover up to £50,000 if Fortrade fails. |
Financial Conduct Authority
The UK's Financial Conduct Agency (FCA) regulates Fortrade's activities in the United Kingdom.
The FCA is widely respected as a leader in financial regulation. In addition, the United Kingdom scores highly in Transparency International's rankings of countries based on their corruption perceptions index meaning the UK is a pillar of anti-corruption. Fortrade's customers in the United Kingdom are protected by the UK-based Financial Services Compensation Scheme (FSCS), which was established to protect consumers when authorized financial services firms fail. FSCS pays compensation up to £50k to customers in the United Kingdom if Fortrade is unable to pay. Fortrade's Financial Services Register reference number is 609970.
Who Runs Fortrade?
The CEO of Fortrade Ltd., since April 2015, has been Nick Collison. Nick has over 20 years' worth of Senior Management experience within the financial services industry including proprietary trading, fully systematic algorithmic trading and forex & CFD matched principle broking. Prior to and contemporaneous with joining Fortrade, Collison served as a Director at Saxon Cambridge Algorithmic Research Ltd. (2009 to 2016). He served as a Managing Director at Saxon Financials between 2000 and 2010.
Fortrade Trading Products
Fortrade offers customers CFD trading in over 300 instruments grouped into nine categories: forex, cryptocurrencies, stock CFDs, index CFDs, precious metals, energy products, agricultural products, US Treasuries and ETFs.
The following are the products offered for trading in each of these categories:
1) Forex
EUR/DKK
EUR/HUF
EUR/ILS
EUR/NOK
EUR/PLN
EUR/SEK
EUR/TRY
EUR/ZAR
GBP/SGD
GBP/TRY
USD/CNH (United States dollar (USD) to China Offshore Spot (CNH) exchange rate)
USD/DKK
USD/HKD
USD/HUF
USD/ILS
USD/MXN
USD/NOK
USD/PLN
USD/RUB
USD/SEK
USD/SGD
USD/TRY
USD/ZAR
2) Cryptocurrencies
Bitcoin / USD
Dash / USD
Ethereum / USD
Litecoin / USD
3) Indices
AEX25
ASX 200
CAC 40
China A50
Dow 30
Europe 50
FTSE 100
FTSE MIB
Germany 30
HSI
IBEX 35
NASDAQ 100
NIKKEI 225
Russell 2000
S&P 500
SMI (Swiss Market Index)
TRYBASK / TRY (CFD on TRYBASK, the Turkish Lira index)
USDX
WIG20 (CFD on the WIG20 stock market index of the 20 top companies in Poland)
4) Stocks
Customers can trade CFDs on some of the most popular shares from these countries and regions:
United Kingdom
Germany
France
Spain
Italy
Western Asia
United States
Other European Countries
5) Precious Metals
Copper
Gold (EUR)
Gold (GBP)
Gold (USD)
Gold Gram / Turkish Lira (GAU / TRY)
Palladium
Platinum
Silver
6) Energy Products
Brent Oil
Crude Oil
Gasoline
Heating Oil
Natural Gas
7) Agricultural Products
Corn
Cotton
Soybeans
Sugar
Wheat
8) US Treasuries
US 10Y Note
US 30Y Bond
US 5Y Note
9) ETFs
SQQQ (ProShares UltraPro QQQ Short ETF CFD)
TQQQ (ProShares UltraPro QQQ Long ETF CFD)
United States Oil Fund LP (USO)
Fortrade Account Types
Fortrade keeps things simple and only offers one standard trading account to its customers. To open an account, Fortrade requires a minimum initial deposit of €/$/£100 depending on the base currency of your account. However, the broker recommends that traders make an initial minimum deposit of at least of €/$/£500 in order to maximize the benefits of trading with Fortrade.
After signing up for an account, Fortrade directs you to its practice (demo) mode, which provides real-time charts and quotes for hundreds of financial assets. You can use the practice mode to explore all the features, tools and products available inside the live trading platform.
There is no time limit to the practice account. Fortrade deposits an initial notional sum of €10,000 of practice money into your trading account, allowing you to learn and practice online trading in a real trading environment.
Fortrade also offers an option to open an Islamic account. These accounts pay no rollover interest on overnight positions in accordance with Sharia law. Islamic accounts require a minimum balance of $2,000.
Fortrade Spreads and Fees
Fortrade receives its compensation in the form of the market bid/ask spreads on each instrument.
Currencies
The most liquid forex pairs such as EUR/USD and GBP/USD and USD/JPY have recently had average spreads of 2 pips. USD/CAD, USD/CHF and EUR/CHF have recently had average spreads of 4 pips, but depending on the time of days these have been wider. All of these spreads are not fixed spreads and may vary with factors such as liquidity and volatility.
Cryptocurrencies
Average spreads over a recent three-month period were $100 for bitcoin, $6.5 for Dash, $5 for Ethereum and $7 for Litecoin. These are not fixed spreads and may vary with factors such as liquidity and volatility.
Indices
Spreads vary by index and depend on factors such as liquidity and volatility. Recent sample average spreads include AUD 5 on AUD 200, £2 on FTSE 100, 2.5 on GER30, 1.5 on NASDAQ 100 and 0.11 on USDX.
Stocks
Fortrade offers trading on a wide range of stock CFDs. Traders can consult the Fortrade website for details about spreads on stock CFDs.
Commodities
Spreads vary by commodity and depend on factors such as liquidity and volatility. Recent sample average spreads include 0.75 for corn, wheat and soybeans; 0.07 for Brent Oil; 0.008 for natural gas; $0.04 on crude oil; $0.45 for gold and $0.04 for silver.
US Treasuries
Recent average spreads have been 0.07 for US 5Y Note and US 10Y Note and 0.09 for US 30Y Bond.
ETFs
Recent average spreads have been 0.14 for SQQQ and TQQQ and 0.03 for USO.
Other relevant fee information:
Withdrawal Fees: Any International Telegraphic Transfer (TT) Fees incurred by Fortrade are passed on to the customer. Most International TTs are approximately $40.
Overnight Funding Fees: This overnight Fortrade fee (or credit) is either added to or subtracted from a trader's account when a position remains open past a certain period of time. Traders can obtain information on overnight funding rates on the website.
Dormancy Fee: If for any consecutive period of 180 days, you do not trade on your Client Account, then Fortrade considers the Client Account to be inactive or dormant. Fortrade charges a monthly administrative fee on dormant accounts of USD $10.00 (or a similar amount in such other currency). Fortrade stops charging this fee if the balance in the client's account reaches $0.
Account Requirements
When you click on the blue Sign up button on the Fortrade website, Fortrade asks you to enter your name, email and a mobile number.
Fortrade then asks you to choose your country of origin from a drop-down menu, the base currency for your account (USD, EUR or GBP) and a password for the account. You'll also need to fill in your date of birth and physical address.
On the next screen, Fortrade asks you a few questions about your financial and employment situation and your trading goals. The whole sign-up process only takes a few minutes.
To pass their identity verification, you will need to upload one document for proof of identity and one for proof of address. You can fax, email or upload these documents to Fortrade.
Category
Acceptable Documents
Proof of Identity
International travel passport
Government-issued driver's license
Government-issued national/state/province identity card (including European ID card)
Military ID card


Proof of Address
Utility bill issued within the last 3 months
Financial statement issued by a bank, credit card company, insurance company or investment firm
Telecommunication service invoice (i.e. telephone/mobile service, internet service or pay television service) issued within the last 3 months
Ownership document or lease agreement
Traders can deposit and withdraw funds with Fortrade using one of several different methods:
Credit Card
Neteller
Skrill
Wire Transfer
Bitcoin
Credit card, Neteller, Skrill and Bitcoin deposits are generally instant and incur no fees, while wire transfers have the following stipulations:
The minimum threshold for wire transfer is 250 (£/$/€)
Wire transfers incur a transaction fee of up to 40 (£/$/€). The fee is dependent on your bank and how you choose to pay the fees.
Wire transfers take up to 5 business days for funds to be credited to Fortrade's banking account.
Fortrade requires a minimum deposit of £100, but the broker suggests customers deposit at least £500.
To ensure you can cover any losses you might incur on your positions, Fortrade requires sufficient collateral or margin. The margin available in your account will limit the size of the positions you can open.
Fortrade requires a specific margin to be available in your account for each trade that you execute.
You can see Fortrade's Margin Rates list under the "trading conditions" section of their website.
Traders who fall below the Fortrade margin requirements risk receiving a margin call and having their position closed prematurely.
Withdrawals and Withdrawal Times
To withdraw funds from your Fortrade account, you log in to the trading platform with your Fortrade credentials and go to "Deposits/Withdrawals" located inside the drop-down menu in the right corner of your screen.
You then select the preferred withdrawal method and enter the amount and any other account information that may be required. Fortrade processes all requests within two business days after they are submitted.
Fortrade has a strict policy that funds can only be returned to the source in which the deposit was made. Sums in excess of the original deposit may be withdrawn by providing an alternative withdrawal method (for example bank wire transfer, Skrill or Neteller). In order to wire money to your bank account, Fortrade needs a bank statement from your account dated in the past three months. This statement must clearly show:
Your Full Name
Your Full Address
Your Full Bank details (Bank/Sort code and Account Number)
Withdrawals made by Bank Wire Transfer usually take up to 5 business days to reach your account.
Withdrawals to credit/debit cards can sometimes take up to 15 business days to reach your account.
Fortrade Platform Review
The Fortrade proprietary software has three types of platforms from which to choose: Desktop Fortrader, Web Fortrader and Mobile Fortrader.
When you open the web-based Fortrader platform, the system opens with a tutorial on how to begin using its tools and functionality. The system also defaults you to the practice mode. Both of these are nice touches since many other platforms simply place you in live mode with no instructions on how to trade using their software.
The main trading screen of the Fortrader platform has a clean and simple layout:
The platform has a very generic feel to it, which isn't necessarily a bad thing. It simply depends on what you're looking for. Beginner traders are likely to appreciate the way all of the instruments are sorted by category on the left side of the screen. The ticket similarly doesn't have a lot of bells and whistles, but the basics to execute an order.
The charting features of the Fortrader platform have fewer drawing tools and technical indicators than some of the most advanced charting packages found at bigger firms such as TradeStation or Interactive Brokers. However, Fortrade encompasses some advanced "hand-holding" tools that some of the bigger firms often overlook. For example, there is the link to Trading Central, which provides actionable real-time trading advice.
It seems that novice traders could take advantage of this link to Trading Central and use these tools to become more familiar with trading patterns.
Below the charting section is a basic position management section with open and closed trades. We wished there was more functionality and search incorporated in this section to facilitate trade management for more active traders.
Overall, the Fortrader software is adequate if not a little bit on the basic side. While beginning traders will appreciate its ease of use and simplicity, more active and advanced traders may opt for the MetaTrader 4 (MT4) software as an alternative. Fortunately, Fortrade supports this option, which gives traders of all levels a reason to be happy.
Fortrade Demo Account
After you sign up for a Fortrade account, the broker directs you to the practice or demo account. Traders receive €10,000 in virtual funds in this account and can practice on it for as long as they wish.
To switch from Practice trading mode to Real trading mode, simply click on the "Switch to Real" button located both in the top right corner of your screen and inside your account drop-down menu. At this point, if you have not yet fully registered your account, you will then be prompted to do so in order to start trading with real money.
The demo accounts look like the live accounts and traders get the same functionality.
Fortrade Education Resources
Fortrade has several resources on the Education tab on its website. This section is broken down into four sections: Our Trading Academy, Highlights, Market Analysis and FX & CFD Trading Tools.
Our Trading Academy
Forex and CFD eBooks: These books explore the vocabulary used by both novice and professional traders.
Beginner Trading Courses: Video courses covering novice topics such as basic forex terms, winning trading tactics and order types among others.
Advanced Trading Courses: Video courses covering more advanced topics relating to commodities, futures, CFDs and stocks.
Trading Videos: Videos ranging from a few minutes in length to almost an hour that cover everything from technical analysis to capital management to trading psychology.
Top Day Trading Strategies: Strategies geared toward short-term focused traders.
Highlights
Forex Trading Webinars: Free webinars covering a variety of trading topics.
Guardian Angel: A new Fortrade tool, the Guardian Angel is an automated professional system which allows you to receive notification messages while trading. The messaging tool delivers real-time trading feedback in accordance with the user's personal preferences and investment goals.
Trading Central and Trading Central Analysis: Real-time comprehensive research.
Market Analysis
This section contains real-time fundamental and technical analysis of markets. There is also an economic calendar and a historical overview of markets.
FX and CFD Trading Tools
This section contains quantitative tools traders may use to manage their trading: currency converter tool, pip value calculator, swap rates calculator and margin percentage calculator.
While the Fortrade education section is fully loaded with an endless amount of resources, many of these came across as stock and generic to us. As with many trading sites, unfortunately, there seems to be a greater emphasis on quantity than quality.
Fortrade Sign-Up Bonuses and Promotions
Fortrade offers two types of bonuses to traders: a Balance Bonus and a Credit Bonus.
Balance Bonus – This is the standard bonus Fortrade grants you when you make a deposit to your account. This bonus is entirely at Fortrade's discretion.
Credit Bonus – This is an alternative bonus with additional Terms and Conditions. It is also entirely at Fortrade's discretion.
Balance Bonus
Fortrade grants Balance Bonuses to accounts only after new customers complete the full document verification process. Traders cannot withdraw Balance Bonuses until they reach their target volume, which is set according to the bonus amount given.
The client has to fill a trading requirement of 0.1 lot for every 1 USD/GBP/EUR bonus given in order to reach their target volume. For example, if a client received a 100 USD/GBP/EUR Balance Bonus, he will have to trade 10 lots before his Balance Bonus is converted to balance and becomes a part of his capital. Traders can consult the Fortrade website for additional details about this bonus.
Credit Bonus
Customers have to reach their target volume before they can lose or withdraw their Credit Bonus. The target volume is set according to the bonus amount given.
If a client fails to reach their target volume, Fortrade removes the credit bonus automatically when their equity falls below the credit bonus amount. Essentially, this stops you out and your open positions get closed accordingly.
If a customer fulfills the required amount of 0.10 lots for every EUR/ USD/GBP of cash credit bonus, the bonus automatically become a part of capital and can be withdrawn or used for trading.
A customer can reactivate a Credit Bonus if they re-deposit at least 30% of its value.
Customers should consult the Fortrade website for more details about how both of these bonuses work.
Please note: As of January 2018, brokers that are regulated within the EU are unable to offer sign-up bonuses to customers. This is due to the MiFID legislation mentioned previously which aims to create more transparency and protection for traders.