Review
easyMarkets Review: What Are the Award-Winning Broker's Weaknesses?
Risk Warning: Your Capital is at Risk.
Overview
easyMarkets is an online market maker that provides a trading platform for Contracts for Difference (CFDs). CFDs are derivative securities that allow customers to gain exposure to the price of financial instruments without actually holding the instruments in their accounts. easyMarkets offers CFD trading in a variety of asset classes including forex, metals, agricultural goods, energy, indices, and cryptocurrencies.
The easyMarkets trading platform is known for its innovative features, including its proprietary dealCancellation tool, and its emphasis on transparent pricing. The company is home to over 300 markets and a range of trading instruments including spot trades, forwards, and options.
This easyMarkets review covers important details about trading with easyMarkets. More, we review easyMarkets' cross-platform trading applications on desktop and mobile.
Why Choose easyMarkets?
Start Trading now at easyMarkets
Where Does easyMarkets Operate?
IMPORTANT: CFDs are not available in the USA due to local regulation, and regulated brokers do not accept US citizens or US residents as clients.
easyMarkets is available in more than 150 countries and territories:
easyMarkets does not provide service to residents of certain countries and regions:
What Languages Does easyMarkets Offer?
easyMarkets offers traders seven languages on both the platform and the website. These are:
English
Mandarin
Polish
Arabic
Spanish
German
Japanese.
Start Trading now at easyMarkets
Can I Trust easyMarkets?
Yes, easyMarkets is a trustworthy company with an operating history dating back to 2001.
easyMarkets is a safe and secure way to trade CFDs. Its subsidiaries are individually regulated by the following agencies: Financial Services Authority Seychelles (FSA), Cyprus Securities Exchange (CySEC) and Australian Securities and Investments Commission (ASIC).
However, unlike other jurisdictions, residents in Australia, South Africa, and New Zealand have no additional compensation scheme in place to cover their deposits.
That doesn't mean it isn't safe to deposit funds with easyMarkets. It simply means you are offered only the legal protection afforded by the Australian legal system.
However, money held in trust in Australia is highly regulated and covered by the Corporations Act. Therefore, we feel confident recommending easyMarkets to residents of Australia, New Zealand, and South Africa.
Who Runs easyMarkets?
Easy Forex Trading Ltd, the company that owns the trading name easyMarkets, is privately held.
The Chief Executive Officer of Easy Forex Trading Ltd since 2014 is Nikos Antoniades. He was previously the Chief Financial officer of the brokerage firm from 2013 to 2014 and the Deputy Chief Financial Officer from 2007 to 2013.
Prior to joining Easy Forex Trading Ltd, Antoniades worked as Assistant Group CFO for V. Ships Ltd and an Audit Senior at Ernst and Young, Limassol.
Recent History of easyMarkets
easyMarkets was established in 2001 under the name easy-forex. In 2010, easyMarkets added the popular MT4 trading platform to its offerings, and in 2011, it released an iPhone trading app.
In 2013, the broker launched a full mobile site for all tablets and smartphones.
easyMarkets also began an expansion into new product areas. By 2015, the company officially offered over 300 markets in a variety of asset classes. As a result, the company decided to rebrand in 2016 and change its name from easy-forex to easyMarkets.
In 2019, easyMarkets launched shares as a new trading product. As of 2020, easyMarkets also extended their dealCancellation feature to be applied up to 6 hours after submitting a trade.
Company Headquarters and Trading Names
easyMarkets has headquarters in Limassol, Cyprus and a branch in Warsaw, Poland. The company has additional worldwide locations in Majuro, Marshall Islands and Sydney, Australia.
The group of companies through its subsidiaries is regulated as follows:
Easy Forex Trading Ltd is authorized and regulated by the Cyprus Securities & Exchange Commission (License Number 079/07). The MiFID Directive provides a passport, which allows the entity to operate throughout the European Union.
Easy Markets Pty Ltd is authorized and regulated by the Australian Securities and Investments Commission and holds an Australian Financial Services (AFS) license (License Number 246566).
easyMarkets offers customers dedicated 24/5 customer support in multiple languages including English, Polish, and Arabic. Traders can contact easyMarkets customer service by phone, fax, email or live chat, or directly through the company's worldwide offices.
Start Trading now at easyMarkets
Getting Started With Trading at easyMarkets
easyMarkets offers its customers more than 300 products to trade. The brokerage firm divides these offerings into six categories: forex, metals, other commodities (agricultural products and energy), indices, shares, and cryptocurrencies.
Forex
easyMarket traders can trade the following 60+ currency pairs through CFDs, Forwards markets, or Vanilla Options:
Metals
easyMarkets offers four categories of metals trading:
Gold and Silver: Day traders can trade spot gold and silver paired against a variety of currencies. Traders can also trade gold and silver as a vanilla option.
Copper: Spot copper against currencies.
Copper CFD: Customers can trade a copper CFD as a limit order with a future reserve date.
Other Commodities
There are three more categories for non-metal commodities at easyMarkets:
Brent and WTI Crude Oils
Grain and Crops
Indices
easyMarkets offers customers trading in four categories of indices:
US Index Markets

S&P 500
Dow Jones
NASDAQ tech
USD (dollar) index.

UK and European Indices

UK FTSE 100
German Dax
France CAC
Swiss SWI.

Australian and Indian Indices

Australian Securities Exchange
India 500.

Asian Indices

Japan Nikkei
Hang Seng
China 50.
Cryptocurrencies
easyMarkets offers trading against the US dollar for three cryptocurrencies:
Bitcoin (BTC)
Ripple (XRP)
Ethereum (ETH).
All have maximum leverages of 1:2.
Please Note: Availability subject to regulations. Cryptocurrency CFDs are not available to UK retail traders.
Shares
As of 2019, easyMarkets have added shares to their choice of trading products. Currently, there are over 50 shares to choose from:
Start Trading now at easyMarkets
Account Types and Requirements
easyMarkets offers two account types: a standard retail account and a professional account. When traders sign up with an e-mail address and a newly allocated password, a standard trading account is automatically created.
Traders can switch to a demo account by shifting the Live/Demo toggle at the bottom of the hamburger menu — both on desktop and mobile.
The professional account is also listed as a "VIP" account with which traders benefit from a variety of perks.
The VIP account's features vary between the easyMarket web/app and MetaTrader 4:
Verification Requirements
easyMarkets serves over 150 countries worldwide. The process of opening an account is largely the same in each jurisdiction.
Before you can trade with easyMarkets for the first time, you need to answer a few questions. You enter your name, email, country of origin, and phone number. Then you answer a few questions about your background and financial knowledge.
To pass their identity verification, you will need to upload the following documents to easyMarkets:
Start Trading now at easyMarkets
Fees, Deposits, and Withdrawals
As with any broker, easyMarkets charges certain fees that traders should be aware of. easyMarkets does not charge a commission but is compensated through spreads.
The minimum deposits are:
€/$/£100 in Europe and for VIP accounts
€/$/£200 outside Europe
Aside from the minimum withdrawal of €/$/£50 via bank transfer, there are no minimum withdrawal amounts via other payment methods.
Deposit and Withdrawal Methods
Traders can make both deposits and withdrawals via a variety of payment methods. These are:
*See easyMarkets.com for supported and restricted countries for Neteller and Skrill
**Processing times are based on third-party estimates and may vary
Deposits by wire transfer may take as much as 5 to 7 days for funds availability, while deposits through Visa and MasterCard are the fastest.
Depositing money in an account is straightforward. Traders click on the "Deposit Funds" button on the main screen. Traders then select the deposit method of their choice, fill in the required information, and click "Submit."
easyMarkets offers different amounts of leverage depending on the CFD product.
Traders should consult the easyMarkets website for specific leverage allowances for each product. Each CFD also has specific easyMarkets margin requirements that traders must maintain. Traders who fall below the easyMarkets margin requirements risk receiving a margin call and having their position closed prematurely.
Withdrawal Process
Withdrawing funds from your easyMarkets account is easy.
Withdrawals via bank transfer require a minimum of €/$/£50 to be withdrawn.
All other withdrawal methods have no lower limit.
To make a withdrawal, easyMarkets requires proof of identity (such as passport or ID card) and proof of address (such as utility bill or bank statement).
The proof of address cannot be older than 6 months and must show the customer's full name and residential address. Other documents, such as credit card statements may be required depending on your account activity. easyMarkets notifies customers if it requires additional documentation.
Withdrawal Times
Customers should consult the Deposits & Withdrawals section of the easyMarkets website for details about withdrawal times.
easyMarkets processes all withdrawal requests within a day of receiving them. However, depending on the final destination of the withdrawal, it may take between 3 to 10 business days for funds to arrive.
Start Trading now at easyMarkets
Spreads and Commissions
easyMarkets does not charge commissions per trade — instead they are compensated via spreads. Spreads vary based on the product, as well as the trading platform used by the trader, namely the web trader/app and MetaTrader 4.
Note: Where the spreads tables below state "N/A," the instrument has no fixed spread.
easyMarkets does not charge credit or debit card fees.
Forex
Metals
Other Commodities
Indicies
Cryptocurrencies
Shares
Start Trading now at easyMarkets
Mobile Platform Review
Much like the desktop platform, the easyMarkets mobile application has plenty of useful trading features and tools to offer on both iOS and Android. Traders can download the app from the Google Play Store or the Apple App Store.
Mobile Registration
Once traders download the app, they are welcomed with an immediately available and usable demo.
The introductory screen is a list of browsable asset classes and products, along with a simple three-item menu at the bottom.
Traders can upgrade to a real account by tapping the "My Account" menu item at the bottom of the screen and selecting the "Make a Deposit" button.
Types of Mobile Trading
The mobile app offers three ways to trade:
easyTrade
Day Trade
Pending Order.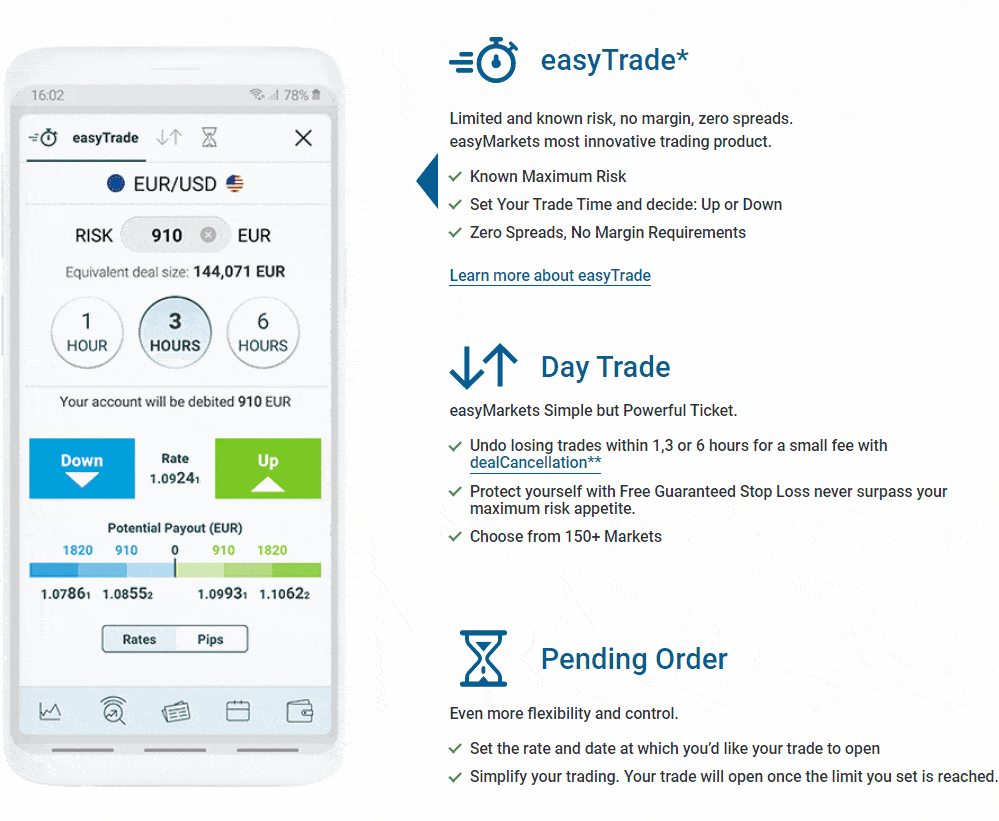 The execution screen has a simple design where traders can set amounts, risk limits and dealCancelation rates with the slide of a finger.
Traders wanting to execute forwards or vanilla options trades will need to use the desktop trader accessible via web or alternatively, the MT4 trader.
Mobile Trading Tools
The mobile app isn't as feature-rich as the web trader. Nonetheless, this does not mean that traders lack sufficient tools to analyze, gather insight, and assist efficient trade executions while on-the-go.
The primary mobile trading features include:
dealCancelation: as with the desktop trader, traders can cancel deals with considerably lower losses up to six hours after the execution time.
Inside Viewer: a sentiment indicator that shows the percentage of buyers and sellers during a trade execution.
Market Explorer: full list of browsable and tradable assets on offer.
Notifications: the option to receive notifications via SMS or the App.
Live Rate Graphs: live indicators to gather insight on price movements.
Financial Calendar: on-the-go updates on relevant financial events.
Start Trading now at easyMarkets
easyMarkets Desktop Platform Review
The web-based platform allows traders to navigate quickly and easily between different trading instruments.
Dashboard, Product Browsing, and Trading Tools
Upon logging in, traders are welcomed by a list of asset classes and products on the left hand side, a trading ticket in the middle of the screen, and a comprehensive trading tool on the right.
The upper menu of the screen contains the available balance, amount at risk, profit/loss statistics, and the CFD margin level. A "Deposit Funds" button is located on the right of these statistic.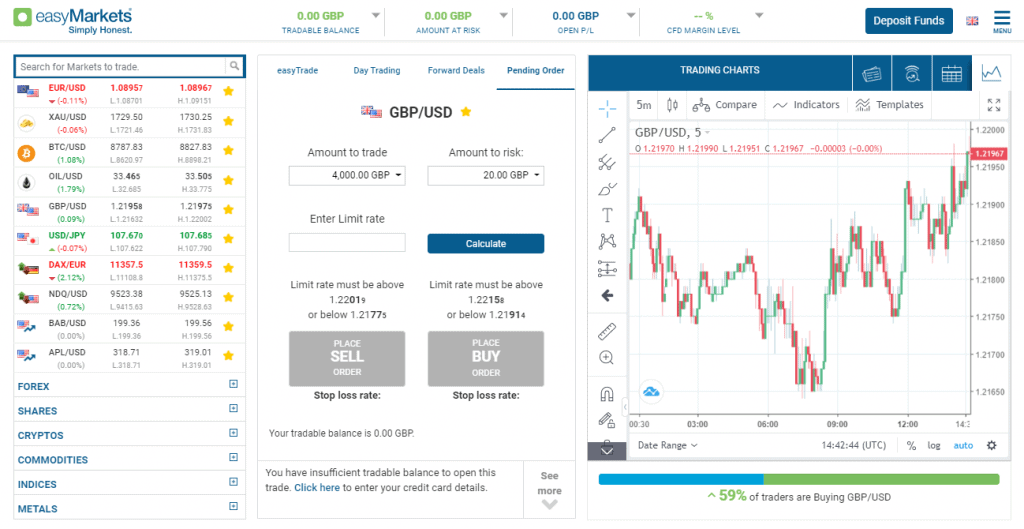 The trading tool can also be shuffled to function as a:
Charting Tool: including templating, custom indicators, chart comparison, candle charting, timer, as well as custom drawing and patterning.
Financial Calendar: events deemed significant by easyMarkets, customizable by time-frame and relevance.
Technical Analysis Hub: detailed analytics and reports provided by easyMarkets.
Market News Hub: compilation of articles published by reputable sources within the world of finance and trading.
Trade Types
The trading ticket allows traders to choose between the different types of trade categories that easyMarkets offers:
easyTrade: with dealCancellation.
Day and Spot: traders are required to select the trade amount, risk rate, and freeze rate.
Forwards: the same requirements as day and spot trades, along with a forward date.
Pending Orders: traders must select the amount, risk rate, and limit rate.
easyTrade also offers Vanilla Options with Forex instruments.
Features in Detail
Main Trading Screen: The platform's main trading screen gives traders access to the more than 300 different instruments without the need to pull up additional windows. The main page is set up in a logical and intuitive way.
Market Explorer Engine: This panel contains the live prices and symbols of popular instruments traded on easyMarkets. Traders can search for a particular instrument by entering the name into the search engine box (or even a nickname such as Kiwi for New Zealand dollar). Alternatively, traders can navigate by category through the different asset classes and pull up the relevant trade ticket for each financial instrument. Traders can click on the star to create a favorites list.
Account Management: This panel opens via the hamburger menu on the main screen. From here, traders can access profile settings, reports, activity logs, and learning resources.
Under the menu there is another "Deposit Funds" option along with a demo/live account toggle, and a live chat functionality.
Chart Window: This large panel below the trading ticket displays the chart for the trading instrument the trader enters into the ticket.
Traders can configure the chart with customized indicators and technical analysis tools. Traders can also chart each instrument on multiple time frames.
The trade ticket also has four other tabs attached to it.
Open Trades Panel: This panel shows the trader's active, pending and closed trades.
Market News: This tab shows headlines from leading market news services.
Financial Calendar: This very useful tool shows the dates and times for key upcoming economic announcements.
Trading Signals: A Technical Analysis Report for financial instruments traded on the platform.
Next to the chart window is one of the more useful features of the platform — the market sentiment tool. This shows what other traders on the platform are trading.
Other Useful Trading Tools
easyMarkets offers a variety of trading conditions. These are:
Negative Balance Protection: traders can't lose more money than the initially deposited sum.
Stop-Loss Protection: the ability to place an order with a particular price point in the future to either buy or sell a product.
No Slippage: slippage protection prevents traders in times of severe volatility when the actual price of a product may differ from the expected price by a significant amount.
Freeze Rate: a unique tool at easyMarkets that allows you to execute the trade at which you initially clicked the buy/sell button at.
dealCancellation: another unique easyMarkets tool that let's you cancel your trade up to one, three, or six hours from the time of execution for a small fee, returning the majority of your initially traded funds.
MetaTrader 4
The easyMarkets MT4 platform is well-designed with excellent features for both new and intermediate traders.
Some of the highlight features include:
One-click CFD trading
Custom trading templates
Multiple-order types (market and pending)
80+ markets with easyMarkets.
There are also 14 available currencies with MT4, namely: USD, GBP, EUR, CAD, AUD, ILS, CNY, NZD, NOK, CHF, JPY, PLN, SGD, ZAR.
Its well-integrated features make the easyMarkets MT4 platform stand out from other systems.
Traders can access their open orders and a ticket window, sentiment indicators, and contract information by simply clicking on a symbol in the Market Explorer Engine. All features are linked together and accessible from a single screen.
easyMarkets Demo Account
Traders can easily switch between the demo and the live trading accounts.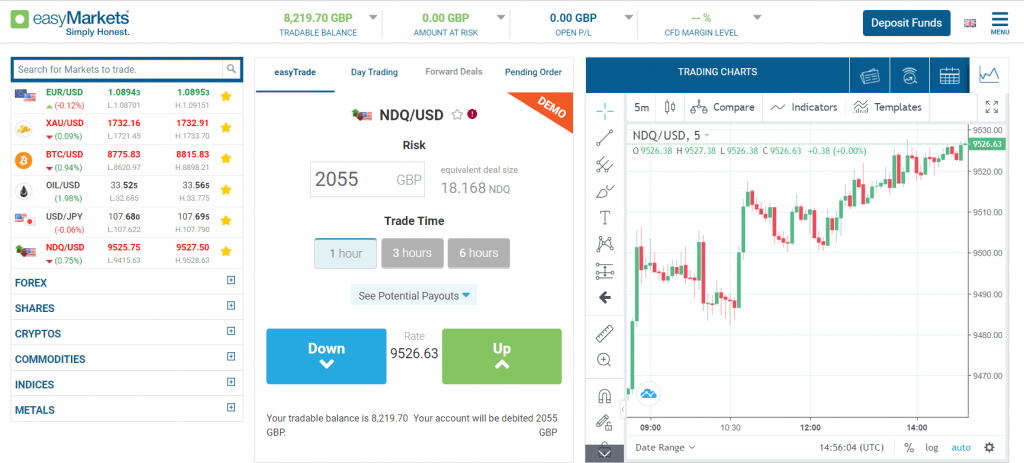 easyMarkets used to have a 7 day limit on their demo accounts, however, currently there is no expiry time frame given.
Customer Support
easyMarkets offers multiple support avenues on all platforms. All users and website visitors may use the following support methods:
Email
Phone
Live Chat
Messenger
WhatsApp
Viber.
The support team is available 24-hours-a-day, 5-days a week Monday to Friday).
Start Trading now at easyMarkets
easyMarkets Education Resources
The easyMarkets Learning Centre provides extensive resources and educational materials for traders of all skill levels:
Getting Started: This beginners' section has training videos including Introduction to Options and What is Forex?
Free Trading Course: a completely free training course designed for beginners with video material.
Webinars: easyMarkets offers webinars on a variety of topics for traders of all skill levels. They are taught by experienced traders and cover advanced topics of interest to traders.
Discover Series: This educational video series covers the history and event drivers of the broker's most popular trading pairs.
eBooks: These PDF format books cover everything from technical analysis to trading psychology.
Trading Glossary: an alphabetical compilation of words and terms that are common in the trading world.
Knowledge Base: These written materials and videos cover trading, easyMarkets products, the MT4 platform, financial analysis and much more.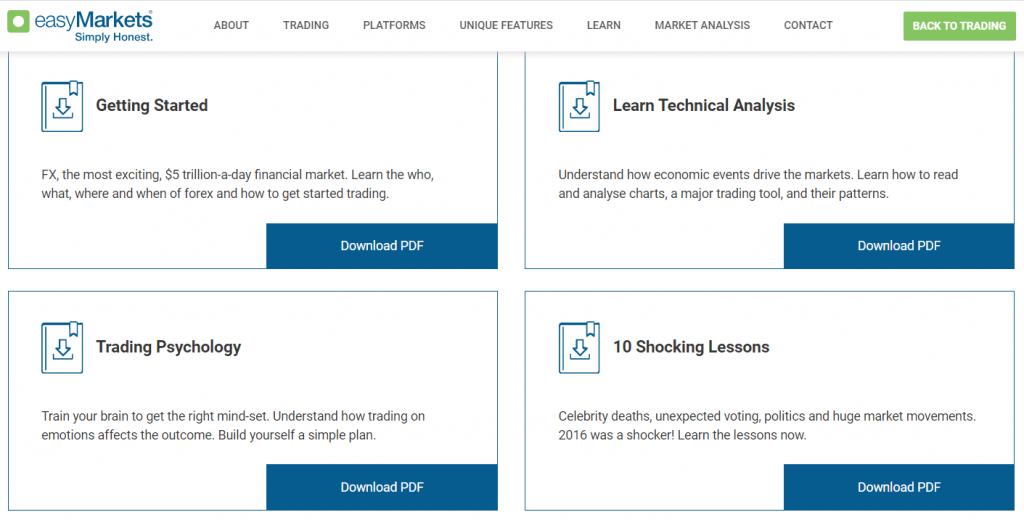 Start Trading now at easyMarkets
FAQs
Here are a few frequently asked questions for new and existing easyMarkets traders.
Is easyMarkets a good platform?
easyMarkets offers over 300 products to trade on desktop, mobile, and all other responsive devices — it is an established broker regulated by FSA, CySec, and ASIC. Whether easyMarkets is a "good" broker or not will depend on the trader's individual needs.
What type of CFDs does easyMarkets offer?
easyMarkets offers more than 200 CFD products across six different asset classes, namely, cryptocurrencies, commodities, metals, indices, currency pairs, and shares. CFDs can be traded by Day trading, Pending Orders, Forwards trading, or Options. easyMarkets users can trade CFDs on both desktop and responsive devices.
What is the minimum deposit with easyMarkets?
The minimum deposit at easyMarkets for European and VIP traders is €/$/£100. Traders outside Europe with a standard account are required to deposit a minimum of €/$/£200. There are over 15 different payment methods to choose from when making a deposit, including credit/debit cards, eWallets, and wire transfers.
Does easyMarkets offer cryptocurrencies?
Yes, easyMarkets offers three major cryptocurrencies — Bitcoin (BTC), Ethereum (ETH), and Ripple (XRP). All three cryptocurrencies have a maximum leverage of 1:2 for standard trading accounts. Markets are open from 22:00, Sunday (GMT) to 21:00, Friday (GMT). easyMarkets also offers a free Bitcoin eBook on their website.
What do I get with the easyMarkets VIP account?
Traders with VIP (or "professional") accounts have a lower minimum deposit requirement, a higher maximum leverage of 1:30, and a personal accounts manager. The VIP accounts also come with the easyMarkets' advanced trading tools like dealCancellation, guaranteed stop/loss limits, and negative balance protection. VIP account perks vary based on which platform traders use (web/app or MetaTrader 4).
Start Trading now at easyMarkets
Credits: Original easyMarkets review written by Lawrence Pines. Major updates and additions in May 2020 by Marko Csokasi with contributions from the Commodity.com editorial team.