Disclosure:
Your support helps keep Commodity.com running! We earn a referral fee for some brokers & services we list on this page.
Learn more...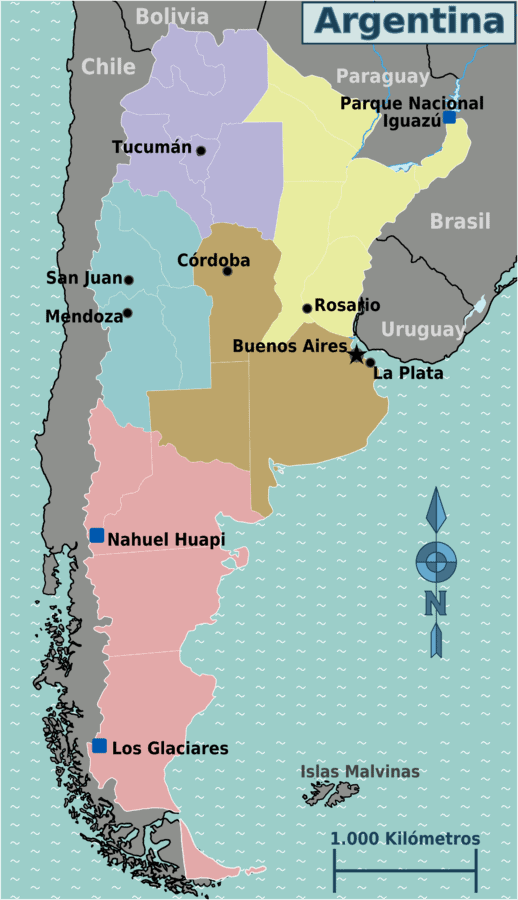 Economy of Argentina – Overview
Argentina is the 36th largest export economy in the world and with annual exports of $56.9 billion and imports of $54.7 billion, it has a positive trade balance of $2.24 billion.
Its GDP figure is $545 billion and that equates to a GDP per capita of $19,900.
The country has increased the value of its exports by an annualized rate of 2.32% in the last five years.
Argentina's Top 5 Commodity Exports
| Commodity | Amount (Annually) |
| --- | --- |
| Soybean Meal | $9.96 billion |
| Corn | $4.19 billion |
| Soybeans | $3.23 billion |
| Gold | $2.04 billion |
| Wheat | $1.87 billion |
Argentina's Other Notable Exports
Soybean Oil – $4.1 billion
Delivery Trucks – $2.58 billion
Cars – $1.53 billion
Crustaceans – $1 billion
Wine – $812 million
The top export destinations of Argentina are Brazil ($9 billion), The United States ($4.48 billion), China ($4.43 billion), Vietnam ($2.55 billion) and Chile ($2.32 billion).
Argentina's Top 5 Commodity Imports
| Commodity | Amount (Annually) |
| --- | --- |
| Refined Petroleum | $1.87 billion |
| Petroleum Gas | $1.75 billion |
| Electricity | $431 million |
| Iron Ore | $316 million |
| Bananas | $210 million |
Argentina's Other Notable Imports
Cars – $4.47 billion
Vehicle Parts – $2.48 billion
Telephones – $2.05 billion
Packaged Medicaments – $1.19 billion
Computers – $772 million
More Information on Argentina's Commodities
Soybean Meal
Soybeans are a major source of export revenue for Argentina and the efficient outflow of the product through the Parana River is a primary reason why the country is the number one exporter with a 42% share of a global annual market worth $23.7 billion.
Vietnam is the leading destination for Argentina's soybean meal exports but a notable absentee from the long list of nations who import the country's soybean is the United States.
Corn
The United States controls almost 40% of the annual corn export market that is worth $25.3 billion but Argentina is the second biggest exporter with a 17% market share.
Corn is a growing commodity for the country and it is predicted that Argentina's corn area now exceeds 5 million hectares.
Growers enjoy favorable climatic conditions and analysts suggest that attractive margins are prompting further expansion.
Soybeans
The global export market for soybeans is worth $49.9 billion with Brazil and the United States dominating trading for soybeans alone (83% market share combined). Argentina is ranked as the third largest exporter with a 6.5% share of this particular market.
Gold
Latest annual global gold exports reached $324 billion and Switzerland dominates with a 25.3% market share. At present, Argentina does not make the list of the top 15 countries, who are responsible for over 80% of all gold exports.
Barrick, the world's biggest gold miner, recently sold a 50% stake in the Veladero mine in Argentina to a Chinese rival miner.
Wheat
Argentina is currently the eighth largest exporter of wheat with a 5.1% share of an annual worldwide market that is worth $36.3 billion.
The country has suffered a decline in its wheat export numbers of 36.7% over the last five years.
A Few Interesting Facts
Argentina has dropped no less than 13 zeros from its currency since 1970.
There is a Welsh-speaking part of the country with its own dialect of Welsh.
The country is home to the world's widest avenue. The "9th of July" has 14 lanes and 4 further lanes of parallel streets.
The Cuban revolutionary Che Guevara was actually born in Argentina.
37% of the Argentine population are of Italian descent.
All Figures based on OEC/IMF 2016 projections unless otherwise stated.
Interested in Trading Commodities?
Start your research with reviews of these regulated brokers available in .
Loading table...
CFDs are complex instruments and come with a high risk of losing money rapidly due to leverage. Between 73.90%-89.00% of retail investor accounts lose money when trading CFDs. You should consider whether you understand how CFDs work and whether you can afford to take the high risk of losing your money.