Disclosure:
Your support helps keep Commodity.com running! We earn a referral fee for some brokers & services we list on this page.
Learn more...
Risk Warning: Your Capital is at Risk.
Trading silver can be both challenging and rewarding. Below, we'll discuss the pros and cons of trading silver, the ways you can trade it, and the strategies used in trading it.
In a hurry? If you want to get started trading silver asap, here are brokers available in to consider:
Reasons People Trade Silver
Silver is a precious metal that has long been valued for its use in jewelry, mirrors, and as currency coinage. Today silver is also used in technologies like printed circuits, batteries, and other industrial products.
Traders purchase precious metals such as silver for a variety of reasons, but the following are most common:
Risk Mitigation
Bet on Industrial Strength in the Global Economy
Bet on Diminishing Supply
Bet on Investment Demand.
Using Silver to Mitigate Risk
One of the best reasons for trading in silver is that it might protect a portfolio during economic crises.
Central banks generally react to crises by lowering interest rates and increasing the money supply. These actions have the potential to weaken currencies and erode confidence in stock and bond markets.
There is a limited above-ground supply of silver. For this reason, silver is more likely than financial assets to hold its value during periods of turmoil.
Bet on Industrial Strength in the Global Economy
Silver is vital to many industries (especially technology), so strength in the global economy typically translates to higher prices.
In particular, silver demand for jewelry is strong in India. As these and other emerging market countries continue to grow, their demand for silver could increase sharply.
Bet on the Diminishing Supply of Silver
The supply picture for silver might be one of the most attractive reasons for trading in the commodity.
Production numbers of silver have stagnated in recent years. This was made worse by the COVID-19 pandemic. Unless prices pick up substantially, many mining projects could remain on hold.
At the same time, the silver scrap supply has been low since 2014. The combination of low scrap supply and low mine production could be a recipe for higher prices.
Bet That Investment Demand for Silver Increase
While industrial demand for silver remains fairly consistent, investment demand can be much more variable.
Increases in investment demand can result in significant increases in silver prices, particularly when supply remains constrained.
One reason investment demand might pick up is the gold/silver ratio, which as of early-2020 is at its highest level in many decades. This may be taken as a sign that silver is under-valued.
Should I Trade in Silver?
All trades have potential risks and rewards, so traders should take all information into account before risking their money.
Important: This is not investment advice. We present a number of common arguments for and against investing in this commodity. Please seek professional advice before making investment decisions.
Reasons People Trade Silver
However, trading in silver, particularly as part of a broad asset diversification plan, could be beneficial for several reasons:
Silver may have potential to mitigate portfolio risk:

Silver could perform better than stocks and bonds when there is global political unrest.
Silver could perform better than financial assets during periods of hyperinflation.

Buying silver is a way to bet on strength in emerging economies. Since many of these economies have experienced prolonged political instability in the past, their people may be less likely to trust fiat currencies and more likely to want hard assets such as silver.
Silver is a way to bet on growing global industrial demand for metals.
Reasons People Avoid Silver
However, trading in silver could fail for a number of reasons:
Strong US Dollar: The vast majority of silver comes from outside the United States. So when the US dollar is strong against other currencies, it is usually reflected in the lowered price of silver.
Economic Slowdown: A decrease in demand for silver for both manufacturing and a store of wealth (particularly in China and India) can cause silver prices to decline.
Substitution: Development of silver substitutes in electronics and jewelry manufacturing can cause demand for silver to go down thus reducing its price.
Where Can You Trade Silver?
Interested in trading commodities like Silver? Start your research with reviews of these regulated brokers available in .
CFDs are complex instruments and come with a high risk of losing money rapidly due to leverage. Between 71.00%-89.00% of retail investor accounts lose money when trading CFDs. You should consider whether you understand how CFDs work and whether you can afford to take the high risk of losing your money.
How Can I Trade in Silver?
Traders have several ways to speculate in silver including bullion, futures, options, ETFs, CFDs and shares.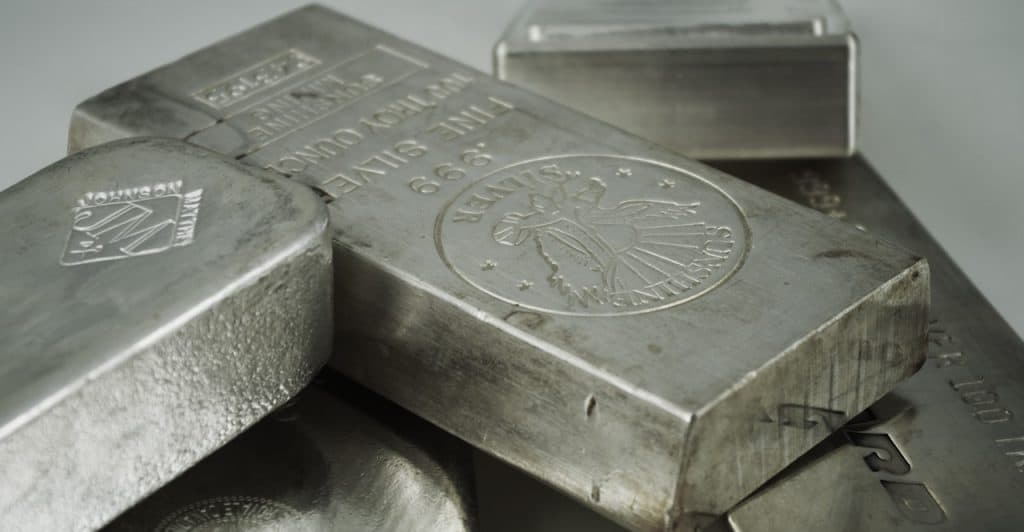 Silver Bullion
Physical silver bullion, such as bars or coins, is the most direct way to speculate in silver. However, trading in bullion requires a secure storage facility.
The cost of this storage and the low value-to-weight ratio could make holding physical silver an impractical proposition.
BullionVault and BullionStar are online bullion dealers you might consider.
CFDs on Silver
One way to speculate in silver is through the use of a contract for difference (CFD) derivative instrument.
CFDs allow traders to speculate on the price of silver. The value of a CFD is the difference between the price of silver at the time of purchase and its current price.
Many regulated brokers worldwide offer CFDs on silver. Customers deposit funds with the broker, which serve as margin.
Recommended Brokers for Silver CFDs
CFDs are complex instruments and come with a high risk of losing money rapidly due to leverage. Between 71.00%-89.00% of retail investor accounts lose money when trading CFDs. You should consider whether you understand how CFDs work and whether you can afford to take the high risk of losing your money.
The advantage of CFDs is that traders can have exposure to silver prices without having to purchase shares, ETFs, futures, or options.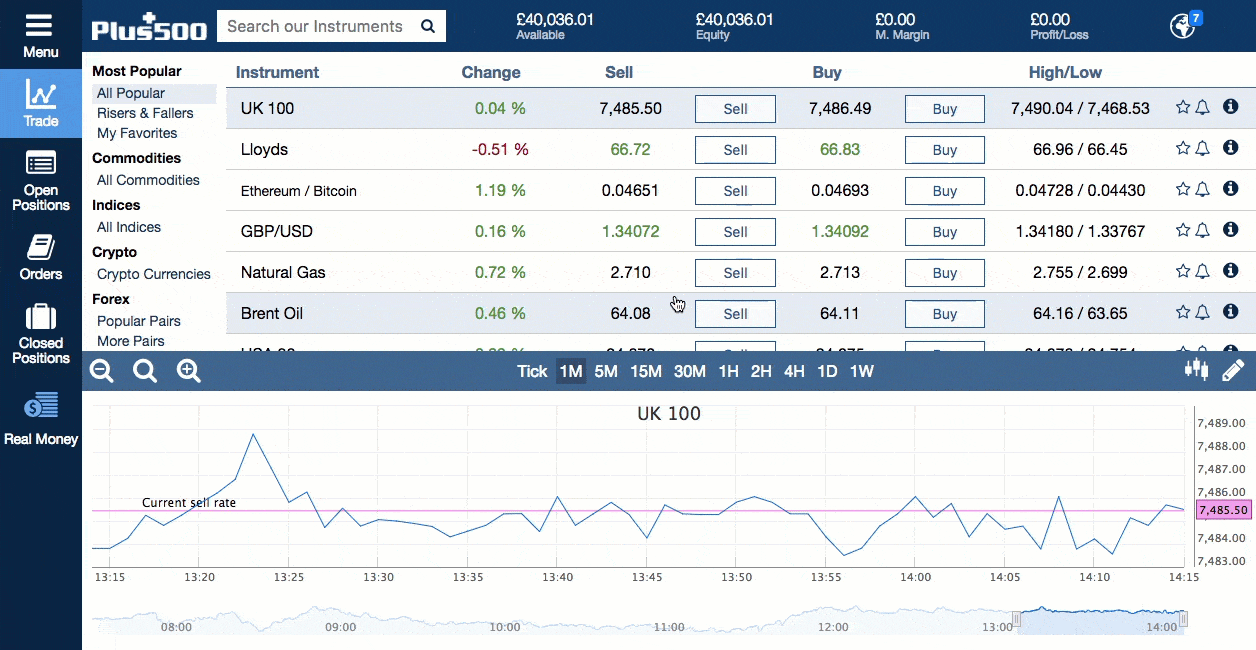 IMPORTANT: CFDs are not available in the USA due to local regulation, and regulated brokers do not accept US citizens or US residents as clients.
Silver Futures
Futures are a derivative instrument through which traders make leveraged bets on commodity prices.
If prices decline, traders must deposit additional margin to maintain their positions. At expiration, the contracts are physically settled by the delivery of silver.
The COMEX division of the Chicago Mercantile Exchange (CME) offers a contract on silver in units of 5,000 troy ounces.
The contracts trade globally on the CME Globex electronic trading platform and have a variety of expiration months.
Trading in futures requires a high level of sophistication since factors such as storage costs and interest rates affect pricing.
Silver Options on Futures
The Intercontinental Exchange (ICE) offers an options contract on silver futures.
Options are also derivative instruments that employ leverage to speculate in commodities. As with futures, options have an expiration date. However, options also have a strike price, which determines whether the option has value at expiration.
Options buyers pay a price known as a premium to purchase contracts. An options bet succeeds only if the price of silver futures rises above the strike price by an amount greater than the premium paid for the contract.
Therefore, options traders must be right about the size and timing of the move in silver futures to profit from their trades.
Silver ETFs
ETFs (exchange-traded funds) are financial instruments that trade as shares on exchanges in the same way that stocks do.
While ETFs may seem like the perfect proxy for speculating on silver, traders should be aware of their considerable risks and costs.
Many ETFs trade in silver futures or options. As for the ETFs that trade in silver itself, those funds incur the same storage and security costs that individuals do. Ultimately, these costs get passed on to the trader.
When stock markets decline, ETF prices sometimes decline as well. Speculators could find that their silver purchase is behaving like a stock.
4 Leading Silver ETFs
| iShares Silver Trust | ETFS Physical Silver Shares | PowerShares DB Silver Fund | E-TRACS UBS Bloomberg CMCI Silver ETN |
| --- | --- | --- | --- |
| | | | |
Shares in Silver Mining Companies
Purchasing shares in silver mining companies theoretically allows traders to make a leveraged bet on the price of silver:
Many of the costs of running a mining company should be fixed.
As the price of silver increases, the additional revenues should flow to the bottom line as profits.
Markets assign a multiple to these profits, so in bull markets traders should make more money from owning shares.
However, silver prices have a complicated relationship with the broader economy.
| Company | Current Price | Description | Exchange |
| --- | --- | --- | --- |
| Wheaton Precious Metals Corp. | | Canadian silver and gold mining and streaming company. | New York (NYSE) |
| Pan American Silver Corp. | | Canadian company engaged in exploration, extraction, processing and refining of silver from mines. | New York (NYSE) |
| SSR Mining | | Canadian company that acquires, explores, develops and operates precious metals properties in the Americas | New York (NYSE) |
When the price of silver rises, mining costs generally rise as well. Mining shares have rarely outperformed silver prices during bull markets.
Silver Trading and Investing Methods Compared
| Method of Investing | Complexity Rating (1 = easy, 5 = hard) | Storage Costs | Security Costs | Expiration Date | Management Cost | Leverage | Regulated |
| --- | --- | --- | --- | --- | --- | --- | --- |
| Silver Bullion | 1 | YES | YES | NO | NO | NO | NO |
| ETFs | 2 | YES* | YES | NO | YES | NO** | YES |
| Mining Shares | 2 | NO | NO | NO | NO | YES | YES |
| CFDs | 3 | NO | NO | NO | NO | YES | YES |
| Futures | 5 | NO | NO | YES | NO | YES | YES |
| Options | 5 | NO | NO | YES | NO | YES | YES |
* Storage costs are passed on to traders in the form of management fees.
** Some metals ETFs offer exposure to 2x or 3x the movement in silver prices.
Silver Trading Strategies
Silver is a highly volatile commodity. It has many industrial uses at the same time that it is used as a store of value, which makes trading it a complicated matter.
Fundamental Analysis
Many macroeconomic indicators affect the price of silver.
Inflation (CPI): silver can act as a hedge against inflation so its price will tend to increase during times of high inflation. This may not be the case in the short-term, however. This is related to the interest rates set by the US Fed and other central banks. Silver prices can move in either direction because of an interest rate rise. However, in recent years, there has tended to be a small but positive correlation between interest rates and silver prices.
GDP: over the last decade, silver prices have generally been inversely correlated with GDP related to unemployment. There is some correlation here too but it is weak.
Technical Analysis
There are many ways traders analyze the movement in the price of silver. Most of them are used more generally in the analysis of commodities. Check out our section Technical Analysis In Day Trading for detailed information.
Here is a brief overview:
Bollinger Bands: provide the ±2 standard deviation lines of the (usually 20-day) moving average of the silver price. They allow traders to tell if the current price is higher or lower than normal.
Relative Strength Index (RSI): shows how big price changes have been on average. Using it, traders try to predict upward or downward price trends.
Moving Average Convergence Divergence (MACD): uses moving averages and their differences to predict price changes.
The Gold/Silver Ratio
An important technical analysis tool is the gold/silver ratio. Silver and gold prices have long been correlated. It is almost always the case that when gold rises so does silver. As a result, many traders look at the gold/silver ratio.
This is the ratio of gold prices to silver prices. It has changed a fair amount over the years. From the mid-1980s through 2010, it ranged from roughly 50 to 90. But since then, it has risen steadily even going above 110 briefly at the start of the 2020 COVID-19 pandemic.
There are many ways that traders use the gold/silver ratio. Sometimes silver prices lag behind gold prices. So a change in gold can be predictive of silver. Others look at the highs and lows of the spread to predict a turnaround.
Ready to Start Trading Silver?
We've put together this list of brokers and bullion dealers available in that offer options to speculate on silver and other precious metals:
CFDs are complex instruments and come with a high risk of losing money rapidly due to leverage. Between 71.00%-89.00% of retail investor accounts lose money when trading CFDs. You should consider whether you understand how CFDs work and whether you can afford to take the high risk of losing your money.
FAQs
How do you buy and trade silver?
There are many ways to buy and trade silver. You can purchase it directly in the form of bullion and coins. You can trade based on its later value with futures and options and even CFDs. ETFs allow you to purchase silver similarly to how you would stocks. But if you want to trade actual stocks that relate to silver, you could buy into a mining company.
How is silver traded?
Silver is traded differently depending upon what form it is in. Bullion must be physically delivered from one person to another. Normally, futures are traded between parties without the physical delivery of any silver. That's also true of options, ETFs, CFDs, and mining shares.
Is silver a good investment?
Silver has many industrial applications and is widely considered a stable store of wealth. Whether any given trader can make money in the silver market will depend upon their abilities, experience, and even luck. Like most commodities, silver is not something a novice can jump into and expect to succeed at.
What does XAG/USD mean?
XAG/USD is the price of silver (chemical name Ag from the Latin name for silver, Argentum). It is a standard forex quote pair. For example, EUR/USD represents the number of US dollars (USD) that are needed to buy one euro (EUR). Similarly, XAG/USD is the number of US dollars that are needed to buy one unit of silver (a troy ounce).
Credits: Original article written by Lawrence Pines with major updates and additions by Frank Moraes. Additional contributions from the Commodity.com editorial team.