4 Reasons You Might Invest in Silver
Investors purchase precious metals such as silver for a variety of reasons, but the following are most common:
Risk Mitigation
Bet on Industrial Strength in the Global Economy
Bet on Diminishing Supply
Bet on Investment Demand
Using Silver to Mitigate Risk 
One of the best reasons for investing in silver is that it might provide protection during economic crises.
Central banks generally react to crises by lowering interest rates and increasing the money supply. These actions have the potential to weaken currencies and erode confidence in stock and bond markets.
Unlike financial assets, physical assets such as silver can't be created on paper. There is a limited above-ground supply of silver. For this reason, it is far more likely than financial assets to hold its value during periods of turmoil.
Bet on Industrial Strength in the Global Economy
Silver is vital to many industries, so strength in the global economy should translate to higher prices.
In particular, silver demand for jewelry is strong in India. As these and other emerging market countries continue to grow, their demand for silver could increase sharply.
Can You Bet on the Diminishing Supply of Silver? 
The supply picture for silver might be one of the most attractive reasons for investing in the commodity.
Depressed prices for silver combined with high mining costs have caused production numbers to fall in recent years. Unless prices pick up substantially, many mining projects will remain on hold.
At the same time, silver scrap supply remains at multi-year lows. The combination of low scrap supply and low mine production could be a recipe for higher prices.
Will the Investment Demand for Silver Increase? 
While industrial demand for silver remains fairly consistent, investment demand can be much more variable.
Increases in investment demand can result in significant increases in silver prices, particularly when supply remains constrained.
One reason investment demand might pick up is the gold-silver ratio, which is approaching its highest level in 10 years. In other words, gold is historically expensive relative to silver.
Investors may want to buy silver as a bet that this ratio will head lower.
Should I Invest in Silver?
All investments have potential risks and rewards, so traders should take all information into account before investing.
However, investing in silver, particularly as part of a broad asset diversification plan, could be beneficial for several reasons:
Investors should consider silver for its potential to mitigate portfolio risk:

Silver could perform better than stocks and bonds when there is global political unrest.
Silver could perform better than financial assets during periods of hyperinflation.
Silver may even perform better during periods of severe deflation, particularly if central banks respond by dramatically devaluing their currencies.

Buying silver is a way to bet on strength in emerging countries, many of which have experienced prolonged political instability. As a result, people in emerging economies are less likely to trust fiat currencies and more likely to want hard assets such as silver.
Silver is a way to bet on growing global industrial demand for metals.
However, investing in silver could fail if certain events materialize:
A strong US dollar
A slowdown in China and India
Substitution from silver into other metals by industries such as electronics and jewelry
What Do Experts Think About Silver?
One market watcher argues that depressed silver prices, particularly relative to gold, could be the catalyst for higher prices.
Commerzbank believes that low prices could bring both investment and industrial buying:
…silver has catch-up potential vs. gold. The positive economic development is likewise an argument in favor of silver because it means that industrial demand is likely to become even more dynamic – which accounts for more than half of total silver demand. Given that it is entirely conceivable that demand for bars and coins will be stronger, as well as demand from ETF [exchange-traded-fund] traders, demand growth is likely to be even more pronounced.

– Commerzbank Research Report
Another silver analyst agrees, but sees potential for gains in both gold and silver:
… essentially, we see a once-in-a-decade opportunity in the gold and silver market.

– Taki Tsaklanos, lead analyst at Investing Haven
How Can I Invest in Silver?
Investors have several ways to invest in silver:
Silver Trading & Investing Methods Compared
| Method of Investing | Complexity Rating (1 = easy, 5 = hard) | Storage Costs | Security Costs | Expiration Date | Management Cost | Leverage | Regulated |
| --- | --- | --- | --- | --- | --- | --- | --- |
| Silver Bullion | 1 | YES | YES | NO | NO | NO | NO |
| Futures | 5 | NO | NO | YES | NO | YES | YES |
| Options | 5 | NO | NO | YES | NO | YES | YES |
| ETFs | 2 | YES* | YES | NO | YES | NO** | YES |
| Mining Shares | 2 | NO | NO | NO | NO | YES | YES |
| CFDs | 3 | NO | NO | NO | NO | YES | YES |
*Storage costs are passed on to traders in the form of management fees.
**Some metals ETFs offer exposure to 2x or 3x the movement in silver prices.
Silver Bullion
Physical silver bullion, such as bars or coins, is the most direct way to invest in silver.  However, investing in bullion requires a secure storage facility. Ultimately, the cost of this storage and the low value-to-weight ratio could make holding physical silver an impractical proposition.
Silver Futures
The COMEX division of the Chicago Mercantile Exchange (CME) offers a contract on silver that settles into 5,000 troy ounces.
The contracts trades globally on the CME Globex electronic trading platform and have a variety of expiration months.
Futures are a derivative instrument through which traders make leveraged bets on commodity prices. If prices decline, traders must deposit additional margin in order to maintain their positions. At expiration, the contracts are physically settled by delivery of silver.
Investing in futures requires a high level of sophistication since factors such as storage costs and interest rates affect pricing.
Silver Options on Futures
The Intercontinental Exchange (ICE) offers an options contract on silver futures.
Options are also a derivative instrument that employ leverage to invest in commodities. As with futures, options have an expiration date. However, options also have a strike price, which is the price above which the option finishes in the money.
Options buyers pay a price known as a premium to purchase contracts. An options bet succeeds only if the price of silver futures rises above the strike price by an amount greater than the premium paid for the contract. Therefore, options traders must be right about the size and timing of the move in silver futures to profit from their trades.
Silver ETFs
ETFs are financial instruments that trade as shares on exchanges in the same way that stocks do.
While ETFs may seem like the perfect proxy for investing in silver, traders should be aware of their considerable risks and costs.
Many ETFs invest in silver futures or options. As for the ETFs that invest in silver itself, those funds incur the same storage and security costs that individuals do. Ultimately, these costs get passed on to the trader.
When stock markets decline, ETF prices sometimes decline as well. Investors could find that their silver investment is behaving like a stock investment.
Who are the 4 leading silver ETFs?
4 Leading Silver ETFs
| iShares Silver Trust | ETFS Physical Silver Shares | PowerShares DB Silver Fund | E-TRACS UBS Bloomberg CMCI Silver ETN |
| --- | --- | --- | --- |
| | | | |
Shares in Silver Mining Companies
Purchasing shares in silver mining companies theoretically allows traders to make a leveraged bet on the price of silver:
Many of the costs of running a mining company should be fixed.
As the price of silver increases, the additional revenues should flow to the bottom line as profits.
Markets assign a multiple to these profits, so in bull markets traders should make more money from owning shares.
However, silver prices rarely rise in a vacuum.
When the price of silver rises, mining costs generally rise as well. In fact, mining shares have rarely outperformed silver prices during bull markets.
| Company | Current Price | Description | Exchange |
| --- | --- | --- | --- |
| Wheaton Precious Metals Corp. | | Canadian silver and gold mining and streaming company. | New York (NYSE) |
| Pan American Silver Corp. | | Canadian company engaged in exploration, extraction, processing and refining of silver from mines. | New York (NYSE) |
| SSR Mining | | Canadian company that acquires, explores, develops and operates precious metals properties in the Americas | New York (NYSE) |
CFDs
One way to invest in silver is through the use of a contract for difference (CFD) derivative instrument. CFDs allow traders to speculate on the price of silver. The value of a CFD is the difference between the price of silver at the time of purchase and its current price.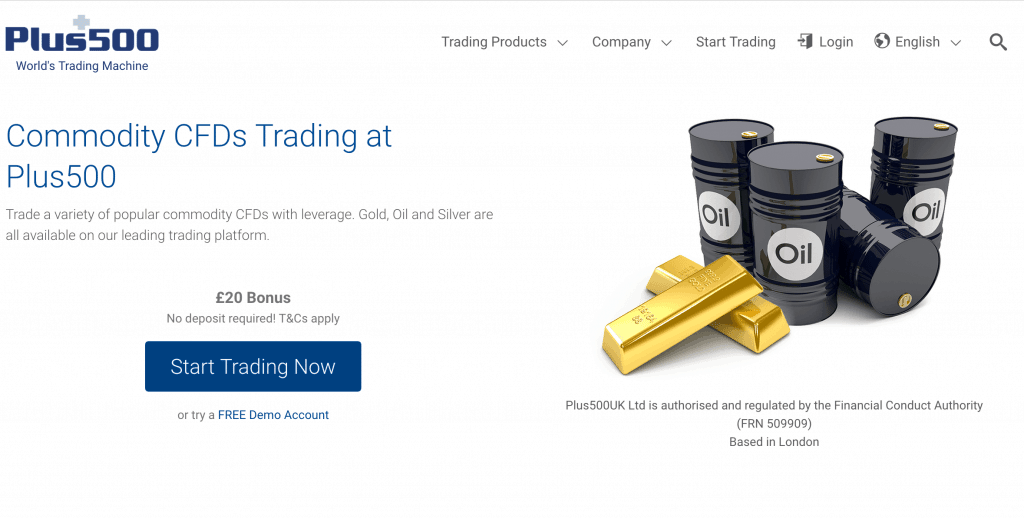 Many regulated brokers worldwide offer CFDs on silver. Customers deposit funds with the broker, which serve as margin. The advantage of CFDs is that traders can have exposure to silver prices without having to purchase shares, ETFs, futures or options.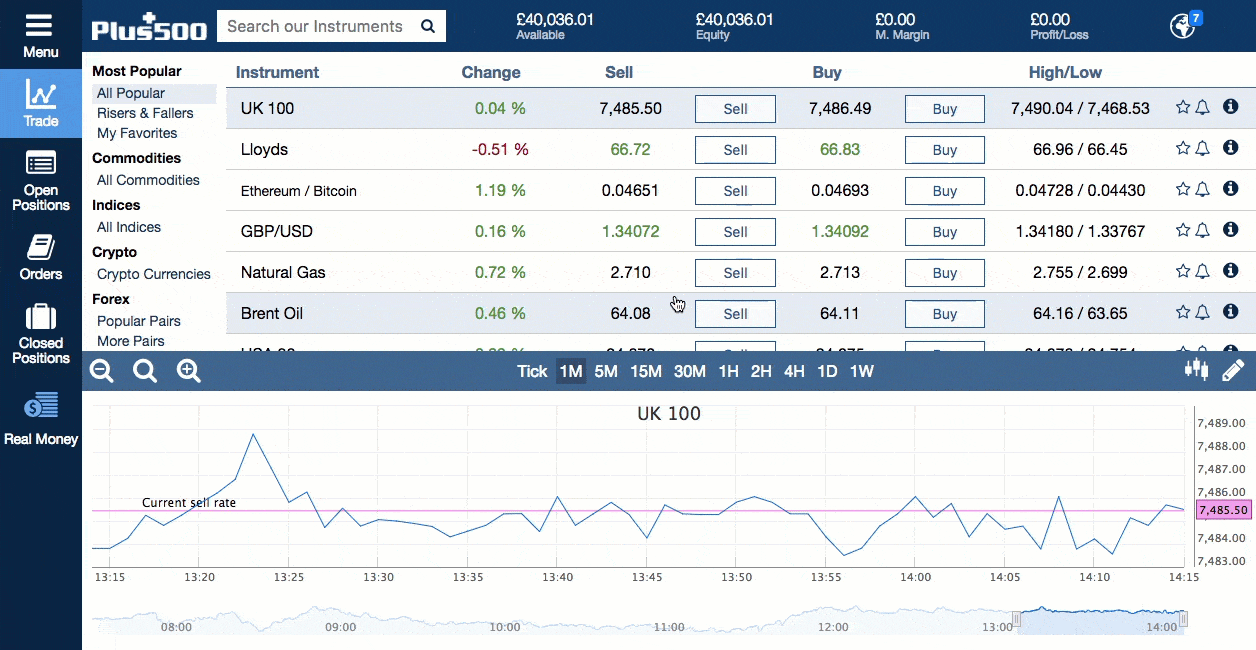 Ready to Start Trading Silver?
Start trading today at Plus500.com.

One of the leading CFD brokers for trading precious metal CFDs, like silver, is Plus 500. Here's why:
No commission on trades (other charges may apply)
Free demo account
Easy to use (mobile-friendly) platform
Industry-leading risk management tools
Trade silver and hundreds of other CFDs
Your funds are safe – publicly listed company regulated by the UK's Financial Conduct Authority and Cyprus' Securities and Exchange Commission
Start Trading at Plus500.com
CFD Service. 80.6% lose money.
Important: CFDs are complex instruments and come with a high risk of losing money rapidly due to leverage. Between 74-89% of retail trader accounts lose money when trading CFDs. You should consider whether you understand how CFDs work and whether you can afford to take the high risk of losing your money.