Broker Review
Pepperstone Review 2020: 3 Types Of Client Protection Offered
Risk Warning: Your Capital is at Risk.
Pepperstone is an online forex, spreadbetting, and CFD broker with more than 57,000 clients in 65+ countries.
Pepperstone clients can trade CFDs on forex, shares, indices, cryptocurrencies, commodities, and currency indices across three popular trading platforms.
Traders can choose the MetaTrader 4, MetaTrader 5, or cTrader platforms via desktop or mobile, allowing clients to trade anywhere.
Pepperstone was one of the first online brokers to introduce a "No Deal Desk" model. The purpose is to eliminate conflicts of interest by giving clients direct access to liquidity sources in the interbank markets. Quotes are sourced from as many as 22 major banks and electronic crossing networks.
This review of Pepperstone will cover all the important details about the broker and discuss its major advantages and disadvantages.
Start Trading Now at Pepperstone.com
Key Pepperstone Features
Pros and Cons of Choosing Pepperstone
With an average transaction size of $12.55 billion of trades every day, Pepperstone is one of the largest forex brokers in the world. The company's founders set out to create a seamless trading experience through low-cost spreads, fast execution speeds, and reliable support services.
Have they achieved these goals? Here are some of the pros and cons to consider when you're looking at opening an account with Pepperstone.
Start Trading Now at Pepperstone.com
Is Pepperstone a Trustworthy Broker?
The Pepperstone Group is well-established, with offices in Melbourne, London, and Cyprus.
The Markets in Financial Directive (MiFID) allows the company to operate as a regulated entity throughout the European Union.
Pepperstone is also licensed by the Australian Securities and Investments Commission (ASIC), the UK Financial Conduct Authority (FCA), the Dubai Financial Services Authority (DFSA), the Capital Markets Authority (CMA), and the Securities Commission of the Bahamas (SCB).
In August, 2020, Pepperstone launched commercial operations in Cyprus after receiving a license from the Cyprus Securities & Exchange Commission (CySEC).
Important News: July, 2020.
On July 21st 2020, Pepperstone sent an email to some clients explaining that "data security incident" has impacted its users:
"We have been recently made aware of third parties contacting Pepperstone clients, either pretending to be Pepperstone or claiming that Pepperstone has closed and requesting that clients transfer their funds."
"If you've registered for a Pepperstone demo or live trading account then you are likely to be affected."
Fortunately, they are also reporting that the incident only involves contact information, and not passwords or trading account details.
Here are more details from the email about the data breach: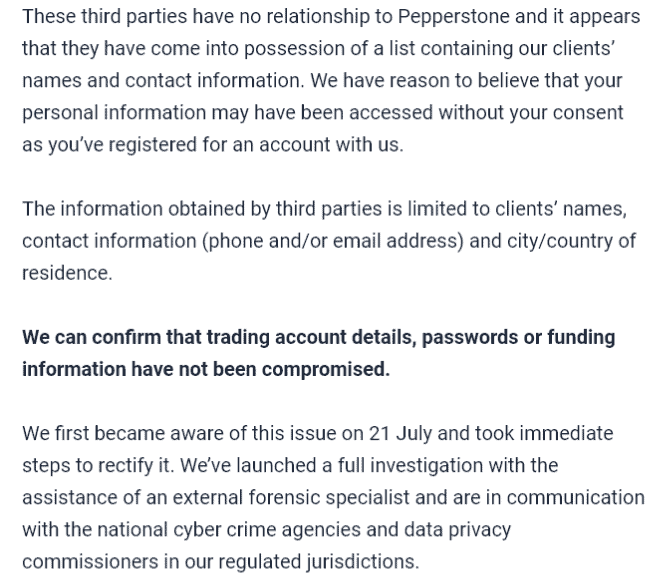 If you are a Pepperstone client, they ask you to contact them immediately if you receive any suspicious calls, texts or emails:

One of our own team members was affected and noticed the spam calls from fake brokers & other investment scam attempts started shortly after registering with Pepperstone on July 16.
We are posting here so Pepperstone clients who don't check their email, and are getting suspicious phone calls or texts are aware of the situation. We'll update this page with more information as we have it.
What Can You Trade With Pepperstone?
Pepperstone clients can trade over 150 instruments over a range of asset classes including forex and commodities, futures, and indices CFDs.
CFDs allow traders to speculate on the price of assets without owning them in their accounts.
The following are the products offered for trading with the two types of accounts (please see account section of this review).
Important notice: Spreadbetting is only available to UK and Ireland residents.
Forex
Pepperstone offers over 61 currency pairs, including majors, minors, and exotics, to trade.
Commodities
Traders with a Pepperstone account have access to CFD trading on 15 commodities. These include soft commodities like cocoa and orange juice as well as energy and metal pairs traded against the US dollar, the Euro, or the Australian dollar.
Share CFDs
Over 60 top shares CFDs are available to trade with Pepperstone.
Index CFDs
Pepperstone clients have access to a wide range of global markets through 14 major index CFDs.
Cryptocurrency CFDs
The list of cryptocurrency CFDs to trade with Pepperstone isn't big, but most major ones are included. The 5 available cryptocurrency CFDs are:
Please Note: Availability subject to regulations. Cryptocurrency CFDs are not available to UK retail traders.
Currency Index CFDs
Only one currency index CFD, the US Dollar Index, is available to trade with Pepperstone. This is the most traded currency index and perceived as a benchmark for the value of the USD.
Start Trading at Pepperstone.com
Where Does Pepperstone Operate?
Pepperstone serves clients in 65+ countries across the globe.
Pepperstone only offers spread betting to residents of the UK and Ireland on FX, indices, and commodities.
IMPORTANT: CFDs are not available in the USA due to local regulation, and regulated brokers do not accept US citizens or US residents as clients.
Restricted Countries
Languages
The Pepperstone website and platforms are available in 15 languages.
Start Trading at Pepperstone.com
Which Pepperstone Account Is Best for You?
Pepperstone's two main account types are a Standard account or a Razor account.
Qualifying clients may apply for a Professional account. The broker also offers an option to open an Islamic account that is Sharia-compliant. The latter is designed for traders who cannot receive or pay swaps for religious reasons.
Key Differences Between Standard and Razor Accounts
One of the main differences between Pepperstone's Standard and Razor accounts is the commission charged. While no commissions are charged on standard accounts, commissions are charged on standard lots traded for Razor accounts. See spreads and fees below for more details.

Pepperstone Demo Account (30 Day Trial)
Traders can practice strategies or familiarize themselves with the trading platform by way of a demo account, which is funded with up to $50,000 in virtual money.
Demo accounts are quick and easy to apply for without opening a funded Razor or Standard account. You must simply provide your email address and a password.
While the demo trial lasts for 30 days, once traders have a live account, the demo can be re-requested.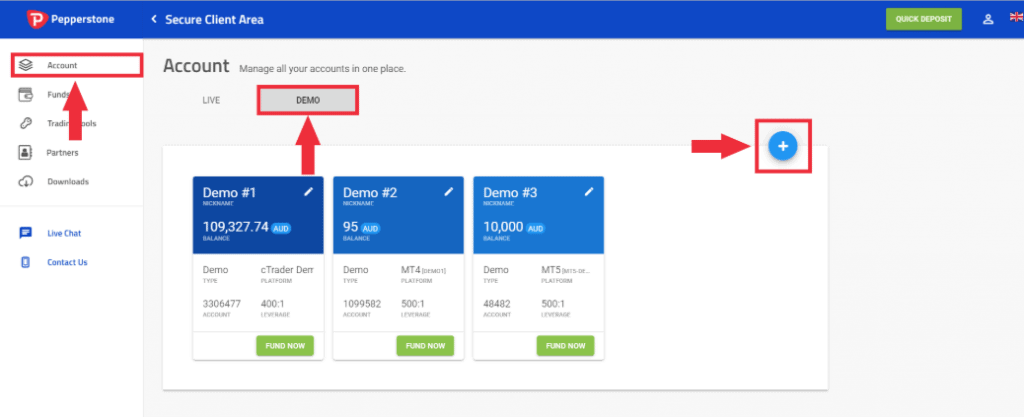 The drawbacks of the Pepperstone demo account are that it expires after 30 days and is limited to 50 trades at a time. On the plus side, it's possible to open more than one demo account at a time. Clients with live funded accounts may also ask for their demo accounts to be set to non-expiry.
Start Trading at Pepperstone.com
Account Requirements
When you click on the red "Open live account" button on the Pepperstone website, the broker asks you to enter your name, email address, and select a password. There is also an option to register with Google or Facebook.
You'll receive an email to confirm your account and continue the application process.
Pepperstone asks some questions about your employment, financial status, and trading experience. You must also confirm that you have read their order execution policy, risk disclosure policy, and terms and conditions.
To verify your identity, you can choose electronic or manual verification. Where electronic verification is not possible, two types of ID documents are requested:
Photo ID like passport, driver's license, or national ID card
Secondary ID like a bank or utility statement showing your full name and address and not older than three months
These documents can easily be uploaded by taking a photo of them with your smartphone.
Note: Depending on where you're applying from, additional documentation may be required.
Pepperstone aims to verify accounts within 4-8 hours after receiving the correct ID documents. Generally, new accounts are ready for trading within 24 hours.
Customer Support
If you have trouble uploading documents or with the application process in general, you can send an email to [email protected] or try the live chat support.
For any account problems or questions, Pepperstone's customer support is available 24/5. Clients can contact them by local or international phone, email, or live chat. There is also an online contact form to fill out. They have committed to keeping the response time under 24 hours.
Start Trading at Pepperstone.com
Deposits and Withdrawals
Deposits
To start trading, Pepperstone requires a minimum deposit of £200 or 200 units of other base currencies. To deposit money, log into the secure client area of your account, click on Funds, and then click Add Funds.
Peppertone's funding methods depend on the region of where the trader is located. Here are the funding methods for regions as per the regulators responsible for the jurisdiction:
ASIC: Visa, MasterCard, Neteller, Skrill, PayPal, Poli, and Bank Transfer
FCA: Visa, MasterCard, PayPal, and Bank Transfer
DFSA: Bank Transfer only
SCB: Bank Transfer only
Pepperstone clients must adhere to margin requirements.
Margin is the amount of money required in your account to open a trade. You can calculate margin using the current market quote of the base currency vs USD, the volume requested, and the leverage level you have selected when opening your account.
Note: Australian retail traders have a maximum leverage of 1:500, while UK retail accounts have 1:30. UK professional traders may be eligible for 1:500 leverages.
The dealing software will not allow you to open a position if you do not have sufficient free margin available.
Traders who fall below the Pepperstone margin requirements risk receiving a margin call and having their position closed prematurely.
Withdrawals
All the withdrawal options (similar to the funding options above) are listed under the Withdraw Funds tab after clicking on Funds in the secure client area.
Some important information about withdrawals:
Funds can only be returned to a bank account in the same name.
It usually takes 3-5 days for withdrawals by bank wire transfer to reach your account.
While Pepperstone doesn't levy charges for withdrawals, they do pass international telegraphic transfer (TT) fees from their bank on to the client.
Withdrawals by credit card are allowed up to the sum of deposits made by credit card. For amounts exceeding a card's deposits, a different withdrawal method must be used.
If a credit card withdrawal is processed within 60 days from the day of a deposit, the refund is paid into the same credit card.
Pepperstone Spreads and Fees
Spreads
The underlying financial instrument and the type of account determine the spreads that traders pay with Pepperstone.
Below are the lists of minimum and maximum spreads (forex, commodities, cryptocurrency, and index CFDs) on Razor and Standard accounts on MetaTrader 4 and MetaTrader 5.
Note: The spreads were correct at the time of publication, but always check against current spreads on the Pepperstone website.
Commissions
Standard accounts – No commissions are charged, but there's a 1 pip markup on the raw spreads.
Razor accounts – Traders with Razor accounts pay commissions on forex trades. Trades on MetaTrader 4 or MetaTrader 5 are based on the account currency and lot size. Commissions on cTrader add up to 7 units of the base currency per lot of the forex pair being traded.
Razor Account Commissions on MT4 and MT5

Overnight Funding Fees
Pepperstone clients pay to hold a position on equity CFDs, commodities, and share CFDs open overnight. This fee is made up of the standard regional interest rates for the underlying product, plus or minus the broker's fixed charge of 2.5%.
No Charges
Deposits and Withdrawals – Pepperstone doesn't charge for deposits or withdrawals, but this doesn't mean clients won't incur bank charges. Consult your financial institution if you're unsure about such fees.
Inactivity Fee – No inactivity fees are charged but accounts are temporarily archived if they're not used for three months. However, they are easily reactivated by contacting the broker's support department.
Start Trading at Pepperstone.com
Pepperstone Trading Platforms
Pepperstone offers traders three platforms for trading forex and CFDs: the very popular and versatile MetaTrader 4 (MT4) and MetaTrader 5 (MT5) and the equally customizable cTrader suite of platforms.
MT4
The MT4 platform's user-friendly interface makes it a popular choice among traders of all skill levels. It's free to download for use with both Pepperstone's live account as well as their demo account.
Benefits of Using MT4
The platform comes with 85 preinstalled indicators for better insights into market trends
28 Smart Trader Tools, including expert advisors and indicators, to help you learn and optimize your trading experience
Automated trading for uninterrupted 24/5 trading
Multiple real-time chart setups for better control over your positions
The MT4 main screen has this layout:
Under the Market Watch panel, you will see that Pepperstone gives you access to all the trading instruments the broker offers.
Below the Market Watch panel is the Navigator section that gives you access to customized technical indicators, Expert Advisor tools, and scripts for automated trading.
In the middle and right you will find the Chart Window – the technical and charting section of the platform that opens with four charts.
At the bottom of the screen, you will find the Terminal Window Panel, which contains a mailbox, an alert tab, a journal tab, and other features for tracking trading.
MT5 Platform Review
While MT4 is a great choice for forex traders, especially beginners, who like a simple and efficient platform, MT5 appeals to those looking for additional features and more in-depth analysis.
Benefits of Using MT5
21 timeframes compared to MT4's 9
The use of stop limits to set a limit order
Inbuilt community chat and email system
cTrader Platform Review
The cTrader platform allows traders to integrate its functions with cAlgo and create automated trading tools. The platform for cTrader has a very clean and visually appealing layout:
Traders can either download the desktop version or log in to the web version of cTrader. Combined with the suite of algorithmic trading tools, cTrader offers a powerful platform for social and automated trading.
Mobile Trading
With an increased emphasis on trading on-the-go, Pepperstone clients have full access to the mobile versions of all three available trading platforms. All three mobile apps for Pepperstone — MT4, MT5 and cTrader — are free to download from the App Store (iOS) or Google Play (Android).
MT4 Mobile App
The MT4 app for iOS and Android allows you to control your Pepperstone account, analyze the market and trade with the tap of a finger while on the go.
Some key MT4 app features include:
Full set of trade orders, including pending orders
High-performance charts with customizable color scheme
Orders, trading history, and other relevant account details displayed in an information window
Chat functionality, including the creation of group chats and channels
Interactive real-time price charts with zoom and scroll options
30 popular technical indicators, 24 analytical objects, and 9 timeframes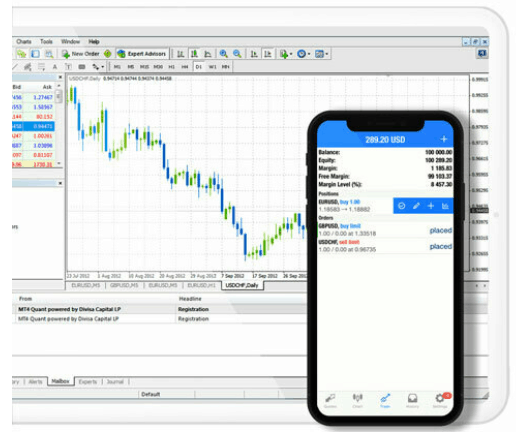 MT5 Mobile App
While the MT5 app shares many of the same features as the MT4 app, MT5 is a popular choice for mobile online trading among traders with a diverse portfolio. It allows for fast switching between financial instruments, the receiving of real-time quotes, and all types of trade execution.
Here are just some of the features Pepperstone clients can expect from it:
Level 2 prices with up to 32 quotes
Visualization of pending order prices on trade levels, including SL and TP values on charts
Chat with other registered traders in the MQL5 community
Bars, doji candlesticks and broken line charts for efficient trading of forex and CFDs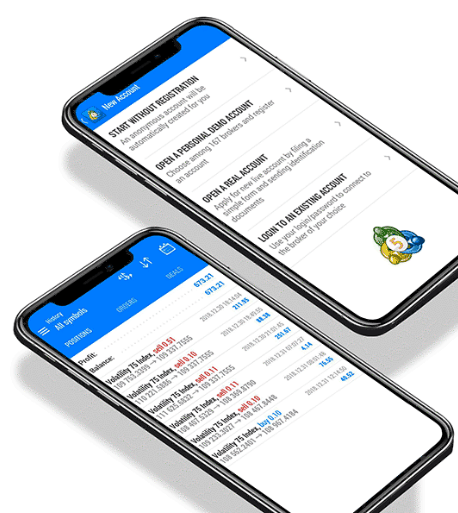 cTrader Mobile App
The Pepperstone cTrader app is fast, responsive, and gives you access to all the order execution and trading events information you have on your desktop.
Sign-up and login are not only possible with your cTrader ID, but also with Facebook and Google. More features include:
Customizable settings to make the platform work best for your on-the-go trading requirements
26 time frames
More than 50 indicators
4 types of charts – candlestick, bar, line, dots
Price alerts
QuickTrade mode for one-tap trading
Trade statistics to review your strategy and performance
Start Trading at Pepperstone.com
How Is Pepperstone Regulated?
The Pepperstone Group, with offices in Melbourne, Cyprus, and London, operating as the following regulated entities:
Pepperstone Group Limited (registered in Australia)
Pepperstone Limited (registered in England & Wales)
Pepperstone Financial Services (DIFC) Limited (registered in Dubai)
Pepperstone Markets Kenya Limited (registered in Kenya)
Pepperstone EU Limted (registered in Cyprus)
They are registered with five major international regulatory bodies which obliges them to meet strict requirements.
Pepperstone Australia is licensed by the Australian Securities and Investments Commission (ASIC), Pepperstone UK is authorized and regulated by the UK Financial Conduct Authority (FCA), and Pepperstone UAE is regulated by the Dubai Financial Services Authority (DFSA). The Markets in Financial Directive (MiFID) allows the company to operate as a regulated entity throughout the European Union, while the Capital Markets Authority (CMA) allows trading in Kenya.
In August, 2020, Pepperstone EU Limited was granted a license by the Cyprus Securities & Exchange Commission (CySEC).
It's important to note that different regulatory and financial protections apply depending on whether you're trading with the UK or Australian business.
Below is an overview of some of the major regulatory differences and similarities applicable to retail account holders.
Pepperstone History and Company Information
Pepperstone was founded in 2010 in Melbourne, Australia, by Owen Kerr and Joe Davenport.
Frustrated by delayed executions, expensive prices, and poor customer support, we set out to provide traders around the world with superior technology, low-cost spreads, and a genuine commitment to helping them master the trade.

Pepperstone Founders
Over the last few years the firm has grown to be a major player in the online forex brokerage industry. With more than 110,000 retail trading accounts and an average of $12.55 billion of daily trades, they can rightly claim to be one of the largest forex brokers in the world.
The Group Chief Executive Officer of Pepperstone since October 2017 is Tamas Szabo. He has been a key figure in successfully developing retail forex and CFD trading in the Australasian region since 2007.
Andrew Defina has been CFO of Pepperstone since 2014, while Owen Kerr and Joe Davenport continue to serve as directors on the Pepperstone Board.
Key Pepperstone Takeaways
As one of the fastest growing online brokers, Pepperstone offers their clients a professional trading experience with access to an increasing list of instruments to trade.
Traders enjoy the protection offered by the broker's registration with the Australian Securities and Investments Commission, the Financial Conduct Authority (UK), the Dubai Financial Services Authority, the Cyprus Securities and Exchange Commission (CySEC), and the Securities Commission of the Bahamas.
The opportunity to choose between and trade on cutting-edge platforms like MetaTrader and cTrader rounds Pepperstone's offering off nicely.
FAQs
What type of broker is Pepperstone?
Pepperstone is an online forex and CFD broker. The company also offers spreadbetting to clients in the UK and Ireland. Clients can trade CFDs on shares, indices, cryptocurrencies, commodities, and currency indices. Pepperstone offers both desktop and mobile trading apps.
Is Pepperstone a good broker?
Pepperstone has grown to be one of the largest online forex brokers since its founding in 2010. The company is regulated by ASIC (Australia) and FCA (UK), CySEC (EU), and offers clients access to more than 150 instruments for spreadbetting, forex, and CFDs.
What is the minimum deposit for Pepperstone?
The minimum deposit required to start trading with a Pepperstone Standard of Razor account is $200 (or 200 units of other base currencies). You can fund your account via bank transfer, Visa, Mastercard, PayPal, POLi, BPay, Neteller, Skrill, or Union Pay.
Does Pepperstone have negative balance protection?
Clients of Pepperstone Limited (UK/Europe), which is regulated by the FCA and CySEC, are covered by negative balance protection. However, clients of Pepperstone Group Limited (Australia), which is regulated by ASIC, are not guaranteed of negative balance protection.
How do I fund my Pepperstone account?
Pepperstone accepts a variety of funding options. These include Visa/Master Card, bank transfer, PayPal, Skrill, Union Pay, Neteller, and BPay. The minimum deposit amount is £200 (or 200 units of your base currency). Withdrawals are posted to the original funding method.
Does Pepperstone offer bonuses?
ESMA regulations prohibit CFD brokers from offering bonuses to retail investors in Europe to encourage CFD trading (or a greater volume of trading), including signup bonuses or fee rebates.
However, Pepperstone has a refer-a-friend program that rewards clients who invite their friends or family to trade with them. If such persons fund their new account with more than £1,000 and continue to trade at least five standard FX lots, the referrer is rewarded with a £100 deposit into his or her trading account.
Does Pepperstone have educational and analysis tools?
The Pepperstone website has a dedicated education section with resources like articles, videos, guides, and courses. The material covers basic trading concepts as well as expert level guidance. Traders can also sign up for webinars.
Start Trading at Pepperstone.com
Credits: Original review written by Lawrence Pines. Major updates in May 2020 by Linda de Beer with contributions from the Commodity.com editorial team.