Disclosure:
Your support helps keep Commodity.com running! We earn a referral fee for some brokers & services we list on this page.
Learn more...
In this guide we explain the main reasons why some traders choose to invest in palladium, what experts think, and how to get started trading different financial instruments for palladium and other precious metals.
In a hurry? If you want to get started trading palladium, here are brokers and bullion dealers available in to consider:
Investment products focused on palladium are relatively new compared to other precious metals such as gold and silver. Investors might consider purchasing palladium for the following reasons:
Bet on Automobile Demand
Bet on Supply Constraints
Bet on Investment Demand
Portfolio Diversification
Important: This is not investment advice. We present a number of common arguments for and against investing in this commodity. Please seek professional advice before making investment decisions.
Palladium and the Auto Industry
The automobile market is the most critical industry for palladium.
Investing in the commodity is a way to bet on surging demand for automobiles in emerging market countries such as China and India.
Similarly, the low-interest rate environment in the United States and Europe should bode well for the automobile industry. Low rates mean affordable access to credit markets. Since most buyers finance automobile purchases, rates play an important role in determining demand.
As long as rates remain near historically low levels, demand for cars and the catalytic converters that go in them should remain strong.
Betting on Supply Constraints
With three-quarters of the global supply of palladium coming from two countries, there is the real possibility for supply shocks in palladium production.
The United States is a large importer of palladium and has a recent history of tensions with Russia. Should Russia curtail its exports of palladium, the price of the metal could soar.
Similarly, labor disputes in South Africa or new mining regulations could lead to supply disruptions and higher prices.
Diversify Your Portfolio
Most traders have the vast majority of their assets in stocks and bonds. Commodities such as palladium provide a way to diversify and reduce the overall risk of portfolios.
Should I Invest in Palladium?
Traders who want to invest in palladium should consider purchasing it along with a basket of commodities that includes other precious metals (i.e., gold and silver), base metals (i.e., copper, nickel, lead and zinc), agricultural commodities (i.e., dairy, meats and grains) and energy.
Purchasing a basket of commodities helps protect traders from the volatility of any individual commodity. It also adds overall diversification to a stock and bond portfolio.
There are three specific trends that could raise palladium prices in the years ahead:
Chinese Demand
Investment Demand
Energy Costs
Chinese Demand
China is the top consumer of palladium and could increase its consumption in the years ahead. The Chinese economy has experienced a recent slowdown, although there are signs this may be coming to an end. Investing in palladium is one way to bet on a resurging Chinese economy.
Investment Demand
The proliferation of ETFs has exposed more traders to precious metals. As the gold and silver trade becomes crowded, traders could seek new ways to gain exposure to precious metals. Palladium could benefit from this trend.
Energy Costs
Higher energy costs make mining an increasingly challenging business. As fuel and electricity costs rise, more mining operations could close or consolidate. This should produce higher palladium prices.
However, traders should also consider the risks of investing in palladium:
A Global Recession: A global recession could weaken Chinese and US automobile demand.
Cheaper Substitutes: Cheaper substitutes could replace demand for palladium in catalytic converters.
Global Economic or Political Control: Global economic or political turmoil could strengthen the US dollar and weaken demand for precious metals and other commodities.
How Can I Invest in Palladium?
Investors have several options for gaining exposure to palladium prices:

Palladium Trading and Investing Methods Compared
| Method of Investing | Storage Costs? | Security Costs? | Expiration Dates? | Management Costs? | Leverage? |
| --- | --- | --- | --- | --- | --- |
| Palladium Bullion | Y | Y | N | N | N |
| Palladium Futures | N | N | Y | N | Y |
| Palladium Options | N | N | Y | N | Y |
| Palladium ETFs | Y | N | N | Y | N |
| Palladium Shares | N | N | N | N | Y |
| Palladium CFDs | N | N | N | N | Y |
*Storage costs are passed on to traders in the form of management fees.
Palladium Bullion
Physical bullion, such as bars or coins, is the most direct way to invest in palladium. However, investing in bullion requires a secure storage facility. Ultimately, the cost of this storage and the low value-to-weight ratio could make holding physical palladium an impractical proposition.
Palladium Futures
The Chicago Mercantile Exchange (CME) offers a contract on palladium that settles into 100 troy ounces of the commodity.
The contracts trades globally on the CME Globex electronic trading platform and have a variety of expiration months.
Futures are a derivative instrument through which traders make leveraged bets on commodity prices. If prices decline, traders must deposit additional margin in order to maintain their positions. At expiration, the contracts are physically settled by delivery of palladium.
Investing in futures requires a high level of sophistication since factors such as storage costs and interest rates affect pricing.
Palladium Options on Futures
The CME offers an American-style options contract on Palladium Futures.
Options are also a derivative instrument that employ leverage to invest in commodities. As with futures, options have an expiration date. However, options also have a strike price, which is the price above which the option finishes in the money.
Options buyers pay a price known as a premium to purchase contracts. An options bet succeeds only if the price of palladium futures rises above the strike price by an amount greater than the premium paid for the contract. Therefore, options traders must be right about the size and timing of the move in palladium futures to profit from their trades.
Palladium ETFs
These financial instruments trade as shares on exchanges in the same way that stocks do. The ETFS Physical Palladium Shares (NYSEARCA: PALL) invests in physical palladium that it stores in secure vaults.
ETFS Physical Palladium Shares
Shares of Palladium Companies
There are many publicly traded companies that have some exposure to palladium prices.
While investing in companies can be a leveraged way to gain exposure to palladium prices, many of these companies have significant exposure to other precious metals. In addition, factors such as company management and the overall stock market can also affect these investments:
CFDs
Another way to trade in palladium is through the use of a contract for difference (CFD) derivative instrument. CFDs allow traders to speculate on the price of palladium. The value of a CFD is the difference between the price of palladium at the time of purchase and its current price.
Some regulated brokers worldwide offer CFDs on palladium. Customers deposit funds with the broker, which serve as margin.
Where Can You Trade Palladium?
If you are looking to get started trading palladium and other precious metal commodities, here's a list of regulated options available in to consider.
Top Palladium Brokers Available in
CFDs are complex instruments and come with a high risk of losing money rapidly due to leverage. Between 71.00%-89.00% of retail investor accounts lose money when trading CFDs. You should consider whether you understand how CFDs work and whether you can afford to take the high risk of losing your money.
What Do the Experts Think About Palladium?
Most analysts who follow the palladium market pay attention to its price relationship with platinum. One expert sees reasons for optimism about the palladium market compared to platinum: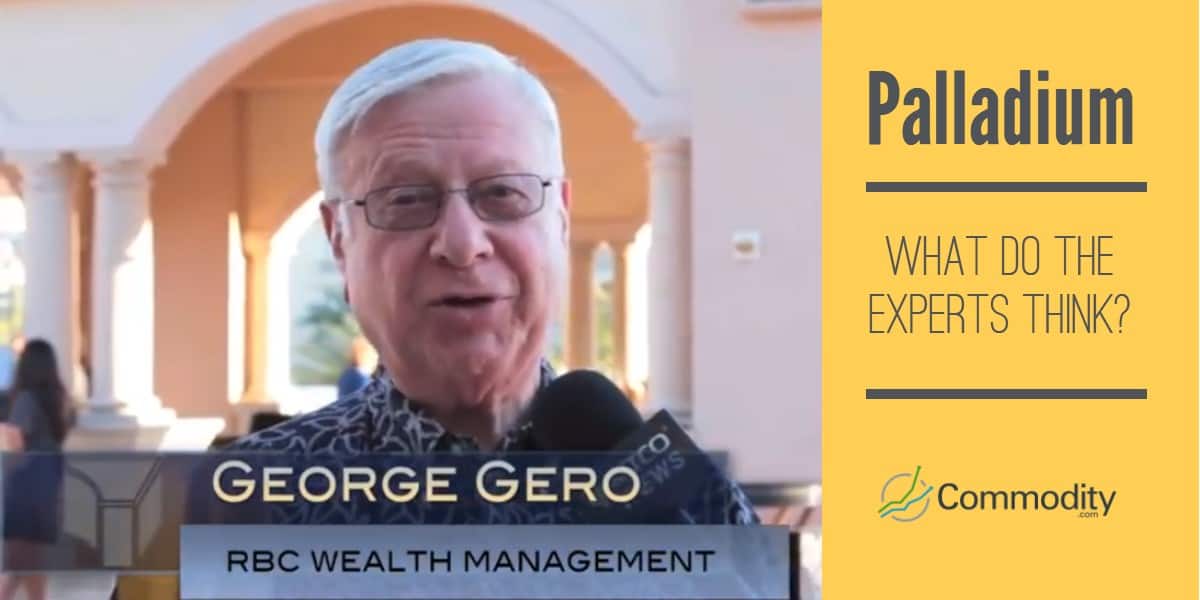 Palladium is powering on with the demand for more vehicles. There's more need for palladium, which cannot be reclaimed as easily or as often from junked automobiles as platinum.

George Gero, managing director, RBC Wealth Management, New York
However, another leading analyst sees reasons for caution. He believes that while the rising market share of gasoline-powered vehicles is a positive, the future presents challenges for palladium prices: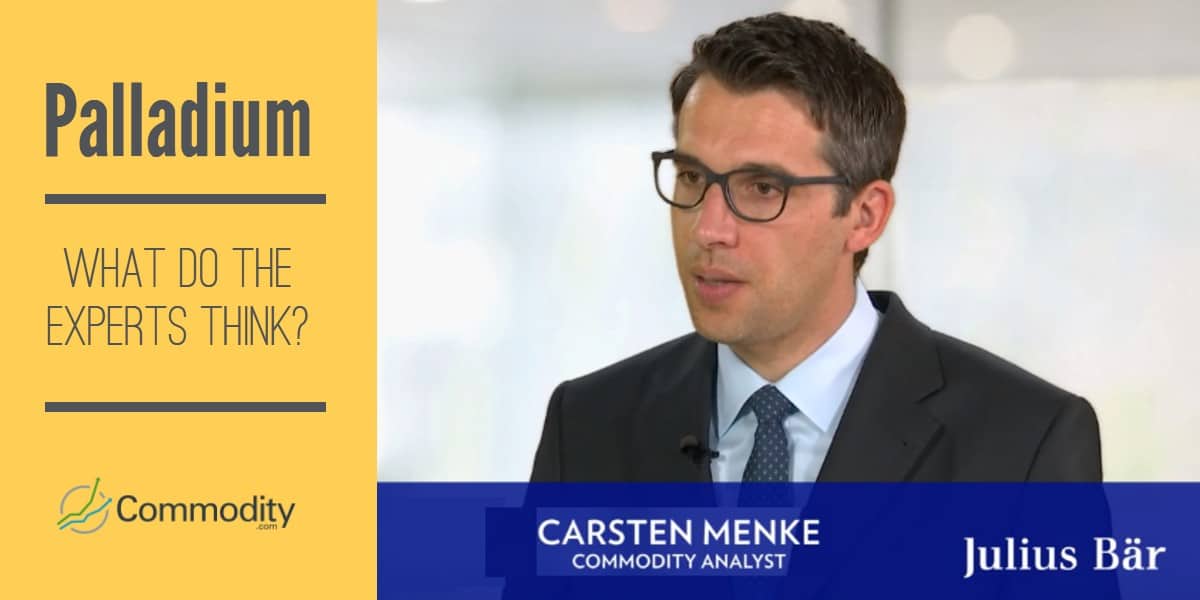 Diesel's share of the European auto market is falling and the flip side of that is gasoline's share is rising. Chinese car sales supported palladium, but there will a reality check as tax incentives are removed. In Europe and the United States, car sales look to be peaking.

Julius Baer analyst Carsten Menke