Disclosure:
Your support helps keep Commodity.com running! We earn a referral fee for some brokers & services we list on this page.
Learn more...
Why is Coal Valuable?
Coal is a fossil fuel formed from dead plant matter trapped between rock deposits.
Over a period of millions of years, biological and geological processes turn this material into peat and then through further metamorphosis into lignite, sub-bituminous coal and finally anthracite coal.
Coal has been used as an energy source throughout human history. Cavemen used the rock to heat their caves.
During the Industrial Revolution, its use proliferated as energy needs expanded. Today coal generates 41% of the global supply of electricity and plays a key role in several other industries.
How is Coal Mined?
Coal miners extract coal by one of two methods:
Surface mining in open pits

Deep mining in underground shafts
The geology of a deposit of coal determines which of the methods miners use. Underground mining currently represents a larger share of world production than surface mining.
Estimates place the size of proven global coal reserves at 1.1 trillion metric tons. This supply equates to 150 years of coal at current rates of production. (By comparison, oil and gas reserves will last 50 and 52 years, respectively, at current production levels.)
Key Facts About Coal Mining
It may not be economically feasible with current technology to mine some of the proven coal reserves.

It is unlikely that significant new coal reserves will be found. After centuries of mining, geologists have a very good understanding of the size and location of global coal deposits.
Global coal production had been growing steadily since 1970. In recent years production numbers have declined precipitously as more countries turn to cleaner form of energy.
The five largest coal producing countries are: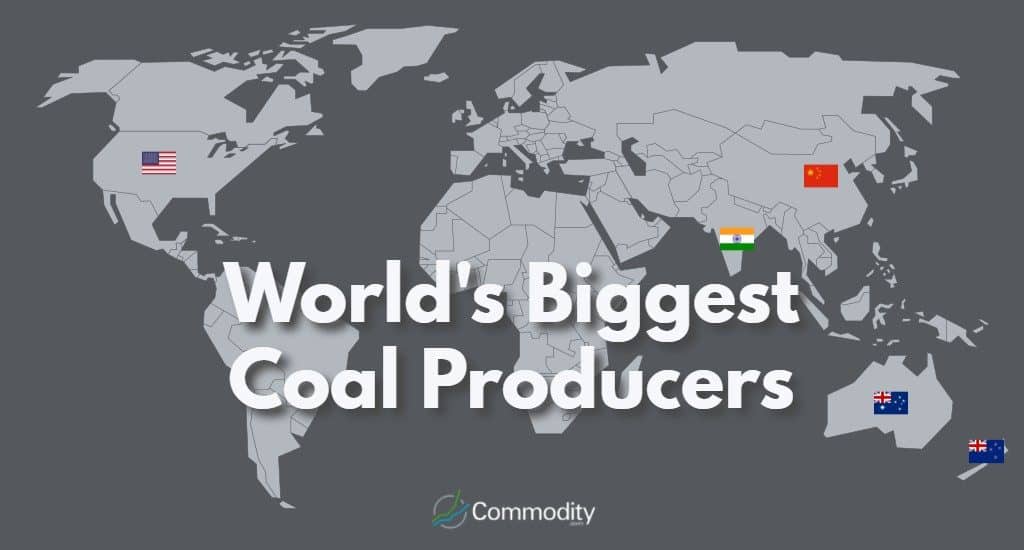 Top 5 Coal Producing Countries
| Rank | Flag | Country |
| --- | --- | --- |
| #1 | | China |
| #2 | | United States of America |
| #3 | | India |
| #4 | | Australia |
| #5 | | New Zealand |
Most coal production remains in the country where it's mined. About 15% of global production is exported to foreign markets. The top coal importing countries are China, India, Japan and South Korea.
Top Coal Exporting Countries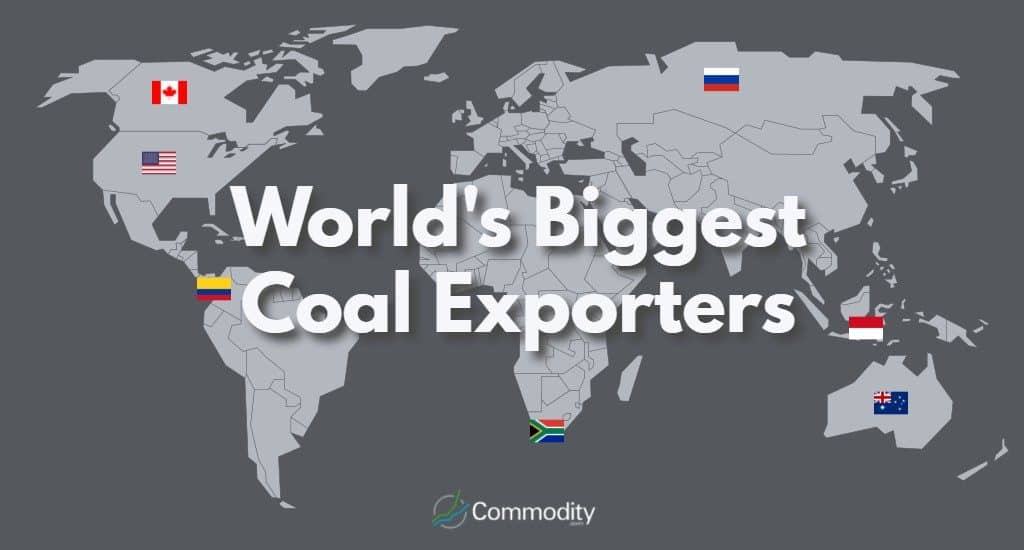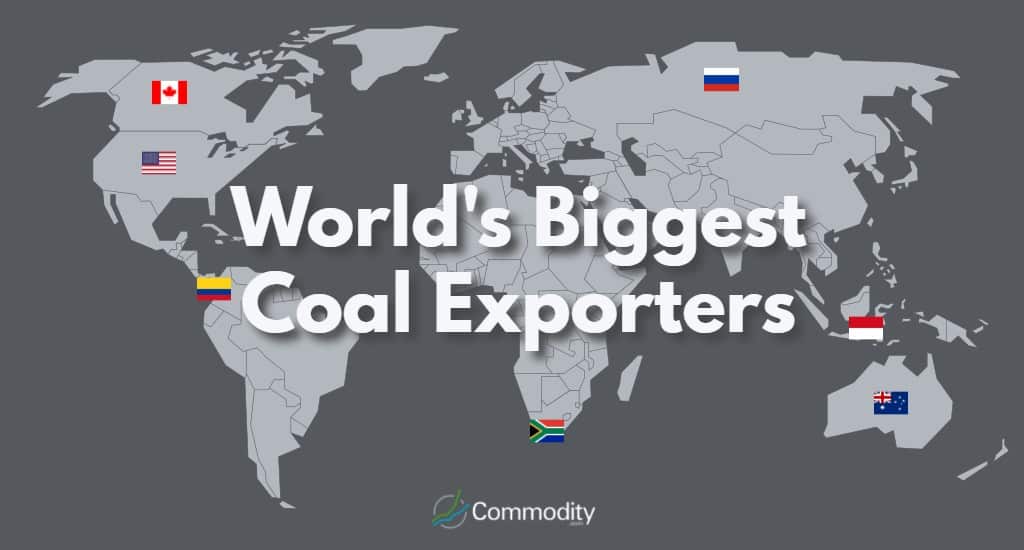 | Rank | Country |
| --- | --- |
| #1 | Indonesia |
| #2 | Australia |
| #3 | Russia |
| #4 | United States of America |
| #5 | Colombia |
| #6 | South Africa |
| #7 | Canada |
4 Main Uses of Coal
Uses of Coal
Description
Power Generation

Steam coal, also known as thermal coal, provides a source of electricity.

Power plants ground steam coal into a powder and fire it into a boiler to produce heat.
The heat is used to turn water into steam.
The steam powers a turbine that, along with an alternator, generates electricity.


Steel Industry

A form of coal known as coke or metallurgical coal is used to smelt iron ore and produce steel.

Specialty high-temperature ovens bake coal to produce coke.
Coal used for this process must be low in sulfur and cleaned very well.
The final product is more expensive than coal used for power generation.


Miscellaneous Industries

The following industries use coal:

Aluminum refineries
Paper manufacturers
Chemical companies
Pharmaceutical manufacturers

Refined coal tar is used to manufacture specialty chemical products including:

Creosote oil
Naphthalene
Phenol
Benzene

Ammonia gas from coal ovens is used to create:

Ammonia salts
Nitric acid
Agricultural fertilizers

Coal Byproducts are found in:

Soaps
Aspirins
Solvents
Dyes
Plastics
Rayon
Nylon
Specialty Products

Coal is used to make:

Air and water purification filters
Kidney dialysis machines
Construction materials
Tennis rackets
Mountain bikes
Lubricants
Water repellents
Resins
Cosmetics
Shampoos
Toothpaste
What Drives the Price of Coal?
Coal prices can fluctuate for a variety of reasons, but the 5 most common ones include:
Emerging Market Demand

Substitution

Environmental Concerns

Transportation Costs

Government Regulations
Emerging Market Demand
Electricity consumption in emerging economies has a significant effect on coal demand and coal prices.
Emerging market countries, especially China, have been transforming their economies from agrarian to industrial and information-based. This transformation requires significant infrastructure, building construction and urban development.
Building modern societies requires modern electric power grids and heavy electricity consumption. As more emerging market citizens move into cities, the need for power will continue to grow.
Substitution
Coal competes with other sources of power including natural gas, solar, wind and hydroelectric power. Natural gas, as an example, often competes strongly with coal on price and is a cleaner form of energy.
Other energy sources such as wind and solar are far more expensive than coal, but are much cleaner. As technologies improve, cost-competitive substitutes for coal may emerge. These substitutes can have a major impact on coal demand and coal prices.
Environmental Concerns
Coal has a reputation as a very dirty and environmentally unfriendly form of energy. The scientific community warns that burning coal raises carbon dioxide levels and contributes to global warming.
The coal industry has responded to these criticisms by developing and touting cleaner coal initiatives. Carbon emission capturing and storing represents a potential solution.
Clean coal technologies are expensive and threaten to upend coal's economic competitiveness with other energy sources.
The ability of the industry to reduce the environmental footprint of coal could have a big effect on coal demand and prices.
Transportation Costs
Transporting coal from mines to consumers requires trains, barges and trucks. All of these modes of transportation use diesel fuel, so changes in its price can have a significant effect on coal prices.
With cross-country shipments, the cost of transportation could exceed the price of coal at the mine.
On average, transportation represents about 25% of the overall cost of coal.
Government Regulations
Clean air regulations in developed countries have resulted in declining coal production.
Concerns about environmental pollution and its effect on global warming have led governments to enact laws limiting carbon emissions. Such regulations have the effect of making coal economically unfeasible.
If these regulations intensify, then more coal plants will shutter creating reduced supply and higher prices.
3 Reasons You Might Invest in Coal
Investors purchase coal for a variety of reasons, but the following are most common:
Bet on Emerging Market Demand

Bet on Infrastructure

Portfolio Diversification
Bet on Emerging Market Demand
The fast-growing Chinese economy has an insatiable demand for cheap fossil fuels to produce energy. Chinese electricity usage is likely to surge over the coming decades as the country builds new factories and housing.
India will also see massive increases in its electricity consumption as it modernizes its economy.
Unlike the West, China and India are less likely to be influenced by environmental concerns when making public policy. An investment in coal is a way to bet on the modernization of these emerging market economies.
Bet on Infrastructure
The United States has not invested in major infrastructure projects in decades.
Infrastructure requires massive quantities of steel. Demand for coal (and the coke from coal used to produce steel) could surge if plans to replace the crippling infrastructure in the United States come to fruition.
Other large developed countries in Europe and Asia will have massive infrastructure needs in the coming years. The price of coal used to make coke is about three times higher than the price of coal used in the electric power sector.
Portfolio Diversification
Investing in coal along with other commodities is a way to diversify an investment portfolio.
Investors seeking true asset class diversification should consider putting a portion of their investable assets into a basket of commodities including coal, other energy commodities, metals and agriculture.
Should I Invest in Coal?
Coal prices can be volatile, and traders should take this into consideration.
Placing a small portion of an investment portfolio into a diversified basket of commodities, including coal, could actually mitigate investment risk.
There are two compelling reasons why traders should include coal in this basket:
Global Growth: Coal is one way to bet on global growth. Emerging market countries will undoubtedly need a cheap source of electricity to power factories and homes in the years ahead. They will very likely turn to coal to meet much of this demand.
Global Infrastructure: Investors should consider the crucial role that coal plays in the steel industry. The need to rebuild bridges, railways and airports should increase demand for steel and, in turn, the demand for coal.
However, traders should also consider three serious risks associated with a coal investment:
Environmental Concerns: Coal is receiving intense scrutiny in many countries because of the pollution it creates. These concerns are creating competition from greener energy sources. As the cost of greener energies declines, consumers might switch to these for their energy needs.
Regulation: Coal produces harmful and toxic carbon emissions, and many countries might intensely regulate these in the years ahead. If countries phase out coal as a source of power, then demand could plummet.
Global Recession: Weak economic conditions could cause coal and many other commodity prices to suffer.
How Can I Invest in Coal?
Investors have a very limited number of ways to invest in coal. Some previously available means for investing in coal ceased trading recently:
Coal Futures and Options
The Intercontinental Exchange (ICE) recently suspended trading in Central Appalachian Coal Futures and Central Appalachian Coal Options due to lack of any open interest in the contracts.
Prior to this, the Chicago Mercantile Exchange (CME) delisted trading in Central Appalachian Coal Futures.
There are no active liquid exchanges for trading futures and options on coal in major markets.
Coal ETFs
These financial instruments trade as shares on exchanges in the same way that stocks do. There are no ETFs that offer exposure to physical coal extracted from mines.
Investors seeking exposure to the coal mining industry can invest in the VanEck Vectors Coal ETF (NYSEARCA: KOL). This ETF invests the majority of its assets in companies that generate at least 50% of their revenues from coal operations including production and mining, transporting coal, producing coal mining equipment and storing and trading coal.
Shares of Coal Companies
There are very few publicly traded companies engaged in mining and processing coal. The industry has shrunk in recent years due to mergers and bankruptcies. The remaining companies are not pure-play investments in coal, but the performance of their shares is generally correlated with the price of coal. The major coal mining stocks include:
Coal CFDs
One way to invest in coal is through the use of a contract for difference (CFD) derivative instrument. CFDs allow traders to speculate on the price of coal mining company shares. The value of a CFD is the difference between the price of the shares at the time of purchase and the current price.
Where to Trade Coal in
Commodity brokers available in :

Loading table...
CFDs are complex instruments and come with a high risk of losing money rapidly due to leverage. Between 73.90%-89.00% of retail investor accounts lose money when trading CFDs. You should consider whether you understand how CFDs work and whether you can afford to take the high risk of losing your money.
What Do the Experts Think About Coal?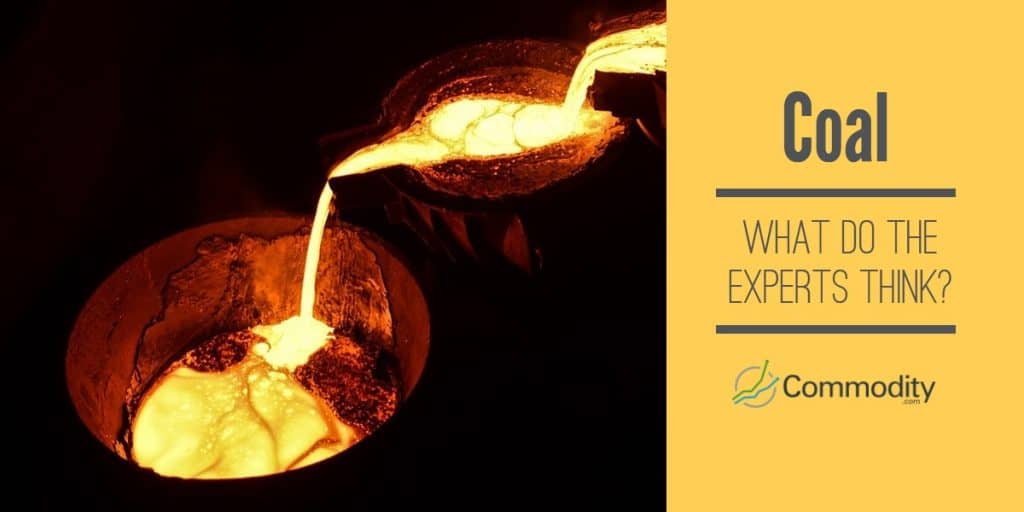 Industry experts emphasize the environmental and regulatory risks of coal, but most don't expect demand to dissipate anytime soon.
Coal likely will have a role in the energy-supply stack for decades to come, barring anything short of an outright ban on fossil-fuel production or consumption."

– Ethan Bellamy, senior research analyst at Robert W. Baird & Co.
However, concerns over the environmental problems of coal could mean a steady decline in consumption.
My view is coal is on this long-term secular decline (but) it's not dead completely."

– Matt Miller, equity analyst at CFRA in Denver.
Others see coal's environmental and regulatory problems as a contrarian opportunity:
"Coal-mining companies are among the most out-of-favor companies in the stock market today. As contrarian investments, these stocks have real appeal."

– George Putnam, author of The Turnaround Letter
Further Reading