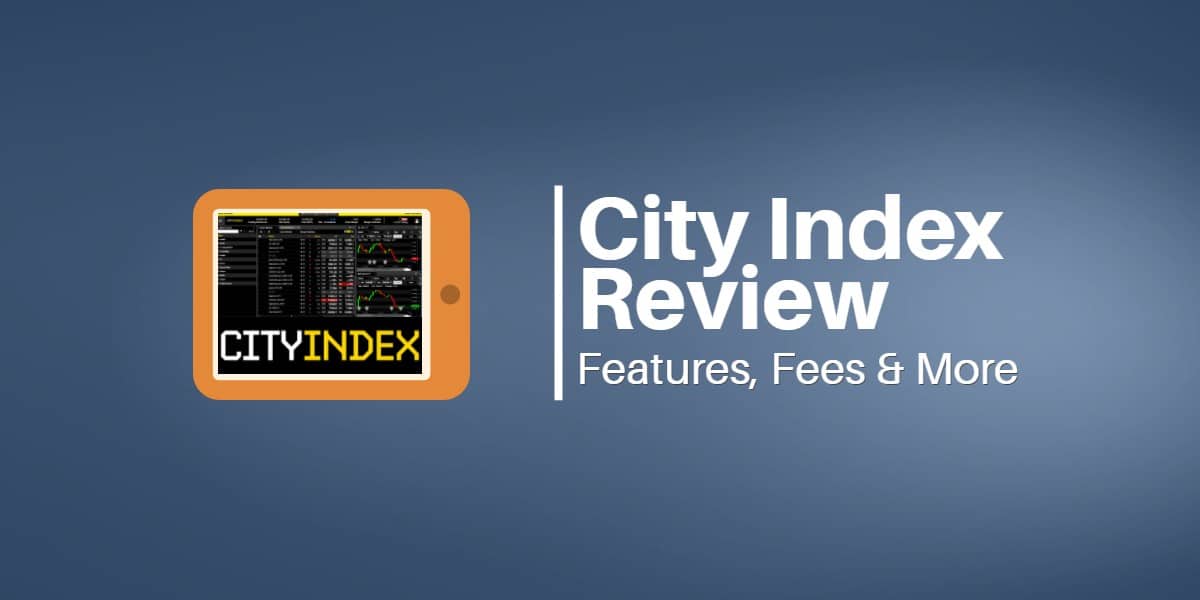 Risk Warning: Your Capital is at Risk
Overview
City Index is a derivative brokerage firm that offers customers a platform for spread betting and trading forex and Contracts for Difference (CFDs). CFDs allow traders to speculate on the price of assets without actually owning them in their accounts. The firm was established in the United Kingdom in 1983, and today serves over 150,000 retail clients across the globe.
City Index has received numerous awards from industry watch groups for its superior product offerings and services.
2018 – Best CFD Provider, Best Mobile Application and Best Cryptocurrency Trading Platform – Online Personal Wealth Awards 2018
2107 – Best Spread Betting Service – Shares Magazine 2017 Shares Awards
2016 – Best CFD Provider – UK Online Personal Wealth Awards
2015 – Best Forex Platform – UK Forex Awards
2015 – Best Education/Resources – UK Online Personal Wealth Awards
2014 – Best Forex Provider of the Year – UK Forex
City Index is a well-regulated broker that offers its customers access to over 12,000 markets across forex, indices, shares and commodities. Customers can take comfort in the broker's 35-year operating history and strong financial backing from its publicly traded parent company.
Please remember that trading CFDs exposes traders to the possibility of losses. While City Index is a responsible broker and won't allow you to lose more than you have invested in your City Index account, CFD trading is for experienced traders.
This review of City Index will cover all of the important details about the broker and discuss its major advantages and disadvantages.
Why Choose City Index?
| What's Good About City Index? | What Could City Index Do Better? |
| --- | --- |
| Trustworthy broker (we scored City Index 100/100 in our broker trust rating) | Demo account is only available for 12 weeks |
| Over 30 years' experience in global markets | Demo account isn't linked to the live account |
| Fast execution | Card withdrawals take 3 to 5 working days |
| No withdrawal fees (unless requiring same-day payment by bank transfer) | Bitcoin and Ethereum are the only cryptocurrencies available to trade |
| Intuitive, advanced trade ticket feature | |
| Available in over 180 countries | |
| 24/5 customer support via phone, email or live chat | |
City Index - Essential Information

www.cityindex.co.uk
Overview
Trade with City Index for quality execution, competitive pricing and dedicated support from financial market experts.
Our Overall Rating
Broker Trust Rating
100/100
Founded
1983
Number of Customers
200,000+ worldwide
Product
CFDs
Forex
Spread Betting
Markets
Forex
Indices
Shares
Cryptocurrencies
Commodities
Countries Served
150+ (Full list below)
Minimum Deposit
£100 for Standard Account
Fees
City Index does not charge commissions on spread betting or on any CFDs other than Shares CFDs.(See below). City Index charges no deposit fees or withdrawal fees (unless using CHAPS - £25). See here for full list of fees
Regulator(s)
Financial Conduct Authority (FCA), Australian Securities and Investments Commission (ASIC) and Monetary Authority of Singapore (MAS).
Customer Support
24/5 email, phone and live chat
Awards
Multiple awards worldwide, including Best CFD Provider, Best Mobile Application and Best Cryptocurrency Trading Platform
Demo Account
Yes, two are available - a City Index and MetaTrader4 (MT4) account
History of City Index
City Index is a subsidiary of GAIN Capital Holdings, Inc. (NYSE: GCAP), which is an international company listed on the New York Stock Exchange. City Index was founded in 1983 as a spread betting brokerage house. In 2001, the firm introduced CFD trading, and in 2006, with the acquisition of IFX Group, City Index entered the forex marketplace. In 2008, City Index expanded its presence in forex with the acquisition of FX Solutions.
In 2014, Michael Spencer, the founder and controlling shareholder of City Index, sold the company to GAIN Capital Holdings for $118 million. The combination created a global firm with operations in more than 180 countries and annual trading volumes in excess of $3 trillion.
City Index has its global headquarters in London, United Kingdom, and offices in the United Arab Emirates, Singapore and Australia.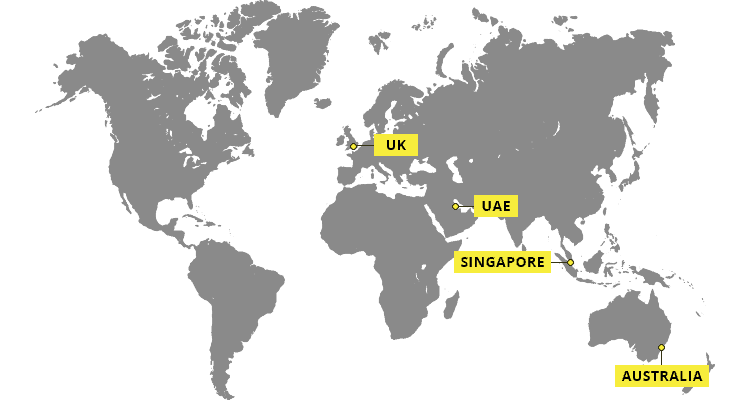 City Index is authorized and regulated in the United Kingdom by the Financial Conduct Authority (Registration number 113942).
GAIN Capital Singapore Pte Ltd. operates City Index in Singapore and is regulated by the Monetary Authority of Singapore (MAS) (Registration number 200400922K).
GAIN Capital Australia Pty Ltd. operates City Index in Australia and was issued an Australian Financial Services License by the Australian Securities and Investments Commission (AFS Number 345646).
City Index provides customers dedicated 24/5 customer support in over 180 countries. Traders can contact City Index customer service by phone, email or live chat.
Where Does City Index Operate?
City Index has business operations in the United Kingdom, United Arab Emirates, Singapore and Australia. It's available in over 180 countries:
Albania
Algeria
American Samoa
Andorra
Angola
Anguilla
Antigua and Barbuda
Argentina
Armenia
Aruba
Australia
Austria
Azerbaijan
Bahamas
Bahrain
Bangladesh
Barbados
Belize
Benin
Bermuda
Bolivia
Bosnia and Herzegovina
Botswana
Brazil
Brunei
Bulgaria
Cambodia
Cameroon
Canada
Cape Verde
Cayman Islands
Channel Islands
Chile
China
Colombia
Costa Rica
Croatia
Curaçao
Cyprus
Czech Republic
Denmark
Djibouti
Dominica
Dominican Republic
East Timor
Ecuador
Egypt
El Salvador
Estonia
Ethiopia
Falkland Islands (Malvinas)
Fiji
Finland
France
French Guiana
French Polynesia
Gabon
Gambia
Georgia
Germany
Ghana
Gibraltar
Greece
Greenland
Grenada
Guadeloupe
Guam
Guatemala
Guernsey
Guyana
Honduras
Hong Kong
Hungary
Iceland
India
Indonesia
Ireland
Isle of Man
Israel
Italy
Jamaica
Japan
Jersey
Jordan
Kazakhstan
Kenya
Kosovo
Kuwait
Kyrgyzstan
Lao Peoples Democratic Republic
Latvia
Lesotho
Liechtenstein
Lithuania
Luxembourg
Macau
Macedonia – The Former Yugoslavia
Madagascar
Malawi
Malaysia
Maldives
Mali
Malta
Marshall Islands
Martinique
Mauritania
Mauritius
Mayotte
Mexico
Micronesia – Federated States of
Moldova – Republic of
Monaco
Mongolia
Montenegro
Montserrat
Morocco
Mozambique
Namibia
Nauru
Nepal
Netherlands
New Caledonia
Nicaragua
Niger
Northern Mariana Islands
Norway
Oman
Pakistan
Palau
Palestinian Territory – Occupied
Panama
Papua New Guinea
Paraguay
Peru
Philippines
Poland
Portugal
Puerto Rico
Qatar
Romania
Russia
Rwanda
Saint Helena
Saint Kitts and Nevis
Saint Lucia
Saint Vincent and The Grenadines
Samoa
San Marino
Sao Tome and Principe
Saudi Arabia
Senegal
Serbia
Seychelles
Singapore
Sint Maarten
Slovakia
Slovenia
South Africa
South Korea
Spain
Sri Lanka
Suriname
Swaziland
Sweden
Switzerland
Taiwan
Tajikistan
Tanzania – United Republic of
Thailand
Togo
Tonga
Trinidad and Tobago
Tunisia
Turkey
Turks and Caicos Islands
Uganda
Ukraine
United Arab Emirates
United Kingdom
United States
Uruguay
Vietnam
Virgin Islands – British
Virgin Islands – U.S.
Wallis and Futuna
Zambia
Traders in the United States and Canada can't trade CFDs through City Index due to regulations. However, when applying for an account from those countries, City Index refers you to the Forex.com platform to open a forex account.
Can I Trust City Index?
City Index has a longstanding reputation for offering a safe and regulated environment for trading thousands of financial instruments.
As a global operator, City Index receives regulatory oversight from several agencies. The Financial Conduct Authority (FCA) regulates the firm in the UK, while the Markets in Financial Directive (MiFID) allows the company to operate as a regulated entity throughout the European Union. The firm's Australian operations fall under the regulatory auspices of the Australian Securities and Investment Commission (ASIC). In addition, City Index is regulated and authorized to operate in Singapore by the Monetary Authority of Singapore (MAS).
| Regulator | Countries Covered | Protection Offered | Additional Protection Offered |
| --- | --- | --- | --- |
| Financial Conduct Authority (FCA) | Austria, Belgium, Bulgaria, Croatia, Czech Republic, Denmark, Estonia, Finland, France, Germany, Gibraltar, Greece, Hungary, Iceland, Ireland, Italy, Latvia, Liechtenstein, Lithuania, Luxembourg, Malta, The Netherlands, Norway, Poland, Portugal, Romania, Slovakia, Slovenia, Spain, Sweden, UK. | All client funds are held in a segregated client bank account | Financial Services Compensation Scheme (FSCS) may cover up to £50,000 if City Index fails. |
| Australian Securities and Investments Commission (ASIC) | Australia, New Zealand and South Africa | All client funds are held in a segregated client bank account | |
| Monetary Authority of Singapore (MAS) | Singapore | All retail client money is held in segregated client bank accounts in accordance with Singapore's Securities & Futures Act (SFA) | |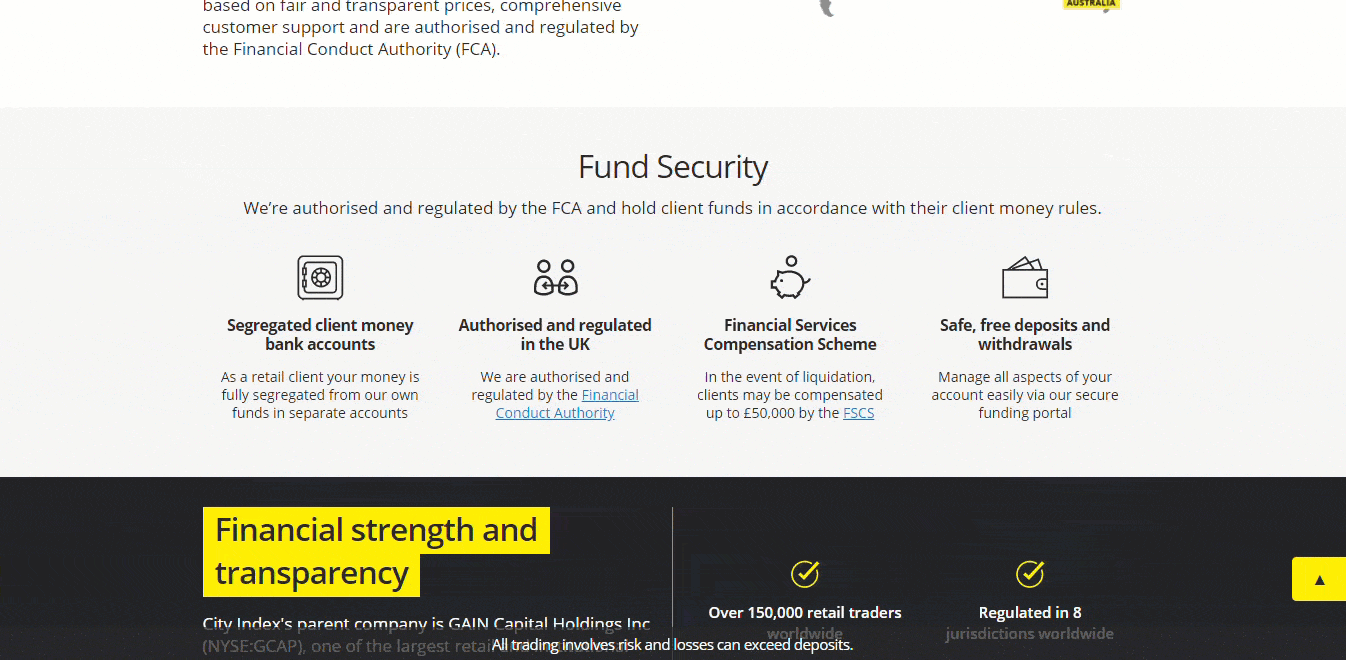 Financial Conduct Authority
The UK's Financial Conduct Agency (FCA) regulates City Index's activities in the UK.
The FCA is widely respected as a leader in financial regulation. In addition, the UK scores highly in Transparency International's rankings of countries based on their corruption perceptions index meaning the UK is a pillar of anti-corruption. City Index's customers in the UK are protected by the UK based scheme Financial Services Compensation Scheme (FSCS), which was established to protect consumers when authorized financial services firms fail. FSCS pays compensation up to £50k to customers in the UK if City Index is unable to pay.
City Index's Financial Services Register reference number is 113942.
Australian Securities and Investments Commission
The Australian Securities and Investments Commission (ASIC) covers City Index's activities in Australia, New Zealand and South Africa.
ASIC's oversight of City Index means that client money is held in a trust and completely separate from City Index's own money. Unlike other jurisdictions, however, if you are based in Australia or South Africa, there is no additional compensation scheme in place to cover your deposit. That doesn't mean it isn't safe to deposit with City Index if you're in Australia or South Africa. Rather, you are offered only the legal protection afforded by the Australian legal system. That being said, money held in trust in Australia is highly regulated and covered by the Corporations Act.
City Index's Australian Financial Services License reference number is 345646.
Monetary Authority of Singapore
The Monetary Authority of Singapore (MAS) authorizes and regulates City Index in Singapore.
City Index ensures that all customer funds on deposit with the firm are held in segregated trust accounts with banks licensed in Singapore under the Singapore Banking Act. City Index operates in accordance with the segregation requirements under the Singapore's Securities & Futures Act (SFA). The firm does not use client money to hedge its positions or to meet the trading obligations of other customers.
The City Index registration number with MAS is 200400922K.
City Index has similar regulatory oversight in the other regions where it operates. The firm has been in business since 1983 and has a reputation for reliability and professionalism. Shares of City Index's parent company, GAIN Capital Holdings, Inc., are publicly traded on the New York Stock Exchange. As a public company, GAIN Capital Holdings must make full disclosures about its financial health.
Who Runs City Index?
GAIN Capital Holdings, Inc., the company that owns City Index, is a publicly held company.
Key GAIN Capital Holdings' Executives
| Name | Position | Information |
| --- | --- | --- |
| Glenn Stevens | Chief Executive Officer | Glenn joined GAIN Capital in 2000 as a founding partner and managing director. |
| Nigel Rose | Chief Financial Officer | Nigel is responsible for GAIN's global financial organization. |
| Alastair Hine | Chief Operating Officer | Alastair oversees the company's global operations within the Retail, Institutional and Futures segments. |
| Diego Rotsztain | Head of Corporate Development, General Counsel and Secretary | Diego oversees the legal and compliance functions at GAIN. |
| Samantha Roady | President, Retail | Samantha is responsible for the strategy and day-to-day operations of the retail business. |
| Mike Lear | Chief Information Officer | Mike oversees the technical strategy for the retail business, information and infrastructure. |
| Tim O'Sullivan | Chief Risk Officer | Tim manages the company's market, credit and operational risks. |
Images sourced from GainCapital.com
City Index Trading Products
City Index offers customers CFD trading in thousands of different financial instruments. City Index divides the products it offers to traders into seven categories: indices, shares, forex, bitcoin and other markets.
1) Indices
City Index offers CFD trading on 17 indices from Asia, Europe, US and Australia:
Singapore Index
Wall Street
Germany 30
US SP 500
Hong Kong 50
Australia 200
EU Stocks 50
France 40
Italy 40
Japan 225
Spain 35
Switzerland 20
UK 100
US Tech 100
Netherlands 25
US Small Cap 2000
China A50
City Index offers CFD trading on more than 4,500 shares of the most popularly traded public companies in the world including companies from the following countries:
Singapore Shares (SGD)
Singapore Shares (USD)
US Shares
UK Shares
European Shares
Australian Shares
Hong Kong Shares
Japanese Shares
3) Forex
City Index offers forex markets on over 65 global FX pairs including majors, minors and some exotics. Traders can choose from USD, GBP, EUR and cross currency pairs.
4) Cryptocurrencies
City Index offers both a mini and full-sized bitcoin or Ethereum CFD contracts.
5) Other Markets
City Index offers CFD contracts on metals and other commodity products:
Metals
Gold
Silver
Copper
Platinum
Palladium
Other Commodities
US Crude Oil
UK Crude Oil
Sugar No. 11
Coffee
Natural Gas
Bonds
UK Long Gilt
Euro-Bund
US T-Bond
US T-Note
Interest Rates
Short Sterling 3 month
Eurodollar
Euribor 3 month
Options
UK 100 options spread bet monthly
US Crude Oil options spread bet monthly
GBP/USD options spread bet monthly
Gold (per 1) options spread bet monthly
City Index Account Types
City Index offers a standard trading account and two types of demo accounts – a City Index demo account and one for the MetaTrader4 "MT4") platform. City Index also offers a VIP account, which is by invitation only. Traders can open a standard account with a minimum £100 deposit.
Traders can use demo accounts for up to twelve weeks, and City Index provides them free of charge. The City Index demo account comes with a £2,500 virtual balance and allows for full access to the trading platform, while the MT4 demo account comes with a £10,000 virtual balance and full access to the forex market.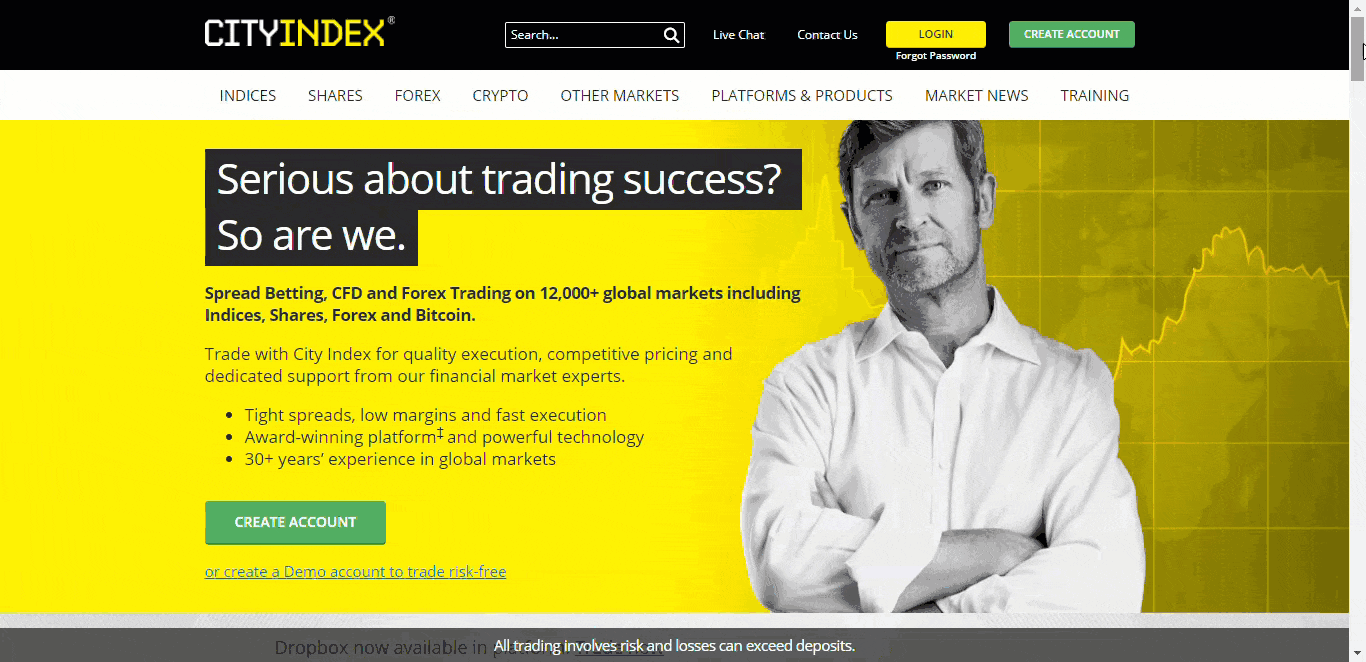 City Index Spreads and Fees
The underlying financial instruments determine the City Index spreads that traders pay.
The broker offers both fixed and variable spreads depending on the specific market being traded.
Fixed spreads: These spreads don't change regardless of market conditions, such as volatility or liquidity. Fixed spreads may either be offered for a defined period of the day or throughout trading hours.
Variable spreads: These spreads may fluctuate throughout the day according to factors, such as underlying liquidity or market volatility. City Index informs traders on its website of the minimum variable spreads as well as the average spreads over a recent time frame.
City Index obtains the data for spreads from reputable third-party sources, which obtain the data directly from exchange feeds.
City Index does not charge commissions on spread betting or on any CFDs other than Shares CFDs. Traders of shares CFDs pay both the market spread as well as a commission on each trade.
Other relevant fee information:
Deposit Fees: The broker does not charge for debit and credit card deposits or bank transfers.
Withdrawal Fees: City Index does not charge withdrawal fees unless the customer wants to receive same-day payment using a CHAPS bank transfer. Same day CHAPS transfers incur a £25 fee.
Back to Base/Currency Conversion Charge: City Index charges commercially reasonable rates for converting CFD and forex trades back to your base currency. The broker discloses the conversion rates on contract notices and trader statements. Since spread betting takes place in only one currency, these charges do not apply.
Exchange Data Fees: City Index does not charge exchange data fees.
Guaranteed Stop Orders: Traders who want to guarantee that their position closes at a specified price pay wider City Index spreads to execute these trades
Overnight Financing Charges: This overnight fee (or credit) is either added to or subtracted from a trader's account when a position remains open past a certain period of time. Traders can obtain information on overnight funding rates at the Pricing and Charges section of the City Index website.
Borrowing Costs for Shorting CFDs: A small minority of CFDs traded on the City Index platform are tied to underlying assets that are hard to borrow. Traders who want to short these CFDs will incur borrowing costs.
Inactivity Fees: City Index charges a monthly inactivity fee of £12 (or equivalent to your cash balance if less than £12) to accounts that are inactive for 12 months or more.
The following are the minimum spreads charged to City Index CFD customers:
Indices Spreads
| Markets | Spread pricing | Min. spread |
| --- | --- | --- |
| UK 100 | Fixed | 1 point |
| Wall Street | Fixed | 1.6 points |
| Germany 30 | Fixed | 1 point |
| Australia 200 | Fixed | 1 point |
| China A50 | Around market spread | 10 points |
| EU Stocks 50 | Fixed | 2 points |
| France 40 | Fixed | 1 point |
| Hong Kong 50 | Fixed | 10 points |
| Italy 40 | Fixed | 10 points |
| Japan 225 | Fixed | 8 points |
| Netherlands 25 | Fixed | 0.3 points |
| Poland 20 | Around market spread | 2 points |
| Spain 35 | Fixed | 8 points |
| Switzerland 20 | Fixed | 4 points |
| US Small Cap 2000 | Fixed | 0.3 points |
| US SP 500 | Fixed | 0.4 points |
| US Tech 100 | Fixed | 1 point |
Shares Spreads
Forex Spreads
| FX Pair | Minimum spread | Average spread |
| --- | --- | --- |
| EUR/USD | 0.5 | 0.69 |
| AUD/USD | 0.5 | 0.73 |
| USD/JPY | 0.5 | 0.77 |
| GBP/USD | 0.8 | 1.22 |
| EUR/GBP | 0.8 | 1.08 |
Traders can visit the City Index website for all forex minimum and average spreads.
Bitcoin Spreads
| Market | Spread |
| --- | --- |
| Bitcoin($) | From $70 |
| Bitcoin(£) | From £70 |
| Bitcoin(€) | From €70 |
| Bitcoin(AUD) | From A$70 |
Bitcoin spreads may change due to market conditions.
Major Commodities Spreads
| Market name | Spread | Spread pricing |
| --- | --- | --- |
| US Crude Oil | 0.4 points (around market) | Around market spread |
| UK Crude Oil | 5 points | Fixed |
| Coffee | 0.9 points | Fixed |
| Sugar | 0.06 points | Fixed |
| Natural Gas | 18 points | Around market spread |
Traders can refer to the City Index website for the full list of commodities spreads.
Metals Futures Spreads
| Metal | Spread (Around market spread) |
| --- | --- |
| Copper Monthly Future (SB) | 40 |
| Gold Monthly Future | 0.5 |
| Palladium Monthly Future | 4 |
| Platinum Monthly Future | 2.4 |
| Silver Monthly Future | 2.5 |
Major Bond Spreads
| Market name |  Min. spread (fixed) | Min. spread hours (UK) |
| --- | --- | --- |
| UK Long Gilt |  .03 points | 08:00 - 18:00 |
| Euro Bund |  .03 points | 07:00 - 21:00 |
| US T-Bond |  .02 points | 23:00 - 22:00 |
| US T-Note |  .02 points | 23:00 - 22:00 |
Traders can refer to the City Index website for the full list of bond spreads.
Interest Rates
| Market name |  Min. spread (fixed) | Min. spread hours (UK) |
| --- | --- | --- |
| Short Sterling 3mnth | .02 points | 07:30 - 18:00 |
| Eurodollar | .02 points | 23:00 - 22:00 |
| Euribor 3mnth | .02 points | 01:00 - 21:00 |
Traders can refer to the City Index website for the full list of interest rate spreads.
Account Requirements
After you click the green "Create Account" button the website, City Index, asks you a few questions:
Your personal details
Which products you want to trade in your account (spread betting, CFDs or both)
Your financial status
Your trading experience
During the account opening process, traders can choose whether they want a CFD account, a spread betting account or a single account with both products.
City Index doesn't require specific prior trading criteria to open an account. However, traders must answer some questions to demonstrate that they understand the trading products and the risks associated with them.
After completing this information, traders may have to submit additional information to verify their identity, although, in most cases, this isn't necessary.
Traders who have to supply additional information will be asked to supply one document for proof of identity and one for proof of address.
Document
Examples
Proof of Identity
Acceptable documents:
Machine-readable passport
Machine-readable national ID card
Photo of driving license
Proof of Address
Acceptable documents (dated within the last three months):
Utility bill
Council tax bill
Bank or credit card statement
Mortgage statement
Traders can make deposits and withdrawals by:
Debit Card: Visa or MasterCard, Maestro and Electron
Credit Card: Visa or MasterCard
Bank transfer
All three methods are free.
City Index does not allow Citibank cards to be used to fund accounts held with any spread betting provider. Traders wishing to fund from a Citibank account need to do so by bank transfer. City Index also does not accept cash payments paid directly into their bank account, or third-party payments.
Depositing money in an account is fast and simple. Traders can access the funding link from the main platform, fill in the required information and send. The minimum amount required to make a deposit starts at £100, but City Index suggests that traders deposit a sufficient amount to enable the trader to withstand market movements.
City Index offers different amounts of leverage depending on the product, but the maximum leverage is 1:500. Traders should consult the City Index products section of the website for specific leverage allowances for each financial instrument. Each financial instrument also has specific City Index margin requirements that traders must maintain. Traders who fall below the City Index margin requirements risk receiving a margin call and having their position closed prematurely.
City Index Withdrawal
The minimum withdrawal amount on a City Index account is £100 or the available account balance, whichever is lower. The maximum amount a trader can withdraw in a single transaction is £20,000. If withdrawing online via credit card, there is a maximum withdrawal allowance of £20,000 in 24 hours.
Withdrawals are free of charge unless you require a CHAPS payment, in which case, there is a £25 charge for payments under £5,000.
For compliance purposes, City Index must transfer your funds back to the original source you used to fund your account. This account needs to be in the same name as the account maintained with City Index.
Withdrawal Times
City Index card withdrawals take three to five working days for funds to arrive, while domestic bank withdrawals generally take one to two days for funds to arrive.
City Index Advantage Web Platform Review
City Index traders have access to three desktop platforms and mobile trading apps for iOS and Android smartphones and tablets:
Advantage Web: A browser-based platform offering advanced HTML 5 charts, customizable screen layouts and a fundamental and technical analysis portal.
AT Pro: A desktop platform with analysis tools including auto-trading, advanced charting and improved speed and efficiency.
MetaTrader 4: The industry standard platform offering advanced features enhanced by City Index's service, support and pricing.
This review will cover the Advantage Web Platform. The platform is web-based so it requires no installation. When you first set up an Advantage Web account, the system prompts you to choose a color scheme. Upon logging in, traders are greeted with the main trading screen: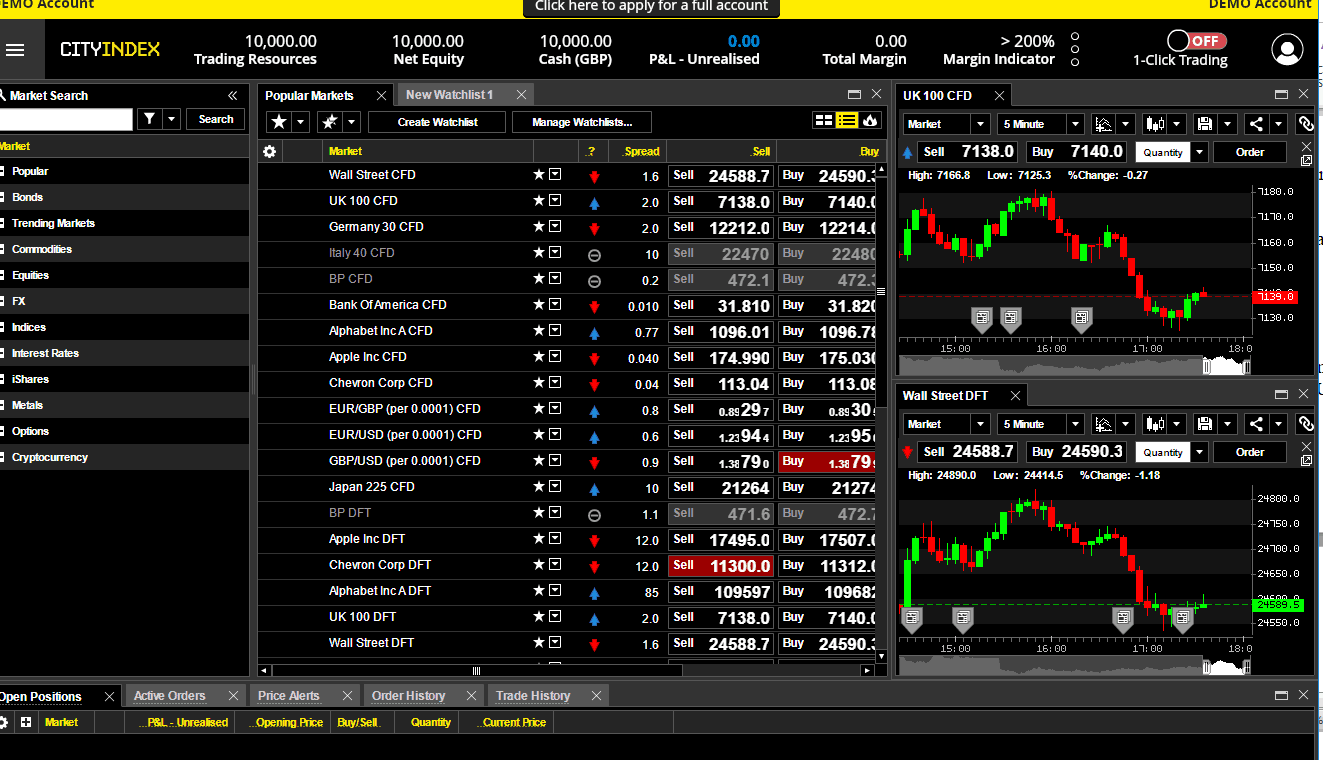 Traders can either customize the layout or pick between one of nine pre-formatted screens.
Traders are offered the option to tick the one-click trading button in the top right corner and enable this handy feature: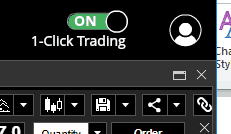 The Advantage Web trade ticket is intuitive, advanced and user-friendly. Traders can attach features such as guaranteed stops and trailing stops to their orders.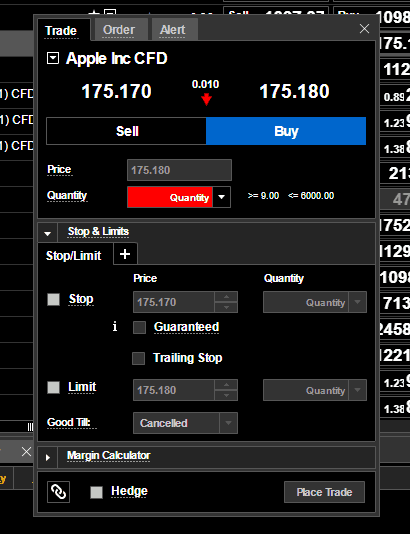 Advantage Web also allows traders to set up personalized watch lists and provides a heat map to show traders the markets that are moving the most. The charting feature seems robust and offers dozens of technical indicators. A margin calculator allows traders to calculate the cost of placing a trade.
Advantage Web offers all standard trading platform features, such as historical data feeds and tools for monitoring open and closed positions and trading history.

Overall, the City Index Advantage Web platform is intuitive, visually appealing and easy to use. Of course, more experienced traders may want to check out the City Index MT4 or AT Pro platforms.
City Index Demo Account
Traders can use the City Index demo account for only two weeks. The account is separate from the live platform, and traders can't toggle back and forth between the two platforms. Unfortunately, this is limiting since other brokers allow unlimited use of their demo platforms and a link to the live platform.
City Index Education Resources
City Index has a Training tab on its website that offers educational resources for both new and experienced traders. This section of the website contains a series of educational videos, articles and practical examples on a wide range of trading topics.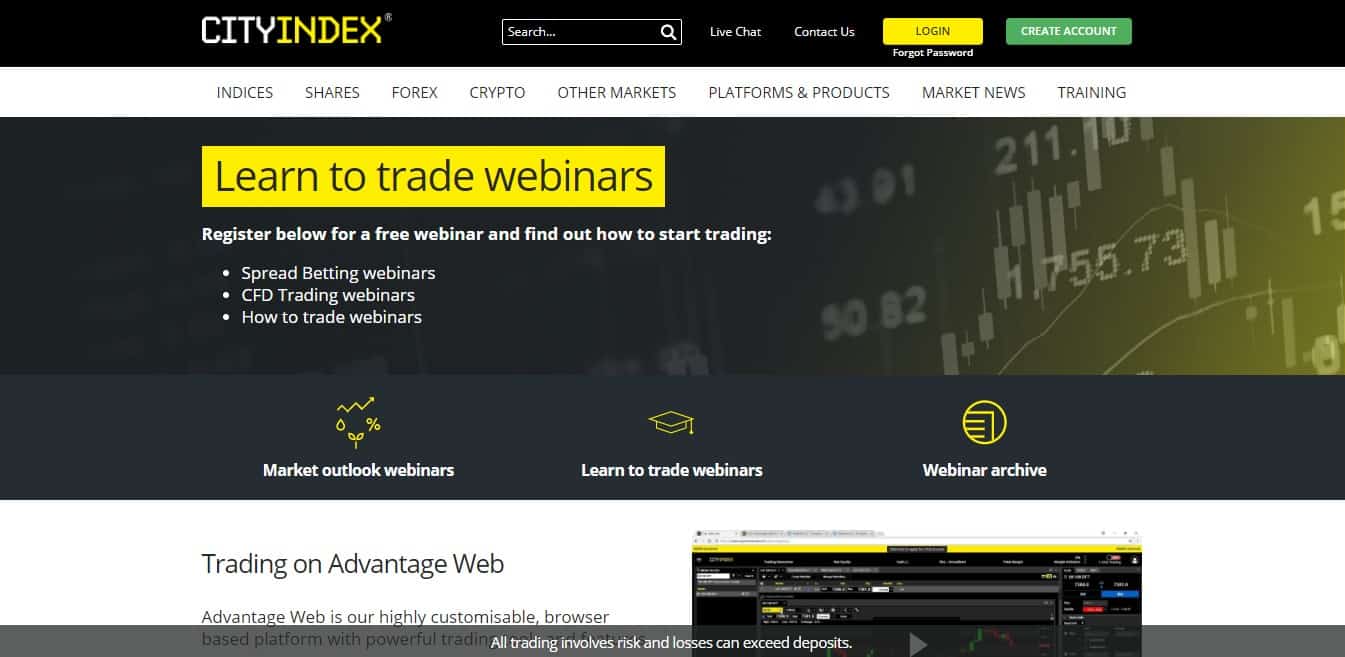 Introduction to Financial Markets: This section covers the different asset classes traded on the City Index platform, the types of market participants and the factors that move each market. Traders can also learn about the differences between spread betting, forex and CFD trading.
Trading Strategies: This section covers some practical tips for successful trading.
Technical Analysis: A tutorial on technical analysis topics including moving averages and Bollinger bands. New traders can learn the basics of charting, while more advanced traders can learn the intricacies of support and resistance, trading with the trend and trading with indicators.
Fundamental Analysis: Traders can learn about topics such as company earnings and economic indicators and how they affect markets.
Trading Academy: This is a video series chronicling the journeys of a few new traders learning to trade City Index markets. The series follows the progress of traders who learn from a team of experts and then take part in a trading contest.
Video Library: This series of video tutorials cover how to execute CFDs, forex and spread bets with City Index.
City Index Sign-Up Bonuses and Promotions
City Index does not offer any sign-up bonuses or promotions to new or existing customers. This is due to new legislation that has been implemented across the EU (The Markets in Financial Instruments Directive) that prevents brokers, like City Index, from offering incentives for new customers. Designed to create more transparency in markets and give greater protection to traders, it impacts those who operate and are regulated within the EU.
Therefore, should a broker offer a sign-up bonus, they're either unregulated in the EU (which means your money might not be protected), or, they're not regulated at all (which means they could be operating illegally).
Please note: All of the views expressed in this review are Commodity.com's views and opinions and have not been approved, reviewed or endorsed explicitly or implicitly by the GAIN Capital Group.
Lawrence Pines is a Princeton University graduate with more than 25 years of experience as an equity and foreign exchange options trader for multinational banks and proprietary trading groups. Mr. Pines has traded on the NYSE, CBOE and Pacific Stock Exchange. In 2011, Mr. Pines started his own consulting firm through which he advises law firms and investment professionals on issues related to trading, and derivatives. Lawrence has served as an expert witness in a number of high profile trials in US Federal and international courts.