Disclosure:
Your support helps keep Commodity.com running! We earn a referral fee for some brokers & services we list on this page.
Learn more...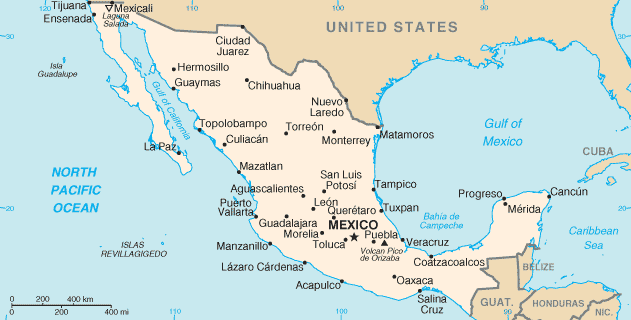 Economy of Mexico – Overview
Mexico is currently the thirteenth largest export economy in the world with annual exports of $373 billion, but it also has a negative trade balance of $6.62 billion in net imports. Two decades ago, they had a positive trade balance of $15 billion.
The GDP of Mexico is $1.05 trillion and that equates to a GDP per capita of $17,900.
Mexico has a $2.2 trillion economy and it has become increasingly geared toward being a manufacturing base since the North American Free Trade Agreement (NAFTA) was entered into in 1994.
Mexico's Top 5 Commodity Exports
| Commodity | Amount (Annually) |
| --- | --- |
| Crude Petroleum | $15.5 billion |
| Gold | $4.88 billion |
| Tropical Fruits | $2.48 billion |
| Tomatoes | $2.11 billion |
| Silver | $1.89 billion |
Mexico's Other Notable Exports
Computers – $21.2 billion
Cars – $31.4 billion
Vehicle Parts – $26.2 billion
Telephones – $15.7 billion
Delivery Trucks – $23.4 billion
The United States is a highly significant export market for Mexico with $302 billion of its $374 billion exports ending up there. The remaining export destinations of the top five are Canada ($10.4 billion), China ($5.41 billion), Germany ($3.95 billion) and Japan $3.77 billion).
Mexico's Top 5 Commodity Imports
| Commodity | Amount (Annually) |
| --- | --- |
| Refined Petroleum | $18 billion |
| Corn | $2.69 billion |
| Aluminum | $1.64 billion |
| Soybeans | $1.62 billion |
| Wheat | $987 million |
Mexico's Other Notable Imports
Vehicle Parts – $22.6 billion
Integrated Circuits – $13.7 billion
Computers – $10.7 billion
Telephones – $9.54 billion
LCD's – $3.32 billion
More Information About Mexico's Commodities
Crude Petroleum
The annual value of global crude petroleum is $275 billion and Mexico is the fifth largest exporter with a 5.6% share of the market, compared to Russia who is the primary exporter at 27%.
Although the United States is also a major destination for Mexico's crude petroleum exports by taking 48% of the country's output each year, other destinations such as Spain (14%), India (10%), and Japan (8.1%), are considered important export markets too.
Gold
Out of the top 15 gold-exporting countries, Mexico is among 11 nations who have less than 5% market share of the annual market worth $324.6 billion, with Switzerland leading the league table with 25.3%.
India has managed to increase their gold exports by 12,612% in the last five years, whereas, in contrast, Mexico has seen a decline of 38.8% in their export numbers.
Tropical Fruits
Mexico is the leading exporter of tropical fruits with a 27% share of an annual global export market worth $9.32 billion, with its nearest rival, the Netherlands, enjoying an 11% market share, followed by Costa Rica on 9.8%.
Once again, the United States is a dominant destination for Mexico's tropical fruits exports, taking 77% of their annual export output.
Tomatoes
Mexico is the number one exporter of tomatoes with a 26% share of the global market, although the Netherlands is competing for that top spot with a 22% market share of the annual $8 billion market.
The United States almost exclusively receives all of Mexico's tomato exports with 99.7% of their tomatoes heading across the border and Canada taking the remaining 0.3%.
Silver
The global silver export market is worth $18.2 billion per year and Mexico is the leading country for exporting the precious metal with a 10.5% share of the market.
Although Mexico is still the leading country for silver exports, it has posted a decline in the value of its exports of 55.8% in the last five years, causing the second largest exporter, South Korea (9.2%) to push for the number one position.
Interesting Facts About Mexico
Mexico has the tenth largest population in the world with close to 110 million people
The country is responsible for introducing chilies, corn and chocolate to the world
Mexico has the largest pyramid in the world, the Great Pyramid of Cholula, which is considered to be the largest monument ever constructed
All figures based on OEC/IMF 2016 projections unless otherwise stated.
Interested in Trading Commodities?
Start your research with reviews of these regulated brokers available in .
Loading table...
CFDs are complex instruments and come with a high risk of losing money rapidly due to leverage. Between 73.90%-89.00% of retail investor accounts lose money when trading CFDs. You should consider whether you understand how CFDs work and whether you can afford to take the high risk of losing your money.