Disclosure:
Your support helps keep Commodity.com running! We earn a referral fee for some brokers & services we list on this page.
Learn more...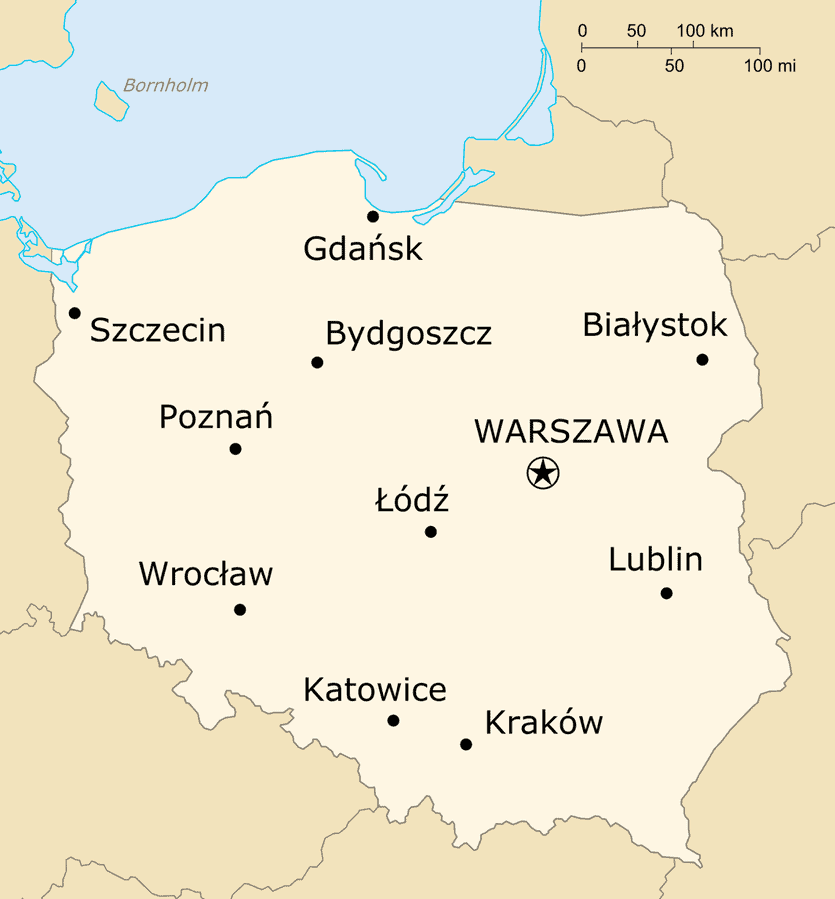 Economy of Poland – Overview
Currently ranked the 19th largest export economy in the world, Poland exports $196 billion of goods and imports $186 billion, resulting in a positive trade balance of $9.6 billion.
The GDP of Poland is $469 billion and that means that its GDP per capita stands at $27,800.
The country has enjoyed export growth at an annualized rate of 1.21% over the last five years, rising from $179 billion to $196 billion during that period.
Poland's Top 5 Commodity Exports
| Commodity | Amount (Annually) |
| --- | --- |
| Refined Petroleum | $2.2 billion |
| Refined Copper | $1.28 billion |
| Coke | $1.13 billion |
| Pig Meat | $837 million |
| Wheat | $807 million |
Poland's Other Notable Exports
Vehicle Parts – $11.2 billion
Cars – $7.59 billion
Seats – $5.46 billion
Computers – $4 billion
Video Displays – $3.87 billion
Top export destinations of Poland are Germany ($53 billion), The United Kingdom ($13 billion), the Czech Republic ($12.7 billion), France ($10.8 billion) and Italy ($9.4 billion).
Did you know?
Poland has about 2 million family farms which account for about 27% of the labor force, but a typical farm averages only 15 acres, which means that a large percentage are unable to generate sufficient income through agriculture. This is a prime reason why many workers have sought employment elsewhere and in other EU countries.
Poland's Top 5 Commodity Imports
| Commodity | Amount (Annually) |
| --- | --- |
| Crude Petroleum | $7.13 billion |
| Refined Petroleum | $2.26 billion |
| Pig Meat | $1.31 billion |
| Soybean Meal | $861 million |
| Raw Tobacco | $525 million |
Poland's Other Notable Imports
Cars $7.21 billion
Vehicle Parts – $6.67 billion
Packaged Medicaments – $3.89 billion
Computers – $3.61 billion
Integrated Circuits – $2.33 billion
More About Poland's Imports/Exports
Refined Petroleum
The annual value of the global refined petroleum export market is $412 billion and Poland's exports account for 0.53% of this total.
Refined petroleum exports represent 1.1% of Poland's total annual export values.
The Netherlands and the Czech Republic account for 51% of Poland's refined petroleum exports.
Refined Copper
Poland enjoys a 3.3% market share of a global refined copper export market that is worth $38.7 billion per annum.
The country is home to KGHM Polska Miedz SA, one of the world's largest refined copper suppliers. It formed in 1961 to develop a copper deposit located north of some existing small mines in Lower Silesia, which is in southwest Poland.
Coke
The total value of global exports is $4.17 billion. Poland (27%) is the second largest exporter behind China (34%) and substantially ahead of third-placed Russia (6.3%).
Weglokoks is the largest coal exporting company in the country and is responsible for around half of all the country's coke and coal exports.
Pig Meat
The global pig meat export market is worth $26.7 billion annually and Poland has a 3.1% market share, making it the 9th largest exporter.
Pig meat accounts for 0.43% of all Poland's exports and Italy (11%) and the United States (11%) are the top importers of Polish meat, and remaining export destinations are almost exclusively EU countries.
Wheat
Poland is the tenth largest wheat exporter in the world with a 2.2% market share of a global market that is worth $36.3 billion annually.
The country is one of the fastest-growing wheat exporters in the world and the value of their exports has increased by 158% in the last five years.
A Few Interesting Facts About Poland
Poland has one of the oldest salt mines in the world, the Wieliczka Salt Mine, which was built in the 13th century and was still producing table salt right up to 2007.
The Polish alphabet consists of 32 letters.
Almost 35% of Polish nationals now live abroad.
Poland has been invaded or has fought for its freedom 43 times.
All figures based on OEC/IMF 2016 calculations and projections unless otherwise stated.
Interested in Trading Commodities?
Start your research with reviews of these regulated brokers available in .
Loading table...
CFDs are complex instruments and come with a high risk of losing money rapidly due to leverage. Between 73.90%-89.00% of retail investor accounts lose money when trading CFDs. You should consider whether you understand how CFDs work and whether you can afford to take the high risk of losing your money.