Review
HYCM Analysis 2020: Can You Trade Safely With This Firm? We Review Their Track Record
Risk Warning: Your Capital is at Risk.
Overview
HYCM is a leading provider of contracts for difference (CFDs) and forex trading services with an operational history of over 40 years.
CFDs are derivative securities that allow customers to speculate on the price of an asset without actually holding the instruments in their accounts.
HYCM offers trading in CFDs on forex, indices, commodities, stocks, and cryptocurrencies. In February 2020, the company expanded its CFD offering to include exchange-traded funds (ETFs).
The companies in the HYCM Group are regulated in multiple jurisdictions. Traders seeking a stable and transparent broker that offers its clients access to over 200 forex and CFD instruments will find HYCM appealing. Registered clients have the added advantage of practicing trades and strategies in a demo account.
This review of HYCM will cover all the important details about the broker and discuss major advantages and disadvantages.
Key HYCM Features
Pros & Cons of Choosing HYCM
HYCM makes it possible for their clients to enter into CFDs by giving them access to multiple trading instruments through the highly regarded MetaTrader platforms.
As a fully regulated broker, traders are assured that HYCM follows strict monetary procedures. Below is a quick overview of what's good and what not about opening an account with HYCM.
Which Countries do HYCM Operate In?
HYCM's forex and CFD trading services are available in more than 140 countries.
IMPORTANT: CFDs are not available in the USA due to local regulation, and regulated brokers do not accept US citizens or US residents as clients.
Restricted Regions
Furthermore, HYCM does not offer CFD trading to clients with the following nationalities:
United States
Afghanistan
Belgium
Japan
What Can I Trade With HYCM?
HYCM's product offering is focused on forex, indices, commodities, stocks, cryptocurrencies and ETFs. With the exception of foreign exchange, all products are structured as CFDs.
Note: The availability of products may depend on the country you're in or the type of account you're holding. For example, trading in cryptocurrency CFDs is available to Cayman Islands (HYCM Ltd) clients only.
Forex
More than 60 currency pairs are available to trade through HYCM. Spreads start at 0.2 pips and margins from 3.33%.
Indices
HYCM clients can trade CFDs on close to 30 country indices.
Commodities
HYCM offers clients the possibility to trade 10 commodities without owning the financial instrument.
Stocks
CFDs on the following popular shares are available to trade:
libaba
Apple
Amazon.com
Facebook
Google
Jd.com
Microsoft
Tesla Motors
Twitter
Vipshop Holdings
Cryptocurrencies
The following cryptocurrencies are available to trade in the UK and Cayman Islands:
ETFs
HYCM introduced ETF CFDs as a trading product in 2020.
HYCM Spreads and Fees
HYCM receives its compensation through the market bid/ask spread. The underlying financial instrument and the type of account determine the spreads that traders pay.
The broker obtains the data from reputable third-party sources, who obtain the data directly from exchange feeds. Depending on market conditions, the company reserves the right to increase or decrease spreads on very short or even no notice.
In their bid to be transparent, HYCM communicates exact charges per trade through its trading platform.
Other Relevant Fee Information
Note: Different fees and conditions may apply to Islamic accounts.
Which HYCM Account Is Best for You?
HYCM offers clients three types of live trading accounts as well as a demo account. Based on their requirements and experience, traders can choose between a Fixed, Classic, and Raw account.
HYCM Accounts at a Glance
Account Requirements
When you click on the red Open Live Account button on the HYCM website, the system asks you to pick your country of origin from a drop-down menu.
Before you execute your first trade, you need to enter your name, email address, country of origin and phone number. Then you answer a few questions about your background and financial knowledge.
After completing this form, prospective traders must complete two more steps:
Verify the account
Deposit funds into the account
HYCM Verification Process
Traders must provide certain documents to HYCM within seven days of opening an account:
Copy of a passport or a national ID card
Proof of address: The following are acceptable:

Bank statement
Utility bill issued within the last 3 months

If you deposited by credit card, HYCM requires a photocopy of the front of the card
Traders can submit these documents by email, fax, computer upload, or mobile device upload.
Can I Open a Demo Account with HYCM?
Only registered HYCM clients can open a demo account to practice trading or try new strategies without the risk of losing real money. The demo account looks like the live account, and traders get the same functionality.

To open a demo account, traders must go to their Client Portal and click on 'Create Demo Account' under the 'Trading Account' menu.
The MetaTrader 4 platform is used for the demo account. Clients have access to $50,000 in virtual money. Accounts stay active for 14 days, but clients can open as many demo accounts as they wish over an unlimited time period.
HYCM Deposits and Withdrawals
Depositing Funds
Depending on their region, HYCM clients can make deposits via Visa or MasterCard, wire transfer, WebMoney, Neteller, China UnionPay, Skrill or Interac.
The minimum deposit to start trading is $100. After that, the minimum amount required to make a deposit starts at $20 via Visa/Master cards or e-Wallets. Deposits by wire transfer can't be less than $250. The latter takes between 1 to 7 days for processing, while funds are available instantly when using one of the other methods.
Making a deposit is fast and simple. Traders click on the banking and deposit funds buttons of the account they wish to use on their main client portal screen. They then select the deposit method of their choice, fill in the required information and click "Submit".
Withdrawing Funds
HYCM transfers funds back to the original source you used to fund your account (otherwise via wire transfer only directly into your bank account).
Withdrawal minimums apply depending on the method of withdrawal. For withdrawals to Visa/Master cards and e-Wallets, there is a minimum required amount of $20.
A $30 withdrawal fee is charged on wire transfers of less than $300, while a 1% processing fee applies to withdrawals over $5,000 to Skrill or Neteller.
HYCM may require copies of your credit card before approving a withdrawal request. Traders should consult the banking section of the HYCM website for more details.
While withdrawal requests are generally processed within one business day, it can take between 3 and 7 days for the funds to show in your account due to stringent security checks.
HYCM Online Trading Platform Review
HYCM offers traders the option to trade forex and CFDs with the very popular industry-standard MetaTrader 4 (MT4) or MetaTrader 5 (MT5) trading platforms. More importantly, they can trade on-the-go using MetaTrader mobile applications
Both platforms can be downloaded and installed directly from the HYCM website in just a few minutes.
This review will discuss the different features of the two platforms to help you decide which one is best for you. It also gives details about the highly regarded MetaTrader mobile apps.
HYCM MT4 Platform Features
Logging in to the HYCM MT4 platform for the first time is simple and straightforward. The overview page directs you to the download link and the setup window.
The download is very quick. Once traders agree to some standard disclosures , they can click the MT4 icon on their desktop and be on the platform in minutes.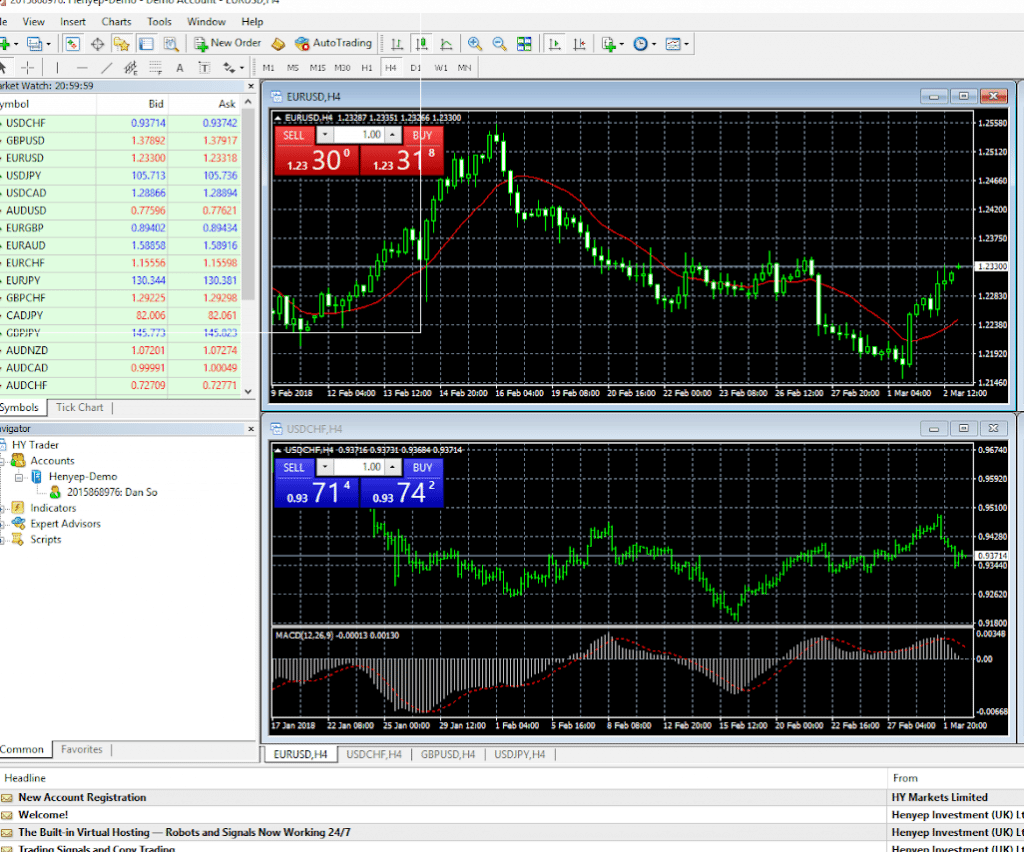 After logging in with their username and password, traders arrive at the main trading screen, which contains the three main panels that comprise the platform:
Market Watch Panel
This panel contains the live prices and symbols of popular instruments traded on HYCM.
Chart Window
This large panel in the middle of the screen displays the historical prices, technical indicators and charting tools used to create price charts. It opens with four charts which traders can customize and configure each with unique indicators and technical analysis tools.
This feature is particularly nice for two reasons:
1) It allows the trader to look at four charts for different instruments or different timeframes at the same time, and
2) it has a built-in ticket feature that allows traders to click on the price and instantly send an order to buy or sell.
Traders can also right-click on any part of the Market Watch panel to get a list of useful data points such as high-low prices, depth of market and tick chart. If you click on the chart window choice, then a new chart will appear along with the four charts that populate the window upon opening it.
When traders click on any of the other data points, the information appears in the Market Watch panel. Traders also have the ability to right-click on a symbol and pull up a tick chart for a particular instrument.
The Chart Window has some great features that make the MT4 platform stand out from more basic trading platforms. Traders can access their open orders and a ticket window by right clicking on a specific chart. They can also change the timeframe, perspective and colors of a chart.
With the window tab at the top of the platform, traders can organize the charts in cascade, horizontal or vertical format.
Active traders that like to keep multiple charts open at once are certainly going to find these features attractive.
Terminal Window Panel
This panel shows the trader's active, pending and closed trades. This is also where the trader can configure alerts and monitor the platform's important trading and system messages.
The top menu on MT4 has a help section that contains documentation, video tutorials and other guides to using MT4. This resource will be especially useful to new traders.
The robust functionality, especially as it pertains to charting, make MT4 a superior trading platform. However, it can take a while to learn. Advanced traders will appreciate the dozens of technical charting tools available, but beginners might find it somewhat overwhelming.
HYCM MT5 Platform Features
While MT4 is perfectly adequate for trading CFDs and forex, MT5 comes with advanced features and functions.
MT5 offers traders 21 timeframes and 6 types of pending orders. In addition, its advanced technical analysis options include 38 technical indicators, 44 analytical objects, and unlimited charts.
One of MT5's most helpful features is an economic calendar where traders can keep track of events that can impact the market. It's also compatible with automated trading applications such as Expert Advisors and Trading Central.
While MT5 boasts some impressive features, they may be superfluous for HYCM clients who are trading forex and CFDs only. MT4 is simpler to use, especially for beginner traders. However, if you're an experienced trader interested in additional tools, MT5 is definitely a platform to consider.
Easy On-the-Go Mobile Trading
Mobile applications have made it possible for traders to trade from anywhere in the world. HYCM clients have complete control over their trading accounts from their smartphones through the MetaTrader 4 and MetaTrader 5 mobile applications.
Both the MetaTrader 4 and MetaTrader 5 trading platforms are available as iOS or Android application. No Windows app is available.
MT4 App – This app allows traders to monitor their account status, execute trade transactions and track trade history. Furthermore, it gives traders access to quote charts, trade orders and top analytical tools. Push notifications and the possibility to chat with other traders are some more handy features of the MT4 mobile trading app.
MT5 App – In addition to the standout features of the MT4 app, MetaTrader 5 was improved to support both netting and hedging. It also features Market Depth and professional technical analysis through a range of indicators and analytical objects.
Customer Support and Security
HYCM offers customers dedicated 24/5 customer support in multiple languages. Traders can contact HYCM customer service by phone, fax, email or live chat or directly through the company's worldwide offices.
The HYCM website is available in 12 different languages to make it more accessible to all its clients from different countries across the world.
As for cybersecurity, traders can feel secure using HYCM platforms. The broker has implemented the latest technology and processes to meet security standards and ensure data protection.
Client information is encrypted with 128-bit SSL certificates issued by VeriSign. Connections between clients and HYCM's servers are also encrypted and secured in accordance with banking standards.
Can I trust HYCM?
HYCM has a reputation as one of the top online forex and CFD brokers. In addition to being regulated in multiple jurisdictions, they have proven their reliability through an operating history of more than 40 years.
How Is HYCM Regulated?
HYCM is the trading name of Henyep Capital Markets (UK) Limited, HYCM (Europe) Ltd, HYCM Limited and Henyep Capital Markets (DIFC) Limited for which the Henyep Capital Markets group is the holding company.
The different companies in the group are regulated as follow:
Henyep Capital Markets (UK) Limited is authorized and regulated under the Financial Conduct Authority (FCA) with reference number 186171.
HYCM (Europe) Ltd is authorized and regulated under the Cyprus Securities and Exchange Commission (CySEC) under license number 259/14.
HYCM Ltd is authorized and regulated under the Cayman Islands Monetary Authority (CIMA) under reference number 1442313.
Henyep Capital Markets (DIFC) Limited is authorized and regulated by the Dubai Financial Services Authority (DFSA) with license number 000048.
In addition, HYCM Europe is individually registered with the following EU member states:
Germany – Federal Financial Supervisory Authority (BaFin)
France – Autorité de Contrôle Prudentiel (ACP)
Spain – Comisión Nacional del Mercado de Valores (CNMV)
Poland – Polish Financial Supervision Authority (KNF)
Sweden – Finansinspektionen (FI)
Italy – Commissione Nazionale per le Società e la Borsa (CONSOB)
UK – Financial Conduct Authority (FCA)
Hungary – Magyar Nemzeti Bank (MNB)
UK and Europe Client Money Protection
Short History of HYCM
The Henyep Group was founded in 1977 as Henyep Gold Dealers and subsequently became a member of the Hong Kong Gold and Silver Exchange Society.
In 2000, Henyep Investments was at the forefront of the creation of CFD trading on energy and commodities. They were a founding member of the online stock trading platform Hotrade.
Henyep consolidated their capital markets investment brands in 2016. As a result, a multi-platform online trading website HYCM.com was launched.
HYCM has their headquarters in London, United Kingdom, with other offices in Cyprus, Hong Kong, Dubai, and China.
HYCM Education Resources
HYCM has an education section on their website that offers a variety of tools for learning about HYCM markets and trading.
The section is divided into three subsections:
Forex Education – Under this section traders will find a range of tutorials, trading strategies, educational videos, and eBooks. These include a beginner's course, but also cover topics such as Trading Psychology and the different asset classes.
Webinars and Workshops – HYCM clients can learn a lot from market and trading experts by attending weekly webinars and online workshops. The Monday webinars help traders prepare for the week ahead by analyzing market movements. In the online workshops, and HYCM expert shows clients the ins and outs of trading by using their demo accounts.
Seminars- The HYCM seminars are live events held in different locations across the globe. Future events are always announced on the website.
HYCM Rewards & Promotions
Because HYCM is regulated within the EU, they are unable to offer sign-up promotions due to the Markets in Financial Instruments Directive (MiFID). This has been introduced across the EU in order to protect traders with a more transparent approach to markets.
However, HYCM does offer a 10% credit reward for all deposits made over $100 (to a maximum of $5,000) to clients of HYCM Limited (regulated by the Cayman Islands Monetary Authority). These clients are also eligible to receive a $200 cash reward for referring new clients who fund their accounts with at least $500 and continue to trade 3 lots. [T&C's apply]
Key HYCM Takeaways
As a well-established and internationally regulated CFD broker, HYCM clients are assured of trading with a reliable trading platform.
The popular MetaTrader 4 and MetaTrader 5 platforms, in desktop and mobile versions, are an added advantage when opening an account with HYCM.
MetaTrader 4 is suitable for novice traders, especially if they use the opportunity to open a demo account to practice before trading with real money. Experienced traders can upgrade to MetaTrader 5 with even more advanced features.
Furthermore, traders who opt to sign up with HYCM have access to a diverse product offering including forex and a list of CFDs, from commodities to stock and indices.
FAQs
Here are a handful of frequently asked questions about HYCM as a broker.
Is HYCM a good broker?
HYCM has been operating for over 40 years and is regulated in multiple jurisdictions. As such, HYCM provides a reliable platform to trade forex and CFDs.
Is HYCM regulated?
Yes, HYCM is regulated by the Cyprus Securities Exchange (SySEC), the Financial Conduct Authority (FCA), the Cayman Islands Monetary Authority (CIMA), and the Dubai Financial Services Authority (DFSA).
Is HYCM a good trading platform?
HYCM gives its clients access to the leading MetaTrader 4 and MetaTrader 5 online trading platforms. This includes state-of-the-art apps for mobile trading.
What is the minimum deposit for HYCM?
The minimum deposit to start trading with HYCM is $100. After that, a minimum deposit of $20 is required to top funds up via Visa/Master cards or e-Wallets. Any deposits by wire transfer must be $250 or more.
How do I withdraw money from HYCM?
Withdrawing available funds from HYCM is easy, although certain minimum amounts apply to different withdrawal methods. Funds are generally transferred back to the source used to fund the account via wire transfer directly into your bank account.
For withdrawals to Visa/Master cards and e-Wallets, the minimum amount is $20. On wire transfers of less than $300, a withdrawal fee of $30 is charged.
Credits: Original review written by Lawrence Pines. Major updates in May 2020 by Linda de Beer with contributions from the Commodity.com editorial team.