Disclosure:
Your support helps keep the site running! We earn a referral fee for some
brokers
& services we list on this page.
Learn more...
Last Updated on
Why is Everyone Talking About Litecoin?
Cryptocurrency has come a long way since Bitcoin burst on to the scene all the way back in 2009. Today there are many different cryptocurrencies to choose from, all with their own specific designs and niches.
Litecoin was designed to be the silver to Bitcoin's gold. It's also one of the most popular cryptocurrencies available. 

5 Interesting Litecoin Facts You Might Not Know
Litecoin was the brainchild of a former Google employee Charlie Lee
The cryptocurrency went live on October 13th 2013 and incorporated some of Bitcoin's code
There was no pre-mine and the launch was intended to be as fair to the community as possible
In 2013 Litecoin experienced fairly explosive growth and achieved a market cap of $1 billion
In 2017 Litecoin adopted SegWit and was the first cryptocurrency to make a transfer using the Lightning Network
Data from U.S. Equity Research estimates the cryptocurrency market is expected to grow at a 32% rate by 2023.
According to RnRMarketResearch:

"Growth is propelled by the benefits of compliance-free peer-to-peer transaction, cross-border remittance transfer, increase in use cases, volatility in the stock market, fluctuating monetary regulations in different countries, transparency, and immutability of the distributed ledger technology and benefits such as faster transaction and reduction in total ownership cost.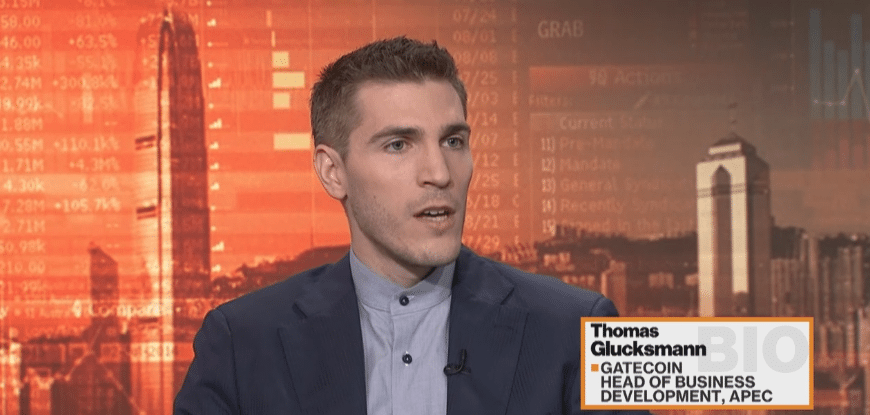 Litecoin is one of the currencies at the forefront of the crypto-charge. Thomas Glucksmann, head of marketing at cryptocurrency exchange Gatecoin, told CNBC by email.
"Litecoin is one of the major alternative cryptocurrencies, or altcoins, that competes with bitcoin on transaction efficiency so naturally, it is a strong choice for diversification. Litecoin has always been one of the most underrated cryptocurrencies given its advantages over bitcoin."
Seeking Alpha analyst Geoffrey Caveney says:
"Litecoin is a worthy option to consider as a third currency after Bitcoin and Ethereum. A small slice of litecoin, say half of 1% of your portfolio, is worth considering with the slice of profits you may be taking on your bitcoin right now."
Litecoin creator and former Google employee, Charlie Lee tweeted an image of data from Coinmarketcap.com on December 12th showing  Litecoin volumes for the past 24 hours:
Charlie then tweeted the following warning to his followers:
"Sorry to spoil the party, but I need to reign in the excitement a bit…," he wrote. "Buying LTC is extremely risky. I expect us to have a multi-year bear market like the one we just had where LTC dropped 90% in value ($48 to $4). So if you can't handle LTC dropping to $20, don't buy!"
Business Insider reported, the popular exchange, Coinbase, was forced to temporarily halt trading of litecoin and ether on Tuesday 11th December when high traffic volume, disrupted their service. Ether hit $600 a token, while litecoin gained more than 40% to $312.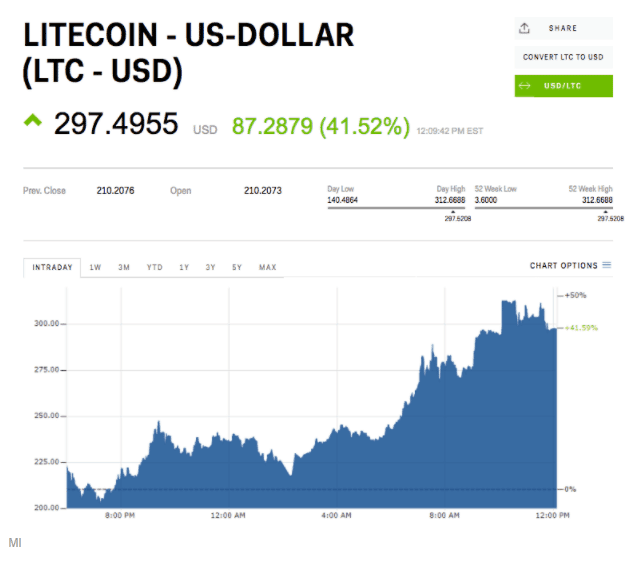 What is Litecoin?
Litecoin (LTC) is a decentralized, open-source payment network, or cryptocurrency. It allows you receive, store, and send money to other people. It's one of the three largest cryptocurrencies, together with Bitcoin (BTC) and Ethereum (ETC). Litecoin was designed to improve on many of the perceived failings of Bitcoin and to be the silver to Bitcoin's gold.
To this end Litecoin has a cap of 84 million tokens, this is in comparison to the 21 million cap used by Bitcoin. It also has a block generation time of  2.5 minutes compared to Bitcoin's 10. The aim was to make Litecoin easier to obtain and trade than Bitcoin.
Litecoin was also created with an aim to reduce the centralization of mining. The cryptocurrency was designed to use a code called Scrypt. This was designed to be more CPU friendly to encourage more users to mine and prevent ASIC miners dominating the network. The hope is that Scrypt can make mining more dynamic and prevent wealthy miners from controlling the direction of the currency.

Litecoin vs Bitcoin
How does the silver to Bitcoin's gold compare? What are the key differences to Bitcoin? See below for our head-to-head comparison:
Litecoin (LTC)
Bitcoin (BTC)
Purpose
Created as an "upgrade" to Bitcoin
Decentralized digital currency
Founded
2011
2009
Founder
Charlie Lee
Satoshi Nakamoto (alias)
Market Cap
Over $15 billion
Over $250 billion
Current Price
All time High
$366 (December 2017)
$19,908 (December 2017)
All Time Low
$1.20 (Jan 2016)
$0.06 (July 2010)
How long did it take to hit $100?
74 months
51 months
Notable Supporters
Jeff Currie (Goldman Sachs)
Peter Theil (Venture capitalist)
Christine Lagarde (IMF)
Marc Andreessen (Early internet Pioneer)
Supply Cap
84,000,000
21,000,000
Initial Distribution
Mining
Mining
Mining Method
GPU
ASIC
Consensus Method
Proof of work
Proof of work
Network Hash Rate*
Over 295 Litecoins per hour
Over 40 BTC per hour
Difficulty increase
Every 2016 blocks
Every 2,016 Blocks
How are Litecoins Made?
The way that Litecoin is made is not all that different from Bitcoin. Whereas banks and governments are centralized governments that can physically print currency, Litecoin is a decentralized currency that is created digitally by its community.
The technology behind Litecoin is called a blockchain. This acts as a general ledger, recording every transaction ever made. These transactions are processed by "miners" who create new blocks to add to the chain. These miners are then rewarded with some Litecoin. This acts an incentive for users to process new blocks and regulates the creation of new tokens. This process is called proof of work where users are rewarded for using their own computing power to create new blocks.
Where Litecoin differs is in how it calculates the proof of work function. Bitcoin uses SHA-256. The problem with this is that miners can take advantage of ASICs. An ASIC is a specialized piece of hardware designed for a specific task, in this case, mining cryptocurrency. The creators of Litecoin were concerned that this could lead to ASIC using miner's dominating the network.
Their solution was to use Scrypt. This rendered existing ASIC mining rigs useless and theoretically allowed the blockchain to be more democratic. Although there are currently ASIC rigs available for scrypt and AMD graphics cards are capable of mining the scrypt algorithm.
A typical Gridseed 5 chip Scrypt ASIC Miner setup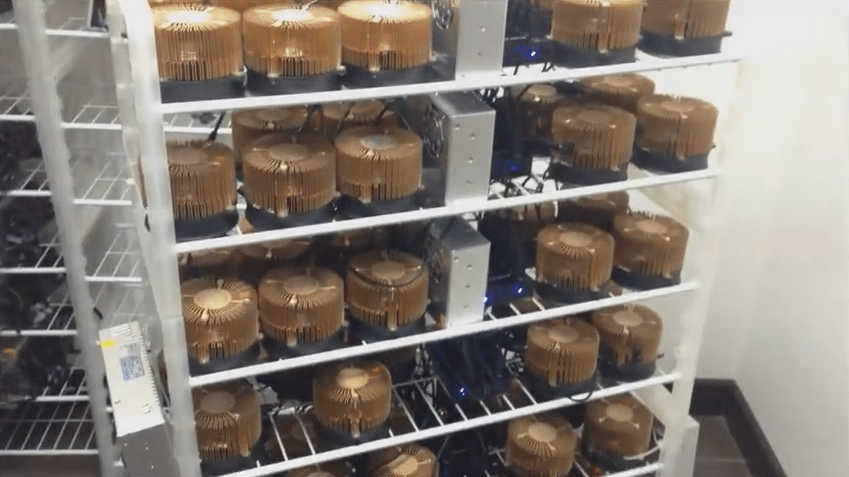 What is the Price of Litecoin?
What Drives the Price of Litecoin?
Like many other cryptocurrencies, Litecoin's value is largely linked to that of Bitcoin. If Bitcoin begins to rise or fall in value then you should expect Litecoin to follow suit shortly afterward. Cryptocurrency is a volatile commodity so you should expect to see these dramatic fluctuations in value on a regular basis.
Litecoin is very similar to Bitcoin and it will generally be able to ride on Bitcoin's coattails. The main thing traders should look out for is market adoption. If merchants decide that they want to accept Bitcoin as a payment method then Litecoin's similarities mean that it will find it easier to become accepted.
While Litecoin does tend to follow Bitcoin there is also the possibility of hedging taking place. Investors are looking to shift some of their assets as Bitcoin crests in order to limit any losses from a potential crash. This sort of behavior was observed just prior to the Bitcoin fork in 2017. When traders do this it has the potential to increase the value of Litecoin.
Miners' sentiments may also have some impact. The Litecoin mining algorithm is less dependant on electricity than that of Bitcoin and this can lead to lower costs for miners. If miners decide that litecoin is giving them more stable returns then they may switch to Litecoin. This increases the supply and encourages traders to buy Litecoin.

What is the Price Outlook for Litecoin, and What Do Experts Say on Prices?
Like Bitcoin, the short-term price outlook for Litecoin is fairly volatile. You should expect to see plenty of ups and downs as speculators engage in profit-taking.
In the medium, to long term, it is likely that Litecoin, Bitcoin, and other currencies will generally continue on an upward trajectory, even if it is a rocky road.
If Litecoin becomes adopted as a common payment method then you should expect to see speculation decline as the cryptocurrency begins to stabilize.
It is difficult to fully predict the future of Litecoin and any traders should brace themselves for plenty of ups and downs and keep a well-hedged portfolio.
Experts are generally quite positive upon the future of LTC, although not all believe that it is through Litecoin's own merit.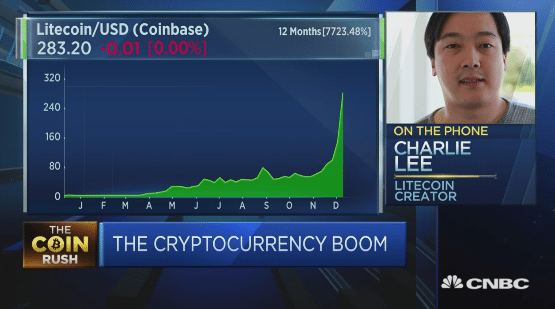 Litecoin's creator Charlie Lee told CNBC:
"I don't like to speculate on prices because I'm always wrong."
A whole swathe of experts from Tim Henneking to Charles Hayter have all stated some variation of the opinion that when Litecoin rises in value it is largely due to the success of Bitcoin.
"Litecoin is just cruising in Bitcoin's wake", said Tim Enneking, managing director of Crypto Asset Management.
There is some backing to their view, Coindesk has found a strong correlation between BTC and LTC prices although they did note that they did not always rise in tandem.
Charles Hayter has also made the point that "a rising tide lifts all the boats." When the cryptocurrency market is doing well then Litecoin will rise along with it.
Gavin Yeung, founder and CEO of digital asset management firm Cryptomover, said:
"Investors may be using Litecoin as a hedge in case Bitcoin suffers a correction".
Litecoin Market Sentiment
We've gathered data from leading exchanges to determine the general feeling in the Litecoin market. Its calculation is simple; using data from the exchanges listed below, we gather buy and sell volumes for a given time period and weight this against the total transaction volumes.
[cryptocharts currency="LTCUSD"]
Cryptsy
BTCChina
Bitstamp
BTER
OKCoin
Coinbase
Poloniex
Cexio
BTCE
BitTrex
Kraken
Bitfinex
Yacuna
LocalBitcoins
Yunbi
itBit
HitBTC
btcXchange
BTC38
Coinfloor
Huobi
CCCAGG
LakeBTC
ANXBTC
Bit2C
Coinsetter
CCEX
Coinse
MonetaGo
Gatecoin
Gemini
CCEDK
Cryptopia
Exmo
Yobit
Korbit
BitBay
BTCMarkets
Coincheck
QuadrigaCX
BitSquare
Vaultoro
MercadoBitcoin
Bitso
Unocoin
BTCXIndia
Paymium
TheRockTrading
bitFlyer
Quoine
Luno
EtherDelta
bitFlyerFX
TuxExchange
CryptoX
Liqui
BitMarket
LiveCoin
Coinone
Tidex
Bleutrade
EthexIndia
Bithumb
CHBTC
ViaBTC
Jubi
Zaif
Novaexchange
WavesDEX
Binance
Lykke
Remitano
Coinroom
Abucoins
BXinth
Gateio
HuobiPro
OKEX
Source – CryptoCompare Public API.
3 Reasons to Invest in Litecoin
Network Effects
High Upside
Potential Inoperability with Bitcoin
Network Effects
Invariably, when people first get familiar with Bitcoin and start grasping cryptocurrency concepts, at some point, they start looking to see what other coins dominate the space. Litecoin has grown a reputation for being the 'silver' to Bitcoin's 'gold'. By virtue of being around since 2011, it is a longstanding altcoin that has built up a solid community and for this reason, shares some of Bitcoin's first mover advantage.
High Upside
As Bitcoin's blockspace is becoming a rare and expensive resource, as witnessed by its rising transaction fees, Litecoin stands to gain by picking up some of the slack. As Bitcoin is solidifying as a store of value, many see Litecoin as a possible candidate to pick up the slack and act as a buffer or transaction overflow for Bitcoin. If Litecoin ends up inheriting this use case from Bitcoin, at such a cheap buy-in, its upside potential should be obvious.
Potential Interoperability with Bitcoin
Litecoin adopted SegWit before it was enacted on the Bitcoin network. The two networks share many key features and both of them have Lightning Network and Atomic Swaps on their roadmaps. If both technologies come through, it means that the Bitcoin and Litecoin networks will become compatible for low fee inter-blockchain transactions which means that users of both networks could send payments across chains to each other.
2 Reasons Not to Invest in Litecoin
Follower not a leader
The stigma of silver
Follower Not a Leader
Although Litecoin is more agile than Bitcoin when it comes to deploying new technologies and ideas, such as implementing SegWit months ahead of Bitcoin, once Bitcoin eventually deploys these upgrades, they quickly become a moot point on Litecoin as all the interest moves back over to Bitcoin. Litecoin seems to only choose features that are in Bitcoin's pipeline and rarely innovates any of its own.
The Stigma of Silver
The negative side of being perceived as the 'silver' to Bitcoin's 'gold' is that it can become a self-fulfilling prophecy that Litecoin will always play second fiddle to Bitcoin.
How to Buy Litecoin
So you've decided that you want to buy LTC. The next step is figuring out how to get Litecoin.
The best way to acquire LTC is through a cryptocurrency exchange. You use these exchanges to trade fiat currency for Litecoin. Unfortunately, using exchanges can be risky. You need to take care to protect your investment. If you have any problems you are pretty much on your own.
There are two main ways to buy Litecoin. Which one you decide to use will largely depend upon your priorities.
Coinbase
If you want to exchange your fiat currency for Litecoin then one possible choice is an exchange called Coinbase. There are several exchanges but Coinbase will suit the majority of traders. It comes with a large number of currency pairs and you even have the option to buy Litecoin with your credit card. Coinbase has a competitive fee rate. Purchasing LTC will typically result in a 3.99% fee if using a credit or debit card and a 1.49% fee for most kinds of bank transfer.
Coinbase requires you to provide your ID and address when registering. This sort of ID verification is a standard procedure used by many exchanges. It is designed to prevent the exchange from being used for money laundering and other criminal activities. This ID vetting should discourage traders who are interested in cryptocurrency precisely because it provides anonymity. Privacy-conscious traders will prefer to take another route.
LocalBitcoins
Rather than buying LTC directly you can first buy Bitcoin through a peer to peer Bitcoin Exchange that does not require an ID. One of the best options is LocalBitcoins which allows users to buy Bitcoin with almost any currency. Once you have the Bitcoins you will then be able to trade these for Litecoins at another exchange.
If you choose to use LocalBitcoins make sure that you vet other users thoroughly. There is a review function and you should make sure you use it. Some unscrupulous users have been known to scam new traders. If you get a bad feeling or see poor reviews it is generally best not to make the trade.
Keep in mind that you will need to be serious about your security when using an exchange. Always enable two-factor authorization and try to avoid keeping all your coins in a single wallet. Also, remember that you should never leave coins in your exchange wallet unless you are planning to trade them. The best way to secure your cryptocurrency is in a hardware wallet or by putting them in cold storage. This involves keeping your cryptocurrency in an offline wallet that only you have access to. Remember, you are entirely responsible for your own security. If you don't own your wallet, you don't own your tokens.
You also need to make sure that you keep your wallet secured and password protected. You will also need to protect your computer, email, and phone with unique secure passwords. Any breach could result in your coins finding their way into the wallet of a hacker.
Managing your own Litecoin is not easy. Not only do you have to negotiate the exchanges but you also need to take extra care to keep your computer secure. You need to be wary of phishing scams, viruses, and other risks. You also need to keep very careful track of your wallet's access codes. If you lose those your Litecoin investment could end up trapped in a wallet that you can't access.
On top of this added stress are the risks you can't control. When you use an exchange you are relying on them to protect you and your Litecoin. The problem is that they sometimes fail to do this properly. The most notorious example is the MtGox incident.
Back in 2013, MtGox was by far the biggest Bitcoin exchange. It controlled over 70% of the market. The cracks began to show in May of 2013 when FinCEN seized their accounts. This led to users losing their ability withdraw USD from the exchange. Then to make matters worse MtGox was hacked. The attackers got away with around $500 million and MtGox was forced to file for bankruptcy.
Sadly these problems are not a thing of the past. In August 2017 Bitfinex was hit by a similar hack. The attackers emptied random wallets and stole around $72 million worth of cryptocurrency. In order to prevent individual users from losing everything, Bitfinex decided to spread the losses, reducing everyone's account balance by 37%.
Bitfinex was able to do this because they are not governed by any regulations. Its users are essentially at the mercy of the exchange should something go awry. Thankfully, there is a better way to buy Litecoin.
What's the Best Way to Buy Litecoin?
Our preferred option is to not buy Litecoin at all and instead to trade Contracts for Difference (CFDs) using a regulated broker.
A CFD is a contract between a buyer and a broker. Instead of directly buying Litecoin you would buy a CFD and take a short or buy position. You would then win or lose money depending on what direction the market moves in. This allows you to take advantage of shifts in the market without ever owning a single Litecoin.
There's an eye-watering number of brokers out there and it's very difficult to sort out the good from the bad. The first rule is to always make sure that your broker is a regulated broker. Regulated brokers have to comply with strict standards designed to protect your money. You should also look at any commissions, overnight fees, and extra risk management tools. Brokers usually offer free demo accounts on their online platforms, allowing you to test the software before committing to any one platform.
This can involve a lot of research but luckily for you, we've decided to save you some time by doing it for you. After going through all the options we have decided that our best pick for trading in Litecoin CFDs is Plus500.

Plus500 – Our top recommendation for trading in Litecoin CFDs.  (76.4% of retail CFD accounts lose money). 
Plus500 is one of the great ways you can trade Litecoin CFDs. Plus500 subsidiaries are individually regulated by the following agencies; Financial Conduct Authority (FCA), Cyprus Securities Exchange (CySEC), Australian Securities and Investments Commission (ASIC).  Plus500 is also authorized by the Financial Services Provider In South Africa under FSP 47546.
See the table below for exactly which regulator covers you in your country and what protection is offered.
| Regulator | Countries Covered | Protection Offered |
| --- | --- | --- |
| Financial Conduct Authority (FCA) | UK, Ireland and Germany | All client funds are held in a segregated client bank account |
| Cyprus Securities Exchange (CySEC) | Andorra, Argentina, Austria, Bahrain, Belgium, Bulgaria, Chile, Croatia, Cyprus, Czech Republic, Denmark, Estonia, Finland, France, Gibraltar, Greece, Hungary, Iceland, Isle of Man, Israel, Italy, Kuwait, Latvia, Liechenstein, Lithuania, Luxembourg, Malaysia, Malta, Mexico, Monaco, The Netherlands, Norway, Oman, Poland, Portugal, Qatar, Romania, Saudi Arabia, Slovakia, Slovenia, Spain, South Africa, Sweden, Switzerland, United Arab Emirates and Uruguay. | All client funds are held in a segregated client bank account |
| Australian Securities & Investments Commission (ASIC) | Australia, New Zealand and South Africa | All client funds are held in a segregated client bank account |
How much does it cost to trade Litecoin CFDs with Plus500?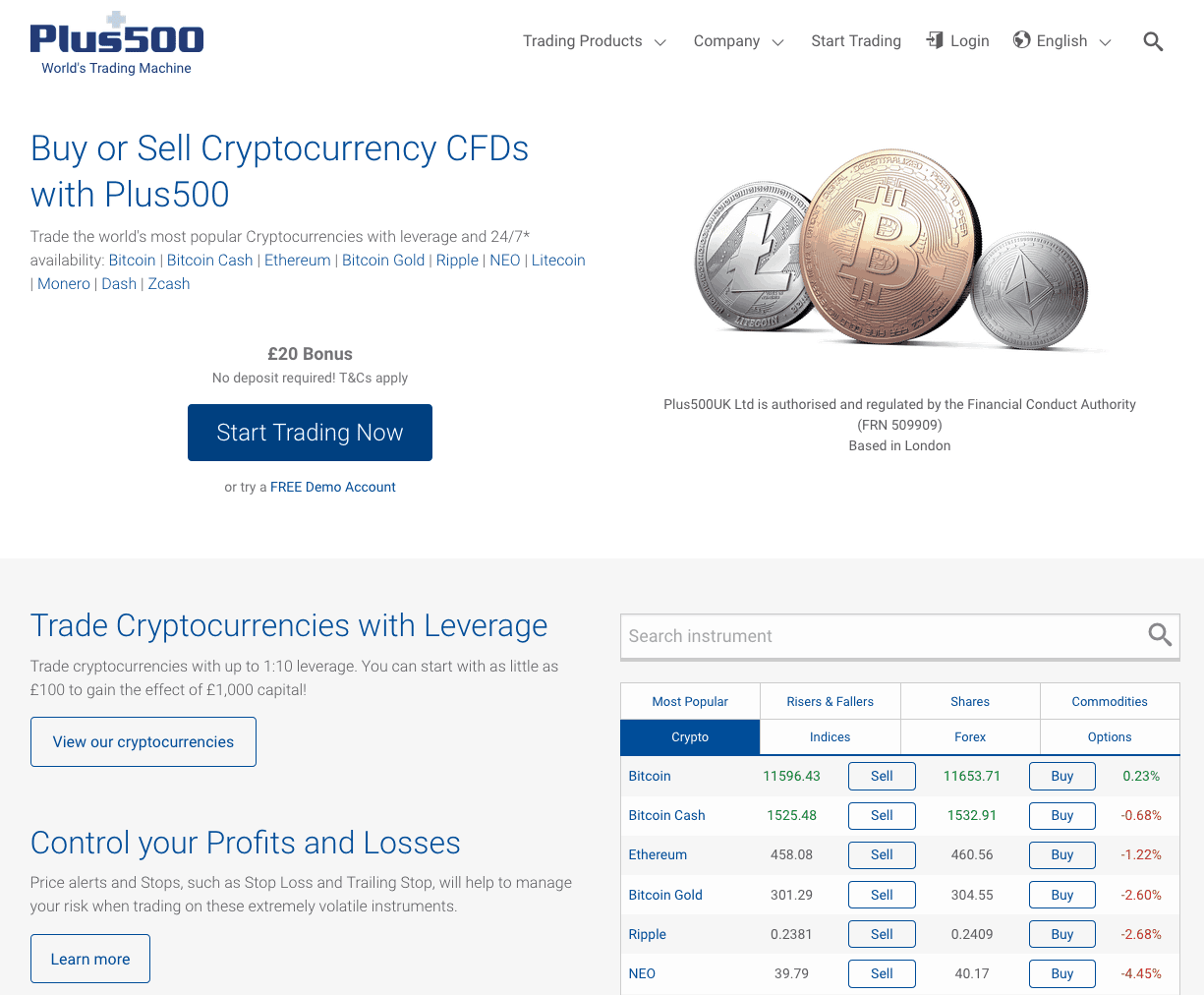 One of the best features of Plus500 is that it does not charge a commission on trades. Instead, it makes money through the market bid/ask spread (spreads are variable). Be aware that there are premiums for holding a position overnight and you might be charged an inactivity fee if you do not use your account in a 3 month period.
Plus500 also comes with a solid selection of risk management tools designed to make your trading easier. You can manage your own leverage by trading with high, low or no leverage. You also have the option to set a guaranteed 'close at loss' or 'close at profit' limit. These tools give you a lot of control over your CFDs and help to remove some of the micromanagement.
One of the best tools is the trailing stop. This allows you to cut out most of the micromanagement of using a stop position. As the value of your instrument increases then your stop position grows with it. This means that if Litecoin grows in value you will be able to benefit without having to manually change your stop position.
Plus500 also comes with a great mobile app so you can continue trading away from your computer. Both the app and site are localized in 50 countries and available in 31 different languages, so it is comfortable to use for most users in the world.
Plus500 is our top choice because it provides something for both new traders and seasoned veterans. Its powerful risk management tools and intuitive platform can really help you make the most of your Litecoin CFD trades.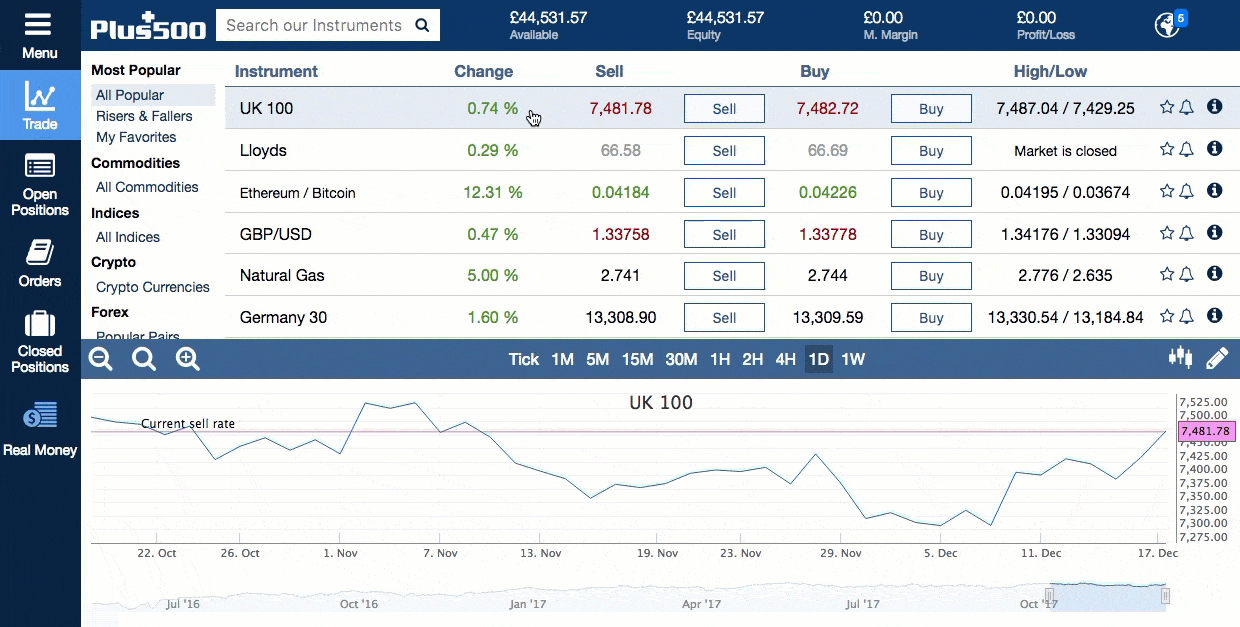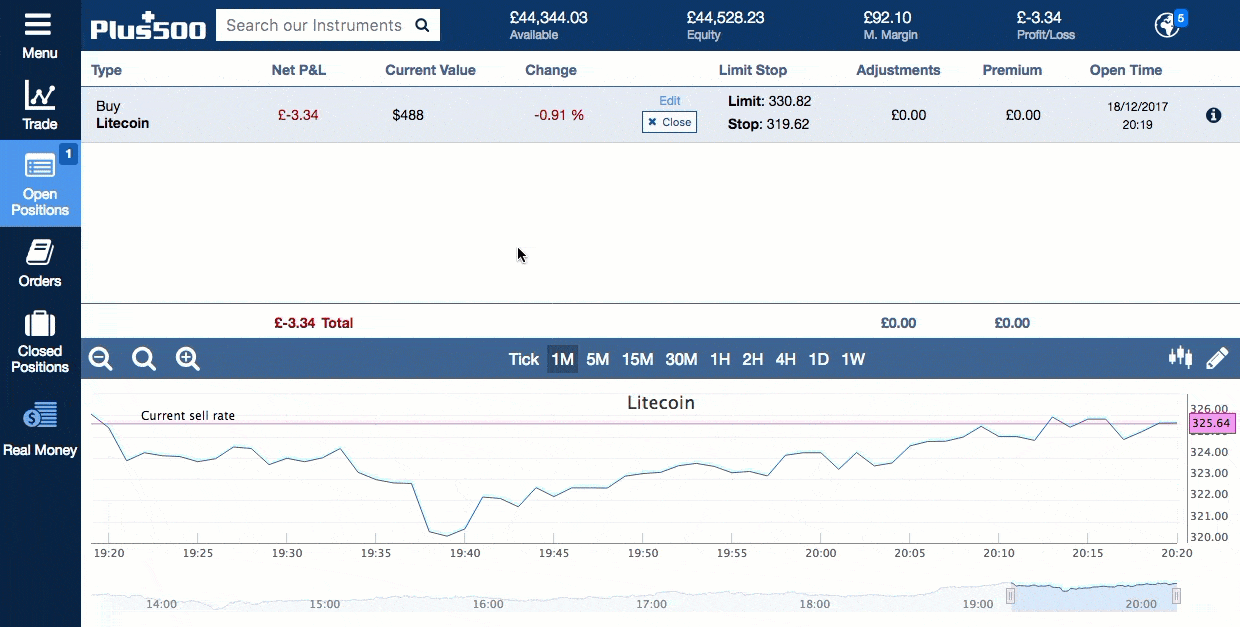 Plus500 Summary
Convenient access to Litecoin CFD trading.
Easy sign-up, compared to the cumbersome process of enlisting in a cryptocurrency trading exchange.
Guaranteed execution at a fixed price, without having to wait for another Litecoin trader to agree to a buy or a sell transaction.
Allowance of credit or debit cards, a service generally not allowed on cryptocurrency trading exchanges.
Allowance to trade 10 or more cryptocurrency CFDs, including Bitcoin, Bitcoin Cash, Ethereum, and Litecoin.
Free real-time quotes and 24/7 trading availability
Intuitive charting tools
Any trade is a risk and Litecoin is a particularly volatile commodity. When you're considering how to buy Litecoin CFDs you need to keep in mind that even using a regulated broker like Plus500 you can still lose all your capital. If the market turns against you it is possible some, or all, of your initial capital.
Trading in Litecoin CFDs is the same as any other instrument. Make sure that you follow the golden rule. Only spend what you can afford to lose. If you stick to this and use a regulated broker to protect yourself then your Litecoin CFD trades will be off to a good start.
Important: CFDs are complex instruments and come with a high risk of losing money rapidly due to leverage. Between 74-89% of retail investor accounts lose money when trading CFDs. You should consider whether you understand how CFDs work and whether you can afford to take the high risk of losing your money.