Disclosure:
Your support helps keep Commodity.com running! We earn a referral fee for some brokers & services we list on this page.
Learn more...
Last Updated on
Risk Warning: Your Capital is at Risk.
Bitcoin is a cryptocurrency with multiple world records — the highest trading volume, the highest price per coin, and the highest market capitalization. Learning to trade Bitcoin (BTC) is easy, but there's more to it than simply trading it the same way you would fiat currencies.
In this article, we'll teach you what you need to know about trading Bitcoin and what the common pitfalls are. We'll even show you how to get started trading Bitcoin today with our step-by-step guide.
Ready to get started? If you're in a hurry to trade Bitcoin, consider these top regulated brokers:
Forex.com: Trade Bitcoin CFDs, forex, and other derivatives.
eToro: Buy, sell, and trade Bitcoin plus an e-wallet.
Plus500: Offers Bitcoin trading via CFDs (note: CFDs are not available in the USA).
What is Bitcoin Trading?
Cryptocurrency is digital money that is "mined" via competitive and decentralized computing processes. Mining is a process where computing power is solved to use algorithms, from which Bitcoins are gained as a reward.
Bitcoin trading is the buying and selling of Bitcoin cryptocurrency with the intent to increase the value of your holdings.
If you've purchased Bitcoin at a certain price and sell at a price that's higher than what you paid, the amount you gain is the difference between the buy and sell prices.
There are several ways you can trade Bitcoin:
Bitcoin exchanges – Buy, sell, trade, or convert Bitcoin into another cryptocurrency or fiat currency.
Bitcoin forex – Buy CFDs that predict how the value of Bitcoin will move versus other currencies.
Bitcoin futures – Buy or sell Bitcoin at a later date for a fixed price.
IMPORTANT: CFDs are not available in the USA due to local regulation, and regulated brokers do not accept US citizens or US residents as clients.
Where Can You Trade Bitcoin?
There are Bitcoin exchanges around the world, but because the various regulating authorities have differing opinions on what and how Bitcoin should be regulated, you should be careful choosing a trading platform for cryptocurrencies.
European Union and the United Kingdom – Cryptocurrency trading is legal in most cases.
United States – Bitcoin isn't considered legal tender, but you can exchange crypto assets (including Bitcoin) on cryptocurrency exchanges.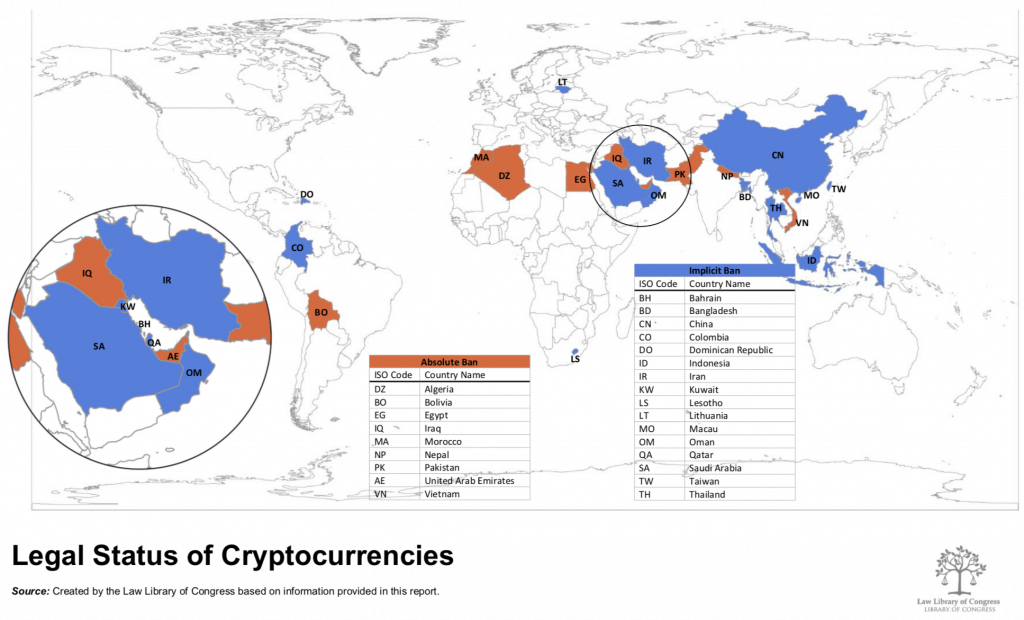 Which Countries Allow or Ban Bitcoin?
Over 170 countries allow cryptocurrency trading. On the other hand, 25 countries ban crypto trading.
Afghanistan
Albania
Andorra
Angola
Antigua and Barbuda
Argentina
Armenia
Australia
Austria
Azerbaijan
Bahamas
Barbados
Belarus
Belgium
Belize
Benin
Bhutan
Bosnia and Herzegovina
Botswana
Brazil
Brunei
Bulgaria
Burkina Faso
Burundi
Côte d'Ivoire
Cabo Verde
Cambodia
Cameroon
Canada
Central African Republic
Chad
Chile
Comoros
Congo (Congo-Brazzaville)
Costa Rica
Croatia
Cuba
Cyprus
Czechia (Czech Republic)
The Democratic Republic of the Congo
Denmark
Djibouti
Dominica
Ecuador
El Salvador
Equatorial Guinea
Eritrea
Estonia
Eswatini (fmr. "Swaziland")
Ethiopia
Fiji
Finland
France
Gabon
Gambia
Georgia
Germany
Ghana
Greece
Grenada
Guatemala
Guinea
Guinea-Bissau
Guyana
Haiti
Holy See
Honduras
Hungary
Iceland
India
Ireland
Israel
Italy
Jamaica
Japan
Jordan
Kazakhstan
Kenya
Kiribati
Kyrgyzstan
Laos
Latvia
Lebanon
Liberia
Libya
Liechtenstein
Luxembourg
Madagascar
Malawi
Malaysia
Maldives
Mali
Malta
Marshall Islands
Mauritania
Mauritius
Mexico
Micronesia
Moldova
Monaco
Mongolia
Montenegro
Mozambique
Myanmar (formerly Burma)
Namibia
Nauru
Netherlands
New Zealand
Nicaragua
Niger
Nigeria
North Korea
North Macedonia
Norway
Palau
Palestine State
Panama
Papua New Guinea
Paraguay
Peru
Philippines
Poland
Portugal
Romania
Russia
Rwanda
Saint Kitts and Nevis
Saint Lucia
Saint Vincent and the Grenadines
Samoa
San Marino
Sao Tome and Principe
Senegal
Serbia
Seychelles
Sierra Leone
Singapore
Slovakia
Slovenia
Solomon Islands
Somalia
South Africa
South Korea
South Sudan
Spain
Sri Lanka
Sudan
Suriname
Sweden
Switzerland
Syria
Tajikistan
Tanzania
Timor-Leste
Togo
Tonga
Trinidad and Tobago
Tunisia
Turkey
Turkmenistan
Tuvalu
Uganda
Ukraine
United Kingdom
United States of America*
Uruguay
Uzbekistan
Vanuatu
Venezuela
Yemen
Zambia
Zimbabwe
*Some US states ban cryptocurrencies. (See below.)
Algeria
Bahrain
Bangladesh
Bolivia
China
Colombia
Dominican Republic
Egypt
Indonesia
Iran
Iraq
Kuwait
Lesotho
Lithuania
Macau
Morocco
Nepal
Oman
Pakistan
Qatar
Saudi Arabia
Taiwan
Thailand
United Arab Emirates
Vietnam
Which US States Allow Bitcoin Trading?
Cryptocurrency regulations vary from state to state and are currently in flux. So, we've created a map showing where eToro allows crypto trading.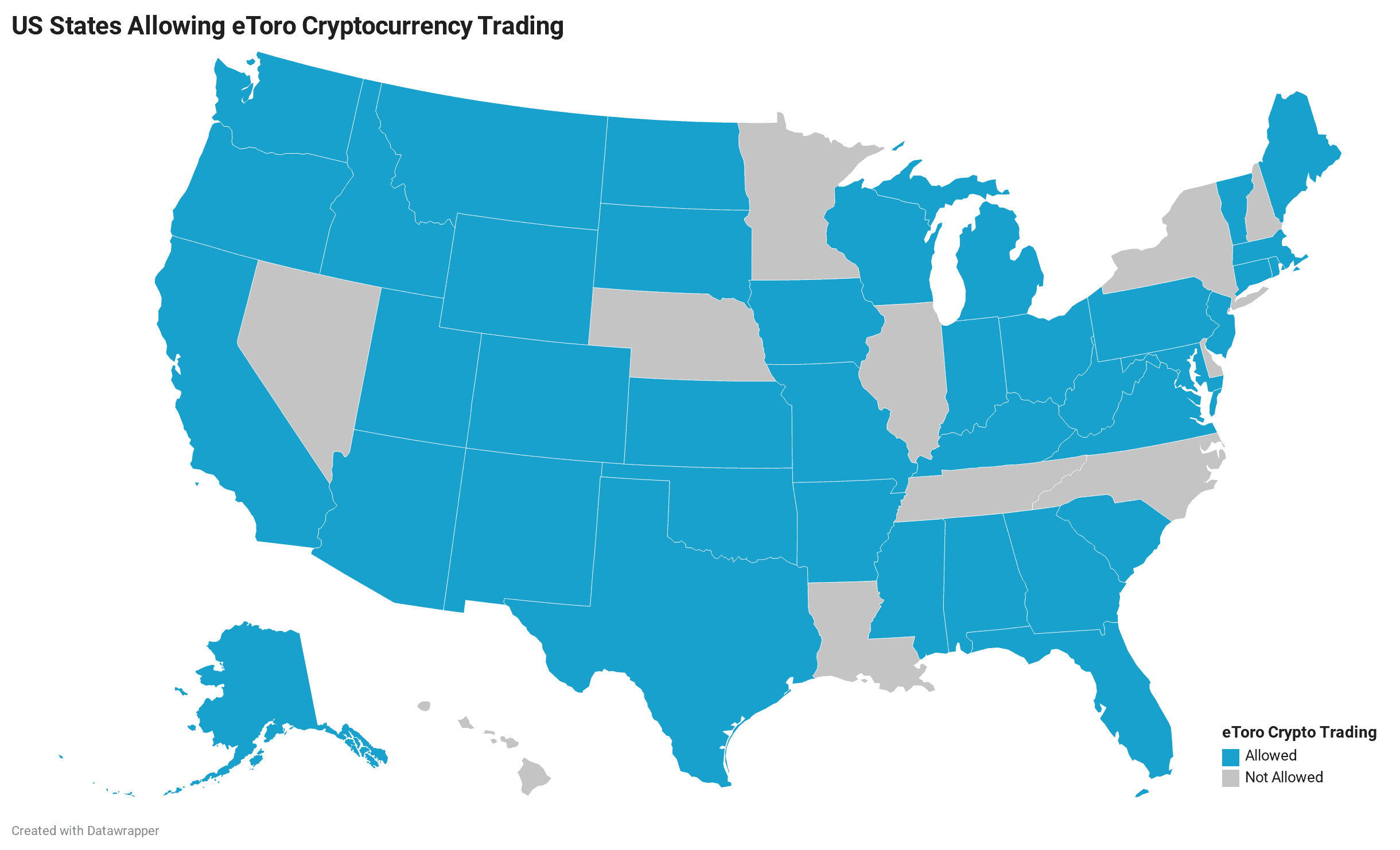 Alabama
Alaska
Arizona
Arkansas
California
Colorado
Connecticut
District of Columbia
Florida
Georgia
Idaho
Indiana
Iowa
Kansas
Kentucky
Maine
Maryland
Massachusetts
Michigan
Mississippi
Missouri
Montana
New Jersey
New Mexico
North Dakota
Northern Mariana Islands
Ohio
Oklahoma
Oregon
Pennsylvania
Rhode Island
South Carolina
South Dakota
Texas
United States Minor Outlying Islands
Utah
Vermont
Virginia
Washington
West Virginia
Wisconsin
Wyoming
Regulators
The following bodies regulate the trading of cryptocurrency:
| Country | Regulator(s) |
| --- | --- |
| Australia | Australian Securities and Investments Commission (ASIC) |
| European Union | Cyprus Securities and Exchange Commission (CySEC), Markets in Financial Instruments Directive (MiFID), European Securities and Markets Authority (ESMA) |
| Germany | Federal Financial Supervisory Authority (BaFiN) |
| Japan | Financial Services Agency (FSA) |
| New Zealand | Financial Markets Authority (FMA) |
| Switzerland | Financial Markets Supervisory Authority (FINMA) |
| United Kingdom | Financial Conduct Authority (FCA) |
| United States | Financial Crimes Enforcement Network (FinCEN), Securities and Exchange Commission (SEC) |
Jump to our Step-by-Step Guide to Trading Bitcoin.
Bitcoin vs Bitcoin Cash
Be aware that Bitcoin (BTC) and Bitcoin Cash (BCH) are two completely different cryptocurrencies.
BCH is a "fork" of BTC, which means that the BCH developers used the original BTC blockchain code, but updated some of the nodes.
When a cryptocurrency is forked, the original blockchain is unchanged, but the new blockchain becomes a separate entity (in this case, it became BCH). Those holding BTC when the blockchain was forked automatically got the same amount of BCH.
BCH was designed to address some of the issues that might occur with widespread BTC. For example, BCH has faster transfer times and can handle more transactions per second. BCH also charges a smaller transaction fee.
Check out our Broker's Guide to start trading today.
Bitcoin Prices
Here's a look at the live prices for Bitcoin and other altcoins CFDs at Plus500:
Please note, this is an example trade – not a recommendation.
Historically, here's what Bitcoin's price has looked like over the last eight years, through February 2020: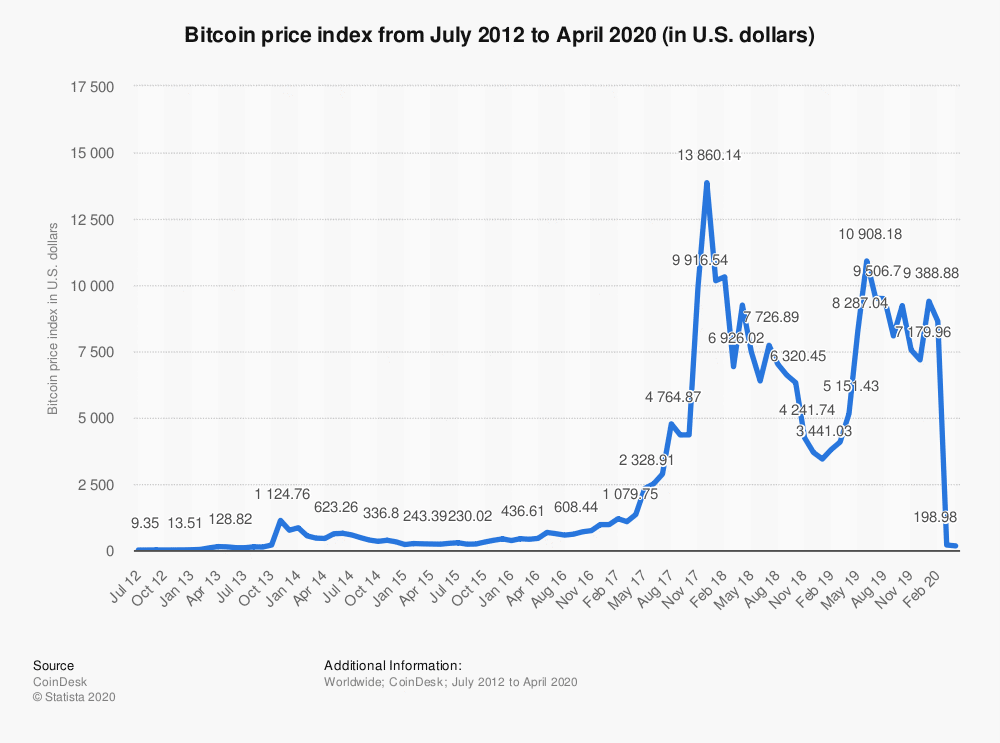 Bitcoin Exchanges
You can think of Bitcoin exchanges as platforms that facilitate the meeting of buyers and sellers.
On exchanges, you can buy and sell Bitcoin outright, but in some cases, you can also convert Bitcoin into fiat currencies or other cryptocurrencies (and vice versa).
There are many exchanges on the market, but we've reviewed eToro extensively and we use it in our Step-by-Step Guide below.
Popular Bitcoin Exchanges
Here's a list of popular Bitcoin exchanges:
Exchange
Description
Binance
Exchange hundreds of coins, buy futures and leveraged tokens, crypto loans
Bitfinex
Crypto exchange, margin trading, crypto derivatives 👜 🔹
Bitmex
Crypto exchange, futures, perpetuals, 100x leverage on some derivatives 🔹
Coinbase
Crypto exchange, get paid to learn about crypto, offers USD Coin 👜
Huobi
Crypto exchange, 5x leverage for spot trading, futures, swap, C2C lending 👜
Kraken
Crypto exchange for traders at all levels, many crypto derivatives 🔹
OKEx
Crypto exchange, spot, futures, perpetual swap, and derivatives trading, cold and hot wallets 👜
Stormgain
Crypto exchange, low fees and 200x multiplier on crypto futures 👜 🔹
👜 = Built-in cryptocurrency wallet

🔹 = Demo available
Bitcoin Trading Platforms
Here are some of our favorite platforms for trading Bitcoin forex, CFDs, or other derivatives.
We note whether the platform includes an e-wallet, which allows you to track your cryptocurrency balances and execute transactions.
| Broker | Offerings | E-Wallet? |
| --- | --- | --- |
| eToro | Combines elements of social platforms and exchanges. Is easy to set up and trade with. Currently supports over 11 million users in 140 different countries. | Full Review | Yes |
| Plus500 | Platform is easy to use, and the company provides 24/7 customer support in 15 different languages. | Full Review | No |
| IG | They are a fast-growing forex broker and the assessed transaction fees are reasonable. Offers some of the most robust learning materials of any platform that we've seen, which is helpful for those just getting started. | Full Review | No |
| Forex.com | Forex and CFDs with over 80 forex pairs, as well as gold and silver commodities. Pricing is competitive and the company has been in business for over 18 years. | Full Review | No |
| AvaTrade | Boasts some of the lowest crypto spreads on the market, and the company offers extras like mobile apps and learning resources. | Full Review | No |
CFDs are complex instruments and come with a high risk of losing money rapidly due to leverage. Between 73.0%-89.0% of retail investor accounts lose money when trading CFDs. You should consider whether you understand how CFDs work and whether you can afford to take the high risk of losing your money.
Bitcoin Trading Strategies
We've gathered some strategies to keep in mind when trading or exchanging Bitcoin.
Buy low and sell high. It can be tempting to offload Bitcoin during crashes, but there are times when you may wish to hold onto your coins and sell when prices recover.
Keep an eye on current trends in the Bitcoin world. Considering how ongoing events may impact the market will help you make more informed decisions.
Test your strategies with a demo account, if possible. When learning a new strategy, take advantage of your broker's practice account to see if they might be wise to try with real coins.
Avoid Common Bitcoin Trading Mistakes
Back up your e-wallet. Even if your broker doesn't offer an integrated wallet, make sure you back up your Bitcoin crypto assets on a regular basis to avoid losing your coins. Security breaches and other issues can easily wipe out what you own. You might also consider setting up cold storage for your Bitcoin.
Never trade more than you can afford to lose. It's a cardinal rule of trading, but it also applies to Bitcoin, particularly with CFDs. Most CFD customers lose money. Although leverage can mean big rewards, it can also mean astronomical losses that you'll have to cover.
Don't assume that Bitcoin is forever. The story of the internet — as well as trading — is often rags-to-riches-to-rags again. If you trade cutting-edge crypto assets, keep yourself informed about the marketplace daily.
How to Start Trading Bitcoin: A Step-by-Step Guide
This guide will walk you through setting up an account with eToro, which is a broker that has a crypto exchange you can trade Bitcoin on and offers CFDs in countries that allow them.
The eToro website will detect your country of residence and direct you to the appropriate products on its website.
Click Join Now to create an account with your email address at eToro.com. You'll also need to provide a username and a password. Agree to the requested conditions and click Create Account to proceed.
Check your email for a verification message. Click Verify my email and then click Sign in. Click Continue on the Welcome Aboard pop-up to begin filling out your profile.
Provide your first, middle, and last names, as well as your gender and birthday. The information you provide must match the information on your ID or passport. You'll also need to provide your address and social security number and confirm whether your country of residence is the same as your birthplace and country of citizenship.
Fill out your trading profile: Explain what you want to do with any money you earn, your trading timeframe, risk tolerance, conflicts of interest, and financial status (including income and occupation).
Provide and verify your phone number.
Agree to the required tax forms. [This step differs by country.]
Once you've completed your profile, you can deposit funds into your account. You'll need to link your bank account to do so.
Now you're ready to begin trading! In the left-hand navigation bar, click Trade Markets to see the markets and crypto coins that are available for purchase.
Start trading Bitcoin at eToro today.
Conclusion
Bitcoin trading is exciting, offering the possibility to diversify your trading portfolio in ways that many fiat currencies may not be able to. Making your first trade may seem daunting, but you're now equipped with the tools and information to get started today.
FAQs
Here are some common queries and answers on Bitcoin trading.
Why trade Bitcoin?
Some traders use Bitcoin as a method of diversifying their portfolios. Others like that the cryptocurrency market runs 24/7, since fiat currencies typically run on weekdays only. Be sure you understand all the risks involved before trading Bitcoin.
When can I trade Bitcoin?
You can trade Bitcoin 24/7. No matter where you are in the world, there are crypto exchanges that are active and can facilitate transactions. However, there are certain times of the day when prices are more volatile and some brokers charge overnight fees, so do your research to ensure that you're making trades at the optimum times.
What is an e-wallet?
An e-wallet is the digital equivalent of a physical wallet. Just as you would place physical currency, credit cards, and debit cards into a physical wallet, you store your cryptocurrency in an e-wallet. E-wallets allow you to track your crypto balances and execute transactions.
What other cryptocurrencies are there?
Other cryptocurrencies include Ethereum, Litecoin, and Ripple. Bitcoin was the first cryptocurrency, but since it launched over 2000 additional cryptos have come into existence. These alternative cryptocurrencies are sometimes referred to as altcoins.
What is blockchain?
Blockchain is the technology behind Bitcoin that allows for tracking all activity that occurs on the Bitcoin network. At its core, it is a chain of programmatic blocks. Each block contains information about transactions – including dates, times, amounts, participants, etc. The sum of these blocks is called a chain that you can think of as a publicly accessible database.
Other Resources
CFDs are complex instruments and come with a high risk of losing money rapidly due to leverage. Between 73.0%-89.0% of retail investor accounts lose money when trading CFDs. You should consider whether you understand how CFDs work and whether you can afford to take the high risk of losing your money.
eToro is a multi-asset platform which offers both investing in stocks and cryptoassets, as well as trading CFD assets.
Cryptoassets are volatile instruments which can fluctuate widely in a very short time frame and, therefore, are not appropriate for all traders. Other than via CFDs, trading cryptoassets is unregulated and, therefore, is not supervised by any EU regulatory framework.
Credits: Original article written by Katie Horne. Updates and additions in June 2020 by Natalie Mootz with contributions from the Commodity.com editorial team.