Disclosure:
Your support helps keep Commodity.com running! We earn a referral fee for some brokers & services we list on this page.
Learn more...
In this article, we'll teach you some of the basics you need to know about Bitcoin, including it's relationship to Bitcoin Cash and how you can distinguish the two.
We also cover the difference between Bitcoin brokers and exchanges.
What Is Bitcoin?
Bitcoin is a cryptocurrency with multiple world records — the highest trading volume, the highest price per coin, and the highest market capitalization.
Learning about Bitcoin (BTC) is easy with the right information. First, it's important to distinguish Bitcoin from FIAT currencies.
Live Bitcoin Prices
Here's a look at the live prices for Bitcoin and other altcoins CFDs at Plus500:
This screenshot is only an illustration. Current market prices can be found on the broker website.
Historically, here's what Bitcoin's price has looked like over the last eight years, through September 2020: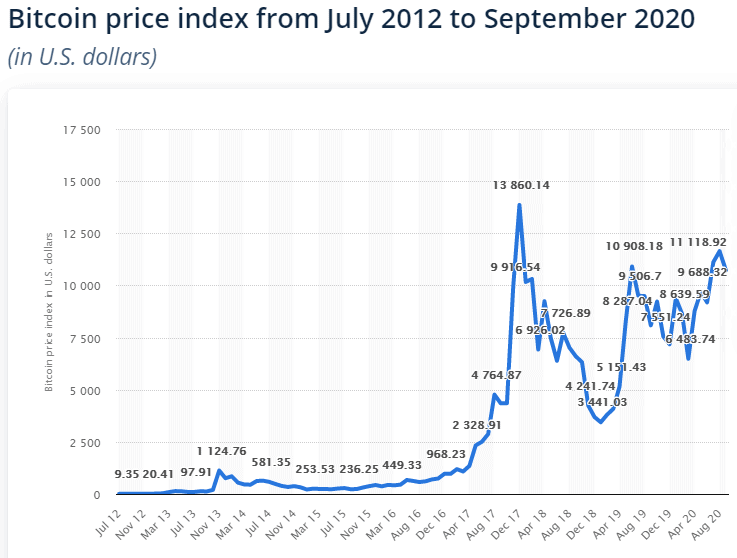 Bitcoin vs Bitcoin Cash: What Is The Relationship?
Be aware that Bitcoin (BTC) and Bitcoin Cash (BCH) are two completely different cryptocurrencies.
BCH is a "fork" of BTC, which means that the BCH developers used the original BTC blockchain code, but updated some of the nodes.
When a cryptocurrency is forked, the original blockchain is unchanged, but the new blockchain becomes a separate entity (in this case, it became BCH). Those holding BTC when the blockchain was forked automatically got the same amount of BCH.
BCH was designed to address some of the issues that might occur with widespread BTC. For example, BCH has faster transfer times and can handle more transactions per second. BCH also charges a smaller transaction fee.
Check out our Broker's Guide to start trading today.
Bitcoin Exchanges vs Bitcoin Brokers: What's the Difference?
When you first explore ways to trade or purchase Bitcoin, the difference between exchanges and brokers could be confusing. Here is some clarity around the matter so you can distinguish the two.
Bitcoin exchanges allow you to purchase the cryptocurrency and own it outright. You can store it in your exchange wallet, or a separate wallet outside the exchange.
Here is a list of Bitcoin exchanges in :
Exchange
Description
Binance
Exchange hundreds of coins, buy futures and leveraged tokens, crypto loans
Bitfinex
Crypto exchange, margin trading, crypto derivatives 👜 🔹
Bitmex
Crypto exchange, futures, perpetuals, 100x leverage on some derivatives 🔹
Coinbase
Crypto exchange, get paid to learn about crypto, offers USD Coin 👜
Huobi
Crypto exchange, 5x leverage for spot trading, futures, swap, C2C lending 👜
Kraken
Crypto exchange for traders at all levels, many crypto derivatives 🔹
OKEx
Crypto exchange, spot, futures, perpetual swap, and derivatives trading, cold and hot wallets 👜
Stormgain
Crypto exchange, low fees and 200x multiplier on crypto futures 👜 🔹
👜 = Built-in cryptocurrency wallet

🔹 = Demo available
Bitcoin brokers make it possible to trade cryptocurrency instruments like derivatives (CFDs, options, futures) without owning the asset, in this case, Bitcoin.
IMPORTANT: CFDs are not available in the USA due to local regulation, and regulated brokers do not accept US citizens or US residents as clients.
Here is a list of regulated Bitcoin brokers in :
CFDs are complex instruments and come with a high risk of losing money rapidly due to leverage. Between 71.00%-89.00% of retail investor accounts lose money when trading CFDs. You should consider whether you understand how CFDs work and whether you can afford to take the high risk of losing your money.
It's important to note that some Bitcoin exchanges like OKEx and BitMex also offer derivatives alongside their standard and decentralized spot trading choices.
FAQs
Here are some common queries and answers on Bitcoin trading.
What is an e-wallet?
An e-wallet is the digital equivalent of a physical wallet. Just as you would place physical currency, credit cards, and debit cards into a physical wallet, you store your cryptocurrency in an e-wallet. E-wallets allow you to track your crypto balances and execute transactions.
What other cryptocurrencies are there?
Other cryptocurrencies include Ethereum, Litecoin, and Ripple. Bitcoin was the first cryptocurrency, but since it launched over 2000 additional cryptos have come into existence. These alternative cryptocurrencies are sometimes referred to as altcoins.
What is blockchain?
Blockchain is the technology behind Bitcoin that allows for tracking all activity that occurs on the Bitcoin network. At its core, it is a chain of programmatic blocks. Each block contains information about transactions – including dates, times, amounts, participants, etc. The sum of these blocks is called a chain that you can think of as a publicly accessible database.
Other Resources
Our commodity experts have created other crypto guides like:
We have several other altcoin guides like:
Credits: Original article written by Katie Horne. Updates and additions in June 2020 by Natalie Mootz with contributions from the Commodity.com editorial team.