Last Updated on
Risk Warning: Your Capital is at Risk.
Bitcoin is the most commonly used and most valuable cryptocurrency in existence. Learning to trade Bitcoin (BTC) isn't hard, but there's more to it than simply trading it the same way you would fiat currencies.
In this article, we'll teach you what you need to know about trading Bitcoin and what the common pitfalls are. We'll even show you how to get started trading Bitcoin today with our step-by-step guide.
What is Bitcoin Trading?
Cryptocurrency is digital money that is created ("mined") via competitive and decentralized computing processes. Bitcoin was the first cryptocurrency.
Bitcoin trading is the buying and selling of Bitcoin cryptocurrency with the intent to increase the value of your holdings.
If you've purchased Bitcoin at a certain price and sell at a price that's higher than what you paid, the amount you gain is the difference between the buy and sell prices.
There are several ways you can trade Bitcoin:
Bitcoin exchanges – Convert Bitcoin into other cryptocurrency or fiat currency.
Bitcoin forex – Buy CFDs that predict how the value of Bitcoin will move versus other currencies.
Bitcoin futures – Buy or sell Bitcoin at a later date for a fixed price.
IMPORTANT: CFDs are not available in the USA due to local regulation, and regulated brokers do not accept US citizens or US residents as clients.
However, US traders in 40+ states & territories are welcome at eToro, who hold a US license for cryptocurrency trading, including Bitcoin, Ethereum & many more.
Where Can You Trade Bitcoin?
There are Bitcoin exchanges around the world, but because the various regulating authorities have differing opinions on what and how Bitcoin should be regulated, you should be careful choosing a trading platform for cryptocurrency.
European Union and the United Kingdom – Cryptocurrency trading is legal in most cases.
United States – Bitcoin isn't considered legal tender, but you can exchange cryptoassets (including Bitcoin) on cryptocurrency exchanges.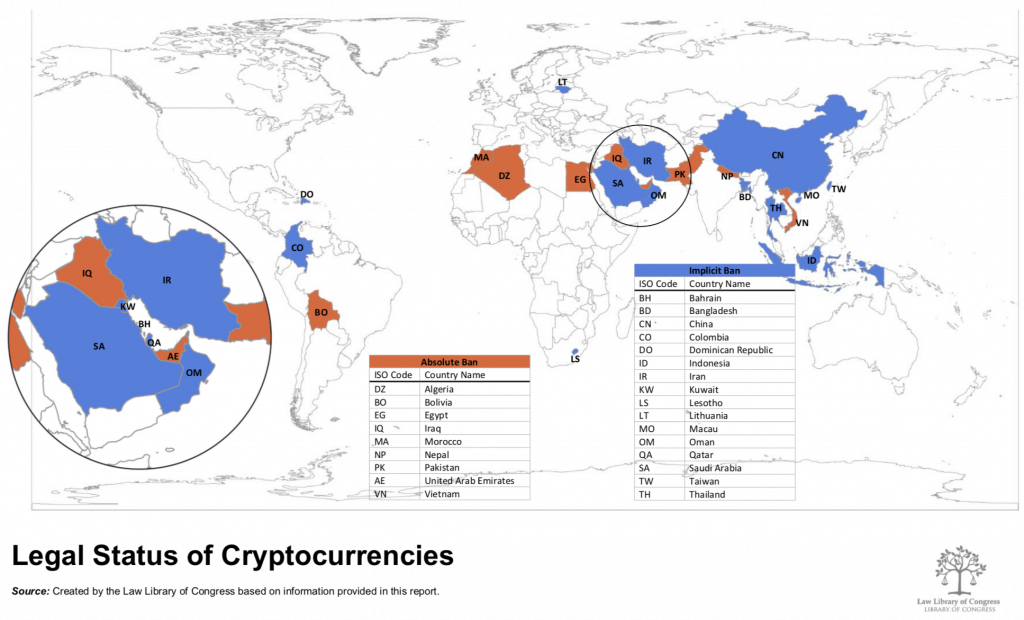 For the status of cryptocurrency in all countries, see our countries list below.
Which Countries Allow or Ban Bitcoin?
Over 170 countries allow cryptocurrency trading. However, 25 countries ban them.
Which US States Allow or Ban Bitcoin?
Many US states allow cryptocurrency trading, but some don't.
Regulators
The following bodies regulate the trading of cryptocurrency:
Jump to our Step-by-Step Guide to Trading Bitcoin.
Bitcoin vs Bitcoin Cash
Be aware that Bitcoin (BTC) and Bitcoin Cash (BCH) are two completely different cryptocurrencies. They are not related to each other, just as the British pound sterling isn't related to the Australian dollar.
BCH is a "fork" of BTC, which means that the BCH developers used the original BTC blockchain code, but updated some of the nodes.
With a fork, the original blockchain is unchanged, but the new blockchain becomes a separate entity (in this case, it became BCH). Those holding BTC when the blockchain was forked automatically got the same amount of BCH.
BCH was designed to address some of the issues that might pop up with widespread BTC. For example, BCH has faster transfer times and can handle more transactions per second. BCH also charges a smaller transaction fee.
Check out our Broker's Guide to start trading today.
Bitcoin Prices
Here's a look at the live prices for Bitcoin and other altcoins CFDs at Plus500:
Historically, here's what Bitcoin's price has looked like over the last eight years, through February 2020: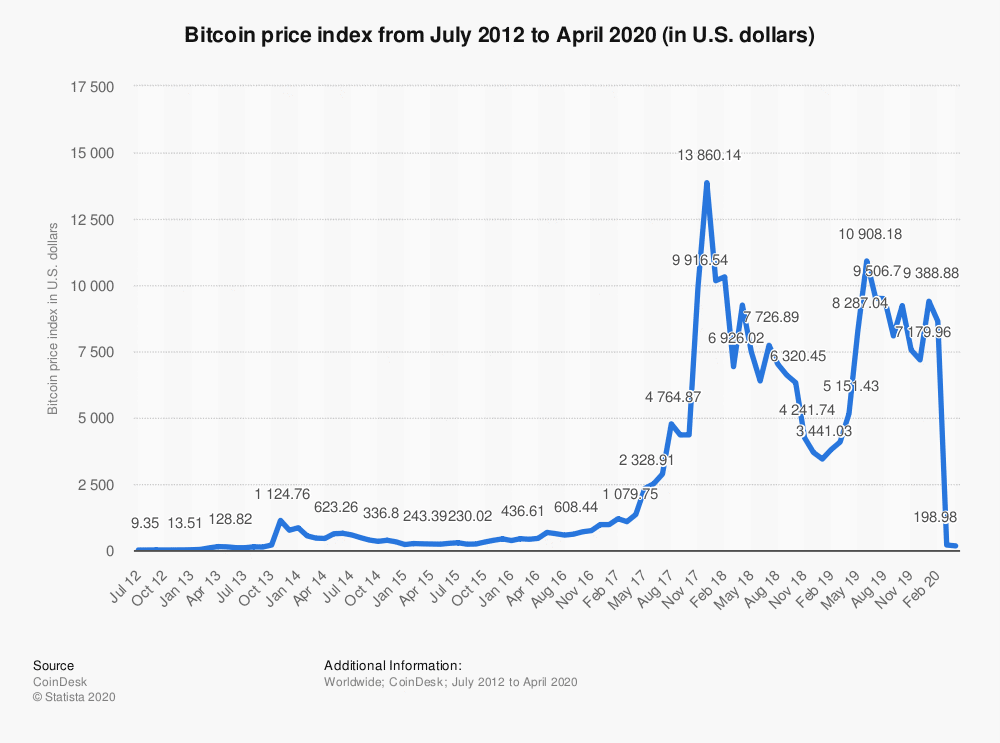 Bitcoin Exchanges
You can think of Bitcoin exchanges as platforms that facilitate the meeting of buyers and sellers.
On exchanges, you can buy and sell Bitcoin outright, but in some cases you can also convert Bitcoin into fiat currencies or other cryptocurrencies (and vice versa).
There are many exchanges on the market, but we've reviewed eToro extensively and we use it in our Step-by-Step Guide below.
Top 10 Exchanges
Here's a list of the top popular Bitcoin exchanges by volume:
All Exchanges
Bitcoin Trading Platforms
Here are some of our favorite platforms for trading Bitcoin forex or futures.
We note whether the platform includes an e-wallet, which allows you to track your cryptocurrency balances and execute transactions.
Risk Warning: CFDs are complex instruments and come with a high risk of losing money rapidly due to leverage. Between 69.66% – 83.29% of retail investor accounts lose money when trading CFDs. You should consider whether you understand how CFDs work and whether you can afford to take the high risk of losing your money.
Bitcoin Trading Strategies
We've rounded up some strategies to keep in mind when trading or exchanging Bitcoin.
Buy low and sell high. It can be tempting to offload Bitcoin during crashes, but there are times when you may wish to hold onto your coins and sell when prices recover.
Keep an eye on current trends in the Bitcoin world. Following current events and using judgment as to what might happen will help you make more informed decisions.
Test your strategies with a demo account, if possible. When learning a new strategy, take advantage of your broker's practice account to see if they might be wise to try with real coins.
Avoid Common Bitcoin Trading Mistakes
Back up your e-wallet. Even if your broker doesn't offer an integrated wallet, make sure you back up your Bitcoin cryptoassets on a regular basis to avoid losing your coins. Security breaches and other issues can easily wipe out what you own. You might also consider setting up cold storage for your Bitcoin.
Never trade more than you can afford to lose. It's a cardinal rule of trading, but it also applies to Bitcoin, particularly with CFDs. Most CFD customers lose money. Although leverage can mean big rewards, it can also mean astronomical losses that you'll have to cover.
Don't assume that Bitcoin is forever. The story of the internet — as well as trading — is often rags-to-riches-to-rags again. If you trade cutting-edge cryptoassets, keep yourself informed about the marketplace.
Step-by-Step Guide to Start Trading Bitcoin
This guide will walk you through setting up an account with eToro, which is a broker that has a crypto exchange you can trade Bitcoin on and offers CFDs in countries that allow them.
The eToro website will detect your country of residence and direct you to the appropriate products on its website.
Risk Warning: 75% of retail trader accounts lose money when trading CFDs with this provider. You should consider whether you can afford to take the high risk of losing your money.
Click Join Now to create an account with your email address at eToro.com. You'll also need to provide a username and a password. Agree to the requested conditions and click Create Account to proceed.
Check your email for a verification message. Click Verify my email and then click Sign in. Click Continue on the Welcome Aboard pop-up to begin filling out your profile.
Provide your first, middle, and last names, as well as your gender and birthday. The information you provide must match the information on your ID or passport. You'll also need to provide your address and social security number and confirm whether your country of residence is the same as your birthplace and country of citizenship.
Fill out your trading profile: Explain what you want to do with any money you earn, your trading timeframe, risk tolerance, conflicts of interest, and financial status (including income and occupation).
Provide and verify your phone number.
Agree to the required tax forms. [This step differs by country.]
Once you've completed your profile, you can deposit funds into your account. You'll need to link your bank account to do so.
Now you're ready to begin trading! In the left-hand navigation bar, click Trade Markets to see the markets and crypto coins that are available for purchase.
Conclusion
Bitcoin trading is exciting, offering the chance to diversify your portfolio in ways that fiat currencies can't. Making your first trade may seem daunting, but you're now equipped with the tools and information to get started today.
Start trading Bitcoin at eToro today.
Risk Warning: 75% of retail trader accounts lose money when trading CFDs with this provider. You should consider whether you can afford to take the high risk of losing your money.
FAQs
Why trade Bitcoin?
Bitcoin trading is a way to diversify your trading portfolio. The market for cryptocurrency runs 24/7, as opposed to the markets for fiat currencies which typically only run on weekdays. Also, although cryptos can trend along with particular indices, they don't always do so.
When can I trade Bitcoin?
You can trade Bitcoin 24/7. No matter where you are in the world, there are exchanges that are active and can facilitate the transaction you would like to execute. However, there are certain times of the day when prices are more volatile, so do your research to ensure that you're making trades at the optimum times.
What is an e-wallet?
An e-wallet is the digital equivalent of a physical wallet. Just as you would place physical currency, credit cards, and debit cards into a physical wallet, you store your cryptocurrency in an e-wallet. E-wallets allow you to track your crypto balances and execute transactions.
What other cryptocurrencies are there?
Some of the other cryptocurrencies that exist include Ethereum, Litecoin, and Ripple. Bitcoin was the first cryptocurrency, but since then over 2000 additional cryptos have come into existence. These alternative cryptocurrencies are sometimes referred to as altcoins.
What is blockchain?
Blockchain is the technology behind Bitcoin that tracks all of the activity that occurs on the Bitcoin network. At its core, it is quite literally a chain of programmatic blocks. Each block contains information about transactions – including dates, times, amounts, participants, etc. The sum of the blocks is called a chain, which you can think of as a publicly accessible database.
Other Resources
Credits: Original article written by Katie Horne. Updates and additions in May 2020 by Natalie Mootz with contributions from the Commodity.com editorial team.