Disclosure:
Your support helps keep Commodity.com running! We earn a referral fee for some brokers & services we list on this page.
Learn more...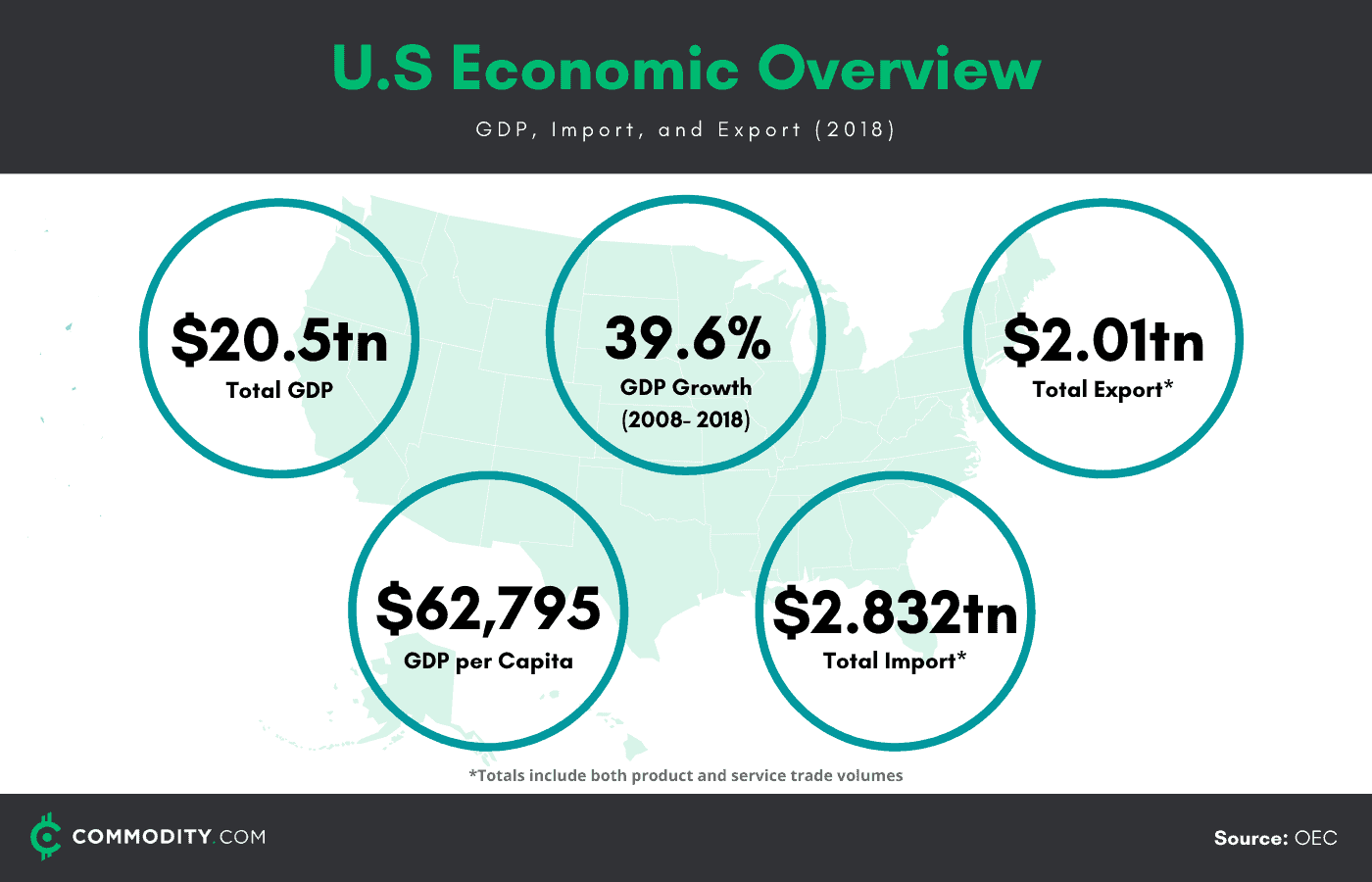 US Economy Overview
The United States of America exports almost $1.5 trillion worth of goods globally each year, a figure that has recovered and risen by over 37% since 2009 when the global financial crisis caused a dramatic downturn in trade figures.
The International Monetary Fund economic outlook for the U.S suggest that GDP totaled $18.5 trillion in 2016 and exports account for almost 8% of the country's economic output.
All figures based on OEC 2016 projections unless otherwise stated
USA's Top 5 Commodity Exports
USA's Other Notable Exports
Cars $173 billion
Vehicle Parts $43 billion
Computers $84.8 billion
USA's Top 5 Commodity Imports
USA's Other Notable Imports
Each state in the U.S has a favorite import when you look at the figures, with Wisconsin importing the most sweaters and pullovers and Washington D.C the biggest importer of medicine overall.
Here are the top 5 imports as a whole country:
Cars $173 billion
Computers $84 billion
Vehicle Parts $64.9 billion
Refined Petroleum $41.2 billion
Rubber Tires $13.3 billion
USA's Commodities in Detail
Refined and Crude Petroleum
The U.S leads the league table of refined and crude petroleum exporters at 15% of market share with Russia 2nd in the table with 11% of the export market.
The U.S Energy Information Administration (EIA) estimates that crude oil production averages 9.7 million barrels per day and that most of the increased capacity has come from the Gulf of Mexico.
Soybeans
The U.S is the top exporter of soybeans and has 45% market share compared to Brazil with 38% and all the other countries who control much less than 10% of the remaining soybean exports.
China is the biggest importer of soybeans by a considerable margin and takes 67% of total exports.
Cotton
The U.S is the dominant force in cotton exports and controls 43% of the export market with its nearest rival India having a 15% share, followed by Brazil and Australia both on 13%.
China is the biggest importer of raw cotton at 22% with Turkey at 17% and Indonesia at 15%.
The United States has been the major cotton player for almost 200 years and very few other markets have remained unchanged for so long. The federal government provides over $1 billion in subsidies and spends large sums on R&D in order to maintain its advantage.
This is despite the fact that Asia and Africa actually have better growing conditions for cotton than Texas, which is where the majority of cotton is grown.
Corn
The U.S is the number one exporter of corn and controls 39% of the export market, followed by Argentina (17%) and Brazil (14%).
Corn exports are distributed fairly evenly on a global basis and Japan is the biggest import destination at 12% and Mexico at 11%, with all the other countries taking much less than 10% of the total corn export market.
U.S corn exports are predicted to fall in the future as the major suppliers are starting to divert more of its crop to meet rising ethanol demand.
Wheat
The U.S is marginally the biggest exporter of wheat at 15%, with Canada at 14% and Russia at 13% competing for the top slot.
Wheat is exported to many different countries with Indonesia the biggest importer at 8.5% and followed by Italy at 6.3%.
The United States has recently started exporting wheat to Iraq since 2011 and this has helped boost its export numbers by 500,000 tons to 26.5 million tons per year.
Where Does the US Export To?
Here are USA's Top 5 Export Destinations
| Country | Amount Annually |
| --- | --- |
| Canada | $266 billion |
| Mexico | $229 billion |
| China | $115 billion |
| Japan | $63.2 billion |
| United Kingdom | $55.3 billion |
Energy Production & Consumption Analysis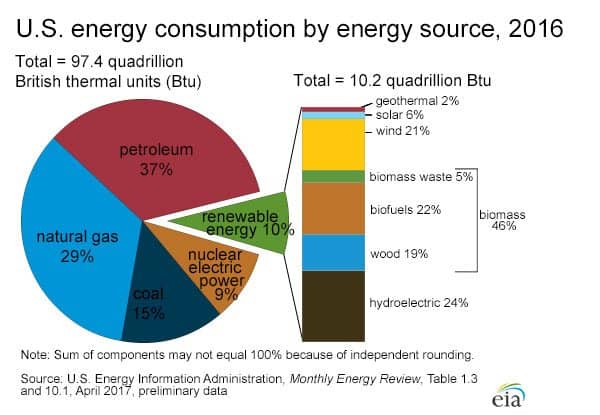 Oil
There are close to one hundred countries that produce crude oil but there are five significant producers who account for 48% of the world's total and the United States is the third largest with an 11% share of of global production numbers.
The U.S produces a large percentage of the oil it needs and relies on 25% of imports each year to meet demand. It is almost self-sufficient when it comes to natural gas and its annual production total is equal to 97% of its annual consumption.
The United States produces about 14.6 million barrels of petroleum and consumes approximately 19.6 million barrels per day.
The five largest sources of oil imports are –
Canada 38%
Saudi Arabia 11%
Venezuela 8%
Mexico 7%
Colombia 5%
Natural Gas
The United States has access to significant shale natural gas resources. In the U.S. Crude Oil and Natural Gas Proved Reserves (December 2016), the U.S. Energy Information Administration estimated that the United States has about 200 trillion cubic feet of proved shale gas resources.
The United States now produces nearly all of the natural gas that it uses. Its natural gas production in 2016 was the second-highest level recorded.
In 2016, U.S. dry natural gas production was equal to about 97% of U.S. natural gas consumption.
Five states accounted for about 65% of total U.S. dry natural gas production in 2016:
Texas 24%
Pennsylvania 20%
Oklahoma 9%
Louisiana 6%
Wyoming 5%
Also See: the US Debt Clock
Interested in Trading Commodities?
Start your research with reviews of these regulated brokers available in .
Loading table...
CFDs are complex instruments and come with a high risk of losing money rapidly due to leverage. Between 73.0%-89.0% of retail investor accounts lose money when trading CFDs. You should consider whether you understand how CFDs work and whether you can afford to take the high risk of losing your money.