Broker Review
Plus500 Broker Review: Safe Or Scam? We Uncover The Pros & Cons
Last Updated on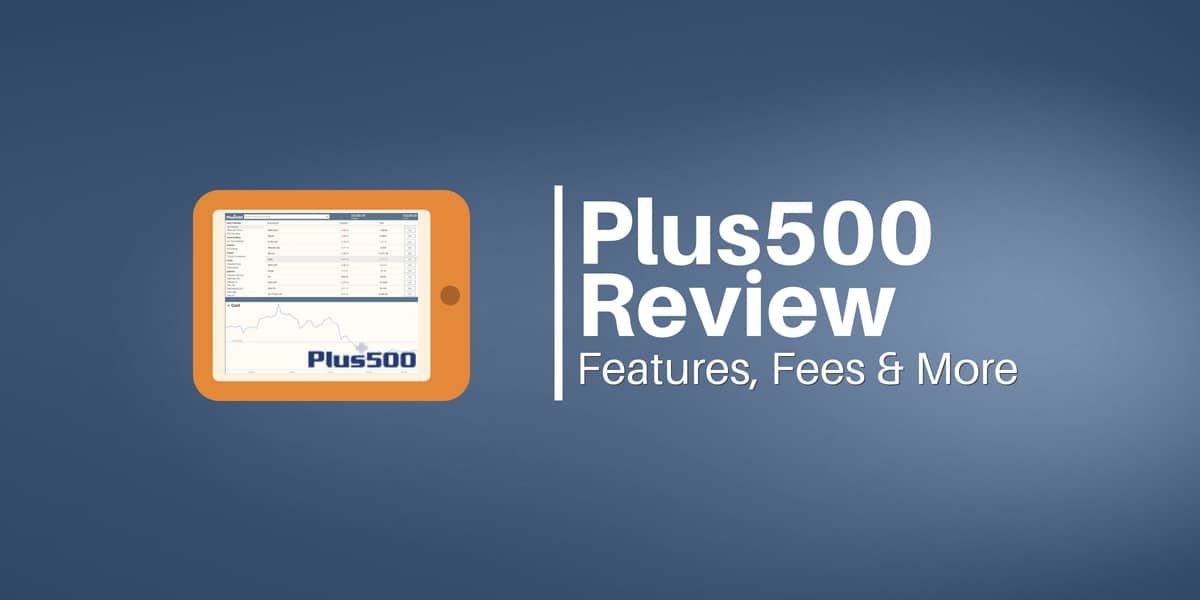 Overview
Risk Warning:  76.4% of retail trader accounts lose money when trading CFDs with this provider. You should consider whether you can afford to take the high risk of losing your money.
Plus500 is a leading global Contract for Difference (CFD) brokerage firm and online trading platform. CFDs are derivative instruments that allow customers to buy and sell financial instruments without actually holding them in their account. Plus500 offers CFD trading in a variety of financial markets including commodities, cryptocurrencies forex, stocks, ETFs and market indices. Its trading platform is known for its simple design and ease of use.
Plus500 has received awards and recognition from industry watchers for its excellent service. Plus500 also has one of the highest rated CFD apps on the App Store and Google Play.
We think the Plus500 trading platform is incredibly slick and one of the best on the market. Traders seeking a first-rate, professional online trading experience and access to a large number of CFDs in a variety of different asset classes should check out Plus500. Always remember that your capital is at risk and whilst Plus500 is a responsible broker and won't allow you to lose more than your account balance, trading CFDs is for experienced traders.
This Plus500 review will cover all of the relevant details of the company and discuss the broker's major advantages and disadvantages.
Why Choose Plus500?
| What's Good About Plus500? | What Could Plus500 Do Better? |
| --- | --- |
| Trustworthy broker (We scored Plus500 90/100 in our broker trust rating) | No phone support (only live chat and email) |
| Genuinely easy to use (mobile-friendly) trading platform | Limited analysis tools available in the platform |
| Around 50 markets to trade (wider choice of commodities than most other brokers) | Not all cryptocurrencies available to trade (most major ones are though) |
| Free demo account (which you can keep for life) | Reduced leverage on certain volatile markets (although this may be helpful if you are a new trader) |
| 24/7 email and live chat support in 15 languages | |
| Superb risk management tools | |
Plus500 – Essential Information

Plus500
www.plus500.com (76.4% of retail CFD accounts lose money)
Overview
The World's Trading Machine
Our Overall Rating
Broker Trust Rating
90/100
Founded
2008
Number of Customers
200,000+ worldwide
Product
CFDs
Markets
Commodities
Cryptocurrencies
Stocks
Indices
ETFs
Countries Served
50+ (Full list below)
Minimum Deposit
Minimum deposit varies according to payment method and the country where you are based.
Fees
Plus500 is a no-commission broker. Plus500 makes money through the market bid/ask spread (See below). Plus500 charge an inactivity fee of $10 and some overnight and premium fees may apply. See here for full list of fees.
Regulator(s)
UK Financial Conduct Authority, Australian Securities and Investment Commission and The Cyprus Securities Exchange
Customer Support
Email & Live Chat
Awards
Plus500 is one of the highest rated CFD trading apps on Apple's AppStore and Google Play
Demo Account
Yes - a free demo account is offered and available even after opening a real account.
History of Plus500
Plus500 was founded in Israel in 2008 by six individuals who were alumni of the Technion Institute of Technology. One of the founders seeded the company with $400,000 of his own money. In 2013 the company raised $75 million through an IPO on the AIM market of the London Stock Exchange. By 2014 the company had a market cap of over $1 billion.
Plus500 is registered and located in Israel and has subsidiaries in the UK, Cyprus and Australia. Its subsidiaries are regulated as follows: Plus500UK Ltd is authorised and regulated by the Financial Conduct Authority (FRN 509909), Plus500CY LTD is authorised and regulated by the Cyprus Securities and Exchange Commission (Licence No. 250/14), Plus500AU Pty Ltd (ACN 153301681), licensed by: ASIC in Australia, AFSL #417727, FMA in New Zealand, FSP #486026; Authorised Financial Services Provider in South Africa, FSP #47546. You do not own or have any rights to the underlying assets. Please refer to the Disclosure documents available on the website.
Plus500 provides 24/7 email and live chat support in 15 languages. The firm also offers chat support in English 24/7 in most jurisdictions where it operates. In addition, traders can view the Plus500 website and mobile apps in 30 different languages. The company does not offer customer support by phone, which may be a problem if you lose your internet connection.
In June 2018, Plus500 started trading on the main London market as a constituent of the FTSE250.
Which Countries Does Plus500 Operate In?

Plus500 is available in 50+ countries and in more than 30 languages.
IMPORTANT: CFDs are not available in the USA due to local regulation, and this regulated CFD broker does not accept US citizens or US residents as clients.
Andorra
Argentina
Australia
Austria
Bahrain
Bulgaria
Chile
Costa Rica
Croatia
Cyprus
Czech Republic
Denmark
Estonia
Finland
France
Germany
Gibraltar
Greece
Hungary
Iceland
Ireland
Isle of Man
Israel
Italy
Kuwait
Latvia
Liechtenstein
Lithuania
Luxembourg
Malaysia
Malta
Mexico
Monaco
Netherlands
New Zealand
Norway
Oman
Poland
Portugal
Qatar
Romania
Saudi Arabia
Slovakia
Slovenia
South Africa
Spain
Sweden
Switzerland
United Arab Emirates
United Kingdom
Uruguay
English
Arabic
Bulgarian
Croatian
Czech
Danish
Dutch
Estonian
Finnish
French
German
Greek
Hebrew
Hungarian
Icelandic
Indonesian
Italian
Japanese
Korean
Latvian
Lithuanian
Malay
Maltese
Norwegian
Polish
Portuguese
Romanian
Russian
Serbian
Simplified Chinese
Slovak
Slovenian
Spanish
Swedish
Traditional Chinese
Turkish
It is worth remembering that although the trading platform is available in over 30 languages, customer support is actually only offered in Arabic, Dutch, English, French, German, Hebrew, Italian, Polish and Spanish.
Can I Trust Plus500?

Yes, Plus500 is a trustworthy, publicly traded company regulated in multiple jurisdictions.
Plus500 is a safe and secure way to trade CFDs. Plus500 subsidiaries are individually regulated by the following agencies; Financial Conduct Authority (FCA), Cyprus Securities Exchange (CySEC), Australian Securities and Investments Commission (ASIC).
See the table below for exactly which regulator covers you in your country and what protection is offered.
| Regulator | Countries Covered | Protection Offered | Additional Protection Offered |
| --- | --- | --- | --- |
| Financial Conduct Authority (FCA) | UK, Ireland and Germany | All client funds are held in a segregated client bank account | Clients of Plus500UK Ltd would fall under the 'investments' claim category, whereby the cover is £85,000 per person per firm. |
| Cyprus Securities Exchange (CySEC) | Andorra, Argentina, Austria, Bahrain, Belgium, Bulgaria, Chile, Croatia, Cyprus, Czech Republic, Denmark, Estonia, Finland, France, Gibraltar, Greece, Hungary, Iceland, Isle of Man, Israel, Italy, Kuwait, Latvia, Liechenstein, Lithuania, Luxembourg, Malaysia, Malta, Mexico, Monaco, The Netherlands, Norway, Oman, Poland, Portugal, Qatar, Romania, Saudi Arabia, Slovakia, Slovenia, Spain, South Africa, Sweden, Switzerland, United Arab Emirates and Uruguay. | All client funds are held in a segregated client bank account | |
| Australian Securities & Investments Commission (ASIC) | Australia, New Zealand and South Africa | All client funds are held in a segregated client bank account | |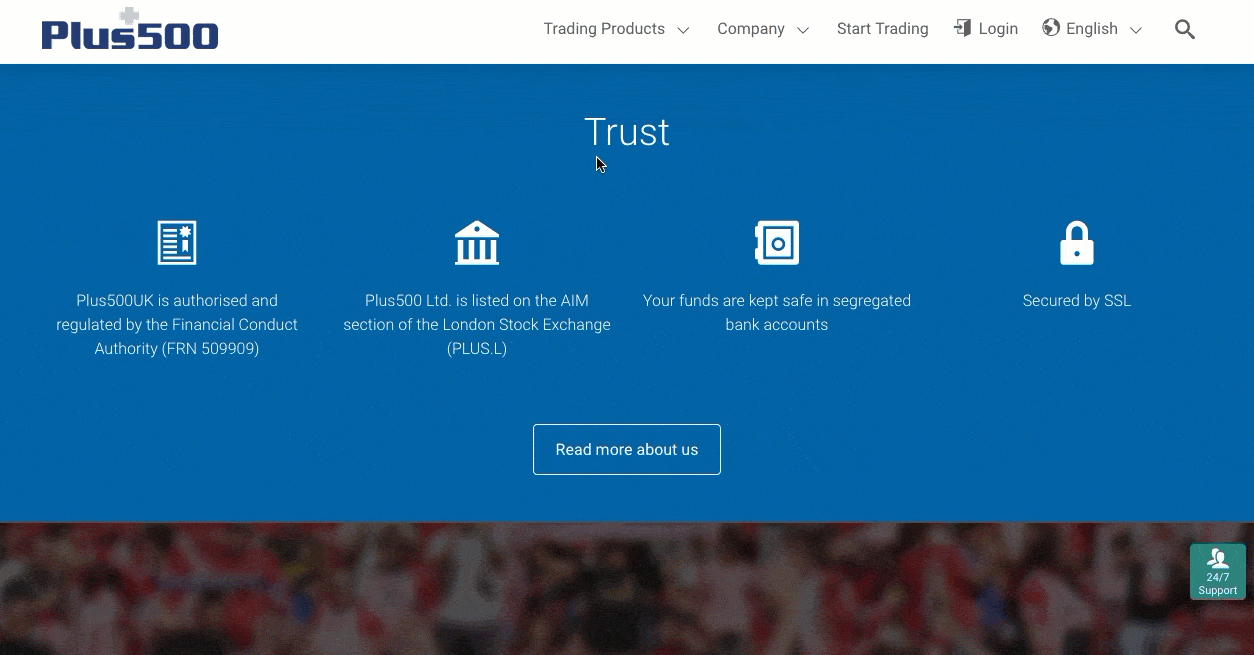 Financial Conduct Authority (FCA)
The UK's Financial Conduct Agency regulates Plus500's activities in the UK, but through the FCA's "passport out" system (which enables an authorised firm to provide financial products or services, set up a base, or run its permitted activities in another country in the <span class="search_popover" title="" data-toggle="popover" data-placement="top" data-content="
The EEA includes the EU states, plus Iceland, Norway and Liechtenstein.
" data-original-title="">European Economic Area (EEA)) the FCA also covers their activities in Ireland and Germany.
The fact that Plus500 is regulated by the FCA is a huge positive. The FCA and the UK is widely respected as a leader in financial regulation and in fact the UK scores highly in Transparency International's rankings of countries based on their corruption perceptions index meaning the UK is a pillar of anti-corruption.
Plus500 customers in the countries listed above are protected by the UK based scheme Financial Services Compensation Scheme (FSCS) which was established to protect consumers when authorised financial services firms fail. In short, it steps in and pays compensation up to certain levels if a regulated firm is unable to pay. Up to £50k of funds deposited into Plus500 are protected by the FSCS if you are in one of countries that fall under the FCA jurisdiction.
For more information, Plus500's Financial Services Register reference number is FRN 509909.
Cyprus Securities Exchange (CySEC)
The Cyprus Securities and Exchange Commission is the financial regulatory agency of Cyprus. Cyprus is a European Union member and is a financial services industry hub. The country ranks well in the Transparency International league table of countries based on their corruption perception index.
This is reassuring if you're in a country where your Plus500 activities are regulated by CySEC, although obviously it is worth remembering that the level of compensation available (up to €30,000 if Plus500 fails) is less than if you are in a country that falls under the jurisdiction of the FCA.
For more information, you can inspect Plus500's CySEC membership details here.
Australian Securities and Investments Commission (ASIC)
The Australian Securities and Investments Commission or ASIC covers Plus500's activities in Australia, New Zealand and South Africa.
ASIC's oversight of Plus500 means that client money is held in a trust and completely separate from Plus500's own money. Unlike other jurisdictions however, if you are based in Australia or South Africa, there is no additional compensation scheme in place to cover your deposit.
That doesn't mean it isn't safe to deposit with Plus500 if you're in Australia or South Africa it just means you are offered only the legal protection afforded by the Australian legal system. That being said, money held in trust in Australia is highly regulated covered by the Corporations Act, and given Plus500's failure seems unlikely anyway we still feel happy recommending Plus500 in these countries.
You can see the details of Plus500's registration on ASIC's Licensee Register here.
Inside the Plus500 Offices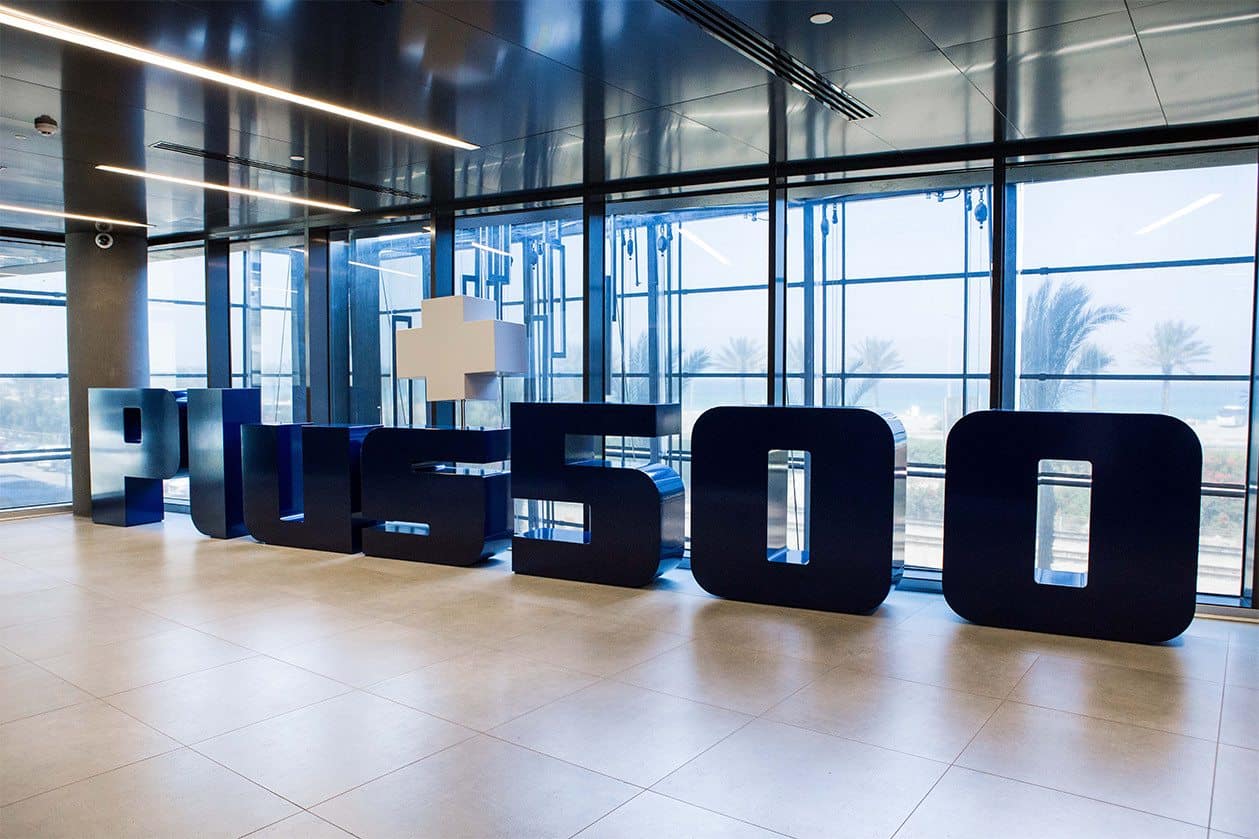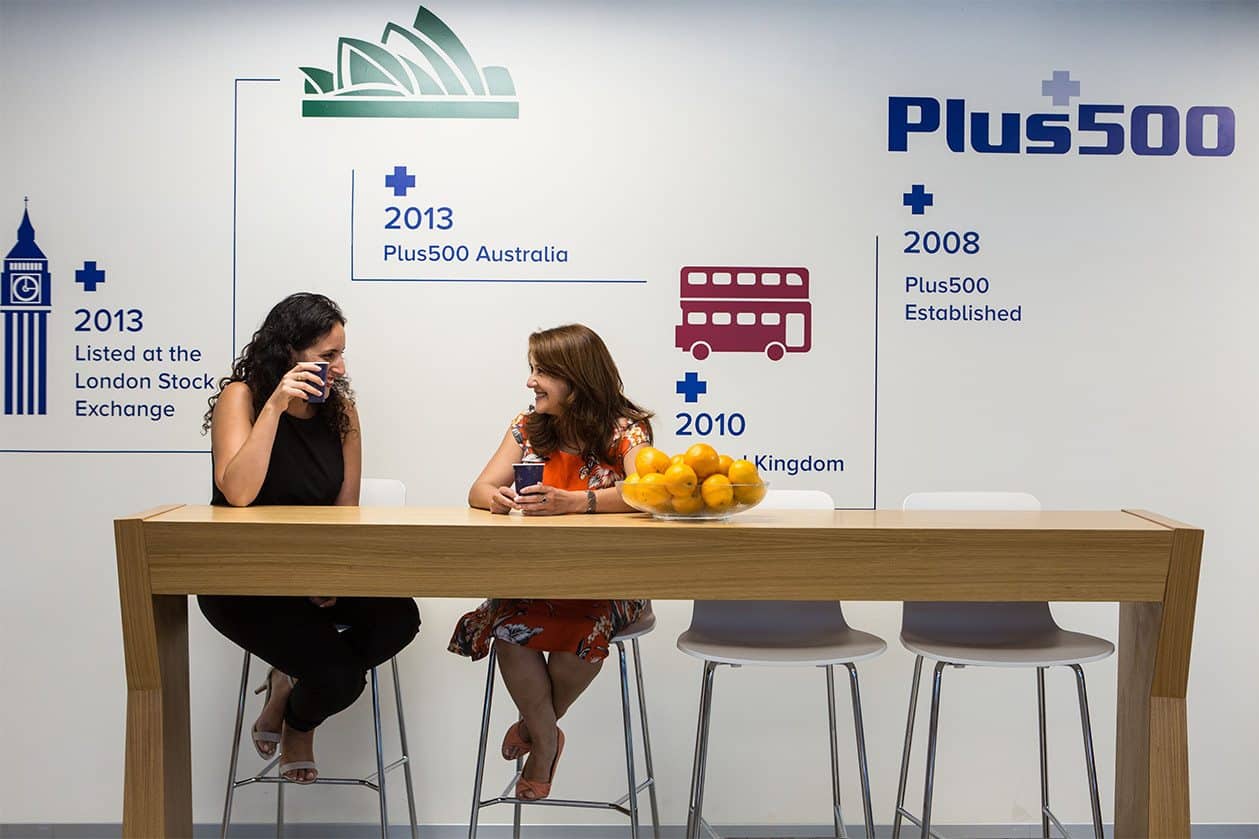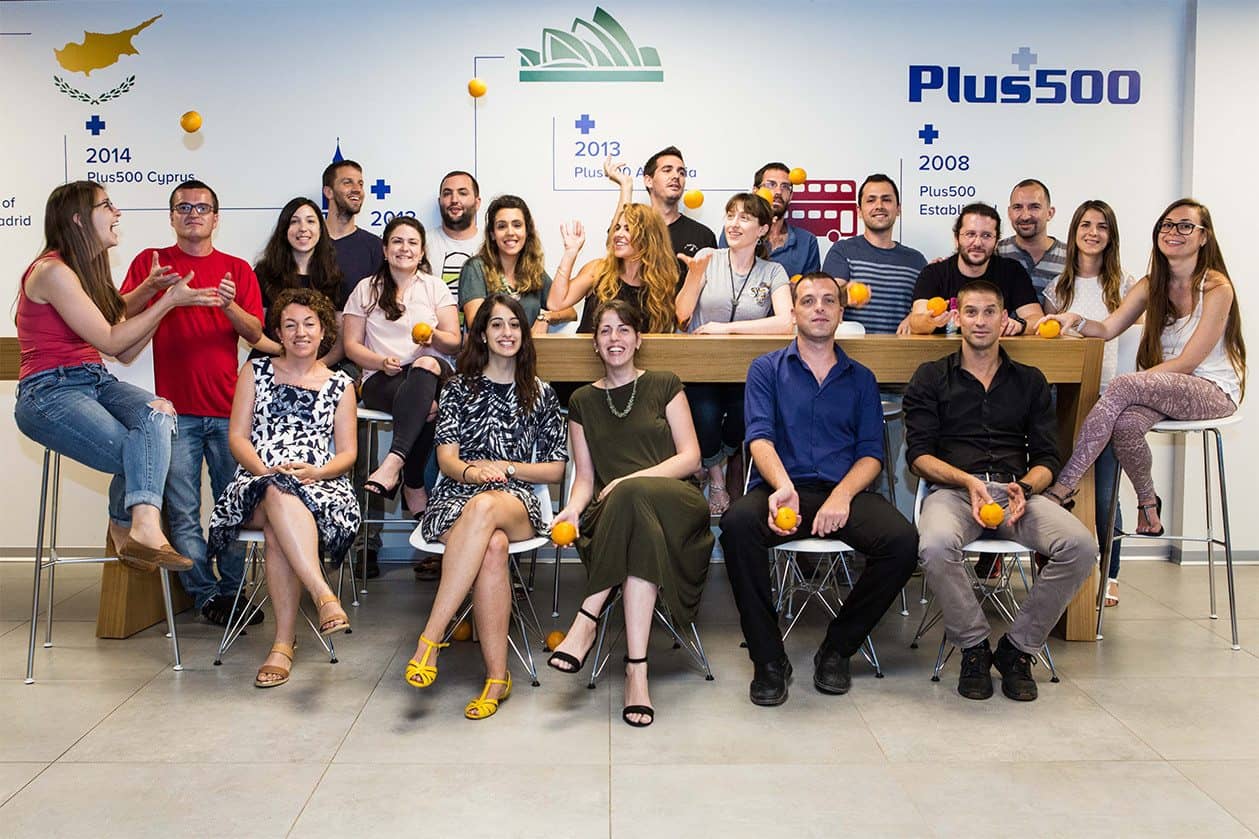 Who Runs Plus500?
The Plus500 board currently consists of 7 directors. We have listed the main management team and their responsibilities below:
www.plus500.com 76.4% of retail CFD accounts lose money.

Name




Asaf Elimelech




Position




CEO

Mr. Elimelech holds a B.A. in Accounting and Economics from Haifa University and is a certified accountant in Israel.

Name




Gal Haber




Position




Managing Director

Mr. Haber holds a B.Sc. in Computer Science from the Technion, Israel. Before founding Plus500, Mr. Haber served as chief operating officer of InterLogic Ltd, a 'skilled games' programme provider for the internet, and mobile devices, which he co-founded in 2004.

Name




Elad Even-Chen




Position




Chief Financial Officer

Mr. Even-Chen holds a B.A. in Accounting and Economics from Tel-Aviv University, an LL.B Degree from the College of Management and an MBA (specialising in Financial Management) from Tel-Aviv University.

Name




Penelope Judd




Position




Chairman

Ms. Judd is a chartered accountant with over 30 years of experience in Compliance, Regulation, Corporate Finance and Audit.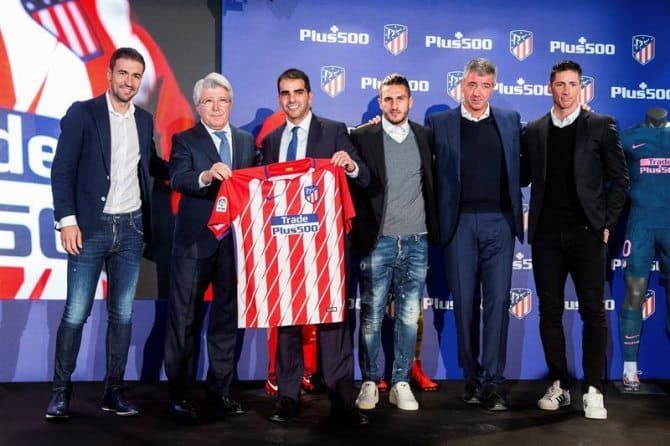 Plus500 Trading Products
Plus500 offers customers access to trading seven categories of financial instruments through the use of CFDs: indices, commodities, forex, cryptocurrencies shares, options and ETFs:
1) Indices
Trade the most popular Indices around the world like USA 500, NASDAQ 100 and France 40 with leverage.
2) Commodities
Oil
Gold
Natural Gas
Silver
Cocoa
Coffee
Sugar
3) Forex
Plus500 cover all the major currency pairs including EUR/USD, GBP/USD and EUR/GBP.
4) Cryptocurrencies
Bitcoin Cash
Ethereum
NEO
Monero
Ripple
Litecoin
IOTA
5) Shares
Trade CFDs of popular shares from the UK, USA, Germany and more.
6) Options
Plus500 offers options contracts on the following stocks and indices:
Germany 30
France 40
UK 100
Netherlands 25
USA 500
Italy 40
Alphabet
Facebook
Apple
Hong Kong 50
Deutsche Bank
Snap
Europe 50
7) ETFs
Plus500 offers contracts on the following ETFs:
| Symbol | Name |
| --- | --- |
| SLV   | iShares Silver |
| USO   | USO-Oil Fund |
| UNG   | UNG-Gas Fund |
| OIH   | OIH-Oil Service |
| GLD   | GLD Gold |
| DBC   | Commodity Index Fund |
| GOLD.AX   | ETFS Gold |
| VXX   | VXX Volatility (ETF) |
| QQQ   | QQQ |
| ISF-L   | iShares UK 100 |
| SPY   | SPY |
| DVY   | DVY |
| IAEX.AS   | iShares AEX |
| FAS   | FAS |
| EWJ   | iShares Japan |
| ACWI   | ACWI |
| EWY   | iShares Korea |
| SDS   | SDS |
| GDX   | GDX |
| EWZ   | EWZ |
| EFA   | EFA |
| IWM   | iShares R2000 |
| IWO   | IWO |
| XLI   | XLI |
| IWF   | IWF |
| VTI   | VTI |
| XLK   | XLK |
| XHB   | XHB |
| XLV   | XLV |
| IYR   | IYR |
| EXW1.DE   | iShares EU50 |
| DIA   | DIA |
| EEM   | iShares EEM |
| FAZ   | FAZ |
| SPXU   | SPXU |
| EDC   | EDC |
| IJR   | IJR |
| IWN   | IWN |
| EXS1.DE   | iShares DAX |
| AGQ   | AGQ |
| ERX   | ERX |
| QID   | QID |
| FEZ   | SPDR EURO 50 |
| QLD   | QLD |
| TLT   | TLT |
| XME   | XME |
| XLP   | XLP |
| EWT   | EWT |
| EWH   | EWH |
| RSX   | RSX |
| TNA   | TNA |
| SPXL   | SPXL |
| XLU   | XLU |
| XLF   | XLF |
| UPRO   | UPRO |
| CAC.PA   | Lyxor CAC |
| BND   | BND |
| EWW   | EWW |
| VNQ   | VNQ |
| FXI   | iShares China |
| HYG   | HYG |
| TBT   | TBT |
| VWO   | VWO |
| FXE   | FXE |
| VGK   | VGK |
| SSO   | SSO |
| MDY   | MDY |
| STW.AX   | SPDR S&P/ASX 200 |
| XLB   | XLB |
| XLY   | XLY |
| SH   | SH |
| TZA   | TZA |
| XRT   | XRT |
| XLE   | XLE |
| TWM   | TWM |
| XOP   | XOP |
| SFY.AX   | SPDR S&P/ASX 50 |
| LQD   | LQD |
| JNK   | JNK |
| IAU   | IAU |
Plus500 Account Types
Plus500 aims to keep things simple and, therefore, only offers two types of trading accounts – a standard live trading account and a demo account. Opening an account is simple and straightforward. The signup page asks traders to choose between the live and the demo account. After making this selection, traders are taken to the registration page where they fill in some basic information and click the "Create Account" button.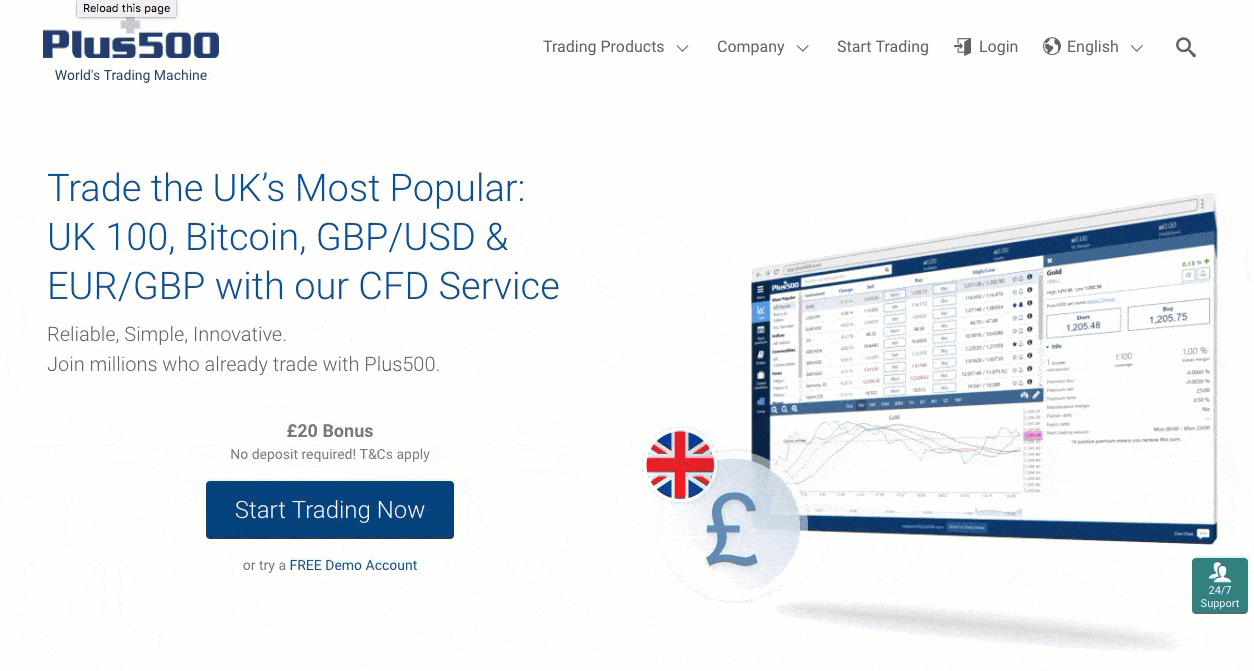 It is worth remembering though that once you have an account, you will need to complete the Plus500 verification process (described in detail below) before you can place your first real trade.
There is no time limit for using the demo account. Traders in demo mode can easily toggle between the real account and demo account by clicking on the desired account in the main screen menu.
What is a Gold Account?
Plus500 has enhanced and upgraded its systems. As a result, Plus500 has upgraded most trading accounts to "Gold accounts." These accounts have different units of trade size and a 5% discount on all overnight funding charges. Each instrument has a different unit of trade size. Traders can choose the ones that best fit their trading goals.
Plus500 Pro Account
Plus500 now offers a Professional Client Account (Pro Account) to traders who meet certain criteria. This special premium account offers the following features:
Higher leverage amounts on some instruments
The same client money protection advantages offered with a Retail Account
The same negative balance protection offered with a Retail Account
Traders can revert back to a Retail Account at any time
Traders who opt for a Pro Account lose access to the Financial Ombudsman Service (FOS). The FOS is an independent organization that was established to resolve disputes between financial institutions and their customers.
Traders must request consideration from Plus500 for a Pro Account. Plus500 will then assess your expertise, knowledge of financial markets and experience to determine if the account is right for you. In addition, Plus500 must establish that you are capable of making your own investment decisions and understand the risks involved in those decisions.
In order to be granted a Pro Account, traders must meet at least two (2) of the following criteria:
Sufficient Trading Activity: Traders must have executed an average of 10 transactions per quarter (of significant size) over the previous four quarters with Plus500 or another CFD broker.
Portfolio Size: Traders must have a

financial instrument portfolio of at least €500,000.

This includes both cash deposits and financial instruments.
Relevant Work Experience: Traders must have worked in the financial sector for at least one year in a position which requires knowledge of the related products and services (e.g., OTC derivatives such as leveraged CFDs, forex or spread betting).
Plus500 Spreads and Fees
The relevant underlying financial instruments determine the Plus500 spreads offered to traders. Plus500 obtains the data from reputable third-party sources, which obtain the data directly from exchange feeds.
Plus500 receives its compensation through the market bid/ask spread. In addition to this spread (detailed below), customers may, however, incur the following Plus 500 fees:
Overnight Funding: This overnight Plus500 fee (or credit) is either added to or subtracted from a trader's account when a position remains open past a certain period of time.
Inactivity Fee: Plus 500 charges traders a $10 inactivity fee if they don't use the platform for a period of three months. This Plus500 fee only applies to real money accounts and only if the trader has sufficient funds in the account. Traders simply need to log in to their accounts periodically to avoid these fees.
Guaranteed Stop Order: Traders who want to guarantee that their position closes at a specified price may pay wider Plus500 spreads to execute these trades.
Traders pay the spreads on trades. The spreads are shown as a percentage of the underlying instrument's price and vary according to liquidity, volatility and other factors. The following are recent Plus500 spreads for indices, forex, commodities, cryptocurrencies, shares and ETFs but it's important to note that these are variable. Options strikes available for trading vary with the price of the underlying asset and time, so traders should consult the Plus500 website for those spreads.
Account Requirements
Plus500 serves 50 countries worldwide. The process of opening an account is largely the same in each jurisdiction. Before you can trade with Plus500 for the first time, you need to pass an identity and residential address verification as well as verifying the source of the funds. Don't worry, the process is quite simple and we've found Plus500 to verify files quickly so there isn't typically a long delay between signing up and being able to trade.
To pass their identity verification, you will need a Government issued form of identification e.g. a passport which contains the following:
Photo
Identity number
Full name
Date of birth
Date of expiry
To pass their residential address verification, you will need to provide one of the following:
Bank statement
Credit card statement
Electricity bill
Water or gas bill
Council tax bill
Tax letter
Phone bill
Television services bill
Internet bill
To verify the source of your funds i.e. to prove you are the legitimate owner of those funds, you may need to provide a scan of one of the following:
The front of your debit/credit card
A bank/credit card statement.
Traders can make deposits and withdrawals by major credit cards such as Visa or MasterCard, bank wire transfer, PayPal or Skrill. Deposits by wire transfer may take up to five days for funds availability, while deposits through Visa and MasterCard are the fastest.
Depositing money in an account is fast and simple. Traders click on the Funds Management tab on the main screen and select "Deposit." Traders then select the deposit method of their choice, fill in the required information and click "Submit." The minimum amount required to make a deposit starts at $100 but depends on where you are based and the method of funding.
Plus500 offers different amounts of leverage depending on the CFD product and the type of account being used (retail or professional).
Each CFD also has specific Plus500 margin requirements that traders must maintain. Traders who fall below the Plus500 margin requirements will have their positions closed with no option to keep their positions open.
Plus500 Withdrawal
All account withdrawal requests are subject to a minimum withdrawal amount. The minimum withdrawal amount for PayPal and Skrill is $50USD (or equivalent in your currency).
The minimum withdrawal amount for bank transfers and credit cards is $100USD (or equivalent in your currency). All withdrawal requests are processed by Plus500 within 1-3 business days.
Withdrawl Limitations
All withdrawal methods have minimum amount thresholds, which can be found on the withdrawal screen on the trading platform.
Plus500's stated policy, wherever possible, is to only return funds to the same payment method from which they originated.
Withdrawal Times
Listed below are the withdrawal methods Plus500 offers. Please note that some of the methods may not be available in your country:
Electronic wallets – PayPal or Skrill. Funds should be received in your e-wallet account in 3-7 business days after withdrawal has been authorized.
Bank transfer – direct bank to bank funds transfer. Funds should be received in your bank account within 5 business days from the authorization of the withdrawal. Withdrawals to a bank account may be subject to further delays sometimes depending on the banking institution and the jurisdiction in question.
Debit/Credit cards – funds should be received according to each issuer or bank's refund processing time.
Plus500 WebTrader Review
The Plus500 platform is a well-designed platform with excellent features for a variety of traders. The platform seems particularly well-suited to traders who want to navigate quickly between many different trading instruments. In fact, the platform's main screen gives traders access to hundreds of different instruments without the need to pull up additional windows.
The main screen gives traders access to trade execution, pricing information, charting, positions and fund and balance information. The main screen is organized with a logical and intuitive structure:
Example Trade
For illustrative purposes only – not a recommendation.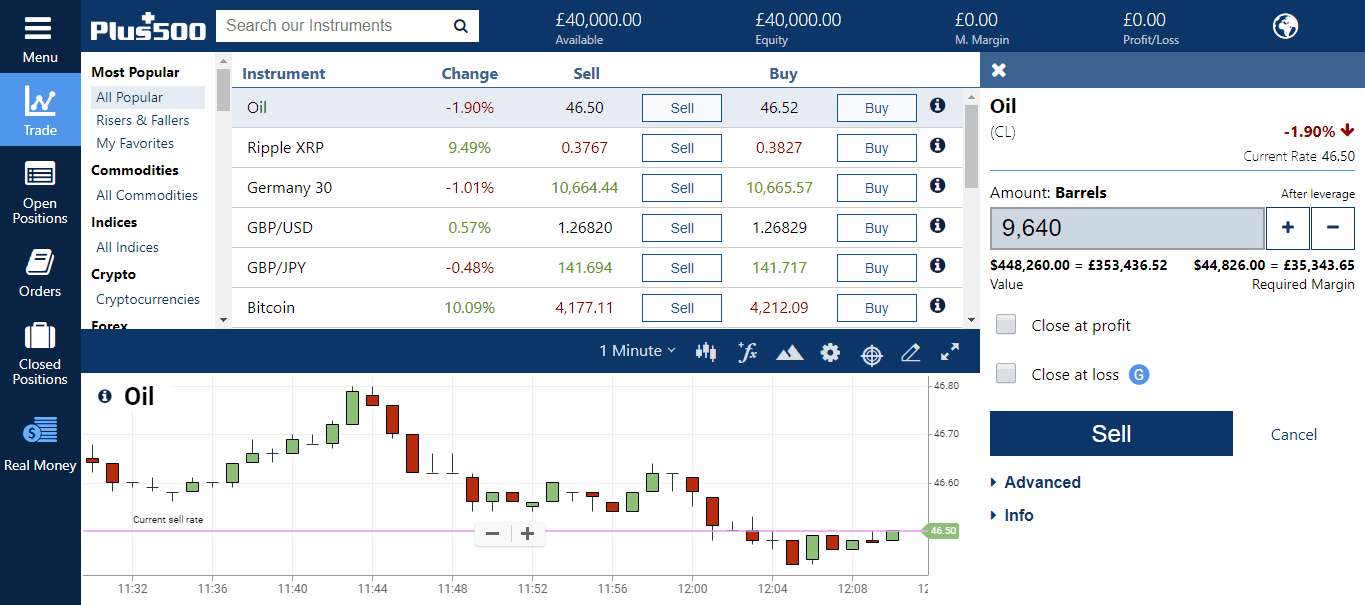 Trade: On the very left side of the screen is the trade tab. Traders can click on each category and get a drop-down menu of items to trade. These drop-down folders contain all of the products on the platform and eliminate the need for traders to use a search engine or navigate to another page to find trading instruments. Traders can also set up a "favorites" or "most popular" section so they can quickly locate instruments to trade.
Clicking on an instrument creates the trade ticket shown above. The ticket offers a litany of sophisticated options for more advanced traders. Traders can choose the size of the trade and can add provisions to lock in profits or stop losses. Plus500 traders can also add trailing stops to orders and calculate leverage used and margin required for trades. The ticket is one of the features of the Plus500 platform that sophisticated traders will find very appealing.
Instruments Section: The top part of the screen allows the trader to populate a window with instruments they want to track or frequently trade. This section has a lot of attractive features that should appeal to active traders. The big buy and sell buttons next to each market allow for quick execution.
More importantly, however, this section integrates the trader's existing positions into the list. For example, a trader can see his open positions and P&Ls. Plus500 traders can click "Close Position" to send a closing order. Unlike many trading systems that separate open positions from watch lists, this integrating feature is a nice time saver and an easy way to track open positions alongside other securities.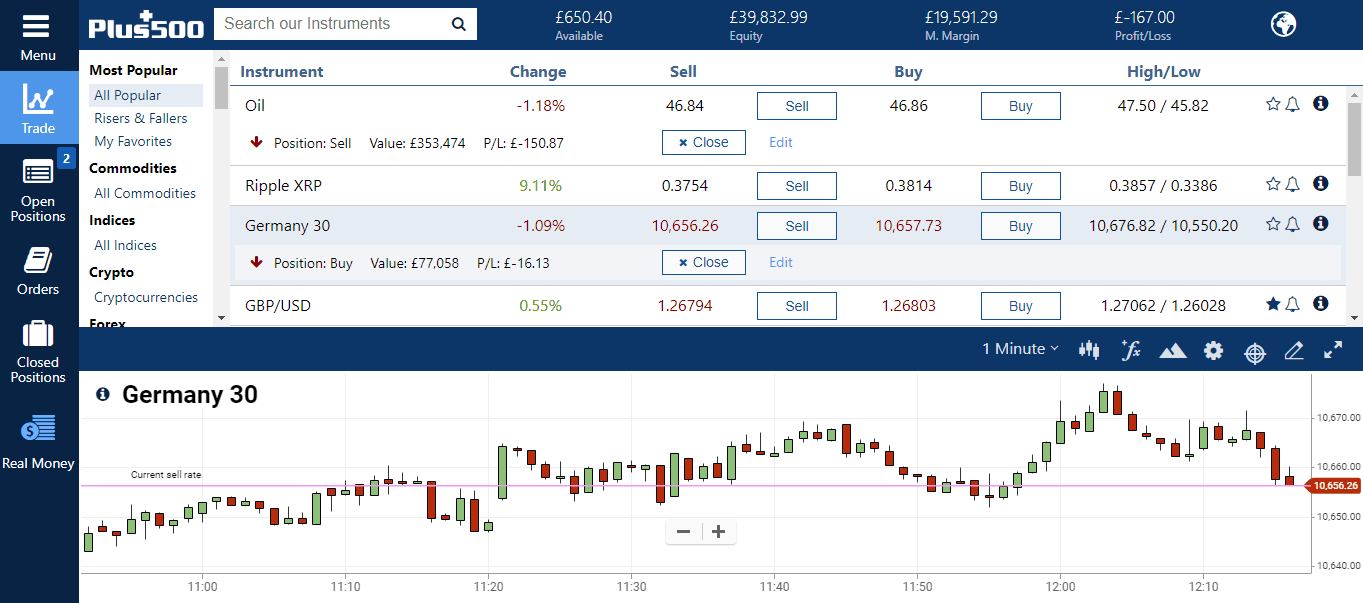 Open and Closed Positions: Traders can navigate to these tabs to keep track of their trading activity. The Plus500 platform allows the trader to search for activity by dates. In the closed position tab, traders can see reasons positions were closed, time of opening and closing, and P&L.
Example Trade
Illustrative purposes only – not a recommendation.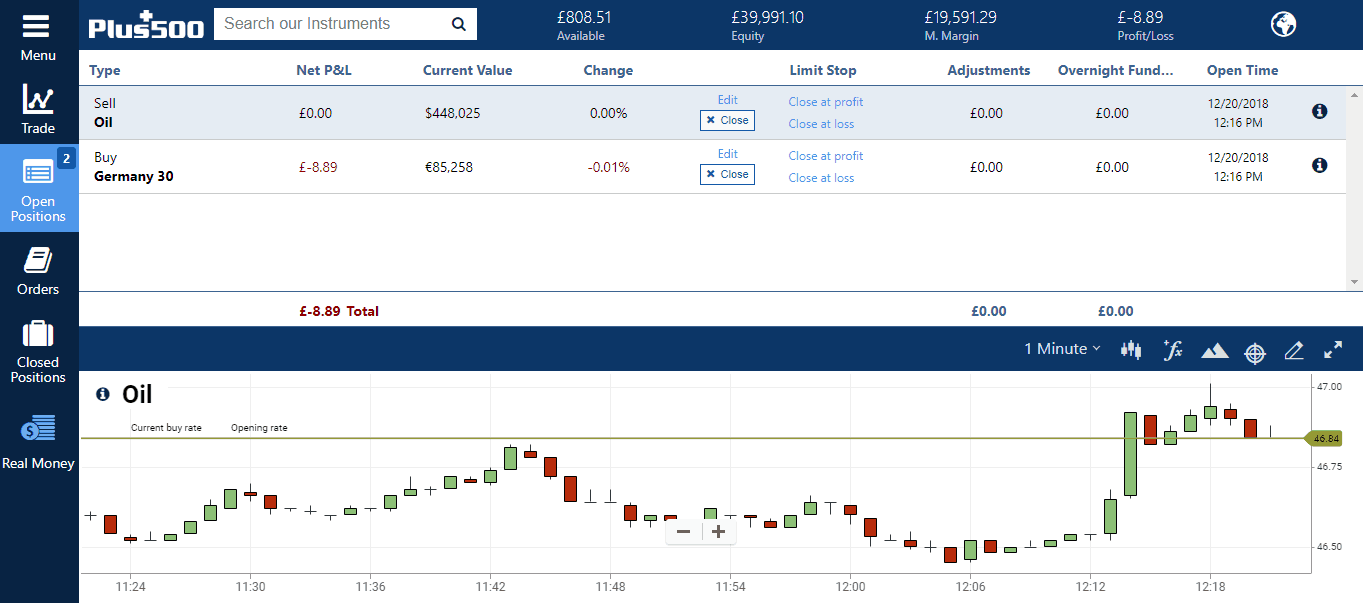 Charts: The charting functions offered by Plus500 are the most limiting and disappointing features of the platform: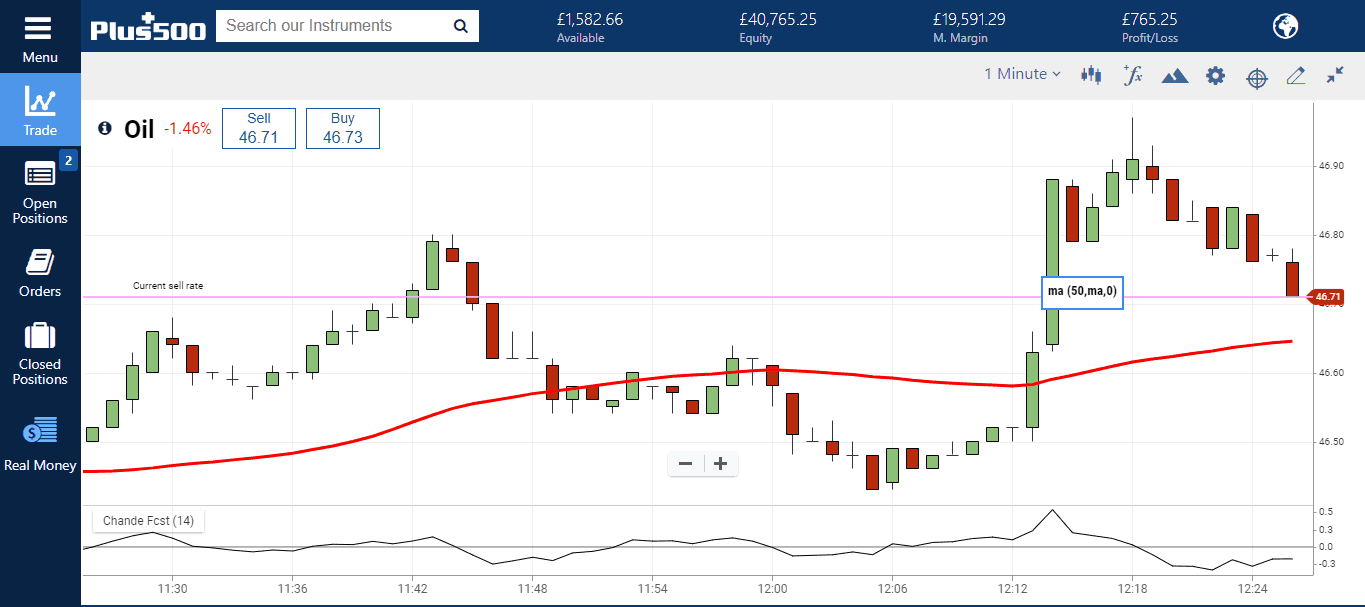 The charts appear in the main window of the trading platform and graphically represent price movements for trading instruments. The platform allows traders to apply various technical indicators to the charts. However, the number of indicators and time frames that Plus500 offers pales in comparison to other more sophisticated trading platforms such as MetaTrader4. Traders have access to only about a dozen time frames and indicators.
The Plus500 platform does not support integration with MetaTrader4 or with any type of algorithmic trading. Also, traders can only pull up one chart at a time, which is a seriously limiting factor for active traders who want to compare multiple instruments or the same instrument using different charting tools. In sum, the chart function may be useful for traders who want a general idea of price movements in a financial instrument, but would likely be disappointing to sophisticated traders who need robust charting capabilities.
Funds: The bottom section of the Plus500 main trading screen shows available funds, equity and profits (or losses) for the account. The best part of this section is the ease with which traders can navigate to the deposit page to add funds to the account. Also, traders can toggle between their real money and their demo account easily, which allows them to test out practice ideas and, if successful, quickly implement them with live trades.
Plus500 Demo Account
Plus500 really stands apart from other brokers when it comes to their free demo account, even after you open your real account you can continue to use your demo account to test trading ideas you might have in future. Many other brokers will charge you for a demo account after an initial free period.
Plus500 doesn't offer any educational courses, videos or market commentary on its website, which may be a problem for inexperienced traders. However, Plus500 offers traders a demo account where they can test ideas with virtual funds. The demo account is permanent, so traders have access to it even after trading in their real account. In fact, traders can easily and seamlessly switch back and forth between the demo and real money account.
When traders first sign up for an account, they see the following screen: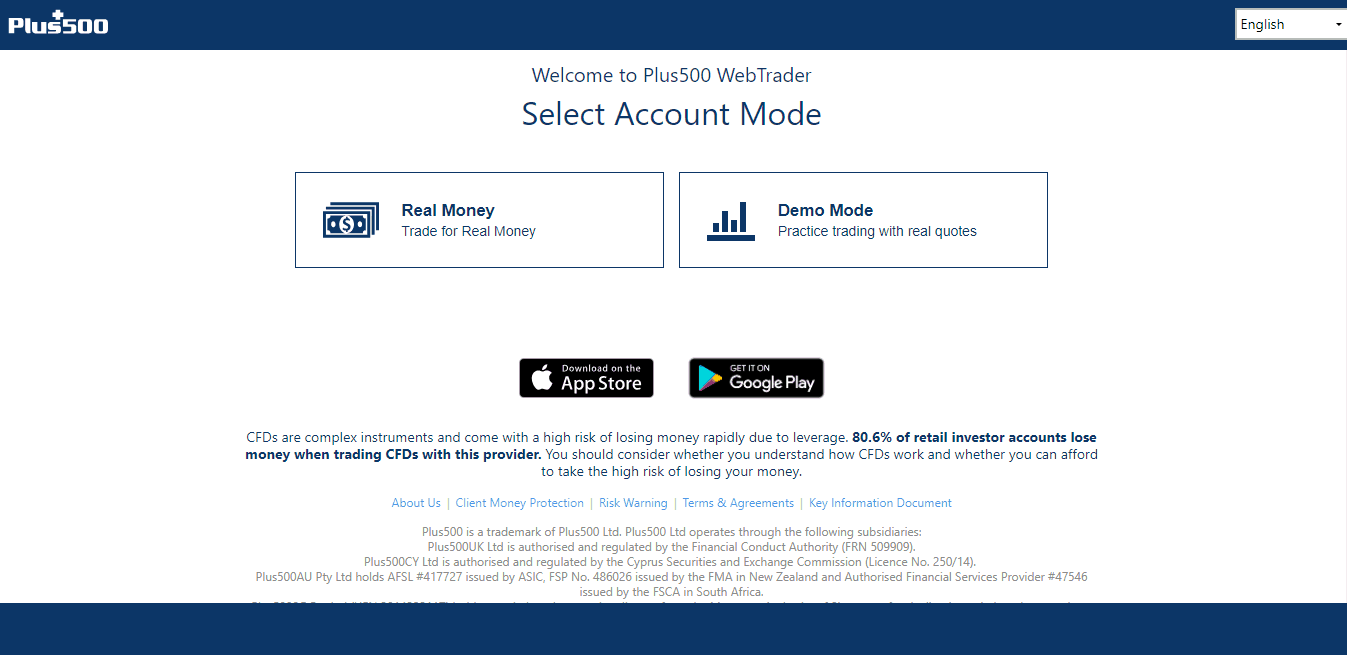 A trader can create an account in the demo mode and then see the same layout that a real money trader sees.
The demo account has all of the securities available to real money traders. A nice feature of this account is that traders can easily switch to real money trading by clicking the blue button at the bottom of the screen. Also, Plus500 replenishes funds in the demo account when traders fall below certain levels.
Plus500 App
In addition to accessing Web Trader via a PC, traders have several other ways to access the Plus500 trading platform:
iPhone/iPad/Apple Watch App:
The app is available from the Apple app store and requires iOS 8.0 or later
Compatible with iPhone, iPad and iPod touch
Languages supported are English, Arabic, Bulgarian, Croatian, Czech, Danish, Dutch, Estonian, Finnish, French, German, Greek, Hebrew, Hungarian, Icelandic, Indonesian, Italian, Japanese, Korean, Latvian, Lithuanian, Malay, Maltese, Norwegian, Polish, Portuguese, Romanian, Russian, Serbian, Simplified Chinese, Slovak, Slovenian, Spanish, Swedish, Traditional Chinese and Turkish
Android App:
The app is available from Google Play
Multi-language 24/7 professional support
Windows Phone App:
Multi-language support
Minimum operating system requirements: Windows 10, Windows 8.1, Windows 10 Mobile, Windows Phone 8.1
Architecture: ARM, x86, x64