Disclosure:
Your support helps keep Commodity.com running! We earn a referral fee for some brokers & services we list on this page.
Learn more...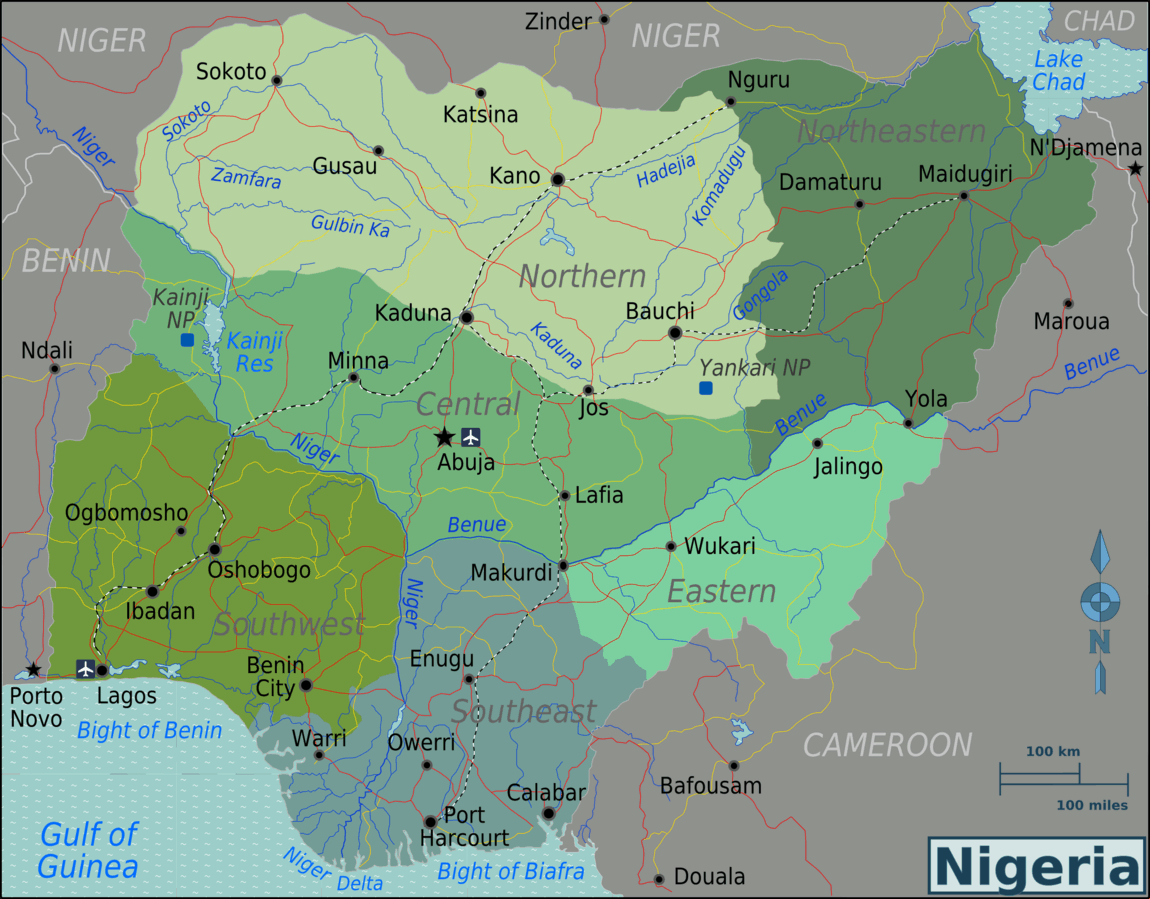 Economy of Nigeria – Overview
The Federal Republic of Nigeria is commonly referred to more simply as "Nigeria," and this West African country is the 49th largest export economy in the world.
Nigeria enjoys a positive annual trade balance of $8.26 billion after deducting imports of $39.5 billion from its export total of $47.8 billion. The value of its exports has fallen sharply over the last five years, falling from $88.9 billion to $47 billion at an annualized rate of -11.9%.
The GDP of Nigeria is $481 billion, which equates to a GDP per capita of $6,000.
Nigeria's Top 5 Commodity Exports
| Commodity | Amount (Annually) |
| --- | --- |
| Crude Petroleum | $36.9 billion |
| Petroleum Gas | $7.39 billion |
| Refined Petroleum | $603 million |
| Cocoa Beans | $504 million |
| Rough Wood | $333 million |
Nigeria's Other Notable Exports
Scrap Copper – $133 million
Tanned Goat Hides – $106 million
Cocoa Butter – $76.1 million
Rolled Tobacco – $65.1 million
Rubber – $57.1 million
The top exports destinations of Nigeria are India ($9.1 billion), Spain ($4.63 billion), South Africa ($4.58 billion), Brazil ($4.14 billion) and the Netherlands ($3.37 billion).
Nigeria's Top 5 Commodity Imports
| Commodity | Amount (Annually) |
| --- | --- |
| Refined Petroleum | $6 billion |
| Wheat | $1.09 billion |
| Raw Sugar | $406 million |
| Rice | $302 million |
| Palm Oil | $199 million |
Nigeria's Other Notable Imports
Packaged Medicaments – $955 million
Cars – $809 million
Telephones – $745 million
Rubber Tires – $309 million
Motorcycles – $447 million
More Information on Nigeria's Imports/Exports
Crude Petroleum
Exports of crude petroleum are vital to Nigeria's export economy and account for 77% of all its exports.
The country has a 5% share of an annual crude petroleum global export market worth $740 billion and every one of the top fifteen exporting countries suffered declines in their export values over the last five years.
Nigeria was one of the fastest-declining crude petroleum exporters during that period, posting a 72.8% decline in export values overall.
Petroleum Gas
Petroleum gas exports account for 15% of Nigeria's total exports and that gives the country a 2.6% share of a worldwide export market that is worth $287 billion annually.
Japan is a major export market for Nigeria's petroleum gas exports, taking 32% of their output, followed by Spain (11%), India (9.9%), South Korea (9.7%) and Brazil (9.7%).
Refined Petroleum
Exports of refined petroleum represent 1.3% of Nigeria's yearly export total but the country does not feature as one of the top fifteen exporting countries.
Although the global market for refined petroleum exports is currently worth $504 billion, this is a 50% drop over a five-year period when worldwide shipments totaled $1.05 trillion.
Cocoa Beans
Cocoa production is also important to the Nigerian economy as it's the primary agricultural export of the country.
Nigeria is the fifth largest exporting country in the world and has a 5.3% market share of a global market that is worth $9.5 billion.
The Netherlands is a major destination for Nigeria's cocoa bean exports, taking 67% of their annual total, with Germany (14%) being the second largest importer of this commodity.
Rough Wood
The value of the worldwide rough wood export market is worth $10.5 billion per year and Nigeria has a 2.2% market share, competing with Cameroon as the leading African nation for rough wood exports.
China almost exclusively receives all of Nigeria's rough wood exports and imports 93% of their annual shipments, with Vietnam (5.7%) and India (1.2%) being the only other countries noted.
Some Interesting Facts About Nigeria
Nigeria is the most populous country in Africa. And with approximately 160 million people living there it has almost twice as many people as the second most populous African country, Ethiopia, which has 84 million inhabitants.
Nollywood is the the nickname for the Nigerian movie industry. It is ranked as the second largest producer of movies, producing up to 200 every week. Although this is behind Bollywood in India, it's ahead of Hollywood in production numbers!
All figures based on OEC/IMF 2016 calculations and projections unless otherwise stated.
Interested in Trading Commodities?
Start your research with reviews of these regulated brokers available in .
Loading table...
CFDs are complex instruments and come with a high risk of losing money rapidly due to leverage. Between 73.0%-89.0% of retail investor accounts lose money when trading CFDs. You should consider whether you understand how CFDs work and whether you can afford to take the high risk of losing your money.