eToro Review: Hailed As A Game-Changer In The Trading World. How Have They Done It?
Last Updated on
Overview
Warning: All trading involves risk. Only risk capital you're prepared to lose.
eToro established the first social trading platform, and in doing so disrupted the conservative online brokerage industry. Investors in stocks, indices, precious metals, commodities, ETFs, forex and cryptocurrencies can use eToro's innovative investment platform and its CopyTrader feature to follow other traders, discuss trade ideas and even copy the successful trading strategies of other traders in the community.
eToro's groundbreaking social platform has earned it praise from industry watchers. In 2010, Money AM Online Finance Awards named it the Best Active Trading Platform. In 2011, the firm received the World Finance foreign exchange award for best mobile trading platform and best software provider. In 2012, the Share Awards honored the company for best use of social media, and in 2013, eToro received Best Trading Platform at the Star Awards. The 2013 FinTech 50 listed the company as one of the game-changing technologies across Europe.
For a new generation of traders who want to incorporate a social community into their online trading platform, eToro is the ideal solution. This eToro review will provide an overview of the company and discuss the major features of the platform.
Quick Compare
Why Choose eToro?
| What's Good About eToro? | What Could eToro Do Better? |
| --- | --- |
| Trustworthy broker (we scored eToro 90/100 in our broker trust rating) | No live chat support available |
| Traders who follow Sharia law can open Islamic accounts | Difference in the way eToro displays leverage on the buy screen which may be confusing to some advanced traders |
| Wide range of cryptocurrencies available | First screen only shows some of the instruments available for trading (CFDs for listed companies aren't included, for example) |
| Traders can integrate social features into their trading through the CopyTrader tool | |
| Free demo account (which you can keep for life) | |
| 24/5 customer support via phone, fax or email | |


Overview
Social Trading Network
Founded
2006
Number of Customers
5m worldwide
Product
CFDs
Markets
Commodities
Cryptocurrencies
Stocks
Indices
ETFs

Countries Served
60+ (Full list below).
Minimum Deposit
Initial deposit $200 to $10,000 depending on country/region
Fees
Spread + Overnight fees(Full list below) . $25 per withdrawal, inactivity fee after 12 months.
Regulator(s)
UK Financial Conduct Authority and The Cyprus Securities Exchange
Customer Support
24 hour support 5 days a week. No live chat though.
Awards
Best Active Trading Platform in the Money AM Online Finance Awards
Demo Account
Yes
History of eToro
eToro was the brainchild of brothers Ronen and Yoni Assia, who founded the firm in 2007 along with their partner David Ring. The trio's vision was to create a trading platform that appealed to a wide audience and was user-friendly.
The concept proved very successful and eToro grew quickly. The firm now serves over 5 million users worldwide. eToro adds thousands of users daily and remains the premier social trading platform.
eToro receives regulatory oversight in two jurisdictions – the United Kingdom and Cyprus. The company operates through London entity eToro UK Limited in the United Kingdom. eToro UK Limited is registered with the UK Financial Conduct Authority (FCA) and is compliant with the Markets in Financial Instruments Directive (MiFID). This compliance allows the firm to operate throughout the Eurozone.
In Cyprus, the company operates through its entity eToro Europe Limited, which has headquarters in Limassol, Cyprus. The Cyprus Securities Exchange (CySEC) regulates the firm and requires it to maintain sufficient capital and segregate client accounts.
eToro offers customers 24-hour support 5 days a week. Customers who need assistance can reach the company by local phone, fax or email. The eToro website supports several languages. eToro does not offer live chat support.

Where Does eToro Operate?
eToro operates in over 60 countries. Regulatory conflicts prevent the company from doing business in the following countries: Iran, North Korea, Myanmar, Syria, Cuba, Sudan and the USA.
UK
Argentina
Australia
Austria
Bahrain
Belgium
Brunei
Bulgaria
Canada
Chile
China
Colombia
Croatia
Cyprus
Czech Republic
Denmark
Egypt
Estonia
Finland
France
Germany
Gibraltar
Greece
Hungary
Iceland
India
Ireland
Italy
Jordan
Kuwait
Latvia
Liechenstein
Lithuania
Luxembourg
Malaysia
Malta
Mexico
New Zealand
Nigeria
Norway
Oman
Paraguay
Peru
Poland
Portugal
Qatar
Romania
Russia
Saudi Arabia
Singapore
Slovakia
Slovenia
South Africa
Spain
Sweden
Switzerland
Thailand
The Netherlands
Ukraine
United Arab Emirates
Uruguay
Venezuela
IMPORTANT: CFDs are not available in the USA due to local regulation, and this regulated CFD broker does not accept US citizens or US residents as clients.
Can I Trust eToro?
Any discussion of online brokerage safety inevitably centers on three topics: regulation, quality of service and security technology. In all of these areas, eToro performs very well. Learn more at eToro.com
eToro receives regulatory oversight both from the Financial Conduct Authority (FCA) and The Cyprus Securities Exchange (CySEC). These agencies require the firms they regulate to meet stringent guidelines. This table helps you to understand which countries fall under the jurisdiction of which regulator so you can better understand the protections offered:
| Regulator | Countries Covered | Protection Offered | Additional Protection Offered |
| --- | --- | --- | --- |
| Financial Conduct Authority (FCA) | Austria, Belgium, Bulgaria, Croatia, Cyprus, Czech Republic, Denmark, Estonia, Finland, France, Germany, Gibraltar, Greece, Hungary, Iceland, Ireland, Italy, Latvia, Liechenstein, Lithuania, Luxembourg, Malta, The Netherlands, Norway, Poland, Portugal, Romania, Slovakia, Slovenia, Spain, Sweden, UK | All client funds are held in a segregated client bank account | Financial Services Compensation Scheme (FSCS) may cover up to £50,000 if eToro fails. |
| Cyprus Securities Exchange (CySEC) | Argentina, Australia, Bahrain, Brunei, Canada, Chile, China, Colombia, Egypt, India, Jordan, Kuwait, Mexico, Malaysia, New Zealand, Nigeria, Oman, Paraguay, Peru, Qatar, Russia, Saudi Arabia, Singapore, South Africa, Switzerland, Thailand, Ukraine, United Arab Emirates, Uruguay, Venezuela | All client funds are held in a segregated client bank account | The Investor Compensation Fund may provide up to €30,000 if eToro fails. |
Financial Conduct Authority (FCA)
The UK's Financial Conduct Agency regulates eToro's activities in the UK, but through the FCA's "passport out" system (which enables an authorised firm to provide financial products or services, set up a base, or run its permitted activities in another country in the European Economic Area (EEA)) the FCA also covers their activities in Ireland and Germany. The fact that eToro is regulated by the FCA is a huge positive. The FCA and the UK is widely respected as a leader in financial regulation and in fact the UK scores highly in Transparency International's rankings of countries based on their corruption perceptions index meaning the UK is a pillar of anti-corruption.
eToro customers in the countries listed above are protected by the UK based scheme Financial Services Compensation Scheme (FSCS) which was established to protect consumers when authorised financial services firms fail. In short, it steps in and pays compensation up to certain levels if a regulated firm is unable to pay. Up to £50k of funds deposited into eToro are protected by the FSCS if you are in one of countries that fall under the FCA jurisdiction.
For more information, EToro's Financial Services Register reference number is FRN 583263.
Cyprus Securities Exchange (CySEC)
The Cyprus Securities and Exchange Commission is the financial regulatory agency of Cyprus. Cyprus is a European Union member and is a financial services industry hub. The country ranks well in the Transparency International league table of countries based on their corruption perception index. This is reassuring if you're in a country where your eToro activities are regulated by CySEC, although obviously it is worth remembering that the level of compensation available (up to €20,000 if eToro fails) is less than if you are in a country that falls under the jurisdiction of the FCA. The company's CySEC license number is 109/10.
For more information, you can inspect eToro's CySEC membership details here.
eToro uses SSL encryption technology to protect its users from cybersecurity attacks. In addition, the firm never shares its clients' information with outside parties without first obtaining their permission.
The eToro Team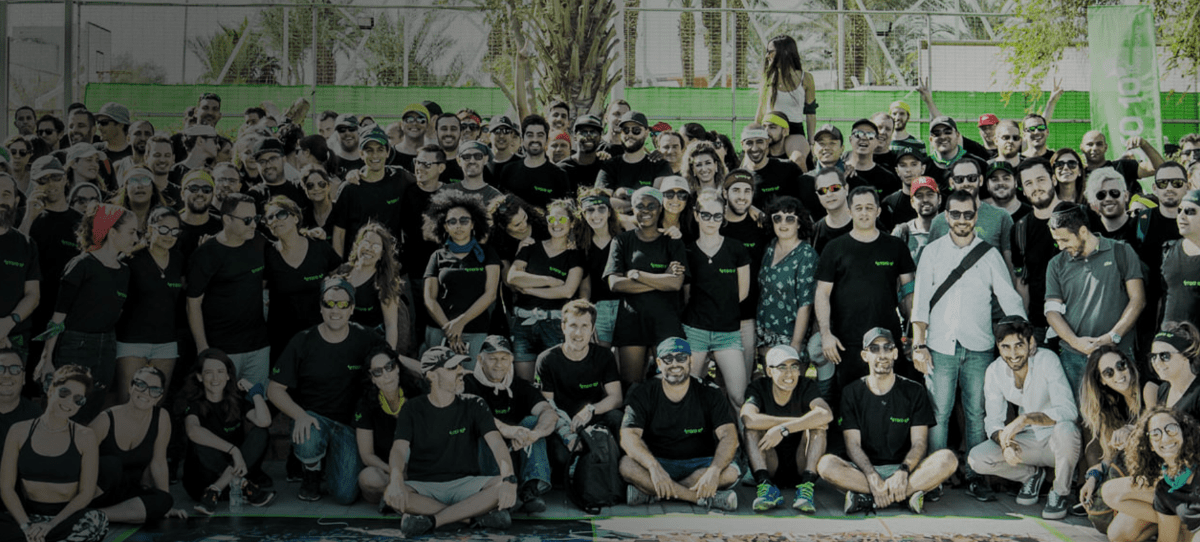 Who Runs eToro?
The eToro board currently consists of 4 directors. We have listed the main management team and their responsibilities below:
Name
Position
Information
Yoni Assia

Yoni Assia via Wikimedia

CEO
Yoni holds a B. Sc. in Computer Science and Management and an MSC in Computer Sciences.
Ronen Assia

Ronen Assia via eToro

Board Member
Ronen heads up product direction for eToro and holds a B. Des. in industrial design and an M.A. in design.
Santo Politi

Santo Politi via Forbes

Board Member
Santo is a founder and General Partner of venture capital firm Sparks Capital. He holds an MBA in finance from the Wharton School at the University of Pennsylvania, an MS in electrical engineering from NJIT, A BS in electrical engineering and a BS in physics from Bogazici University in Istanbul.
Avner Stepak

Avner Stepak via Forbes

Board Member
Avner is the former CEO of Meitav Dash Investments Ltd., which is the 2 nd largest investment house in Israel. He holds an MBA from Tel Aviv University and the Northwestern University Kellogg-Recanati International Executive Program.
eToro Trading Products
eToro offers customers access to trading six different categories of products:
1) Cryptocurrencies
Investors can purchase CFDs in six different cryptocurrencies on the eToro platform:
Ethereum
Bitcoin Cash
XRP
Dash
Litecoin
Ethereum Classic
Lumen (XLM)
NEO
Cryptocurrencies trade as contracts for difference (CFDs) on the eToro platform. Rather than holding the cryptocurrency in a wallet, traders receive the difference between the price of the cryptocurrency at the time of purchase and its current price. Therefore, traders can speculate on the price of cryptocurrencies without the cybersecurity and regulatory risks.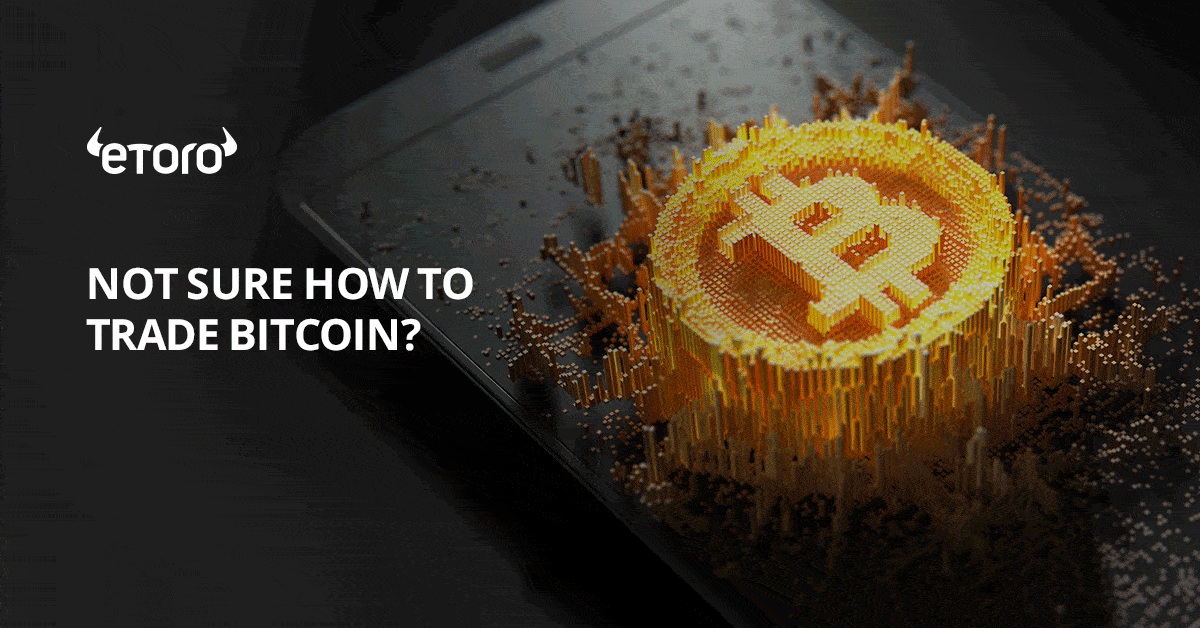 2) ETFs
Investors can choose from 58 different ETFs in a variety of categories including the following:
Commodities
Indices
Countries
Geographic regions
Fixed Income
Volatility products
3) Stocks
Investors can choose equities from the following industry categories:
Basic materials
Conglomerates
Consumer goods
Financial
Healthcare
Industrial goods
Services
Technology
Utilities
They also can choose to trade by exchange. The eToro platform supports trading on the following exchanges:
NASDAQ
NYSE
Frankfurt
London
Paris
Madrid
Milan
Zurich
4) Indices
Traders on the eToro platform can place trades on 12 indices:
The S&P / ASX 200–blue chip Australian stocks
China50–50 largest A shares in China
DJ30–30 Dow Jones Industrial stocks
ESP35–Spanish stock exchange
EUSTX50–stocks of the Eurozone
FRA40–mostly French-based companies
GER30–performance of the German DAX index
JPN225–main Japanese stock exchange
NSDQ100–largest US non-financial companies
SPX500–500 leading publicly traded US companies
UK100– London's blue-chip FTSE100 index
USDOLLAR– leading benchmark for the value of the dollar against a basket of popular currencies
5) Commodities
Traders on the eToro platform can place trades on the following commodities:
Copper
Gold
Natural Gas
Oil
Platinum
Silver
6) Currencies
The eToro platform offers trading on 47 different currency pairs.
eToro Account Types
Traders can use one of two different eToro account types – a standard trading account for trading with real money and a demo account, which uses virtual funds to place practice trades.
Traders can open a standard trading account with anywhere between $50 and $10,000. The eToro standard trading account offers traders various leverage limitations based on the product being traded. For example, major currency pairs (30:1), non-major currency pairs (20:1), commodities except for gold and non-major equity indices (10:1), CFD stocks (5:1), and cryptocurrency CFDs (2:1).
eToro reserves the right to limit the amount of leverage a trader can use to reduce its overall market exposure. eToro strictly enforces its margin requirements to ensure that the firm remains solvent. When a trader's cash equity approaches the eToro margin requirements for the account, eToro will alert the customer that they are approaching a margin call. If the cash equity falls below the eToro margin requirement, eToro will initiate a margin call and close the trader's open positions.
Traders who sign up for an eToro demo account receive $100,000 in virtual currency to trade. Traders can test their strategies by executing practice trades in real time. The eToro demo account also allows traders to test the functions of the platform before committing real money to trades.
In addition, traders who follow Sharia law can open Islamic accounts. These accounts don't utilize swaps in accordance with Sharia law.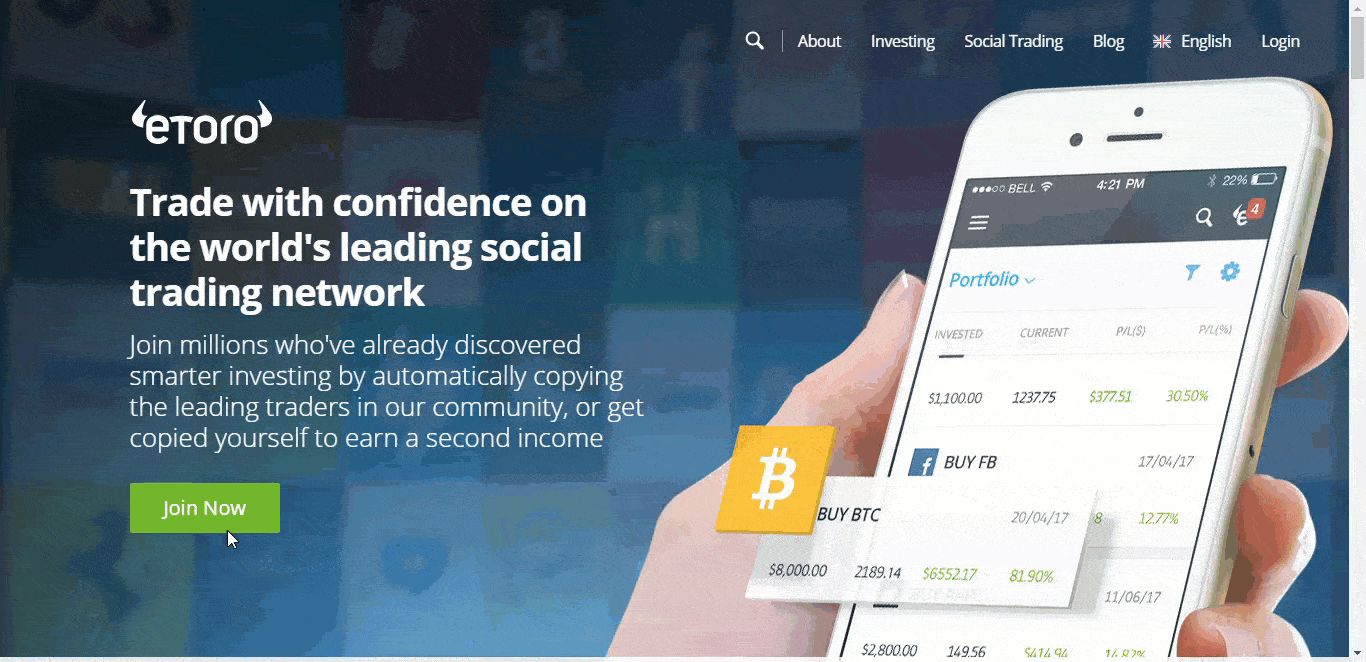 eToro Spreads and Fees
eToro receives its compensation through the market bid/ask spreads, which vary by product. These spreads are charged only when a trader closes a position. In addition to these spreads detailed in charts below, customers may, however, incur the following eToro fees:
Premium
This overnight eToro fee (or credit) is either added to or subtracted from a trader's account when a position remains open past a certain period of time. The eToro overnight fees charged are multiplied by three if a trader holds a position over Wednesday night. Overnight fees are charged to customer accounts and credits are applied at 17:00 New York time. eToro does not charge overnight fees for non-leveraged buy positions.
Inactivity Fee
eToro charges traders a $5 inactivity fee if traders don't use the platform for a period of 12 months. This eToro fee only applies only if the trader has sufficient funds in the account. Traders simply need to log in to their accounts periodically to avoid these fees.
Withdrawal Fees
eToro charges a $25 fee for all withdrawals. The minimum withdrawal amount is $50. eToro also charges fees if customers want to convert the funds they withdraw into other currencies.
| Currencies | Symbol | Typical Spread | Overnight Fee | (per 10,000 units) |
| --- | --- | --- | --- | --- |
| | | | Sell | Buy |
| Euro/US Dollar | EURUSD | 3 Pips | 0.03 | -0.6 |
| British Pound/US Dollar | GBPUSD | 4 Pips | -0.3 | -0.15 |
| New Zealand Dollar/US Dollar | NZDUSD | 5 Pips | -1.35 | 0.15 |
| US Dollar/Canadian Dollar | USDCAD | 3 Pips | -0.2 | -0.2 |
| US Dollar/Japanese Yen | USDJPY | 2 Pips | -0.28 | 0.01 |
| US Dollar/Swiss Franc | USDCHF | 3 Pips | -1.4 | 0.09 |
| Australian Dollar/US Dollar | AUDUSD | 4 Pips | -1 | 0.12 |
| Euro/British Pound | EURGBP | 4 Pips | 0.03 | -0.52 |
| Euro/Swiss Franc | EURCHF | 5 Pips | -0.9 | 0.02 |
| Euro/Japanese Yen | EURJPY | 4 Pips | 0.03 | -0.36 |
| British Pound/Japanese Yen | GBPJPY | 6 Pips | -1 | 0.03 |
| Euro/Australian Dollar | EURAUD | 7 Pips | 0.23 | -1.51 |
| Euro/Canadian Dollar | EURCAD | 7 Pips | 0.08 | -0.72 |
| Australian Dollar/Japanese Yen | AUDJPY | 5 Pips | -1.8 | 0.16 |
| Canadian Dollar/Japanese Yen | CADJPY | 6 Pips | -0.51 | 0 |
| Swiss Franc/Japanese Yen | CHFJPY | 6 Pips | 0.04 | -0.7 |
| US Dollar/Hong Kong Dollar | USDHKD | 5 Pips | -0.98 | -0.5 |
| USD/ZAR | USDZAR | 20 Pips | 1.49 | -2.46 |
| US Dollar/Ruble | USDRUB | 3 Pips | 1.5 | -7.4 |
| US Dollar/Yuan | USDCNH | 10 Pips | 0.1 | -2.74 |
| Australian Dollar/Swiss Franc | AUDCHF | 4 Pips | -0.72 | 0.52 |
| Australian Dollar/Canadian Dollar | AUDCAD | 4 Pips | -0.45 | 0.27 |
| Australian Dollar/New Zealand Dollar | AUDNZD | 4 Pips | 0.08 | -0.18 |
| Euro/New Zealand Dollar | EURNZD | 4 Pips | 0.75 | -1.17 |
| British Pound/Australian Dollar | GBPAUD | 4 Pips | 0.52 | -0.83 |
| British Pound/Swiss Franc | GBPCHF | 4 Pips | -0.63 | 0.43 |
| British Pound/New Zealand Dollar | GBPNZD | 4 Pips | 0.76 | -1.1 |
| New Zealand Dollar/Canadian Dollar | NZDCAD | 4 Pips | -0.55 | 0.34 |
| New Zealand Dollar/Swiss Franc | NZDCHF | 4 Pips | -0.82 | 0.53 |
| New Zealand Dollar/Japanese Yen | NZDJPY | 4 Pips | -0.65 | 0.42 |
| Canadian Dollar/Swiss Franc | CADCHF | 4 Pips | -0.36 | 0.2 |
| USD/NOK | USDNOK | 10 Pips | -0.11 | -0.02 |
| USD/SEK | USDSEK | 10 Pips | -0.53 | 0.3 |
| NOK/SEK | NOKSEK | 20 Pips | -0.016 | -0.066 |
| EUR/NOK | EURNOK | 10 Pips | 0.2 | -0.47 |
| EUR/SEK | EURSEK | 20 Pips | -0.24 | 0.08 |
| USD/TRY | USDTRY | 15 Pips | 1.43 | -3.33 |
| USD/MXN | USDMXN | 10 Pips | 0.65 | -1.44 |
| USD/SGD | USDSGD | 3 Pips | -0.067 | 0.004 |
| GBP/CAD | GBPCAD | 4 Pips | -0.67 | -0.013 |
| ZAR/JPY | ZARJPY | 5 Pips | -0.24 | 0.1 |
| EUR/PLN | EURPLN | 20 Pips | 0.08 | -0.9 |
| USD/HUF | USDHUF | 10 Pips | -0.7 | -0.2 |
| EUR/HUF | EURHUF | 10 Pips | -0.4 | -0.6 |
| GBP/HUF | GBPHUF | 10 Pips | -0.7 | -2 |
| CHF/HUF | CHFHUF | 10 Pips | -0.5 | -0.2 |
| USD/PLN | USDPLN | 20 Pips | -0.25 | -0.5 |
Stocks and ETFs– Most stocks and all ETFs have a minimum spread of 0.24%, although some higher-priced stocks have a minimum dollar amount as a spread. Overnight eToro fees vary by security.
*These figures are an indication only and you should consult the eToro website for up-to-date spreads. Spreads are variable.
Account Requirements
eToro serves more than 60 countries worldwide. The process of opening an account is largely the same in each jurisdiction. First, traders fill out a form with some basic information and create a username.
However, before you can trade with eToro for the first time, you need to verify your account with the following information:
Government issued ID
Phone number
Proof of address
The government-issued ID (e.g., passport) must be a high-resolution copy that shows both sides of the document and contains the following:
Full Name
Date of Birth
Photograph
Valid Expiry Date
The proof of address can include items issued by a financial institution, utility company, government agency or judicial authority:
| Acceptable Forms of Proof | Unacceptable Form of Proof |
| --- | --- |
| Bank statement | Receipts |
| Credit card statement | Invoices for purchasing goods |
| Electricity bill | Hand written bills |
| Water or gas bill | |
| Council tax bill | |
| Tax letter or bill | |
eToro offers several different deposit options for customers. First-time minimum deposits are $200 to $10,000 depending on your country's regulations and the region you live in. Maximum deposits per transaction also vary by payment method and country. The chart below details account requirements:
| Payment Service Providers | Country | Time it takes for funds to appear in my trading account | Maximum deposit per transaction | Regulatory body |
| --- | --- | --- | --- | --- |
| China Union Pay | Hong kong | Instantly | 20,000 USD | Government of Hong Kong |
| Credit / Debit card (Visa, Mastercard, Diner's Club) | UK | Instantly | 20,000 USD | FCA |
| Giropay (Sofortüberweisung) | Germany | Up to 1 business day | 30,000 USD | BaFin |
| Neteller | UK | Instantly | 10,000 USD | FCA |
| PayPal | Luxemburg | Instantly/ e-cheque payment will take 5-7 business days | 20,000 USD | CSSF, Luxembourg |
| Skrill Limited UK | UK | Instantly | 10,000 USD | FCA |
| WebMoney | UK | Instantly | 50,000 USD | FCA |
| Wire Transfer | All | 3-5 business days depending on value date | Unlimited | Dependent on remitting Bank |
| Wirecard- Wire and Credit Card | Germany | 2-3 business days | Unlimited- Wire 20,000 - Credit Card | BaFin |
| Yandex | Russia | Instantly or up to 5 business days | 5000 RUB | Central Bank of Russia |
eToro Withdrawal
Withdrawing your funds from your eToro account is easy. You can withdraw funds at any time up to the value of the balance and minus the amount of margin. There is a processing fee attached to your withdrawal and that is currently $25 (and it is worth bearing in mind any withdrawals sent in currencies other than USD are subject to conversion fees.)
You can only withdraw funds using the same method that you used to deposit them, and to the same account as previously used to deposit.
Withdrawal requirements:
Minimum withdrawal is $50
You must have a verified account to submit a withdrawal request
A verified account in simple terms means you must complete your eToro profile by filling in your personal details; answering some economic questions and submitting documentation that meets eToro's requirements for anti-money laundering.
| Payment provider | Time taken to receive funds on your payment method |
| --- | --- |
| China Union Pay | 1-2 Working days |
| Credit / Debit card | Up to 5 working days |
| Neteller | 1-2 Working days |
| PayPal | 1-2 Working days |
| Skrill Limited UK | 1-2 Working days |
| WebMoney | 1-2 Working days |
| Wire Transfer | Up to 5 working days |
eToro Platform Review
The eToro platform is the most important feature that sets it apart from its competition. The broker created the eToro platform as an entirely web-based trading tool. The platform's crisp graphics and easy-to-read screens make it a perfect tool for novice traders. However, the platform also incorporates many advanced features for more sophisticated traders.
In 2010, eToro created OpenBooks, which was a social platform. OpenBooks offered CopyTrader, which allowed traders to copy the trades of other traders in its community. Recently, eToro integrated the WebTrader platform with OpenBooks, creating their new product which is a complete social trading platform.
Signing up for eToro is easy. Customers set up a profile with their information. They then choose the "Trade for Real" option and are taken to a deposit screen. The screen informs them of minimum deposit requirements and method of deposit based on the country where they reside.
Once in the real trading application, traders will see a screen with some of the instruments available for trading:

The screen offers robust functionality including live interactive charts, an easy-to-use buy/sell button, and account balances among other features. The sentiment function shows the percentage of traders in the community who are buying or selling the instrument. Clicking on the interactive chart button brings up a chart for the security:

The chart function allows the trader to customize the chart using over 60 popular studies and drawing tools including Bollinger bands, moving averages and oscillators among others.
When a trader clicks on the buy or sell button, the following window pops up: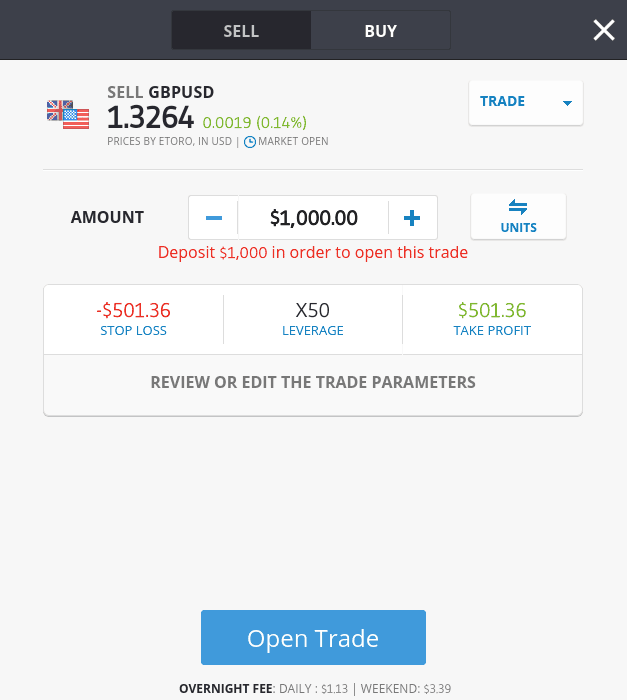 This screen allows the traders to set the size of the trade, the leverage on the trade, and a stop/loss to mitigate risk and a take profit to lock in profits. In addition, traders can decide if they want to hold a trade over the weekend. The large blue open trade button allows the trader to execute the trade.
Most of the features available in the trading screen are very similar to those available from other online brokers. The exception is the sentiment function, which is unique to eToro's social platform (more on the social functions below).
Another difference between eToro and other online platforms is the way the broker displays leverage on the buy screen. With most brokers, the trader sets the number of units, lots or shares for purchase and the broker calculates the leverage needed given the trader's account balance.
With eToro's platform, however, the trader sets the amount of capital and leverage and the broker calculates the number of units, lots or shares the trader can purchase. While this is not a disadvantage of eToro, it may be confusing to more experienced traders.

Another shortcoming of the platform is that the first screen in the real trading application only shows some of the instruments available for trading. The drop-down menu shows currency pairs, indices, and commodities, but fails to list the CFDs for listed companies. To find these instruments, a trader must either use the menu under the Markets section or find them using the search function in the menu bar. However, a trader unfamiliar with equity markets may not know what stocks are available for trading. Most other online brokers make it easier to find lists of securities available for trading.
The People Discovery section of eToro is where the platform really stands out from its competitors. This section allows the trader to screen for different traders on the platform using country of origin, markets traded, percentage gains and time frame. Traders can also screen by the risk profile of the trader and whether the results have been verified.
Traders on the platform can also use a social feature called Copy People. They can click on a trader they want to copy, set a copy amount for trading and begin copying the trades made by that individual. With this feature, a trader can copy every feature of a trader including the opening of new trades, managing stop-loss orders and closing positions.
Other features of the eToro platform include Top Trader Insights, which collects data from the top 100 traders on the platform. eToro also provides an economic calendar and market news.

eToro Demo Account
The eToro demo account looks identical to the eToro standard account. The only difference is that traders start with a $100,000 balance in virtual funds. To access the demo account, the trader logs into the account. Next, the trader clicks virtual portfolio and confirms the selection.

Once in demo mode, traders have access to the trading screen, the trade ticket, charts and all of the social features of the platform.
In addition to the demo mode, novice traders have access to other resources to help them learn how to trade. eToro has a section on its platform called Trading Academy, which contains educational resources. Trading Academy offers webinars on how to maximize success on the eToro platform and an education center with eCourses and training videos. Trading Academy also offers a section with tips for new traders.

How Does CopyTrader Work?
One of the main advantages of signing up with eToro is that traders can integrate social features into their trading. We broke down in greater detail how these features work.
eToro has certain guidelines that apply when using the CopyTrader feature:
$200 is the minimum amount you can invest in a trader
$500,000 is the maximum you can invest in a sole trader
You can only copy 100 traders simultaneously
For a copied trade, $1 is the minimum amount – any trades below this figure aren't opened
When you manually close a copied trade, your copy balance will be copied with any funds from this position. This is not the amount invested in open positions but the amount you've allocated to copy this trader
Additional guidelines must be adhered to if traders want to copy an entire list of trades from one trader:
Your account will be opened with the existing open positions at the market rates at the time of copying – not the rates the Copied Trader opened the original trades.
Your trades will have the original trade's stop loss (SL) and take profit (TP).
Your trades will mirror the future actions of the Copied Trader. This includes SL and TP as well as closing of the trade as soon you begin to copy them.
Closing a specific copied trade won't close your entire copy account.
Should a position be opened in a market that's closed at the time of copying (e.g. a market break), a Market Order will be opened by the system for the Copier. As soon as the market opens, an order is executed into a position with the first market rate.
If you wish to see all of the trades you've copied from one trader, simply go to your portfolio and click on the name of the Copied Trader.
The eToro trading platform has a Discover People section that works like a search engine for traders. This is the starting point for integrating search into your trading. The first thing you'll notice is the series of filters at the top of the page:
These filters allow you to narrow down the traders you want to follow according to specific criteria:
People From: Traders can choose a country from a dropdown list or they can pick "Everywhere." The platform then returns a list of traders from the country or countries.
Who Invest In: You can filter by "Any Market" or choose a specific asset class (i.e. currencies, commodities, indices, stocks, ETFs or Cryptocurrencies).
Gained At Least and During The: You can filter by trader returns (i.e. 5%, 10%, 25%, etc.) over a specified time period (i.e. 6 months, 12 months, current quarter, last two years, etc.)
Advanced Features
eToro also has a more advanced trading filter page for traders who want more control over whom they follow.
Time Period: The timeframe for the trader's activity
Status: Traders can choose to follow only traders who have verified their accounts with eToro as well as only traders who are part of the Popular Investor Program (see below).
Country: Location of trader
Name and Picture: You can choose to follow only traders with profile pictures
Copiers: You can choose to follow traders based on how many other people follow them:
Copiers Change: The percentage change in the number of people following the copied trader.
Copy AUM: The total assets under management of the copied trader. With this feature, you can choose, for example, to follow only traders with assets in their account over a certain amount.
Performance: With these filters, you can choose to follow traders based on the returns of their account, their percentage of profitable trading months or their percentage of profitable trades.
Risk Score: eToro assigns a risk score to each portfolio, which is an indicator of how exposed the portfolio is to market volatility. You can filter by risk score to gauge how much volatility to expect from following a particular trader.
Portfolio: A filter for following based on a trader's allocation or average trade size.
Activity: A filter for following based on how active a trader is in the market.
Popular Investor Program
eToro has a Popular Investor Program, which has four levels: Cadet, Rising Star, Champion and Elite. Each level has its own requirements and benefits.
In order to apply for the Popular Investor Program, traders must verify their account with eToro.
To be accepted at the Cadet level, traders must meet the following requirements:
You must not have open positions exceeding the leverages outlined in the eToro Responsible Trading requirements
You must not have had a risk score higher than 6 in the 2 calendar months prior to joining the program
You have at least 2 months of trading history in your Stats page
You have your own unique trading strategy and you are not copying an individual trader or CopyFund with more than 25% of your equity
Your deposits total at least $1,000
The account has a minimum average equity of $500
You have at least 1 verified copier with a minimum AUM of $200
When trades are copied by other people, an eToro Popular Investor can earn up to 2% of their annual assets under management (AUM) and fixed payments. These payments are added to any other profits you make. Essentially, eToro pays you if you have traders follow you and copy your trades.
Important: CFDs are complex instruments and come with a high risk of losing money rapidly due to leverage. 76% of retail trader accounts lose money when trading CFDs with this provider. You should consider whether you understand how CFDs work and whether you can afford to take the high risk of losing your money.