Disclosure:
Your support helps keep Commodity.com running! We earn a referral fee for some brokers & services we list on this page.
Learn more...
Last Updated on
Why is Everyone Taking About Monero?
Monero is one of the most interesting cryptocurrencies in existence today. There are currencies like Ethereum and NEO that focus on smart contracts. Tokens like Ripple focus on making transactions as seamless as possible. Monero is focused on giving its users as much privacy as possible.
Monero utilizes innovative tools like the ring signature in order to protect its users. This focus on anonymity has caused Monero to become increasingly popular over the last few years. Before deciding whether you should join the trend it's important to understand how Monero works and what makes it so special.
5 Interesting Monero Facts You Might Not Know
Monero was launched in April 2014 as a fork of the CryptoNote protocol.
The "stealth addresses" generated for each transaction make it impossible to discover actual destination by anyone else but the address owner.
It can be mined somewhat efficiently on consumer grade hardware such as x86, x86-64, ARM or even consumer grade GPUs.
On January 10, 2017, the privacy of Monero transactions were further strengthened by the adoption of Bitcoin Core developer Gregory Maxwell's algorithm Confidential Transactions.
45 Musicians and 5 online retailers will accept Monero as a payment method during the Christmas holidays.
Data from U.S. Equity Research estimates the cryptocurrency market is expected to grow at a 32% rate by 2023.
According to RnRMarketResearch:

"Growth is propelled by the benefits of compliance-free peer-to-peer transaction, cross-border remittance transfer, increase in use cases, volatility in the stock market, fluctuating monetary regulations in different countries, transparency, and immutability of the distributed ledger technology and benefits such as faster transaction and reduction in total ownership cost.

45 Musicians and 5 online retailers to Accept Monero as a Payment Method
"As cryptocurrencies become more popular, it's important that my fans have choices when it comes to how they buy my songs and merchandise," said rap star G-Eazy in a statement. "Given Monero is one of the safest, most secure and most private cryptocurrencies, it's one of the best options for my fans this holiday season — and just in time for my new album."
The full list can be viewed here source: Forbes.
Riccardo Spagni, lead maintainer for Monero, discusses the privacy aspect of Monero on RT with Max Keiser.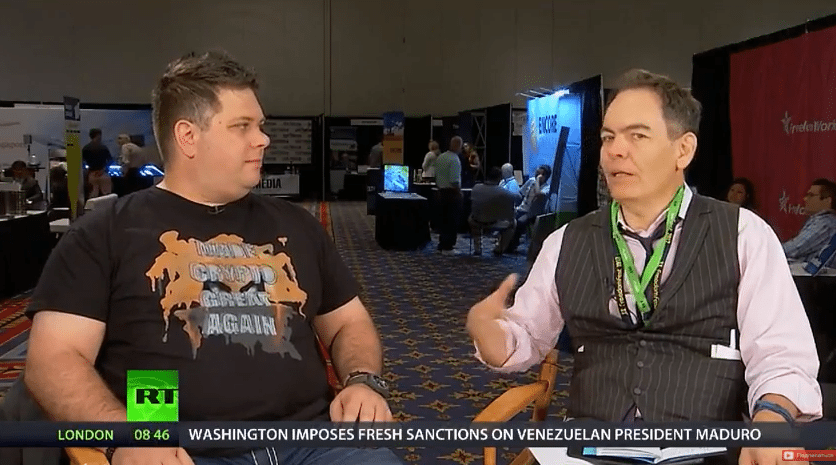 "The thing with a pro-privacy project or pro-privacy altcoin is that it has to tend towards a monopoly because you want to as a user to get lost in a sea of transactions and if the sea of transactions is small, you're not getting lost in anything. So, naturally, there is a tendency for users to pick the privacy coin that has the largest user base, which currently is Monero" – Riccardo Spagni
What is Monero?
Monero is one of the most popular cryptocurrencies in the world because of its ability to provide anonymity compared to say, Bitcoin. Whenever a transaction takes place using Bitcoin the recipient has to divulge their public address to the sender. This allows the sender a window into the recipient's wallet and they can see how many Bitcoins you own. On top of this, all Bitcoin transactions are recorded in the blockchain which is essentially a public ledger. This means that if someone really wants to, they can figure out exactly how you're spending your money.
This is where Monero is different. If you send funds to someone using Monero you are not able to view the recipient's holdings. The coins you send are instead routed through a randomly created address used only for that transaction. The Monero ledger only records the one-time address and doesn't link the sender or the recipient.
As an extra layer of security Monero also uses the Ring signature. This scrambles the transaction of two parties with other users transactions. The original transaction is then randomly moved along the list of transactions in the blockchain, making it nearly impossible to decipher where it originated.

The ring signature also decrypts the amount of XMR sent. It splits each transaction into multiple smaller amounts and treats each value as a separate transaction. These are then mixed in with other transactions, making it almost impossible to identify the original operation. It should be noted that this is different than the private send technique used by Dash.
Monero does allow its users to give others a view into their account. If they share their view key then another user can view the account holdings without being able to spend any funds. This is useful for someone who wants to give the authorities access to their account in order to audit their assets.
Monero's focus on anonymity has gained it some notoriety due to its popularity on the darkweb. That being said it is also used by many people with entirely legitimate intentions. It helps users avoid having their purchases tracked by advertising companies. It also helps to protect individuals who might not want their spending habits to be known by less permissive governments.
Monero vs Bitcoin
How does Monero compare to the cryptocurrency leader Bitcoin? Compare the key differences with our head-to-head table.
Monero (XMR)
Bitcoin (BTC)
Purpose
Privacy through untraceable transactions and stealth addresses
Decentralized digital currency
Founded
2014
2009
Founder
Nicolas van Saberhagen (Pseudonym)
Satoshi Nakamoto (alias)
Market Cap
Over $6.5 billion
Over $250 billion
Current Price
All time High
$464 (December 2017)
$19,908 (December 2017)
All Time Low
$0.25 (February 2015)
$0.06 (July 2010)
How long did it take to hit $100?
42 months
51 months
Notable Supporters
Jeff Currie (Goldman Sachs)
Peter Theil (Venture capitalist)
Christine Lagarde (IMF)
Marc Andreessen (Early internet Pioneer)
Supply Cap
18,300,000
21,000,000
Initial Distribution
Mining
Mining
Mining Method
ASIC
ASIC
Consensus Method
Proof of work
Proof of work
Network Hash Rate*
Over 85 Monero per hour
Over 40 bitcoins per hour
Difficulty increase
Difficulty is calculated each block
Every 2,016 Blocks
*Total number of coins mined hourly on the blockchain
How is Monero Made?
Monero is mined in much the same way as other cryptocurrencies. Unlike banks or governments, which physically print currency, Monero is made by its community.
The technology behind Monero is called a blockchain. This acts as a general ledger that tracks every transaction ever made. This allows the Monero network to verify the balances in individual users wallets. To process these transactions users, or "miners" use their computer to process new blocks. They are then rewarded with Monero. This helps to regulate the number of coins on the network and also incentivizes users to mine new Monero.
What is the Price of Monero?
What Drives the Price of Monero?
Monero shares some similarities with other cryptocurrencies. Its price tends to follow Bitcoin and if you see BTC take on a bearish or bullish aspect then you should expect Monero to follow suit. Its value is also partially dictated by media attention as with other cryptocurrencies. Like other cryptocurrencies, Monero is quite volatile. As such, you should expect quite dramatic ups and downs.
Monero's primary price drivers are availability and usability, most notably on the darkweb. When Monero was adopted as a payment method by the darknet market Alphabay it saw a huge spike in value. If another underground trading center adopts Monero then you should expect to see a similar rise as criminals scramble to acquire currency they can trade in.
The value of Monero also gets a boost when accepted by conventional cryptocurrency exchanges. When Bithump announced it was listing Monero the currency jumped above $100 as users began to trade in the altcoin. Bithump's move gave Monero the opportunity to break into the South Korean markets which was a huge boon.
Unlike other cryptocurrencies, Monero is less susceptible to the effects of regulations and attempts to enforce tax codes. Due to the use of ring signatures, it is very difficult to prove who actually owns a Monero token. This means that certain token holders may seek to use Monero to protect their profits from taxation or to prevent states from seizing their funds should cryptocurrencies be made illegal.
The key price drivers for Monero will always be availability and regulation. If you see either that Monero is soon to be approved on a major exchange or that the United States or the European Union are about to tighten cryptocurrency regulation, that's the best time to buy.
What is the Price Outlook for Monero, and What Do Experts Say on Prices?
Monero has consistently increased in value and the outlook for its price in the medium-long term is good. This is especially true as people become more concerned about their privacy and states begin to look at ways to curtail the growth of cryptocurrencies.
You will probably see short-term volatility with gains in the long term.
While Monero might well become a thorn in the side of the taxman, experts generally take a positive view of its privacy-enhancing potential.
When questioned on the matter Anthony Di Lorio, CEO and Founder of Decentral and Jaxx said:
"I'm predicting new well-led projects emerging that provide improvements and enhancements on Bitcoin and Ethereum infrastructures. Two projects I have my eye on in 2017 are Rootstock out of Argentina and Qtum out of China. I'm also quite optimistic about Zcash, Monero, and Dash."

source: Bitcoinmagazine.com
Manfred Karrer, Developer and Founder of Bitsquare said: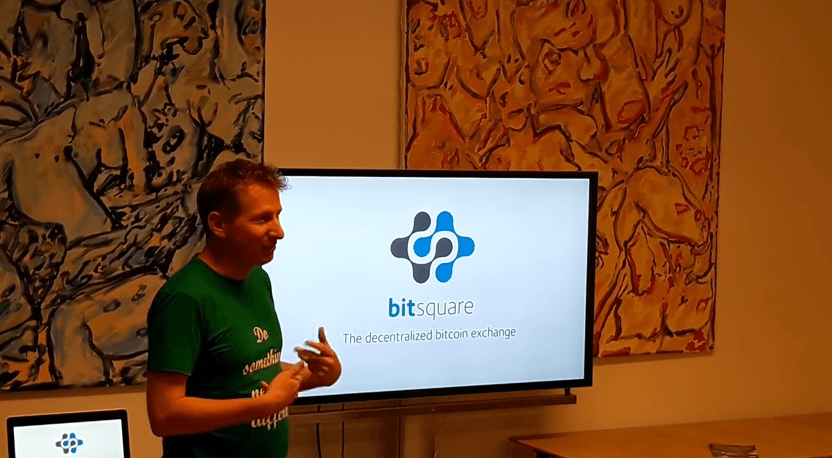 "I expect three things. One, regulations on cryptocurrency exchanges will come. Two, the war on cash, gold and cryptocurrencies will accelerate. And three, privacy-protecting technologies like Monero and Zcash will elevate in importance."
This is a view taken by a number of experts, such as encryption and cryptocurrency specialist Peter Todd. He argues that Bitcoin can inadvertently expose unwanted financial information to people who might abuse it. For example, If you pay your rent in Bitcoin, your landlord might be able to figure out how much money you earn and decide to raise your rent based on this. Monero helps to mitigate these problems and this means that its growth is likely to continue.
Some experts have argued that links to the darkweb are causing irreparable damage to the reputation of cryptocurrencies in general. Specifically that these seedy links play into the hands of establishment critics seeking to curtail Monero, Bitcoin and others. Big banks like Nordea are already using such links to try to encourage lawmakers to legislate against cryptocurrency.
Despite Monero's potential utility for money laundering, its developers have designed the currency for the privacy of ordinary users. Many experts within the cryptocurrency community are supportive of Monero's aims and it is likely that XMR will continue to do well regardless of criticism from the banking sector. In fact, establishment critics may even inadvertently help Monero's cause.
Monero Market Sentiment
We've gathered data from leading exchanges to determine the general feeling in the Monero market. Its calculation is simple; using data from the exchanges listed below, we gather buy and sell volumes for a given time period and weight this against the total transaction volumes.
[cryptocharts currency="XMRUSD"]
Source – CryptoCompare Public API.
3 Reasons to Invest in Monero
Leader of the Privacy coin Pack

Dark Market Acceptance As Payment

Planned Upgrades and Forks
Leader of the Privacy coin Pack
Being one of the earliest coins to deal with the issues surrounding lack of privacy in public blockchains, Monero has made the most of its 'first mover advantage' in the privacy niche and achieved a wide network effect.
Dark Market Acceptance As Payment
A testament to its privacy use case is its acceptance and recommendation as payment on the dark web and dark markets, where privacy of transactions is of utmost importance, and something that every privacy coin would be glad to wear as a badge of honor.
Planned Upgrades and Forks
While Bitcoin was stuck in a two-year block-size battle and couldn't be upgraded, and while Ethereum is also taking years to transition from Proof of Work to Proof of Stake, Monero has planned and periodic hard forks. Every six months on average, the Monero protocol adds upgrades and new technologies through hard-forks that are anticipated network-wide. This process has proved successful in ironing out known bugs and adding enhancements to the network.
2 Reasons to Invest in Monero
Computationally Expensive At Scale

Fierce Competition
Computationally Expensive At Scale
Privacy transactions using various cryptographic proofs to create obfuscation and high levels of privacy are computationally resource heavy when compared to open blockchains. So if Monero achieves any level of major adoption, it may become increasingly difficult to rely on the blockchain keeping up with demand.
Fierce Competition
Although Monero leads the pack, the privacy coin space is quickly becoming crowded. Zcash is also widely mentioned in the media and is taking a share of the attention, as are newer and agile competitors, like PivX and Verge among others. Some have a slew of added features like instant payments and user wallets that operate over the Tor network and that can take advantage of VPNs making them difficult to trace.
How to Buy Monero
So you've decided that you want to trade Monero. Now you just need to figure out where to actually get XMR. Unfortunately buying Monero is not as simple as buying Bitcoin or Ethereum as it's difficult to buy Monero using dollars.
The best way to acquire XMR is through a cryptocurrency exchange. You use these exchanges to trade fiat currency for Monero. Unfortunately, using exchanges can be risky. You need to take care to protect your investment. If you have any problems you are pretty much on your own.
There are two main ways to buy Monero. Which one you decide to use will largely depend upon your priorities.
Coinbase
When deciding how to invest in Monero the first step is to buy Bitcoin. Many users start with Coinbase. They are one of the largest cryptocurrency exchanges and are very well established. Coinbase allows you to buy Bitcoin, Ethereum, and Litecoin using either bank transfer or a credit/debit card. Coinbase comes with a large number of currency pairs and you even have the option to buy Monero with your credit card. Coinbase has a competitive fee rate. Purchasing XMR will typically result in a 3.99% fee if using a credit or debit card and a 1.49% fee for most kinds of bank transfer.
Coinbase requires you to provide your ID and address when registering. This sort of ID verification is a standard procedure used by many exchanges. It is designed to prevent the exchange from being used for money laundering and other criminal activities. This ID vetting should discourage traders who are interested in cryptocurrency precisely because it provides anonymity. Privacy-conscious traders will prefer to take another route.
If you're buying Monero for its privacy protection than you might be concerned about Coinbase's ID verification procedures. Many of the more reputable exchanges consider this to be best practice. It is designed to discourage the exchange from being used for criminal activities like money laundering.
LocalBitcoins
If you are truly concerned about your privacy then you may be better suited to buying your Bitcoin through a peer to peer exchange such as localbitcoins. You should be aware that these exchanges don't offer the same level of security as Coinbase. There have been cases where unscrupulous users have attempted to scam new traders. Make sure you always read the reviews before you trade with someone.
Once you have acquired your Bitcoin, the next step is to decide how to buy Monero. There are a few places you can exchange BTC to XMR. A good option for where to trade Monero for Bitcoin is Kraken. You will have to go through a verification process before you can start trading. More privacy-concerned users may want to consider Bitsquare, although once again you should be aware that this option is less secure than going through an exchange like Kraken. You will need to trust the users you are trading with and rely on Bitsquare's Arbitration system.
Whichever exchange you decide to use, the next step is to swap your BTC for some XMR. You simply need to set up a trade on your chosen exchange and wait for somebody else to take you up on your offer. Once they do, you'll receive some Monero.
When deciding how to get Monero you should keep in mind that using an exchange is always risky. You need to take extra care to keep your computer secure. You should always enable two-factor authorization and avoid keeping all of your coins in a single wallet. If your account or wallet is compromised you could risk losing all of your Monero investment.
Also, remember that you should never leave coins in your exchange wallet unless you are planning to trade them. One way to secure your cryptocurrency is in a hardware wallet or by putting them in cold storage. This involves keeping your cryptocurrency in an offline wallet that only you have access to. Remember, you are entirely responsible for your own security. If you don't own your wallet, you don't own your tokens.
However,
Managing your own Monero is not easy. To begin with, you have more obvious dangers. For example, you might get scammed by an unscrupulous user on a peer to peer exchange like localbitcoins. Unfortunately, if a dishonest user manages to scam you out of your Monero it can be almost impossible to get it back.
On top of this, there are risks completely outside of your control. If you decide to use an exchange you are entirely in their hands. If the owners prove to be dishonest or incompetent you could end up losing your entire Monero investment through no fault of your own. The most well-known example of this is the MtGox incident.
In 2013 MtGox could do no wrong. It was the largest cryptocurrency exchange and controlled over 70% of the market. The problems began in March of 2013 when Fincen seized MtGox's accounts. This prevented users from withdrawing any of their USD funds. Soon after this MtGox was hit by one of the worst hacks in cryptocurrency history. The attackers stole around $500 million worth of bitcoin.
Many users lost everything.
In August 2017 Bitfinex was hit by a similar attack. Hackers compromised their network and stole around $72 million in cryptocurrency. They did this by emptying random users wallets. In order to offset the loss, Bitfinex reduced the balance of all users accounts by around 37%.
When you're investing in cryptocurrency an exchange is the biggest point of weakness. If the owners prove to be incompetent then your trade and currencies are at risk. This can be especially disastrous if you hold a large stake in Monero.
Thankfully there is a better way to buy Monero.
What's the Best Way to Buy Monero?
Our preferred option is to not buy Monero at all and instead to trade Contracts for Difference (CFDs) using a regulated broker.
Rather than directly selling you Monero, a regulated broker trades in contracts for difference (CFDs). This is a contract between you and the broker where you take a short or buy position on an instrument. You do not own the underlying asset but if the market moves in your favor then the broker will agree to pay you the difference between your initial purchase and its current value. Conversely, if the market moves against your position you agree to pay the broker. This allows you take advantage of Monero without ever owning a single coin. Thus removing the point of failure that is an exchange and helping protect you from accidentally supporting unethical activity.
There are a lot of brokers out there and it can be difficult to separate the good from the bad. The first thing you should always check is whether your broker is regulated or not. You should always use a regulated broker. They are regulated to ensure that they comply to strict standards designed to protect your money. You should also take a look at any fees or commissions. We would recommend that you also look at what risk management tools the broker offers and take advantage of any demos before you make your choice.
If this all sounds a little daunting then don't worry, we are on hand to help. After looking at what each broker has to offer we have decided that Plus500 offers one of the best ecosystems within which to trade Monero CFDs.

Plus500 – Our Top recommendation for trading in Monero CFDs (76.4% of retail CFD accounts lose money)
Plus500 is a great way to trade Monero CFDs. Plus500 subsidiaries are individually regulated by the following agencies; Financial Conduct Authority (FCA), Cyprus Securities Exchange (CySEC), Australian Securities and Investments Commission (ASIC).  Plus500 is also authorized by the Financial Services Provider In South Africa under FSP 47546.
See the table below for exactly which regulator covers you in your country and what protection is offered.
| Regulator | Countries Covered | Protection Offered |
| --- | --- | --- |
| Financial Conduct Authority (FCA) | UK, Ireland and Germany | All client funds are held in a segregated client bank account |
| Cyprus Securities Exchange (CySEC) | Andorra, Argentina, Austria, Bahrain, Belgium, Bulgaria, Chile, Croatia, Cyprus, Czech Republic, Denmark, Estonia, Finland, France, Gibraltar, Greece, Hungary, Iceland, Isle of Man, Israel, Italy, Kuwait, Latvia, Liechenstein, Lithuania, Luxembourg, Malaysia, Malta, Mexico, Monaco, The Netherlands, Norway, Oman, Poland, Portugal, Qatar, Romania, Saudi Arabia, Slovakia, Slovenia, Spain, South Africa, Sweden, Switzerland, United Arab Emirates and Uruguay. | All client funds are held in a segregated client bank account |
| Australian Securities & Investments Commission (ASIC) | Australia, New Zealand and South Africa | All client funds are held in a segregated client bank account |
How much does it cost to trade Monero CFDs with Plus500?
Plus500 has a very competitive fee structure. Unlike some other brokers, they charge zero commission. Instead, users are only charged on the spread of their CFD trades (spreads are variable). You should keep in mind that there are premiums for holding an overnight position and you might be charged an inactivity fee if you do not use your account in a 3 month period.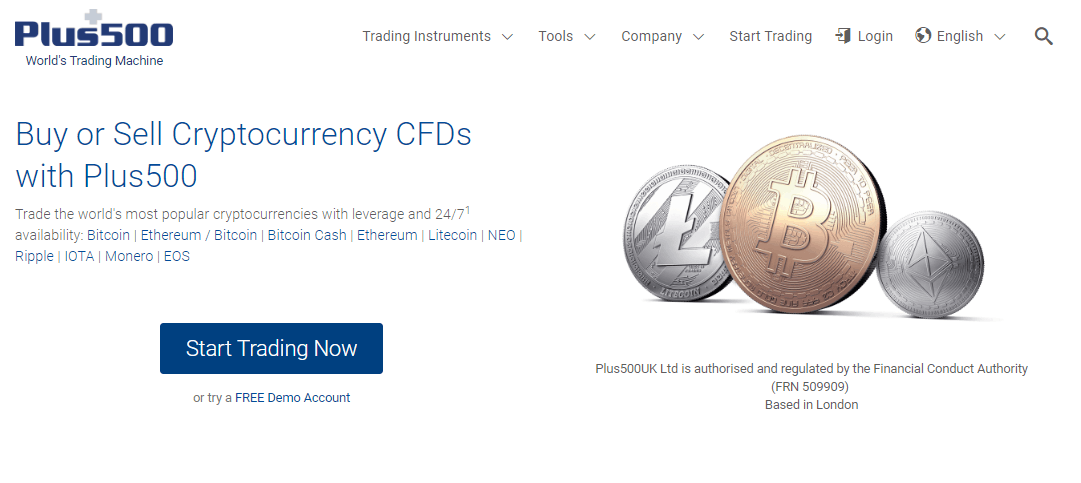 Plus500 also provides some of the best risk management tools out there. Not only do you have the ability to set close at loss or close at profit limits but you also have a rare and useful tool known as a trailing stop. This allows you to set your stop position to grow with the market. This means you can increase your profit without having to manually adjust your stop positions and if the market turns against you, you'll still be protected. This feature is not available from every broker and it helps to cut out a lot of micromanagement.
Plus500 have gone out of their way to make their platform accessible to traders around the world. The interface is simple to understand and should help newer traders ease into trading in Monero CFDs. They also offer their platform in over 31 languages and it has been localized in 50 countries. This allows traders from all over the world to feel comfortable using Plus500.
Many of us spend a lot of our time away from our computers so another useful addition is Plus500's mobile app. This functions very much like their desktop app and can help you trade while you're away from the desk. One feature that we found particularly useful was the inclusion of the demo mode on the app.
Other brokers might suit traders with very specific needs but Plus500 is probably the best choice for the vast majority of traders and we would find difficulty in recommending anyone else.
Plus500 Summary
Convenient access to Monero CFD trading.
Easy sign-up, compared to the cumbersome process of enlisting in a cryptocurrency trading exchange
Guaranteed execution at a fixed price, without having to wait for another Monero investor to agree to a buy or a sell transaction
Allowance for credit or debit cards, a service generally not allowed on cryptocurrency trading exchanges
Allowance to trade 10 or more cryptocurrency CFDs, including Bitcoin, Ethereum, Monero, and Litecoin
Free real-time quotes and 24/7 trading availability
Intuitive charting tools
80.5% of retail CFD accounts lose money.
Any trade is a risk and Monero is a very volatile commodity. When you're considering how to buy Monero CFDs you need to remember that even if you use a regulated broker your capital is still at risk. If the market turns against you there is the chance you could lose some or all of your initial capital.
Trading in Monero CFDs is the same as trading in any other instrument. Make sure that you follow the golden rule. Only spend what you can afford to lose. If you follow this and use a regulated broker to protect yourself then you are well on your way to making the most of your Monero CFD trades.
How to Find Monero on Plus500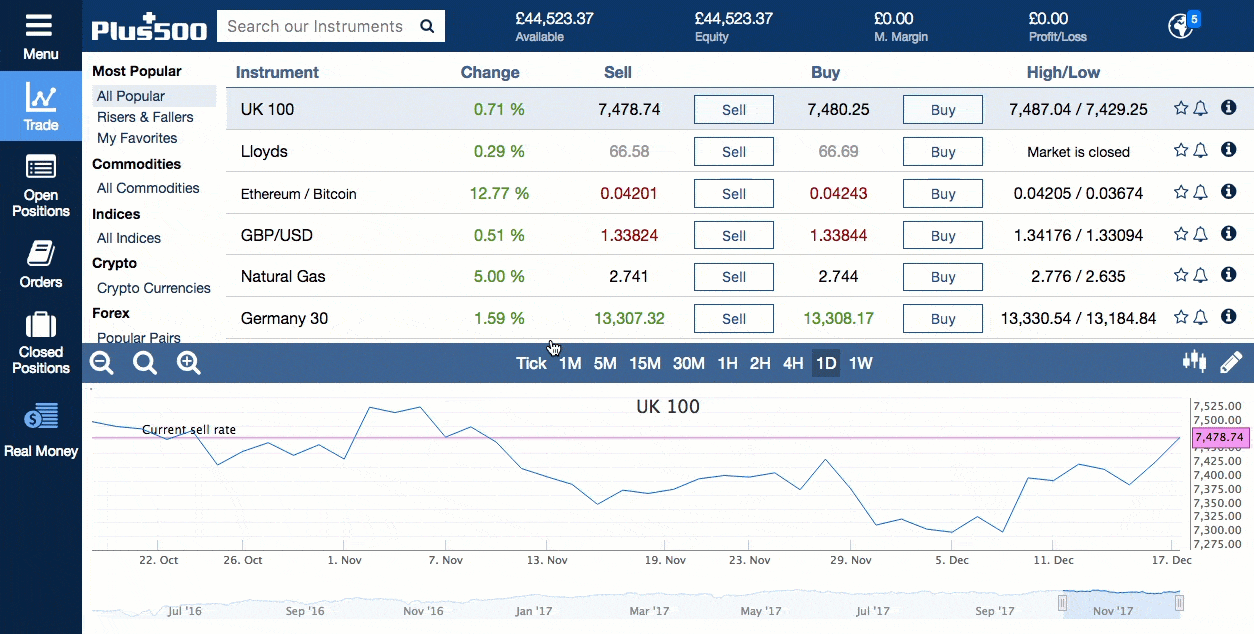 Example trade – not a trading recommendation!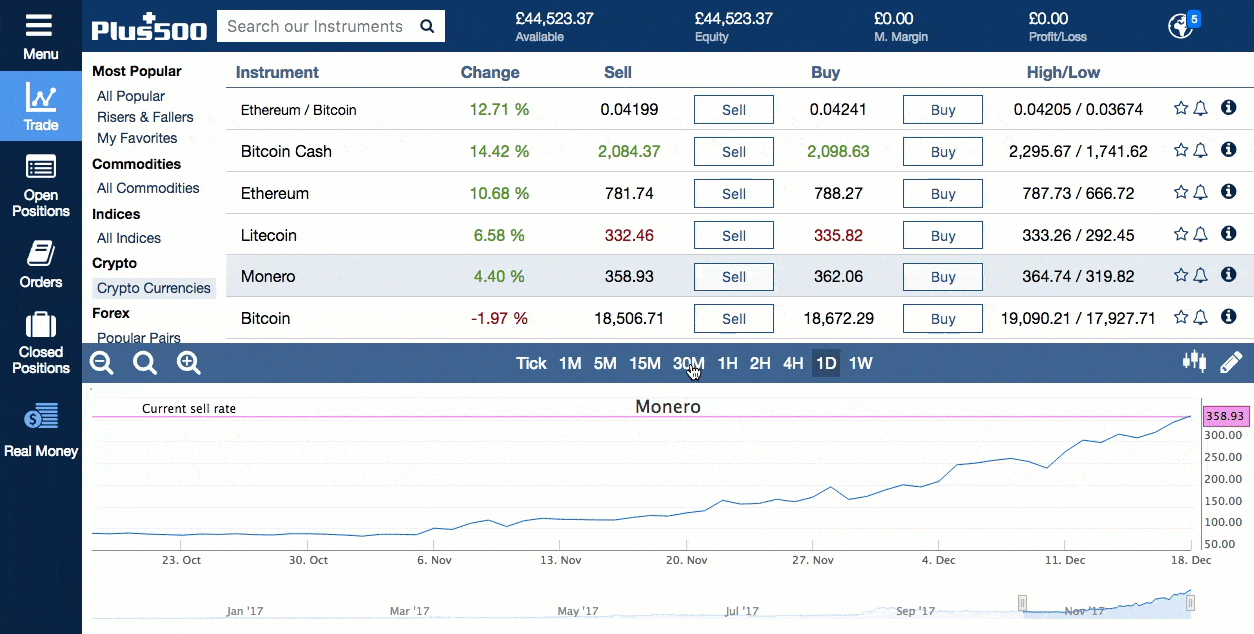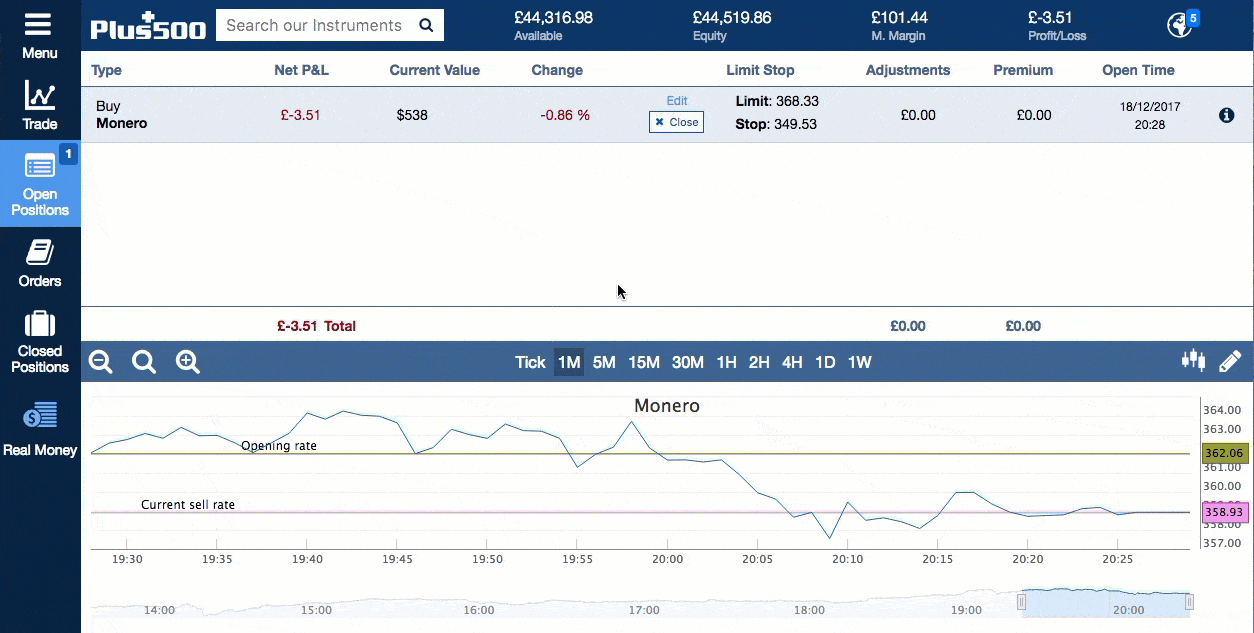 Important: CFDs are complex instruments and come with a high risk of losing money rapidly due to leverage. Between 74-89% of retail investor accounts lose money when trading CFDs. You should consider whether you understand how CFDs work and whether you can afford to take the high risk of losing your money.