Disclosure:
Your support helps keep Commodity.com running! We earn a referral fee for some brokers & services we list on this page.
Learn more...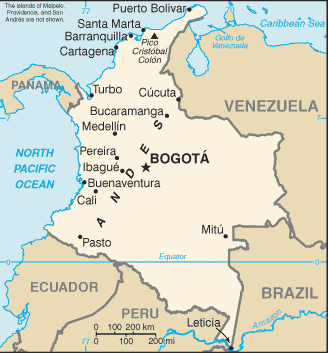 Economy of Colombia -Overview
Colombia is ranked as the 45th largest export economy in the world and has annual exports of $30.2 billion and imports of $42.9 billion, meaning it has a negative trade balance of $12.6 billion.
The value of its exports has fallen sharply over the last years at an annualized rate of -13.5%, from $61.1 billion to $30.2 billion during that time.
The GDP of Colombia is $282 billion and its GDP per capita is $14,200.
Colombia has received over $150 billion in total foreign direct investment during the last fifteen years and the general consensus among analysts would appear to be that, with armed conflicts within the country being gradually replaced by a stable political process, economic conditions could become more favorable in the future.
Colombia's Top 5 Commodity Exports
| Commodity | Amount (Annually) |
| --- | --- |
| Crude Petroleum | $7.87 billion |
| Coal Briquettes | $4.39 billion |
| Coffee | $2.45 billion |
| Refined Petroleum | $1.96 billion |
| Gold | $1.18 billion |
Colombia's Other Notable Exports
Cut Flowers – $1.31 billion
Bananas – $915 million
Pesticides – $424 million
Packaged Medicaments – $383 million
Cars – $364 million
The top export destinations of Colombia are the United States ($10.2 billion), Panama ($1.91 billion), the Netherlands ($1.21 billion), Ecuador ($1.2 billion) and Spain ($1.16 billion).
Colombia's Top 5 Commodity Imports
| Commodity | Amount (Annually) |
| --- | --- |
| Refined Petroleum | $3.51 billion |
| Corn | $871 million |
| Wheat | $460 million |
| Soybean Meal | $477 million |
| Soybeans | $214 millon |
Colombia's Other Notable Imports
Cars – $1.84 billion
Packaged Medicaments – $1.33 billion
Broadcasting Equipment – $1.23 billion
Telephones – $551 million
Vehicle Parts – $456 million
More Information on Colombia's Imports/Exports
Crude Petroleum
Shipments of crude petroleum account for 26% of Colombia's total exports, making it the biggest export of the country.
Worldwide exports of crude petroleum are worth $275 billion each year and Colombia has a 2.9% share of that market. The country ranks as the 11th largest exporter, and the second largest exporting country in South America, behind Brazil (3.6%).
Coal Briquettes
Exports of coal briquettes represent 15% of Colombia's annual export total and the country is the fourth largest exporter of this commodity with a 6.5% share of a market that is worth $67.7 billion annually.
Colombia exports coal briquettes to many different countries and the three biggest importers of this product are the Netherlands (17%), the United States (12%) and Turkey (17%).
Coffee
Coffee is an important commodity export of Colombia and annual shipments worth $2.45 billion contribute 8.1% of the country's total exports of $30.2 billion.
Colombian coffee producers were forced to take action and change its production structure in response to problems with leaf rust attacks caused by climate change. These renovated plantations allowed coffee production to reach a record-breaking level of 14.6 million bags recently.
Refined Petroleum
Shipments of refined petroleum account for 6.5% of Colombia's annual exports and with worldwide sales of $412 billion per year, the country has a 0.48% share of this global market with its shipments being worth $1.96 billion.
Colombia exports 47% of its refined petroleum shipments to the United States, and Bonaire (12%) is the second largest importer of this commodity from Colombia.
Gold
Global exports of gold are valued at $324.6 billion annually. Colombia does not feature among the top fifteen exporters, although its shipments worth $1.18 billion account for 3.9% of the country's total exports.
The United States is the primary destination for Colombia's gold exports, importing 69% of its annual shipments, followed by Switzerland on 28%.
A Few Interesting Facts About Colombia
Colombia's famous drug baron, Pablo Escobar, once offered to pay the country's national debt of $10 billion in an effort to enhance his reputation and avoid prosecution.
Colombia is ranked as the second most biodiverse country in the world and is one of only seventeen so-called "megadiverse" countries on the planet.
The city of Bogota has South America's largest network of bicycle routes (300km).
All figures based on OEC/IMF 2016 calculations and projections unless otherwise stated.
Interested in Trading Commodities?
Start your research with reviews of these regulated brokers available in .
Loading table...
CFDs are complex instruments and come with a high risk of losing money rapidly due to leverage. Between 73.90%-89.00% of retail investor accounts lose money when trading CFDs. You should consider whether you understand how CFDs work and whether you can afford to take the high risk of losing your money.