Disclosure:
Your support helps keep Commodity.com running! We earn a referral fee for some brokers & services we list on this page.
Learn more...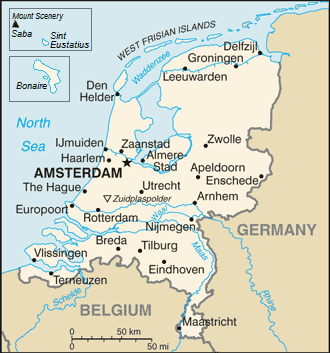 Economy of the Netherlands – Overview
The Netherlands is the ninth largest export economy in the world, exporting $435 billion of goods each year. This means it has a positive trade balance of $42.8 billion after deducting annual imports of $393 billion.
Over the last few years, the country has suffered a fall in export sales at an annualized rate of 5.986% with export values falling from $510 billion to $435 billion during that period.
According to World Bank figures, the Netherlands has a GDP of $770.8 billion, which equates to a GDP per capita of $45,294.78.
Despite only having 17 million inhabitants, the Netherlands is ranked as the 18th largest economy in the world.
The Netherlands' Top 5 Commodity Exports
| Commodity | Amount (Annually) |
| --- | --- |
| Refined Petroleum | $34.4 billion |
| Scrap Iron | $2.11 billion |
| Tomatoes | $1.74 billion |
| Aluminum | $1.71 billion |
| Gold | $1.22 billion |
The Netherlands' Other Notable Exports
Computers – $14.3 billion
Telephones – $13.4 billion
Packaged Medicaments – $13.5 billion
Cut Flowers – $4.16 billion
Cheese – $3.47 billion
The Netherlands' top export destinations are Germany ($99 billion), Belgium ($45.9 billion), the United Kingdom ($40 billion), France ($36.1 billion) and the USA ($19.2 billion).
The Netherlands' Top 5 Commodity Imports
| Commodity | Amount (Annually) |
| --- | --- |
| Cocoa Beans | $2.55 billion |
| Soybeans | $1.86 billion |
| Gold | $1.19 billion |
| Palm Oil | $1.59 billion |
| Coffee | $1.07 billion |
The Netherlands' Other Notable Imports
Computers – $15.5 billion
Telephones – $14.4 billion
Medical Instruments – $7.72 billion
Rubber Tires – $2.41 billion
Wine – $1.31 billion
More About the Netherlands' Commodities
Refined Petroleum
Refined petroleum accounts for 7.8% of the Netherlands' total annual exports, and the country is ranked as the fourth largest exporter with an 8.3% share of an annual global export market worth $412 billion.
There are five main oil refineries in the Netherlands, with major oil companies such as BP, ExxonMobil, Shell and Total, all having a stake in at least one of them. These refineries are geographically positioned for optimizing inland demand while serving export markets equally efficiently.
Scrap Iron
The Netherlands is the fourth largest exporter of scrap iron and enjoys a 9.3% share of an annual export market worth $22.8 billion.
Turkey and Finland are key export destinations for the Netherlands' scrap iron exports, and the USA and China account for only 6% of its annual exports of this product.
Tomatoes
Only Mexico (26%) exports more tomatoes than the Netherlands (22%) and when you include Spain (13%), these three countries account for 61% of the $8.06 billion annual export market.
The Netherlands has committed to sustainable agriculture, which means tomato growers are among the farmers in the country who have managed to work toward the goal of producing twice as much food while using half as many resources.
This means they have almost eliminated the need for chemical pesticides and have reduced water dependence by as much as 90% in some cases.
Aluminum
The Netherlands has a 4.6% share of the annual $37.2 billion raw aluminum market and it is the sixth largest exporter in the world.
Germany is the biggest export destination for the Netherlands' raw aluminum exports and they take 55% of the Dutch annual export total of $1.71 billion.
The Netherlands is home to one of the primary aluminum smelting operations in the world, which is based in Delfzijl.
Gold
The Netherlands is responsible for a very small percentage of the annual gold export total of $288 billion, a market which is dominated by Switzerland with a 28% market share, compared to the Netherlands 0.42%.
Germany has an almost exclusive arrangement with the Netherlands when it comes to gold exports, as it is the destination for 94% of its annual shipments of the precious metal.
Interesting Facts About The Netherlands
About 80% of the world's flower bulbs originate from the Netherlands
The country is the most densely populated in Europe with 17 million people squeezed into 41,500 square kilometers
There are estimated to be more bicycles in the country than people
About 60% of the land is dedicated to agriculture and horticulture
All figures based on OEC/IMF 2016 projections unless otherwise stated.
Interested in Trading Commodities?
Start your research with reviews of these regulated brokers available in .
Loading table...
CFDs are complex instruments and come with a high risk of losing money rapidly due to leverage. Between 73.90%-89.00% of retail investor accounts lose money when trading CFDs. You should consider whether you understand how CFDs work and whether you can afford to take the high risk of losing your money.