Disclosure:
Your support helps keep Commodity.com running! We earn a referral fee for some brokers & services we list on this page.
Learn more...
Ripple and the Ripple network have the potential to completely change the way that we approach currency transfers.
Big banks and small-time traders have all begun to take notice and Ripple is one of the most successful Altcoins.
On this page, we discuss some interesting facts about Ripple and dive into what TechCrunch's founder thinks about the popular altcoin.
We also explore how Ripple is mined and how it compares to Bitcoin as an in-use cryptocurrency.
5 Useful Ripple Facts You Might Not Know
Bank of England: Conducted a proof of concept test with Ripple, integrating the company's blockchain technology for simulated cross-border payment.
Work on the Ripple payment protocol first started in 2004, (5 years before Bitcoin released) under the project name "Ripplepay".
A Ripple transaction can involve non Ripple assets such as any currency, cryptocurrency, and other digital assets such as airline miles.
 American Express and Santander have partnered with Ripple for cross-border payments between the U.S. and the U.K. by using blockchain technology.
Ripple Labs were involved in a lawsuit with rival platform developers R3.
What is Ripple?
Ripple is the name for both the digital currency XRP and the open payment network within which the currency is transferred.
Ripple was founded in 2012. It was designed to complement rather than compete with cryptocurrencies and fiat currencies.
Ripple's goal is to enable secure, instant and nearly free global financial transactions.
It is used by many banks as the basis of their own settlement infrastructure. The currency itself, XRP, has consistently been one of the five largest cryptocurrencies by market cap.
How Is Ripple Designed?
Ripple is designed to work with the Ripple Network (RTXP). The Ripple network allows real-world assets to be transferred between two parties using a process called an issuance.
For example, a bank may want to transfer a real-world asset, like gold, to another institution. To do this the bank adds the gold to the Ripple network and then transfers the asset to a "trusted party" who can reclaim the goods.
This allows the trade to happen without any transaction fees.
How Are Ripple Holder Compensated?
A small amount of XRP is taken during each transaction. This isn't to compensate traders. Instead, the Ripples are irrevocably destroyed. This prevents users from spamming the network with requests.
Put simply, Bitcoin and Ethereum are more like bank accounts. Users can trade them in exchange for goods and services.
Ripples are designed to be a passageway for transactions to take place and as a bridge between other currencies. It was never really intended to be a stand-alone currency like Bitcoin and Ethereum.
How Is Ripple Mined?
Unlike the majority of other cryptocurrencies, XRP is not "made". Instead, it was all insta-mined during the genesis event. XRP are not really designed to be traded in the same way as Bitcoin or other cryptocurrencies.
Instead, they act as a way to protect the system from being spammed and help to convert real-world assets into issuances.
Ripple vs Bitcoin: Similarities And Differences
How does Ripple compare to Bitcoin? What are the key differences? See below for our head-to-head comparison:
Ripple (XRP)
Bitcoin (BTC)
Purpose
Centralized enterprise blockchain solution for banks, payment providers and digital asset exchanges
Decentralized digital currency
Founded
2012
2009
Founder
Ryan Fugger
Satoshi Nakamoto (alias)
Market Cap
Over $40 billion
Over $250 billion
Current Price
All time High
$1.35 (December 2017)
$19,908 (December 2017)
All Time Low
$0.0002 July 2014
$0.06 (July 2010)
How long did it take to hit $100?
Ripple has yet to reach $100
51 months
Notable Supporters
Jeff Currie (Goldman Sachs)
Peter Theil (Venture capitalist)
Christine Lagarde (IMF)
Marc Andreessen (Early internet Pioneer)
Supply Cap
100,000,000,000
21,000,000
Initial Distribution
All XRP was instamined
Mining
Mining Method
Ripple is not mined
ASIC
Consensus Method
Proof of correctness
Proof of work
Network Hash Rate*
N/A
Over 40 BTC per hour
Difficulty increase
N/A
Every 2,016 Blocks
What is the Price Outlook for Ripple, and What Do Experts Say on Prices?
Ripple's price outlook in the short to medium term is fairly stable, especially if you want to trade using fiat currencies.
The value of Ripple to USD has broadly followed its market cap although the value of XRP to BTC has been more volatile. This makes sense as Ripple is designed as a bridging currency.
A Positive Long-Term Outlook (For Now)
The long-term outlook for Ripple is good. While experts fret about looming regulation it is unlikely Ripple will be adversely affected. The unique utility of RTXP means that it may find allies with traditional financial institutions.
Ripple will also do well as speculation begins to subside. Currencies with strong utility will become more valuable. Peter Smith, CEO of Blockchain, has argued that there will be a big need for "cross border transactions".
This is an area that Ripple already excels in. The future might be rocky for cryptocurrencies but Ripple is poised to do well.
Michael Arrington of TechCrunch: What Does He Say?
Techcrunch founder,  Michael Arrington announced a crypto hedge fund in November that will be denominated in the Ripple (XRP).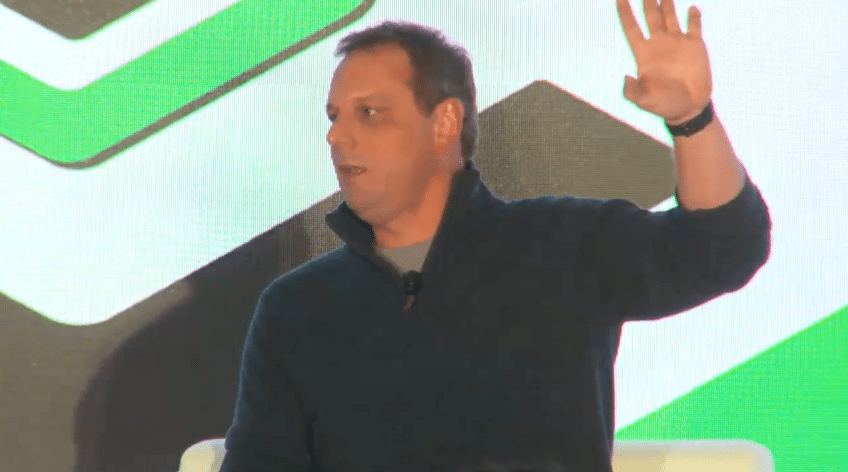 "We are launching a $100 million crypto hedge fund. The fund is denominated in XRP. It's actually a pretty perfect platform for a hedge fund if you want to be denominated in a crypto currency I think XRP is perfect for that."

Michael Arrington
Further Reading
If you like to learn more about cryptocurrencies in general, you can: