Why is Cocoa Valuable?
Cocoa is a food derived from the dried and fermented seeds (beans) of the Theobroma Cacao plant, which means "food of the gods" in Greek. Cocoa is primarily used to make chocolate.
The Mayans first cultivated cocoa trees more than 5,000 years ago and made a ritual beverage from the seeds. In the 15th century Spain began to acquire cocoa, and by the 17th century cocoa's popularity spread throughout Europe.
Today civilizations all around the world enjoy cocoa in thousands of different ways. With the annual consumption of cocoa beans topping 4.5 million tons, cocoa is an important commodity in world markets.
How is Cocoa Grown?
Cocoa trees grow in tropical regions. They require humidity, good soil drainage and consistent rainfall to grow properly.
There are three widely known species of the Theobroma Cacao plant:
Criollo – Primarily grown in Central America
Forastero – Primarily grown in West Africa and South America
Trinitario – Grown in all cocoa-growing regions
Growers use one of two methods to plant the crop:
They plant young trees between permanent or temporary plants such as coconuts, plantains and bananas. These crops provide shade for the young cocoa plants.

They thin out mature cocoa plants and place the young trees between the older plants.
The Theobroma Cacao plant that produces cocoa beans grows to be 30 feet tall and produces colorful flowers and white fruit. A cocoa tree takes five years to produce cacao pods, which are the name given to its fruit. Cacao pods have reddish-orange or yellow coloring and very hard shells.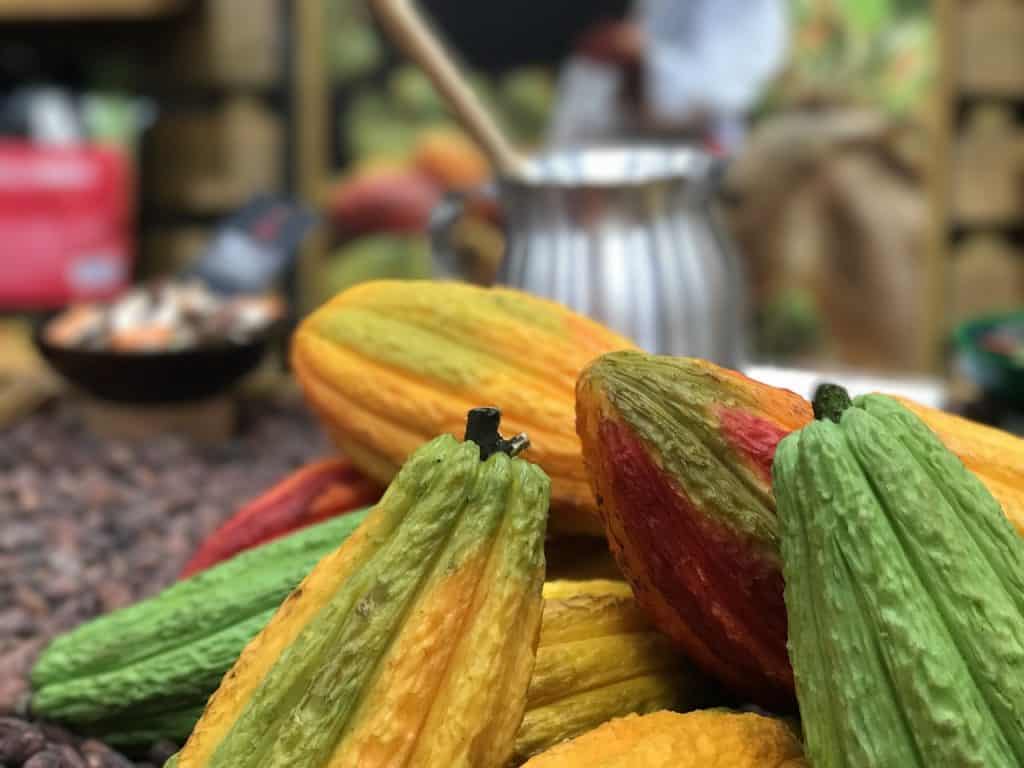 The peak growing period for a cocoa plant is ten years, but some trees can continue to be productive for decades. Once cacao pods begin to grow, they take four to five months to mature and several weeks after that to ripen. Each cacao pod contains about 40 to 50 beans.
Cacao pods grow from the trunk and branches of the cocoa tree. The timing of the harvest is important since the beans begin to germinate if they are left on the tree for more than three to four weeks after ripening. Once they are ripe, farmers cut the fruit from the trees with machetes or sharp knives, extract the wet beans and begin the process of drying and fermenting. 
Fermentation takes three to seven days, and the sun drying process takes several more days. 
The top cocoa producing countries are all within 20 degrees of the equator.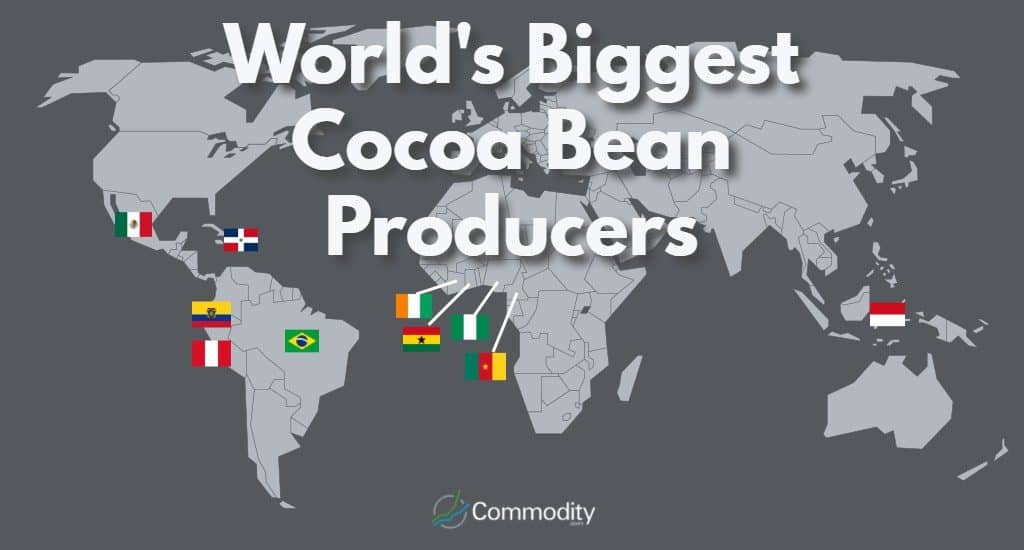 Top 10 Cocoa Bean Producing Countries
| Rank | Flag | Country | Tons of Cocoa Beans Produced per Year |
| --- | --- | --- | --- |
| #1 | | Ivory Coast | 1,448,992 |
| #2 | | Ghana | 835,466 |
| #3 | | Indonesia | 777,500 |
| #4 | | Nigeria | 367,000 |
| #5 | | Cameroon | 275,000 |
| #6 | | Brazil | 256,186 |
| #7 | | Ecuador | 128,449 |
| #8 | | Mexico | 82,000 |
| #9 | | Peru | 71,175 |
| #10 | | Dominican Republic | 68,021 |
The top importers of the commodity are predominantly North American and Western European countries.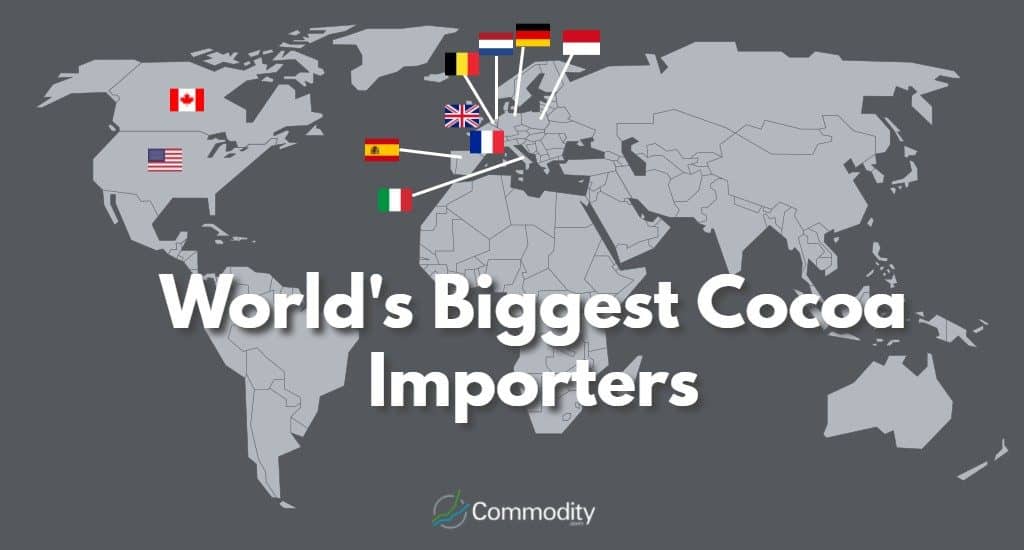 Top 10 Cocoa Importing Countries
| Rank | Flag | Country | Volume of Cocoa Products Imported in Metric Tons | Value of Cocoa Products Imported in USD (million) |
| --- | --- | --- | --- | --- |
| #1 | | USA | 1,330,167 | 5,209 |
| #2 | | Germany | 1,099,643 | 4,792 |
| #3 | | Netherlands | 1,294,792 | 4,702 |
| #4 | | France | 793,101 | 3,368 |
| #5 | | Belgium | 715,195 | 2,858 |
| #6 | | UK | 579,583 | 2,517 |
| #7 | | Canada | 349,386 | 1,547 |
| #8 | | Italy | 310,541 | 1,260 |
| #9 | | Spain | 349,581 | 1,193 |
| #10 | | Poland | 265,983 | 1,134 |
Consumers use cocoa in both food and non-food applications:
4 Main Uses of Cocoa
Use of Cocoa
Description
Cocoa Liquor

The main ingredient in chocolate and confectionery products
Cocoa Powder

Used as an ingredient in chocolate-flavored drinks and desserts
Cocoa Butter

Used to manufacture chocolate as well as cosmetic products such as moisturizing cream and soap
Cocoa Husks

The husks of cacao pods and the pulp surrounding the beans have a variety of commercial uses:
Animal feed
Ingredient in the production of soft drinks and alcoholic beverages
Soap manufacturing
Fertilizer for cocoa, vegetables and other crops
Pectin production for jams and marmalades
Mulch

Ready to Start Trading Cocoa?
Our recommended brokers for trading cocoa are:
What Drives the Price of Cocoa?
The price of cocoa is driven mostly by these six factors:
Supply

Climate

Production Cycle

Infrastructure and Transportation

Consumer Preferences

British Pound
Supply
The supply of cocoa is heavily concentrated geographically. Over 60% of global production comes from a few countries in Western Africa with the Ivory Coast being the largest grower.
Cocoa prices can experience wide swings as a result of news from this region. Political and civil unrest and labor disputes can create supply bottlenecks that lead to sharp rises in prices. The Ivory Coast, for example, has experienced political corruption and instability since declaring its independence. A rise in political tensions in this country could severely hamper cocoa supply.
Climate
Cacao pods require a mix of wet weather and sunshine to ripen.
Each stage of the five-year process from planting to fruit production requires ideal weather conditions. Episodes of long drought conditions or heavy rains can cause the pods to dry out or rot. Since weather determines the yield of crop, it can have a major impact on cocoa prices.
Production Cycle
The production cycle from cocoa planting to harvesting is a multi-year endeavor.
Farmers have to make decisions about crop production long before they will see profits from their investment. Factors including the future outlook for prices impact the quantity of production.
However, because there is such a long growth cycle, the market supply of cocoa often can't quickly react to changes in demand. This can lead to cocoa shortages and spikes in price. Compounding this problem is the fact that cocoa is perishable and can't be stored indefinitely.
Infrastructure and Transportation
Cocoa is grown in mostly impoverished parts of the world with limited infrastructure.
Poor roads and transportation equipment make the region susceptible to supply disruptions. Excessive rain, for example, can lead to significant delays in transporting cocoa to consumers. These delays can result in supply shortages and higher prices.
Consumer Preferences
Changes in consumer tastes can affect demand for cocoa and impact prices.
In many western countries, dark chocolate consumption is on the rise due to positive publicity about its health benefits. Dark chocolate requires more cocoa to produce than milk chocolate.
Emerging market consumers can also drive cocoa prices. Since chocolate is a discretionary item, wealth affects its demand. As emerging economies acquire more wealth, their demand for chocolate products will probably grow.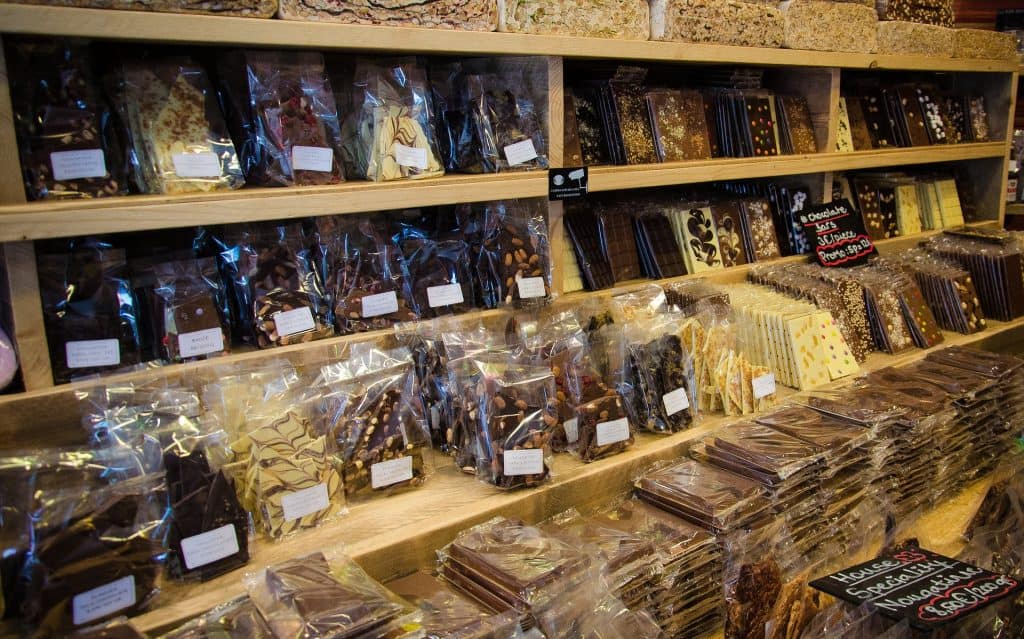 British Pound
Cocoa is one of the last remaining commodities to be traded in British pounds.  When the pound weakens, the price of cocoa becomes more expensive on the London futures market. However, US futures for cocoa trade in dollars, so their price is affected by the US currency.
3 Reasons You Might Invest in Cocoa
Investors purchase agricultural commodities such as cocoa for a variety of reasons, but the following are most common:
Speculation

Bet on Growing Demand

Portfolio Diversification
Speculation
Most cocoa production occurs in a few countries in Western Africa.
Weather and local politics play a big role in creating and alleviating supply bottlenecks.
Cocoa prices can be very volatile. Investors looking to speculate on short-term bottlenecks in supply might see cocoa as an attractive investment
Bet on Growing Demand
There are many reasons to expect cocoa demand to grow strongly in the years and decades ahead.
Emerging market countries are getting wealthier

and adopting Western dietary customs. Chocolate is a luxury item that could see great demand as these countries get richer.

Dark chocolate is considered a health food

. It is rich in antioxidants, lowers cholesterol and protects against cancers.

As healthy eating habits become more prevalent worldwide, cocoa demand could grow sharply.

Western taste for chocolate is growing. Whether it's the perceived health benefits of dark chocolate or the sweet tooth of consumers, chocolate consumption in mature Western economies shows no signs of slowing down. Growth in demand in Europe and North America could push cocoa prices higher. 
Portfolio Diversification
Commodities such as cocoa provide portfolio diversification to traders. They generally have low correlation with other financial assets and offer protection during inflationary periods.
Should I Invest in Cocoa?
Cocoa prices can be very volatile, so investing in the commodity could produce big gains or big losses.
Investing in cocoa can be more than just a speculative play on a supply shortage. An investment in cocoa is a way to diversify the assets in a portfolio away from financial products and into commodities.
A basket of commodities that includes cocoa, other soft commodities, metals and energy could mitigate overall portfolio risk and provide protection during times of inflation.
Investing in cocoa is also a way to profit from 3 long-term trends:
Growing wealth in emerging markets

could boost cocoa consumption.

Global warming trends

could damage the long-term production of cocoa trees and lead to supply shocks.

Health-conscious consumers

might increase their consumption of dark chocolate in the years ahead. Chocolate is unusual among health foods in that most people enjoy its taste.
Cocoa traders should also consider the risks involved in investing:
Global concerns about obesity could curtail demand.

Although dark chocolate has health benefits,

it also has a very high fat content

. Milk chocolate has both high amounts of sugar and fat.

Strength in the British pound

could lower cocoa prices in some markets.

Oversupply of cocoa could put pressure on prices

. If Western African cocoa-producing countries

attain political stability

and

upgrade manufacturing facilities

, cocoa production could increase and prices fall.

Cocoa is a volatile commodity

that could move lower without any specific catalyst.
What Do the Experts Think About Cocoa? 
Experts see reasons for pessimism about cocoa prices in the short term, but they also see a favorable long-term backdrop for the commodity.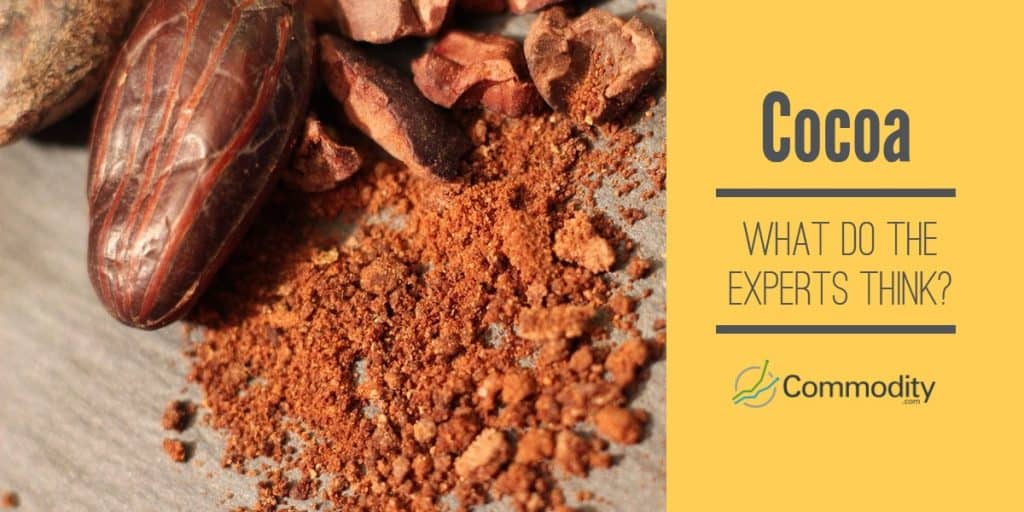 Ideal weather conditions in Western Africa may lead to bumper crops for the commodity in the near-term.
…weather conditions are seen to be improving, fueling the selloff.

– Wilfred Chong, Phillip Futures commodities dealer
Other analysts point to waning consumer demand as the culprit for weak prices going forward.
Whilst consumers are still looking to indulge, they are also increasingly concerned with eating better.

– Euromonitor analysts
However, despite his concern about the supply overhang on cocoa from weather, Chong sees a reason to be optimistic about the long-term prospects for cocoa.
There may be a rising number of health conscious individuals but there is also a growing popularity over health benefits of cacao and cocoa. Such trends take a much longer period to make a significant difference.

– Wilfred Chong, Phillip Futures commodities dealer
How Can I Invest in Cocoa?
Cocoa traders have several ways to invest in the commodity:
Cocoa Trading Methods Compared
| Method of Investing | Complexity Rating (1 = easy, 5 = hard) | Storage Costs? | Security Costs? | Expiration Dates? | Management Costs? | Leverage? | Regulated Exchange? |
| --- | --- | --- | --- | --- | --- | --- | --- |
| Cocoa Futures | 5 | N | N | Y | N | Y | Y |
| Cocoa Options | 5 | N | N | Y | N | Y | Y |
| Cocoa ETFs | 2 | N | N | N | Y | N | Y |
| Cocoa CFDs | 3 | N | N | N | N | Y | Y |
Cocoa Futures
The New York Mercantile Exchange (NYMEX), which is part of the Chicago Mercantile Exchange (CME), and the Intercontinental Exchange (ICE) offer a contract on cocoa that settles into 10 metric tons of the commodity.
The CME contract trades globally on the CME Globex electronic trading platform and has expiration months of March, May, July, September and December.
Futures are a derivative instrument through which traders make leveraged bets on commodity prices. If prices decline, traders must deposit additional margin in order to maintain their positions. At expiration, the contracts are financially settled on the NYMEX, but physically settled on the ICE.
Investing in futures requires a high level of sophistication since factors such as storage costs and interest rates affect pricing. 
Cocoa Options on Futures
Both the CME and ICE offer an options contract on cocoa futures. The CME contracts are options on the Physically Delivered Cocoa futures contract that trades on the CME Europe exchange. The ICE contracts are options on its physically delivered cocoa futures contract.
Options are a derivative instrument that employs leverage to invest in commodities. As with futures, options have an expiration date. However, options also have a strike price, which is the price above which the option finishes in the money.
Options buyers pay a price known as a premium to purchase contracts. An options bet succeeds only if the price of cocoa futures rises above the strike price by an amount greater than the premium paid for the contract. Therefore, options traders must be right about the size and timing of the move in cocoa futures to profit from their trades. 
Cocoa ETFs
These financial instruments trade as shares on exchanges in the same way that stocks do. There are two ETFs that invest in cocoa futures:
Top 2 Cocoa ETFs
| iPath Dow Jones-UBS Cocoa ETN | iPath Pure Beta Cocoa ETN |
| --- | --- |
| | |
Shares of Cocoa Companies
There are no pure-play global public companies engaged in the production and sale of cocoa. Some chocolate manufacturers such as Hershey Co. (NYSE: HSY) invest in cocoa futures to offset their risk from higher cocoa prices. While Hershey may be able to pass some cocoa price increases to consumers, ultimately higher prices hurt its profits.
Cocoa CFDs
One way to invest in cocoa is through the use of a contract for difference (CFD) derivative instrument. CFDs allow traders to speculate on the price of cocoa. The value of a CFD is the difference between the price of the shares at the time of purchase and the current price.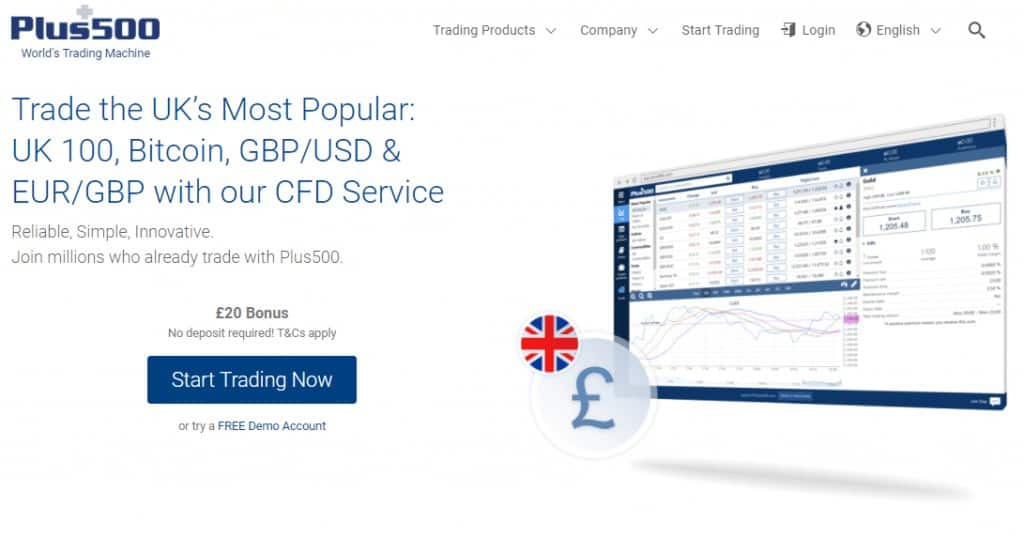 Many regulated brokers worldwide offer CFDs on cocoa. Customers deposit funds with the broker, which serve as margin. The advantage of CFDs is that trader can have exposure to cocoa prices without having to purchase shares, ETFs, futures or options.
Start trading today at Plus500.com.

One of the leading brokers for trading agricultural commodities, like cocoa, is Plus 500. Here's why:
No commission on trades (other charges may apply)
Free demo account
Easy to use (mobile-friendly) platform
Industry-leading risk management tools
Trade cocoa and hundreds of other markets
Your funds are safe – publicly listed company regulated by the UK's Financial Conduct Authority and Cyprus' Securities and Exchange Commission
Start Trading at Plus500.com
Your capital is at risk. *Other charges may apply
Further Reading