The Essential Guide
Online Commodity Brokers: How and Where to Get Started? (+ Scams To Avoid)
Disclosure:
Your support helps keep Commodity.com running! We earn a referral fee for some brokers & services we list on this page.
Learn more...
Risk Warning: Your Capital is at Risk.
Whether you are looking to invest in traditional stocks and bonds, speculate on commodities, or researching advanced trading platforms, your experience will be shaped by your broker and platform you choose.
In this guide, we'll show how to find a legitimate online broker, plus how to avoid common mistakes and scams.
What Are You Looking to Trade, and Where?
The hardest part of finding an online broker for trading whether that be commodities, stocks, or derivatives is figuring out how and where to get started.
Each country has it's own regulatory agencies and legal standards for different financial products & not all brokerages offer access to every commodity or financial product.
This means that there is almost no single online broker or trading platform that serves all geographies for all financial trading products for all markets.
For example:
TD Ameritrade, Charles Schwab, Merrill Edge, and Fidelity are popular US banks offering their customers traditional investment accounts for stocks, bonds, ETFs and Mutual Funds, but generally don't offer access to derivatives like CFDs or cryptocurrency markets.
Plus500 is popular in the UK and Europe but doesn't serve countries like the US and Canada. They offer CFDs only; trading in oil, precious metal, agricultural and other commodities, but not traditional stock trading or investment products.
Contracts for Difference (CFDs) are a common way to speculate on many commodities, but are not available to US residents or citizens at all.
Cryptocurrencies (like Bitcoin, Litecoin, etc.) are not legal to trade in some countries.
Though most online trading platforms have a mobile version, some brokers specialize in mobile trading like Trading212, Robinhood, E*Trade, and eToro.
Most brokers do not offer international trading allowing you to buy shares in foreign countries, while others specialize in it.
There are specialized brokers like Money Metals Exchange for trading gold, silver, platinum, palladium and other precious metals in addition to bullion dealers.
Online Commodity Brokers Compared
Our team has put together a database of legitimate, regulated companies available in . You can click through and visit their site directly, or see our in-depth reviews for more information.
If you are a beginner, we suggest reading our tips and important advice for new traders after this comparison.
Online Brokers Regulated in
Loading table...
CFDs are complex instruments and come with a high risk of losing money rapidly due to leverage. Between 73.0%-89.0% of retail investor accounts lose money when trading CFDs. You should consider whether you understand how CFDs work and whether you can afford to take the high risk of losing your money.
Important Tips for Choosing a Broker
When choosing an online broker, there are several factors to consider. Aside from what products and markets you're interested in, it's important to note that online brokers undergo rigorous regulation and are certified by a range of regulatory bodies to operate in different countries.
If you want to trade with a broker who offers a suitable account type – namely retail, or professional – and who's fees do not jeopardize your chances of walking away with a profit.
Broker Specializations
Some brokers specialize in asset classes, and this determines the quality of service you receive when trading your chosen instrument.
Some asset classes online brokers may specialize in are:
Contracts-for-difference (CFDs) brokers offer derivatives instruments that allow speculation on market prices without actually owning the asset itself. The profit/loss is determined by the difference in price at the time of the trade's opening and closing time. CFDs have no expiry date.
Options brokers specialize in agreements where a trader pays a fee for the right to either buy or sell an asset within a given time frame. If the trader pulls out of the deal, the fee is lost.
Stock brokers offer traditional shares of companies with which traders may receive rights to determine particular decisions that the company makes.
Forex brokers have enormous lists of currency pairs on which traders can speculate. These currency pairs are typically split into three groups: minors, majors, and exotics.
Crypto brokers offer a variety of cryptocurrency instruments like individual coins, baskets (like an index), and cryptocurrency pairs.
Bullion brokers trade precious metals like gold bars, silver ingots, and coins.
So, Which is the Best Online Broker?
The first question is, what do you want to trade? Do you want to invest in stocks like Tesla, Apple, and Google? If you plan on buying, and holding for years – in other words, to invest in traditional stocks, bonds, ETFs, and mutual funds, your bank could be a good place to start your research.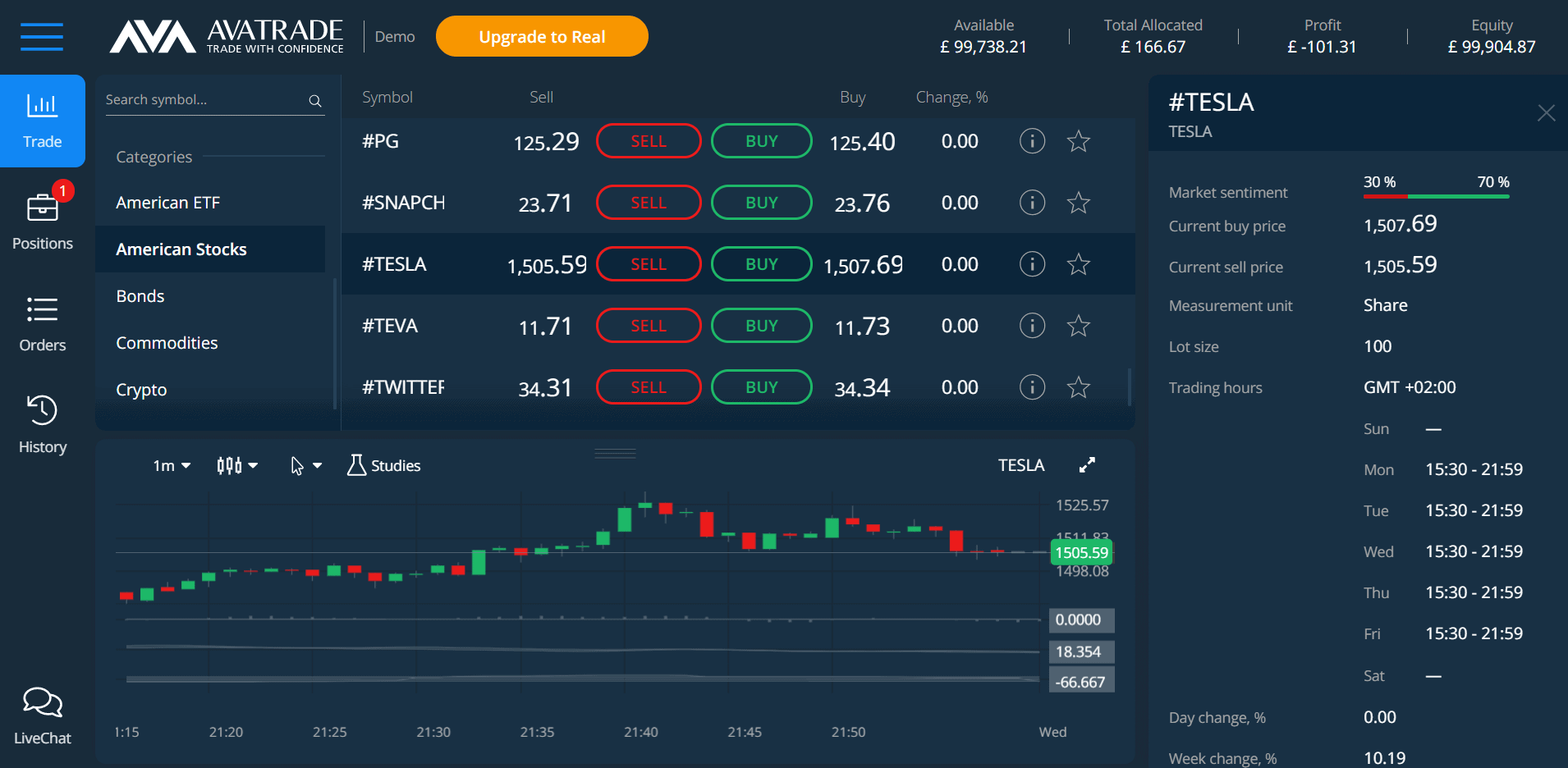 On the other hand, if you want to trade derivative products like commodity CFDs, cryptocurrencies, options, or futures, to name a few — then you'll require a broker with a specialist platform. Many online brokers explicitly create their platforms for traders who want to trade such products.
Here are the other important factors to consider:
Regulators: Brokers are regulated by organizations designed to keep the client's best interest at hand. Large regulatory bodies like the FCA and CySec create strict guidelines which brokers must adhere to in order to be able to operate and accept customers in various regions. For example, unless a broker is regulated by the MAS, they will not be able to accept customers from Singapore.
Fees: While most online brokers offer free accounts and trades for standard accounts, they still take a cut. These cuts are primarily through spreads, margins, or product-specific commissions taken as a percentage of a given trade. Other fees traders should look out for before trading with a broker are deposit and withdrawal fees, overnight trading fees, inactivity fees, and moving spreads. Spreads can be fixed, although most spreads constantly change, in part, based on market conditions.
Reviews: The reputation of an online broker is important – this is what reviews are for. That said, sites like ours are often paid to carry out reviews, and so the integrity and quality of the review is prone to a degree of bias. We aim to keep reviews impartial, highlighting both the good and the ugly, but generally, take reviews with a grain of salt.
Limitations: Depending on the type of account you hold with a broker, you may face limitations. Common limits include trading frequency, where you are limited to executing a set number of trades a week. You may also encounter other limits like high margin thresholds, where you need in-proportionately high deposits to execute your desired trade sizes.
Available Instruments and Products: One broker may not offer all the products you want to trade. Ensure you confirm what you can and can't trade. This may also be impacted by regulatory factors, as some products could be limited to certain regions.
Trading Software: Not all brokers are compatible with popular trading platforms like MetaTrader 4 (MT4) and MetaTrader 5 (MT5), so if these trading software are important for you, check that your brokers supports the integration you're looking for.
Avoiding Scams & Common Mistakes
Common scams to watch out for include boiler room sales, unregistered and unregulated brokers posing otherwise, or even pyramid schemes. We discuss the multi-billion dollar scam and fraud circuit of online brokers in our scam avoidance guide.
Being street-wise (in this case, wall-street-wise) when choosing a broker is paramount, otherwise you risk losing your money completely.
Most retail traders lose money, that's a given. In fact, ESMA, a European regulatory body obliges brokers to declare the average percentage of losing traders. These figures are updated every three months and you'll see them on our website, as well as the brokers'.
Doing ample research before creating a live trading account with an online broker is a basic rule for both amateur and professional traders. Some particular financial products are best avoided by beginners, such as products with high leverage – these can result in catastrophic losses.
FAQs
Perhaps you'd like to know more about what to look out for when choosing an online broker. Here are some common queries with practical answers.
How do online brokers make money?
Online brokers make money by charging a variety of fees. The most common fees brokers make money from are commissions and spreads. Margins are also a source of income, where traders borrow money from a broker to trade larger volumes. Some brokers charge product-specific commissions, inactivity fees, overnight trading fees, and even account administration fees.
Retail accounts are typically free to open, but professional traders could be charged heftier fees for trading. When you are considering trading with an online broker and you can't find any fees, be extra cautious and do some more research to see how they make guaranteed money.
Which online broker is best?
This question has no clear answer, because the best online broker is different for each trader. Traders have unique needs and requirements when trading – see the factors to consider when choosing a broker – and this means there is no one best broker.
The first thing you want to ensure is that the broker you are considering is regulated, charge reasonable fees, and that they offer a suitable account type with access to the products you want to trade.
How can you switch brokers?
If you want to switch brokers, the first steps you'll have to take are to contact both your existing and new broker of choice to check all necessary measures are met so you can make the move.
When switching brokers, the brokers may charge you an administration fee to move your assets over. Sometimes when you change brokers, you might receive a trading penalty where you're unable to trade for a given number of days. In the US, your new broker may ask for an official identity verification under the name of "medallion signature guarantee".
How much money do I need to start trading online?
Most brokers have a minimum requirement for first-time deposits – this determines how much you need to start trading with an online broker. For example, Markets.com has a lower minimum deposit requirement of $5 (or equivalent currency), while Plus500's is upwards of $100. Some brokers like eToro have different minimum deposit amounts based on the country served – they have a minimum deposit requirement of $50 for Australian and US traders, $10,000 for traders from Israel, and $200 for all other accepted jurisdictions.
What documents do I need to sign up with a broker?
Aside from your personal information and trading experience, your broker will ask you for a proof of identification/National Client Identifier (NCI) and proof of residence. Sometimes, brokers may ask for additional proofs of address or identification. Professional traders may need documents to prove prior trading history and experience in the financial industry.
Which brokers offer mobile trading apps?
We have reviewed several brokers that offer specialist mobile apps for both iOS and Android users. These are AvaTrade, City Index, easyMarkets, eToro, Forex.com, Fortrade, HYCM.com, FXCM, Pepperstone, Plus500, XM.com, and XTB.com. Other brokers like Markets.com offer fully responsive versions of their desktop trader that can be accessed through mobile browsers.
CFDs are complex instruments and come with a high risk of losing money rapidly due to leverage. Between 73.0%-89.0% of retail investor accounts lose money when trading CFDs. You should consider whether you understand how CFDs work and whether you can afford to take the high risk of losing your money.
Credits: Originally written by Toni Allen. Major updates in July 2020 by Marko Csokasi with contributions from the Commodity.com editorial team.