Disclosure:
Your support helps keep Commodity.com running! We earn a referral fee for some brokers & services we list on this page.
Learn more...
Last Updated on
If you are interested in learning more about the barley trade, you've come to the right place.  In this guide, we'll discuss the history of its value, and other factors that affect its price today.
We'll also explain the different methods traders can gain exposure to changes in barely price through CFDs, grain stocks, agricultural ETFs, Futures and other financial products.
Additionally, we cover which brokers are available in your country. If you are in a rush to get started and just looking for how and where to get started, we suggest looking at these brokers first:
Loading table...
Otherwise, continue reading or use the table of contents to find the specifics you are looking for.
Why is Barley Valuable?
Barley is a cereal grain that contains many important nutrients and vitamins. It is characterized by its rich nutty flavor and chewy consistency.
Barley is one of the oldest grown cereal grains. Historians believe its origins trace to Egypt, Ethiopia, the Near East or Tibet, but the exact location is debatable. Middle Eastern farmers grew barley prior to 10,000 BC, and China began cultivating the crop around 1,000 BC. 
Today barley serves as an important food source for humans and animals and a key ingredient in some alcoholic beverages. This versatility makes it a vital grain commodity in international markets.
How is Barley Grown?
Barley grows best in environments with cool ground temperatures.
Barley farmers plant their crop in two growing seasons – winter and spring. October is the ideal month to plant winter barley, while January is the best month for the spring variety.
Barley requires well-drained soil and full sunlight to grow. Farmers grow crops in rows about 10 to 12 inches apart. Spring barley ripens in about 60 to 70 days, while fall barley ripens about 60 days after spring growth begins. This relatively quick ripening process makes barley ideally suited for crop rotations with other grains such as wheat.
Where is Barley From?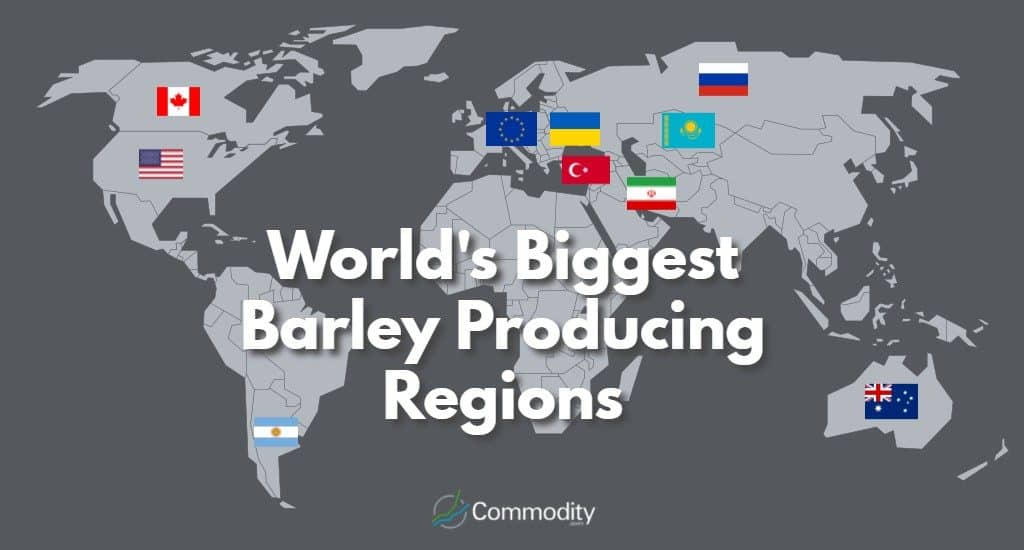 The European Union is the largest producer of barley. It grows nearly three times the amount of barley as Russia, which is the second largest producer. The largest barley producers (estimated figures for 2017) include: 
Top 10 Barley Producing Countries
| Rank | Flag | Country | Thousands of Metric Tons |
| --- | --- | --- | --- |
| #1 | | European Union | 58,765 |
| #2 | | Russia | 20,500 |
| #3 | | Ukraine | 8,700 |
| #4 | | Australia | 8,000 |
| #5 | | Canada | 7,250 |
| #6 | | Turkey | 7,000 |
| #7 | | Iran | 3,100 |
| #8 | | United States | 3,090 |
| #9 | | Argentina | 2,750 |
| #10 | | Kazakhstan | 2,700 |
The European Union, Russia and Australia top the list of countries that export barley.
Top 5 Barley Importing Countries
| Rank | Flag | Country | Thousands of Metric Tons |
| --- | --- | --- | --- |
| #1 | | Saudi Arabia | 9,000 |
| #2 | | China | 5,500 |
| #3 | | Iran | 1,300 |
| #4 | | Libya | 1,300 |
| #5 | | Japan | 1,100 |
Barley has many health benefits, which account for its popularity as a food source in many parts of the world. In addition to containing many nutrients including manganese, molybdenum, selenium and B vitamins, barley consumption provides specific benefits: 
Lowers Cholesterol

Provides intestinal protection

Protects against atherosclerosis

Provides cardiovascular benefits

Substantially lowers risk of type 2 diabetes

Prevents gallstones

Protects women against postmenopausal breast cancer
Top 3 Uses of Barley
Uses of Barley
Description
Human Food Source

Barley can be prepared a number of different ways:
Cooked in soups, stews, casseroles and breakfast items such as cereals, waffles and pancakes
Added as an ingredient in salads
Barley meal is used in porridges in Scotland
Barley flour is used for baking

Beverages

Barley is a key ingredient in whiskey and beer production. Barley is also used to make flavored waters and teas.
Animal Feed

Barley is used as feed for livestock. In northern climates such as Canada, parts of Europe and the northern United States, barley is more popular than corn as animal feed. Barley is also used to make high-protein fish food.
What Drives the Price of Barley?
The price of barley is usually highly correlated with the price of other grains such as corn and wheat. Many of the supply and demand factors that move barley prices affect agricultural commodities in general including:
Global Production

The US Dollar

Emerging Market Demand

Substitution Effect

Weather

Health News
Global Production
The global supply of barley is a key determinant of its price. Political factors, such as crop subsidies in certain countries can have a significant effect on prices. If governments in key suppliers such as the European Union decide to end subsidies of major agricultural commodities, then farmers will shift their production accordingly.
The US Dollar
The US currency is the world's reserve currency. As a result, barley and other agricultural commodities are quoted in US dollars. Barley producers receive fewer dollars for their product when the US currency is strong and more dollars when the currency is weak. Factors such as US interest rates, trade surpluses/deficits, unemployment and GDP can all impact the value of the dollar versus other currencies.
Emerging Market Demand
A substantial amount of import demand for barley comes from China and Middle Eastern countries. As the Chinese economy expands, its demand for agricultural commodities will grow. Similarly, India and emerging countries in Africa and the Middle East will require more food to feed their people as their economies grow. As emerging market countries grow wealthier, their consumption of meat will likely increase. Since barley is used as livestock feed, its price should respond favorably. Of course, if emerging economies suffer economic setbacks, then barley prices could decline.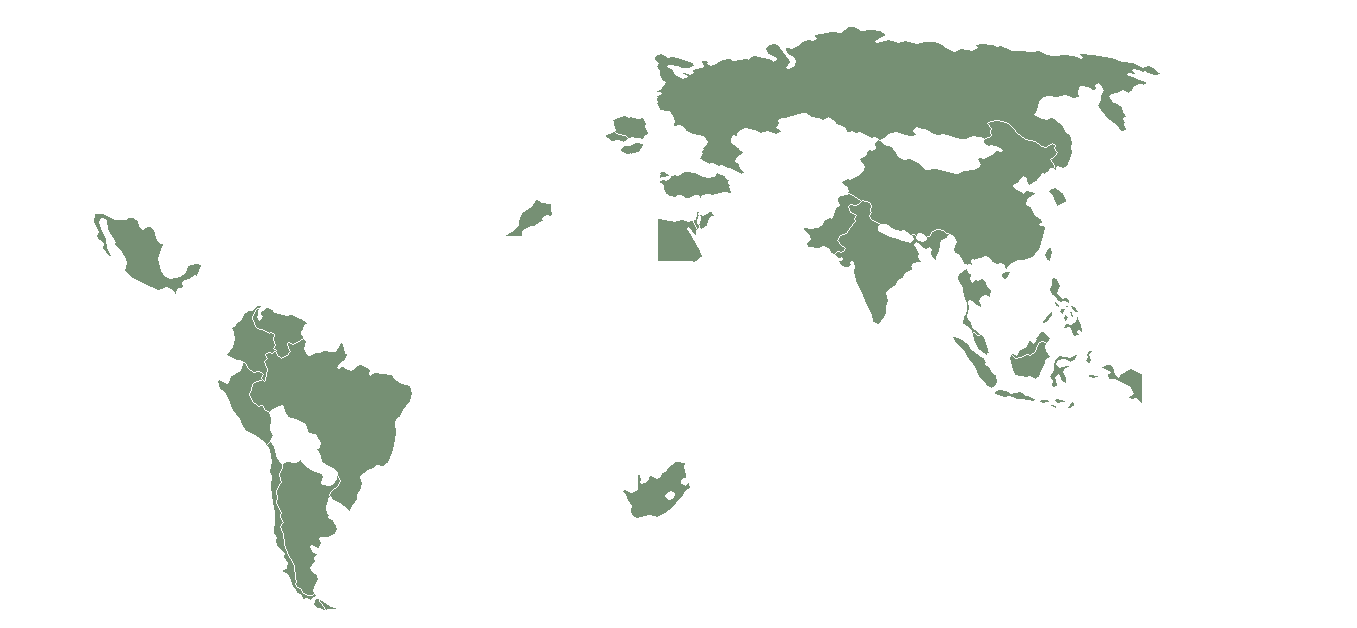 Substitution Effect
Barley competes with other grains such as wheat and corn as dietary staples. If the price of barley rises significantly higher than these other grains, then consumer preferences might shift toward consuming lower priced alternatives. Of course, if barley prices are significantly lower than competing grains, then consumers might increase their barley consumption. These changes in demand can impact barley prices.  
Weather
Weather patterns can have a significant effect on crop prices, and barley is no exception.  Barley grows best in cool, dry regions. Extreme heat, extreme cold or excessive rainfall could limit production and potentially send prices for barley much higher.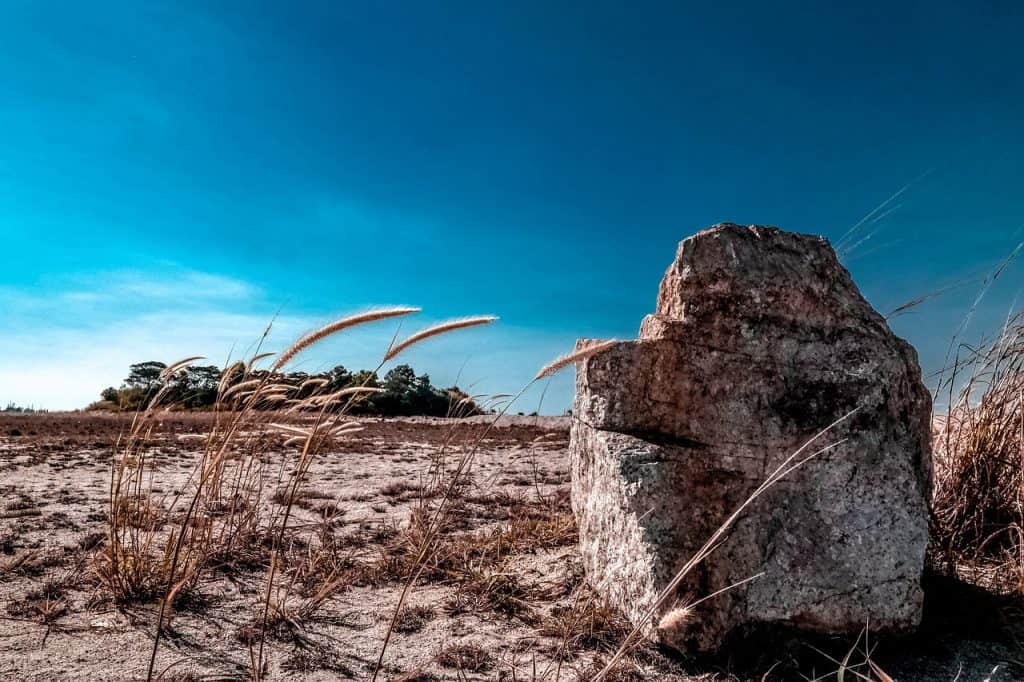 Health News
Barley has received considerable positive attention for its health benefits. Unlike other agricultural commodities such as soybeans, barley has remained free from negative publicity from the medical community. As consumers continue to become more health conscious, barley consumption could rise in many regions throughout the world.
3 Reasons You Might Invest in Barley?
Investors purchase agricultural commodities such as barley for many reasons, but the most important ones include:
Inflation and Weak US Dollar Hedge

Bet on Demand Growth

Portfolio Diversification
Inflation and Weak US Dollar Hedge
Investing in barley is a way to bet on a weak US dollar and higher inflation. Agricultural commodities such as barley are priced in US dollars, so the performance of the world's largest economy plays a crucial role in their pricing. The US Federal Reserve Bank has kept interest rates low and the US dollar weak. US central bankers are likely to continue these policies to support consumer borrowing and spending. A weak dollar could stoke inflation concerns and bolster barley prices.
Bet on Demand Growth
Barley is poised to benefit from strong global growth, especially in emerging market economies. The demand for barley in livestock feed, beer production and healthy foods should grow as the developing world becomes richer. Demand in the European Union and other Western economies could also outstrip supply in the coming years. Factors such as healthy eating could drive this demand.
Portfolio Diversification
Most traders have the vast majority of their assets in stocks and bonds. Commodities such as barley provide traders with a way to diversify and reduce the overall risk of their portfolios.
Should I Invest in Barley?
Traders who want exposure to barley should consider purchasing a basket of commodities that includes other agricultural staples such as wheat, corn, soybeans and sugar. For additional diversification, they should also consider buying metals and energy commodities. Purchasing a basket of commodities helps protect traders from the volatility of any individual commodity. It also adds overall diversification to a stock and bond portfolio.
There are two specific trends that could raise barley prices in the years ahead:
Emerging market demand: The development of emerging economies could boost barley demand. Middle Eastern countries and China already import a significant amount of barley, and this demand could grow. Demand for livestock feed, beer, and healthy food could be the catalysts for this growth
Climate change: Global warming trends have the potential to wreak havoc on the production of many different crops including barley. If recent weather patterns continue, the world's supply of food may not be able to meet demand in the years ahead. Investing in agricultural commodities is a way to benefit from this trend.
However, traders should also consider the risks of investing in barley:
Strength in the US dollar could be a negative for barley prices.

Overproduction by large suppliers could depress prices.

Economic or political turmoil in emerging markets could weaken the demand for agricultural commodities.
What Do Investment Experts Think About Barley? 
Experts see mostly positive news for the agriculture sector including barley in the years ahead.
The USDA recently raised its Chinese import expectations for barley citing increased demand for feedstuffs.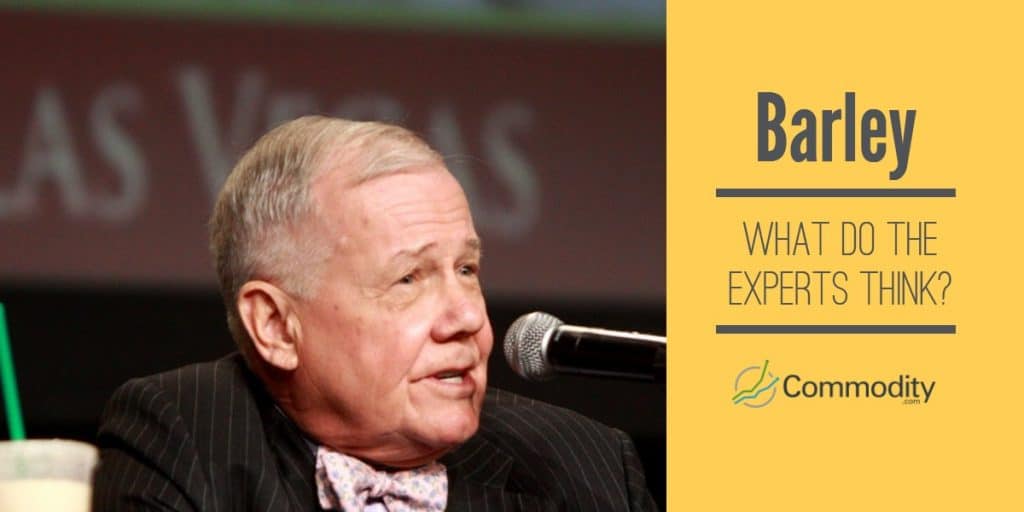 Jim Rogers, co-founder of the Quantum Fund and creator of the Rogers International Commodity Index, advocates investing in the agricultural commodity sector and believes it will make significant gains in the coming years.
You can open a chain of restaurants in the agricultural areas of the world because the farmers are going to be much more successful in the next 30 years than in the last 30 years.

– Jim Rogers, founder of Quantum Fund
How Can I Invest in Barley?
Barley traders have limited ways to trade in the commodity, the most common being futures, options and CFDs. Additionally, agricultural shares and grain ETFs are other options.
Barley Trading Methods Compared
| Method | Complexity Rating (1 = easy, 5 = hard) | Storage Costs? | Security Costs? | Expiration Dates? | Mgmt Costs? | Leverage? | Regulated Exchange? |
| --- | --- | --- | --- | --- | --- | --- | --- |
| Barley Futures | 5 | N | N | Y | N | Y | Y |
| Barley Options | 5 | N | N | Y | N | Y | Y |
| Barley Shares | 2 | N | N | N | N | N/A | Y |
| Barley CFDs | 3 | N | N | N | N | Y | Y |
Barley Futures
The Intercontinental Exchange (ICE) Futures Canada trades a barley futures contract. The barley contract settles into 20 metric tons of No. 1 Canada Western barley and is quoted in Canadian dollars and cents.
The ICE contract has delivery months of March, May, July, October and December.
Futures are a derivative instrument that allows traders to make leveraged bets on commodity prices. If prices decline, traders must deposit additional margin in order to maintain their positions. At expiration, traders must either accept physical delivery of barley or roll their positions forward to the next trading month. Investing in futures requires a high level of sophistication since factors such as storage costs and interest rates affect pricing. 
Barley Options on Futures
The ICE also offers an options contract on the barley futures contract. The contract months for regular options are March, May, July, October and December. Serial options contract months are January, February, April, June, August, September and November.
Options are also a derivative instrument that employs leverage to invest in commodities. As with futures, options have an expiration date. However, options also have a strike price, which is the price above which the option finishes in the money.
Options buyers pay a price known as a premium to purchase contracts. An options bet succeeds only if the price of barley futures rises above the strike price by an amount greater than the premium paid for the contract. Therefore, options traders must be right about the size and timing of the move in barley futures to profit from their trades.
Barley ETFs
These financial instruments trade as shares on exchanges in the same way that stocks do. There are no ETFs that are a pure play investment in barley. However, there are three ETFs that invest generally in the grains sector:
3 Leading Grain ETFs
| iPath Dow Jones –UBS Grains ETN | MLCX Grains ETN | iPath Pure Beta Grains ETN |
| --- | --- | --- |
| | | |
Other ETFs, including the PowerShares DB Agriculture Fund and the UBS ETRACS CMCI Agriculture Total Return ETN, invest generally in the agricultural sector.
Shares of Barley Companies
There are no pure-play public companies engaged exclusively in the production and sale of barley. However, there are three publicly traded agribusinesses that control the grain trade globally.
Public Grain Companies
| Company | Overview | Exchange | Interesting Fact |
| --- | --- | --- | --- |
| Archer Daniels Midland | Operates facilities that convert agricultural commodities into food, animal feed and energy | New York (NYSE) | Serves 160 countries |
| Bunge Limited | Processes oilseeds, wheat, corn and sugarcane | New York (NYSE) | Company was founded in the Netherlands |
| Glencore plc | International commodity trading and mining company | London (LSE) | Company began as a metals and oil company |
Agricultural CFDs
A popular way to invest in agricultural commodities, such as corn and wheat, is through the use of a contract for difference (CFD) derivative instrument. CFDs allow traders to speculate on the price of agricultural company shares. The value of a CFD is the difference between the share price of the company at the time of purchase and the current price.
Many regulated brokers worldwide offer CFDs on agricultural companies. Customers deposit funds with the broker, which serve as margin. The advantage of CFDs is that investor can have exposure to grain producers without having to purchase shares, ETFs, futures or options.
Where Can You Trade Barley?
If you are looking to start trading barley and other agricultural commodities, here's a list of regulated commodity brokers available in to consider.
Top Brokers Available in
If you want to trade barley and other agricultural commodities, you can start your research here:
Loading table...
CFDs are complex instruments and come with a high risk of losing money rapidly due to leverage. Between 73.0%-89.0% of retail investor accounts lose money when trading CFDs. You should consider whether you understand how CFDs work and whether you can afford to take the high risk of losing your money.
Further Reading