Disclosure:
Your support helps keep Commodity.com running! We earn a referral fee for some brokers & services we list on this page.
Learn more...
Dogecoin is a cryptocurrency born out of a meme. Traders can either purchase Dogecoin or gain exposure to its price changes in various ways. We'll show you how to trade Dogecoin and where to find a broker in .
Jump directly to our brokers list right now.
Dogecoin Market Sentiment
We've gathered data from leading exchanges to determine the general feeling in the Dogecoin market.
Our sentiment calculation is simple; using data from the exchanges listed below, we gather buy and sell volumes for a given time period and weight this against the total transaction volumes.
3 Reasons To Trade in Dogecoin
Inflationary currency
Vibrant community
1 DOGE = 1 DOGE.
Inflationary Currency
Unlike Bitcoin, Litecoin and many other cryptocurrencies, Dogecoin is an inflationary currency. It may seem counterintuitive to call inflation a good thing as it makes individual DOGE worth less than if there was scarcity.
However, it is a feature that may ensure Dogecoin's survival. Here's why.
With most currencies, a large number of coins can be lost or damaged as a result of users losing hardware, forgetting wallet passwords, etc. This is especially true for a cryptocurrency like Dogecoin, where users regularly spend their coins.
An inflationary coin can help ensure a constant supply and that mining will also be at least semi-profitable.
Vibrant Community
Dogecoin undoubtedly has one of the best communities out there. They are approachable, friendly and helpful.
They raise money for charities.
They're trying to put a physical Dogecoin on the moon.
They regularly send Dogecoin as tips to other users as a reward for entertaining or informative content.
This community is what has allowed Dogecoin to survive this long and it means that the cryptocurrency is unlikely to die anytime soon.
1 DOGE = 1 DOGE
A common refrain among the Dogecoin community is that no matter what the price increases to in dollar terms, 1 DOGE will always be equal to 1 DOGE.
In essence, they are saying that they want to use the coin as a transactional currency, rather than a speculative asset.
From a trading point of view, this means that even though Dogecoin might not have cutting-edge technology behind it, it is being treated as a proper currency by many users which means that it has a utility purpose.
Important: This is not investment advice. We present a number of common arguments for and against investing in this commodity. Please seek professional advice before making investment decisions.
2 Reasons Not To Trade in Dogecoin
Very few updates
High supply means that the coin will be unlikely to hit $1 in the near future.
Very Few Updates
Dogecoin has not seen a major update since 2015. While the security behind the coin is still strong, lack of updates could well leave the cryptocurrency behind as newer coins bring new features to the table.
There are reports that the Dogecoin Dev team is considering coming back and making changes, but there are no guarantees as they essentially work on the cryptocurrency in their spare time. A lack of updates could well find Dogecoin being left behind.
High Supply Levels
Being an inflationary coin improves Dogecoin's chances to be used as a proper currency, but there are downsides. Dogecoin is designed to maintain a constant supply of around 1 billion tokens.
This is excellent for liquidity and makes it easy to obtain coins but it also means that there isn't much incentive to pay in large sums of money of the coin. This limits its potential as a realistic long-term hold.
How To Buy Dogecoin
So, after weighing up the pros and cons, have you decided that Dogecoin might be able to go to the moon? The next step is to figure out how to go about actually purchasing some.
There aren't many ways to easily purchase Dogecoin with fiat currency, so your best way is by trading it for Bitcoin using an exchange.
Most traders purchase Doge using an exchange like Bitfinex. This involves buying cryptocurrency with fiat currency and storing them in a virtual wallet.
While this approach is common it carries a number of risks and it's important that you do your research and select a reputable exchange.
Coinbase
If you want to acquire Bitcoin to trade for Dogecoin, one possible choice is an exchange called Coinbase. There's several other choices but Coinbase is one of the most newcomer-friendly.
It comes with a large number of currency pairs and you even have the option to buy BTC using your credit or debit card. Coinbase has a competitive fee rate. Purchasing BTC will typically result in a 3.99% fee if using a credit or debit card and a 1.49% fee for most kinds of bank transfers.
Coinbase requires your ID and address when registering. This kind of verification is standard procedure and considered best practice for many exchanges.
It's designed to prevent the exchange from being used for money laundering and other criminal activities. Privacy-conscious traders should consider a different exchange, however.
LocalBitcoins
Rather than buying DOGE directly, you can first buy Bitcoin through a peer-to-peer Bitcoin Exchange that does not require an ID. One of the best options is LocalBitcoins which allows users to buy Bitcoin with almost any currency.
Once you have the Bitcoins, you will be able to trade these for Dogecoin at another exchange. If you choose to use LocalBitcoins, make sure you vet other users thoroughly.
There is a review function and you should make sure you use it. Some unscrupulous users have been known to scam new traders.
If you get a bad feeling or see poor reviews, it is generally best not to make the trade. Some users even meet in person to exchange their currency.
Tux Exchange
Tux Exchange is a relatively young exchange and it doesn't yet have many pairs but it is one of the best places to trade BTC for DOGE.
The exchange offers a 0% maker and 0.3% taker fee on all trades. In order to use Tux Exchange, you will first need to transfer your Bitcoin to the Tux wallet.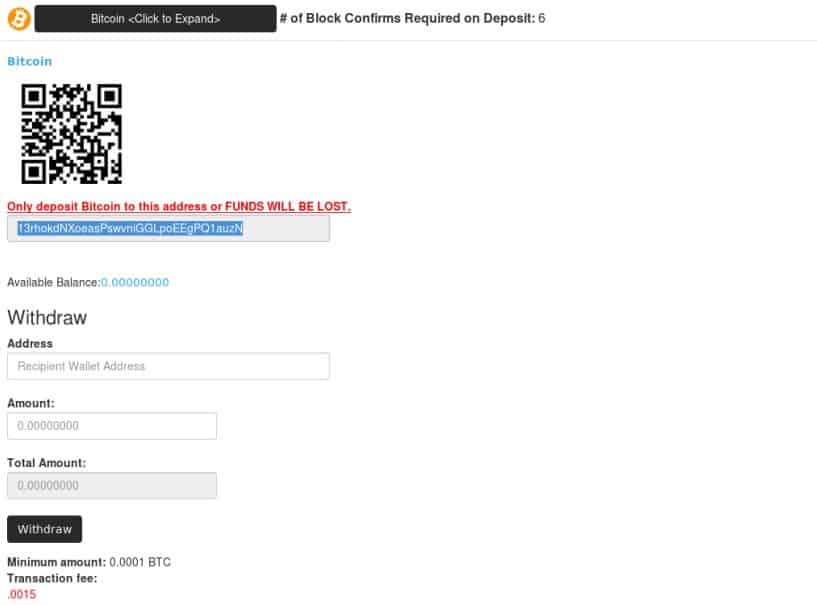 To do this:
You first need to go to the "Wallet" section and scroll down until you find your Bitcoin wallet.
You then transfer the funds from your own wallet to this address and wait for the transaction to process.
When your Bitcoin transfer has been approved it will appear in your wallet and you're now ready to buy DOGE.
Next, you need to click the market tab and scroll down until you see DOGE. You will see charts detailing current price trends. If you continue to scroll down you will eventually see options to buy and sell.
Simply enter the amount of DOGE you want to buy and how much BTC you are willing to pay for it and Tux exchange adds the total up for you.
Once you're happy with your trade, click "buy" and the order goes onto the exchange.
Now you simply need to wait for your order to be fulfilled and you will have successfully figured out how to buy DOGE!

Are Exchange Wallets Safe?
Keep in mind that exchanges are not safe and you will need to be serious about your security.
Always enable two-factor authorization and avoid keeping all of your coins in a single wallet.
Also, remember that you should never leave your coins in an exchange wallet unless you are planning to exchange them.
If you don't own the keys to your wallet then you don't own the tokens inside it.
The best way to secure your Dogecoin is in a hardware wallet or by putting them in cold storage.
Cold Storage
Cold storage involves keeping your cryptocurrency in an offline wallet that only you have access to.
Remember that you are entirely responsible for your own security. If you don't own the keys to your wallet, you don't own your tokens. You will also need to take extra care to ensure that your computer is secure and password protected.
Any breach could result in your coins finding their way into the wallet of a hacker.
Managing Your Dogecoin
Managing your own Dogecoin isn't an easy task. Not only do you have to navigate the exchanges but you will also need to take extra care to keep your computer secure.
You will need to take extra precautions to protect yourself against phishing scams, viruses, and other risks. You will also need to keep very careful track of your wallet's access codes.
If you misplace those then your DOGE coin will be trapped in a wallet you can no longer access.
On top of this, there are risks that you have no control over. Whenever you use an exchange you are relying on them to protect you and your DOGE. The problem is that they sometimes fail to do this properly.
Regulated Brokers Can Mitigate Some Risks
Many traders find this level of uncontrollable risk to be unacceptable and you're probably asking yourself whether there is a better way to trade DOGE. Unfortunately, the answer is no, not at the moment.
However, there is a safer way to trade many other cryptocurrencies by using a regulated broker such as Plus500. The Plus500 platform gives you the ability to trade contracts for difference (CFDs) for a wide variety of cryptocurrencies and they are regularly adding new ones.
Where to Trade in Dogecoin
One method is to not buy cryptocurrencies at all but instead, trade Contracts for Difference (CFDs) through a regulated broker.
What Are CFDs?
A CFD is a contract between you and the broker. Instead of directly buying cryptocurrencies, you would buy a CFD and take a short or buy position. If the market moves in your favor then you will receive money based on your CFD.
If it moves against you then you will have to pay. This allows you to take advantage of cryptocurrencies without ever having to take on the risk of owning a single token.
Trying to find the best regulated broker can be a daunting task. Thankfully, we are here to help and have already done the heaving lifting for you. After investigating the available options we've found these brokers available in .
IMPORTANT: CFDs are not available in the USA due to local regulation, and regulated brokers do not accept US citizens or US residents as clients.
Online Crypto Brokers in
Loading table...
CFDs are complex instruments and come with a high risk of losing money rapidly due to leverage. Between 73.90%-89.00% of retail investor accounts lose money when trading CFDs. You should consider whether you understand how CFDs work and whether you can afford to take the high risk of losing your money.
Further Reading