Why is Cotton Valuable?
Cotton is a fluffy natural fiber that grows on shrubs in tropical and subtropical regions around the world. The commodity is a staple in the textiles industry.
Historians don't know the precise origins of cotton, but cloth found in caves in Mexico proves that the crop was around more than 7,000 years ago. Since the Age of Antiquity, civilizations around the world have spun cotton fibers into cloth garments.
However, two events in history – the Industrial Revolution in England and the invention of the cotton gin in the United States – profoundly changed the role cotton plays in world markets. These events led to widespread production of cotton garments and turned cotton into a multi-billion dollar global industry.
How is Cotton Grown?
Cotton plants grow in warm regions of the world where there is ample sunshine and limited frost.
Cotton farmers plant their crop in the spring and harvest it in autumn. Prior to planting, farmers prepare the land using either the no-till method, where they use special equipment to deposit the seeds on the soil's surface, or the till method, where they plow the land into rows forming seedbeds for planting.
About two months after tilling, tiny flower buds appear on the green, bushy shrubs that grow from the ground. In another three weeks, the flowers begin to blossom.
The flower petals will begin to change color – from white to yellow to pink and finally red – and then fall off the shrubs. What remains are tiny green pods called cotton bolls. These bolls ripen further and develop small fibers inside of them. As these fibers expand from sunshine, they burst out of the pod in the form of fluffy cotton.
Machines then harvest the fully ripened cotton into conveying systems that process the crop for consumption.
Over 80 countries cultivate one or more of the four species of the crop, but the main production crop is the Upland cotton variety:
| Species | Common Name | Native Region | % of Global Output |
| --- | --- | --- | --- |
| Gossypium arboreum | Tree cotton | India and Pakistan | Less than 2% |
| Gossypium barbadense | Extra-long staple cotton | South America | 8% |
| Gossypium herbaceum | Levant cotton | Southern Africa and Arabian Peninsula | Less than 2% |
| Gossypium hirsutum | Upland cotton | Central America, Mexico, the Caribbean and Florida | 90% |
The largest cotton producing county is China. It has 100,000 cotton farmers, 7,500 textile companies and $73 billion in annual cotton cloth production.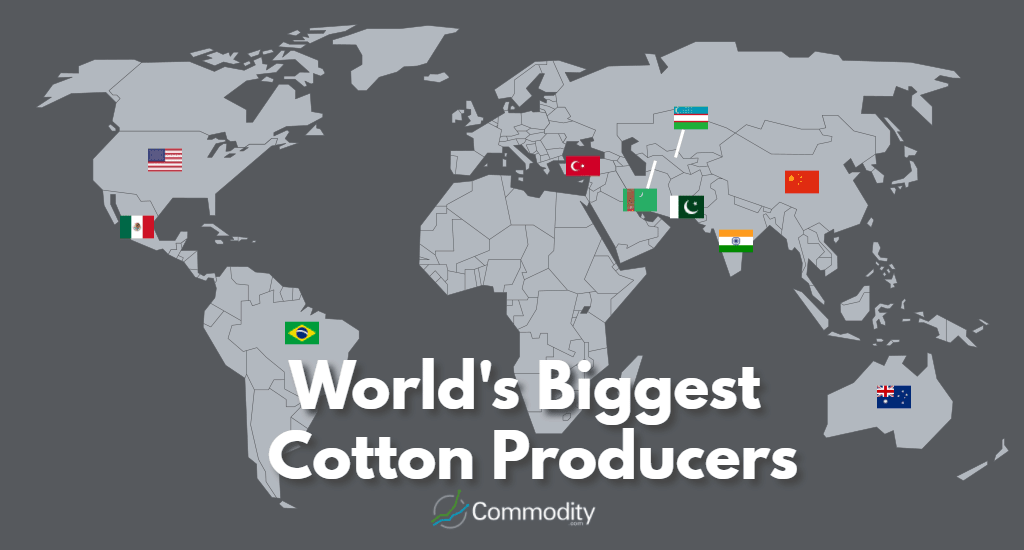 Top 10 Cotton Producing Countries
| Rank | Flag | Country | Cotton Produced (1000 480 lb. Bales) |
| --- | --- | --- | --- |
| #1 | | India | 30,000 |
| #2 | | China | 25,000 |
| #3 | | United States of America | 21,377 |
| #4 | | Pakistan | 9,150 |
| #5 | | Brazil | 7,800 |
| #6 | | Australia | 4,800 |
| #7 | | Turkey | 3,800 |
| #8 | | Uzbekistan | 3,700 |
| #9 | | Mexico | 1,500 |
| #10 | | Burkina Faso | 1,420 |
China is also the largest importer of cotton. The country imports over $7.5 billion of cotton annually (about 17% of global production). Other large importers of the commodity are Bangladesh, Vietnam, Turkey and Indonesia.
Cotton is known as a versatile fiber that is comfortable to wear. However, its applications extend beyond its use in clothing.
4 Main Uses of Cotton
Use of Cotton
Description
Cotton Fiber

Woven or knitted into a variety of fabrics used to make clothing and household items. These fabrics include:
Corduroy
Chambray
Velour
Jersey
Flannel

Used in other miscellaneous products including:
Fishnets
Coffee filters
Book binding
Archival papers

Cottonseed

Used as a feed for livestock.
Cottonseed Oil

Used as a cooking oil. Cottonseed oil is also found in many consumer products including:
Soap
Margarine
Emulsifiers
Cosmetics
Pharmaceuticals
Rubber
Plastics

Linters

These are small fibers that remain on cottonseed after processing. Linters are used to make:
Bandages
Swabs
Bank notes
X-rays

Ready to Start Trading Cotton?
Our recommended brokers for trading cotton are:
What Drives the Price of Cotton?
The price of cotton is driven mostly by these seven factors:
Global Stockpiles
Government Policies
Global Demand
Climate
Price of Substitutes
Oil Prices
The US dollar
Global Stockpiles
In the recent past, China has engaged in enormous stockpiling to ensure they have an adequate supply of cotton.
These actions have often resulted in higher domestic prices for cotton in China than in the rest of the world. If China were to sell off all of its stockpiles because of weak domestic demand, then prices for cotton would likely go lower. On the other hand, if Chinese hording creates global shortages, then prices could go higher.
Government Policies
Numerous governments including the United States heavily subsidize cotton farmers. Subsidies have the effect of keeping the supply of cotton artificially high and its prices artificially low. Brazil has pursued and won cases against the United States through the World Trade Organization to stymie these subsidies. However, a recent US farm bill increased subsidies for cotton. The prevalence of subsidies can have a meaningful effect on cotton prices.
Global Demand
The global demand for cotton is mostly a function of the overall health of the economy. Cotton is largely a discretionary item, and consumers can choose other cheaper synthetic fabrics such as polyester if the economy is weak. China plays such a key role in the cotton market that its economy in particular bears watching.
Climate
As with all agricultural commodities, climate plays an important role in driving cotton prices. Cotton needs warm weather, adequate rainfall and little or no frost to grow properly. Poor weather conditions in key growing regions in India or China, for example, could create supply shortages and prices spikes. On the other hand, ideal weather conditions could create bumper crops.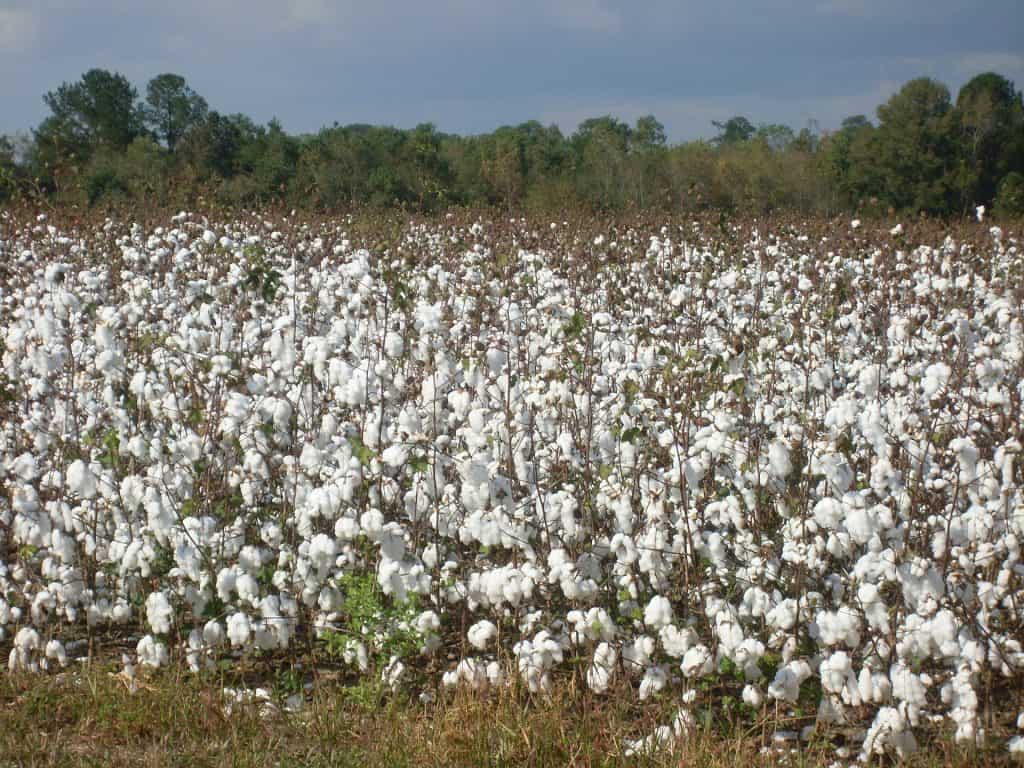 Price of Substitutes
The production and price of substitute fabrics such as polyester can play a key role in determining cotton prices. China is a major producer of purified terephthalic acid (PTA), which is the raw material used to make polyester. Historically production decisions related to PTA can dramatically impact its demand. These decisions, in turn, can affect cotton demand and prices. Cotton traders should pay close attention to the market dynamics of PTA.
Oil Prices
Cotton is an expensive crop to produce. The machinery and motor vehicles needed to operate farms represent a significant component of overall costs. Machines and equipment require fuel, so crude prices can greatly impact cotton production. In addition, PTA is produced from oil, so a rise in crude prices could make polyester more expensive and raise demand for cotton.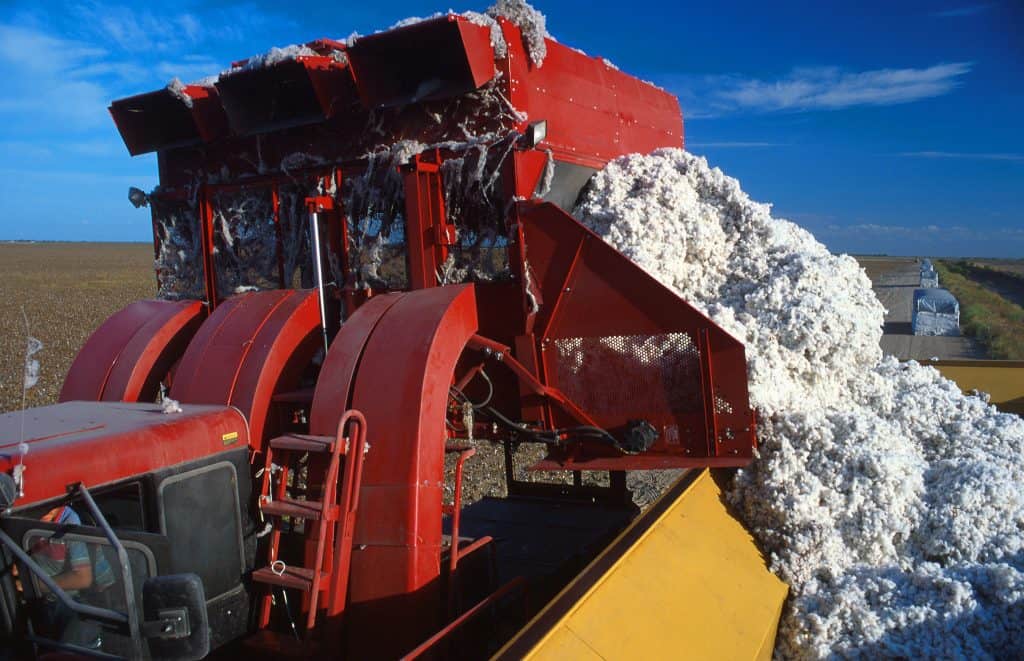 The US Dollar
Most commodities including cotton are priced in US dollars. When the value of the dollar drops against other currencies, it takes more dollars to purchase cotton than it does when the price is high. Buyers purchasing cotton in other currencies see their purchasing power increase when the dollar is weak and decline when the dollar is strong.
4 Reasons You Might Invest in Cotton
Investors might want to consider the following reasons for investing in cotton:
Bet on Global Stockpiling
Bet on Strong Global Economy
Bet on Inflation
Bet on Higher Oil Prices
Bet on Global Stockpiling
China has shown a tremendous appetite for cotton and willingness in recent history to build up huge stockpiles. The country has taken these measures to support and subsidize Chinese farmers.
Chinese growth has stalled in recent years creating weakness in many commodity prices. The country has been selling its stockpiles, and this has offset the pickup in demand from Chinese consumers.
In addition, many other countries have diminishing stockpiles. If global growth accelerates, then some of these countries could resume stockpiling.
Bet on Strong Global Growth
Commodities such as cotton do well when global economies are growing at a healthy pace. In particular, emerging market countries with higher growth rates are likely to experience big increases in their demand for cotton clothing and cotton products as they grow wealthier.
Bet on Inflation
Investing in cotton and other commodities is a way to hedge against the loss of purchasing power caused by inflation.
As central banks print more money, the purchasing power of fiat currencies (i.e., the dollar, euro and pound) declines. However, there is a finite amount of natural resources, so agricultural commodities such as cotton are more likely to retain their value.
Bet on Higher Oil Prices
The high correlation of cotton prices with crude oil makes investing in cotton an interesting way to capitalize on a rise in crude prices. Since crude is both an important ingredient in polyester production as well as a cost of cotton farming, cotton may benefit more than crude oil if prices for crude oil move higher.
Should I Invest in Cotton?
As with many other commodities, cotton prices can be very volatile.
However, investing in cotton can be one way to mitigate risk and diversify the investments in a portfolio.
Investors should consider the advantages of investing in a basket of commodities that includes cotton, other agricultural commodities, metals and energy:
Protection against inflation.
Protection against price swings in individual commodities.
Including cotton in this basket may be a way to capitalize on these developments:
Global Growth: China and India are enormous countries with fast-growing economies. These and other emerging market countries will have huge needs for raw materials such as cotton in the years ahead.
Climate Change: Global warming has the potential to create supply shocks in the years ahead. Prolonged periods of drought might create diminished crop yields and higher prices.
However, traders should also consider the risks of investing in cotton:
Sales of Chinese stockpiles of cotton could create a serious overhang on the market.
A fall in price or increase in production of competing materials such as polyester could drive demand away from cotton.
Subsidies of cotton in many countries could lead to overproduction and trade wars.
What Do the Experts Think About Cotton?
Experts see excess supply of cotton as a major headwind for the commodity's price. They note increased production as the main catalysts for lower prices: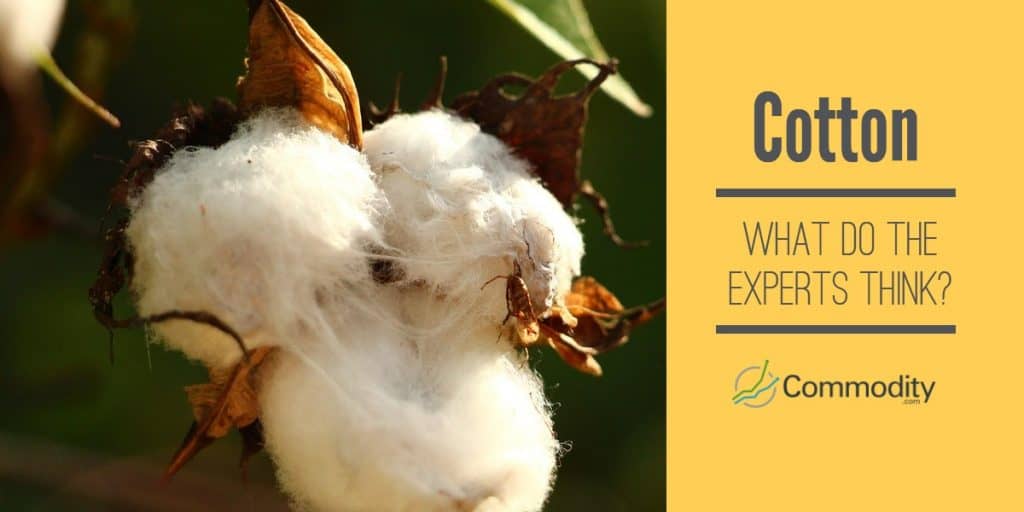 The supply side should remain ample, and if we see production ramp up, cotton will see further losses.

– Lara Magnusen, portfolio manager, Altegris Advisors LLC
Other experts note the sale of China's stockpiles as a negative market factor:
People used to say that because so much of the world inventory was within China, that it was bullish, because it was never going to come out. Now, we are in the reverse situation.

– Gillian Rutherford, commodities portfolio manager, Pacific Investment Management Co.
However, one analyst believes the pollution caused by polyester manufacturing could provide a glimmer of hope for cotton prices in the years ahead:
China has now forced the closure of numerous polyester manufacturing facilities due to widespread pollution. Increasing cotton's share of the fiber market will be difficult at best, but as mills and textile operations understand that cotton is the only sustainable fiber being produced then that growth will come.

– O.A. Cleveland, Consulting Economist, Cotton Experts
How Can I Invest in Cotton?
Investors have several ways to invest in cotton:
Cotton Trading Methods Compared
| Method of Investing | Complexity Rating (1 = easy, 5 = hard) | Storage Costs? | Security Costs? | Expiration Dates? | Management Costs? | Leverage? | Regulated Exchange? |
| --- | --- | --- | --- | --- | --- | --- | --- |
| Cotton Futures | 5 | N | N | Y | N | Y | Y |
| Cotton Options | 5 | N | N | Y | N | Y | Y |
| Cotton ETFs (ETNs) | 2 | N | N | N | Y | N | Y |
| Cotton Shares | 2 | N | N | N | N | Y | Y |
| Cotton CFDs | 3 | N | N | N | N | Y | Y |
Cotton Futures
The New York Mercantile Exchange (NYMEX), which is part of the Chicago Mercantile Exchange (CME), and the Intercontinental Exchange (ICE) offer a contract on cotton that settles into 50,000 pounds of the commodity.
Both contracts are traded electronically and have expiration months of March, May, July, October and December.
Futures are a derivative instrument through which traders make leveraged bets on commodity prices. If prices decline, traders must deposit additional margin in order to maintain their positions. At expiration, the contracts are financially settled on the NYMEX, but physically settled on the ICE.
Cotton Options on Futures
The ICE offers an options contract on cotton futures.
Options are also a derivative instrument that employs leverage to invest in commodities. As with futures, options have an expiration date. However, options also have a strike price, which is the price above which the option finishes in the money.
Options buyers pay a price known as a premium to purchase contracts. An options bet succeeds only if the price of cotton futures rises above the strike price by an amount greater than the premium paid for the contract. Therefore, options traders must be right about the size and timing of the move in cotton futures to profit from their trades.
Cotton ETFs
These financial instruments trade as shares on exchanges in the same way that stocks do. Two ETFs invest in cotton through futures markets:
Top 2 Cotton ETFs
| iPath Bloomberg Cotton Subindex Total Return ETN | iPath Pure Beta Cotton ETN |
| --- | --- |
| | |
Shares of Cotton Companies
There are no public companies that are pure-play investments in cotton. However, traders that want some indirect exposure to cotton prices can purchase shares of companies that provide products and services to farmers:
CFDs
One way to invest in cotton is through the use of a contract for difference (CFD) derivative instrument. CFDs allow traders to speculate on the price of cotton. The value of a CFD is the difference between the price of cotton at the time of purchase and its current price.
www.plus500.com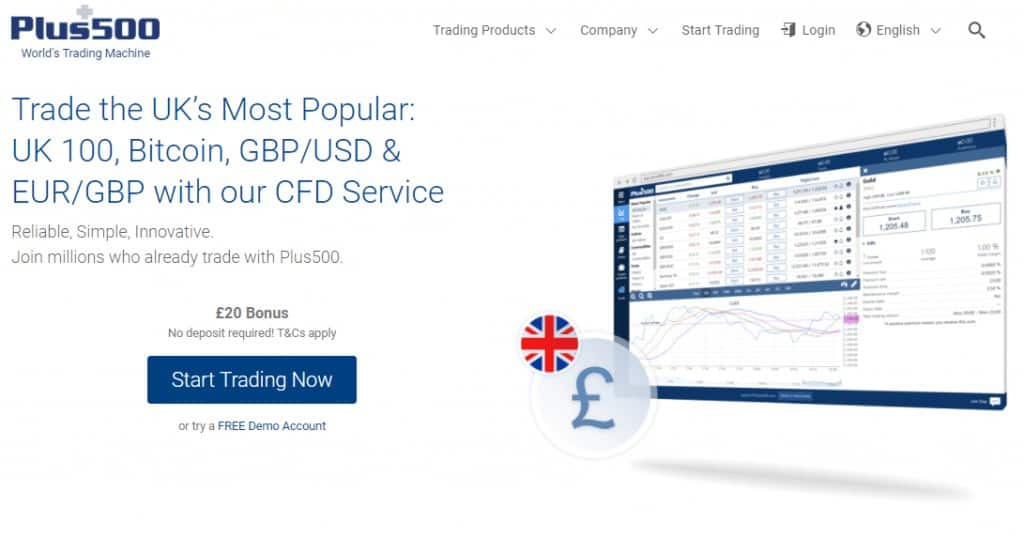 Many regulated brokers worldwide offer CFDs on cotton. Customers deposit funds with the broker, which serve as margin. The advantage of CFDs is that trader can have exposure to cotton prices without having to purchase shares, ETFs, futures or options.
Start trading today at Plus500.com.

One of the leading brokers for trading agricultural commodities, like cotton, is Plus 500. Here's why:
No commission on trades (other charges may apply)
Free demo account
Easy to use (mobile-friendly) platform
Industry-leading risk management tools
Trade cotton and hundreds of other markets
Your funds are safe – publicly listed company regulated by the UK's Financial Conduct Authority and Cyprus' Securities and Exchange Commission
Start Trading at Plus500.com
Your capital is at risk. *Other charges may apply
Further Reading