Disclosure:
Your support helps keep Commodity.com running! We earn a referral fee for some brokers & services we list on this page.
Learn more...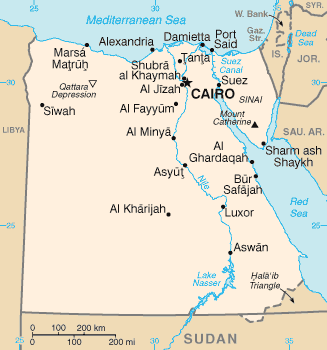 Economy of Egypt-Overview
Egypt is the largest Arab country and often plays a pivotal role in modern Middle Eastern politics, it is also ranked as the 52nd largest export economy in the world.
The country has a negative trade balance of $35.3 billion after deducting $57.7 billion of annual imports from its yearly export total of $22.4 billion.
GDP is $336 billion and its GDP per capita is $11,100.
Recently, a combination of persistent dollar shortages and falling financial aid from its Gulf allies prompted Cairo to ask the IMF for a 3-year, $12 billion loan program. As a condition of the loan, Egypt floated its currency, introduced new raft of taxes and cut energy subsidies – all of which had the effect of pushing inflation above 30%, a level not seen for a generation.
Egypt's Top 5 Commodity Exports
| Commodity | Amount (Annually) |
| --- | --- |
| Gold | $2.65 billion |
| Crude Petroleum | $1.81 billion |
| Refined Petroleum | $802 million |
| Citrus | $572 million |
| Onions | $213 million |
Egypt's Other Notable Exports
Nitrogenous Fertilizers – $767 million
Insulated Wire – $741 million
Video Displays – $565 million
Grapes – $213 million
Potatoes – $162 million
Egypt's Top 5 Commodity Imports
| Commodity | Amount (Annually) |
| --- | --- |
| Refined Petroleum | $3.3 billion |
| Petroleum Gas | $3.2 billion |
| Wheat | $1.54 billion |
| Corn | $1.52 billion |
| Crude Petroleum | $1.38 billion |
Egypt's Other Notable Imports
Cars – $2.49 billion
Packaged Medicaments – $1.71 billion
Semi-Finished Iron – $1.04 billion
Frozen Bovine Meat – $1 billion
Vehicle Parts – $970 million
Top export destinations of Egypt are the United Arab Emirates ($2.83 billion), Saudi Arabia ($1.75 billion), Italy ($1.47 billion), Turkey ($1.44 billion) and the United Kingdom ($1.05 billion).
More Information on Egypt's Imports/Exports
Gold
Gold is the largest export market of Egypt and represents 12% of its annual total, although the $2.65 billion annual figure does not give it a position in the top fifteen of gold-exporting countries.
Egypt has substantial mineral resources and has an estimated 6.7 million ounces of gold in the Eastern Desert alone.
Crude Petroleum
Exports of crude petroleum rank as the 2nd largest export of Egypt and accounts for 8.1% of its annual total.
The worldwide crude petroleum export market is worth $275 billion each year and Egypt's export total represents a 0.3% share of that annual total.
Refined Petroleum
Egypt's annual $802 million refined petroleum export total accounts for 3.6% of the country's export total.
The global market for refined petroleum is worth $412 billion and its annual export total gives Egypt a small 0.2% share of this market.
Citrus
Citrus exports represent 2.6% of Egypt's yearly export total and this gives the country a 4.4% share of a global market that is worth $13.1 billion annually.
A further 5% of land has been allocated for citrus production in Egypt and this is expected to meet increased local demand for Egyptian oranges and is also expected to increase its export capacity.
Onions
Global annual exports of onions are valued at $6.99 billion and Egypt has a 3% share of a market that is dominated by China, who control 45% of the onion export market.
Egypt is expected to increase its onion exports as India imports more Egyptian onions because of its own domestic production issues.
Annual onion production in Egypt now exceeds 1,903,000 tonnes.
Interesting Facts About Egypt
Egypt has the largest Arabic population in the world.
The country on gets an average of an inch of rain each year.
Almost 99% of the population lives on about 5.5% of the land.
All figures based on OEC/IMF 2016 calculations and projections unless otherwise stated.
Interested in Trading Commodities?
Start your research with reviews of these regulated brokers available in .
Loading table...
CFDs are complex instruments and come with a high risk of losing money rapidly due to leverage. Between 73.90%-89.00% of retail investor accounts lose money when trading CFDs. You should consider whether you understand how CFDs work and whether you can afford to take the high risk of losing your money.