In this economic guide to Egypt we'll give you an overview of the Egyptian economy, including the country's primary imports and exports of goods and services.
Economy of Egypt
Egypt is the largest Arab country and often plays a pivotal role in modern Middle Eastern politics, it is also ranked as the 62nd largest export economy in the world.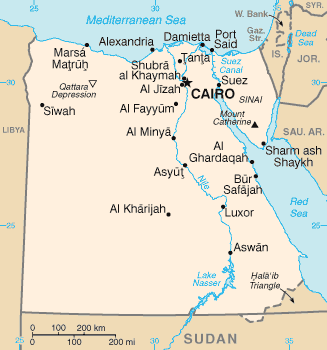 The country has a negative trade balance of $48.7 billion after deducting $83.9 billion of annual imports from its yearly export total of $35.2 billion.
GDP is $251 billion and its GDP per capita is $2,549.
Egypt's Top 5 Commodity Exports
| Commodity | Amount (Annually) |
| --- | --- |
| Crude Petroleum | $4.93 billion |
| Refined Petroleum | $1.99 billion |
| Gold | $1.86 billion |
| Petroleum Gas | $1.17 billion |
| Citrus | $888 million |
Egypt's Other Notable Exports
Nitrogenous Fertilizers – $1.39 billion
Insulated Wire – $911 million
Video Displays – $647 million
Non-Knit Men's Suits $547 million
Ethylene Polymers $539 million
Top export destinations of Egypt are Italy ($2.67 billion), United States ($2.48 billion), Turkey ($2.41 billion), United Arab Emirates ($2 billion), and Saudi Arabia ($1.6 billion).
Egypt's Top 5 Commodity Imports
Egypt's Other Notable Imports
Cars – $2.35 billion
Broadcasting Equipment – $1.58 billion
Corn – $1.57 billion
Packaged Medicaments – $1.57 billion
Soybeans – $1.28 billion
The top countries that Egypt imports from are China ($12.3 billion), Russia ($7.75 billion), United States ($4.93 billion), Germany ($3.83 billion), and Saudi Arabia ($3.53 billion).
Details About Egypt's Imports/Exports
Let's get into more details on Egypt's imports and exports.
Gold
Gold is the largest export market of Egypt and represents 5.28% of its annual total, although the $1.86 billion annual figure does not give it a position in the top fifteen of gold-exporting countries.
Egypt has substantial mineral resources and has an estimated 1 million ounces of gold in the Eastern Desert alone.
Crude Petroleum
Exports of crude petroleum rank as the #1 largest export of Egypt and accounts for 14% of its annual total.
The worldwide crude petroleum export market is worth $1.08 trillion each year and Egypt's export total represents a 0.46% share of that annual total.
Refined Petroleum
Egypt's annual $1.99 billion refined petroleum export total accounts for 5.64% of the country's export total.
The global market for refined petroleum is worth $753 billion and its annual export total gives Egypt a small 0.26% share of this market.
Citrus
Citrus exports represent 2.52% of Egypt's yearly export total and this gives the country a 5.86% share of a global market that is worth $15.2 billion annually.
Russia is the top trade partner for Egyptian citrus exports, claiming 18.2% of Egypt's citrus trade.
Interesting Facts About Egypt
Egypt has the largest Arabic population in the world.
The country on gets an average of an inch of rain each year.
Almost 99% of the population lives on about 5.5% of the land.
All figures based on OEC/IMF 2018 calculations and projections unless otherwise stated.
Regulated Brokers: Where Can I Trade Commodities?
Start your research with reviews of these regulated brokers available in .
CFDs are complex instruments and come with a high risk of losing money rapidly due to leverage. Between 74%-89% of retail investor accounts lose money when trading CFDs. You should consider whether you can afford to take the high risk of losing your money.
Further Reading