Disclosure:
Your support helps keep Commodity.com running! We earn a referral fee for some brokers & services we list on this page.
Learn more...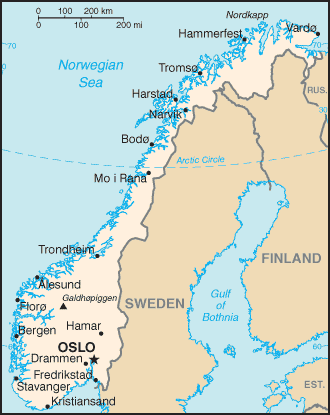 Economy of Norway – Overview
Norway is currently the 30th largest export economy in the world and the country enjoys a positive trade balance of $17.1 billion after deducting annual imports of $72.3 billion from its exports of $89.4 billion.
Norway has suffered a fall in the annual value of its exports over the last five years, decreasing at an annualized rate of -14.4% during that period (from $159 billion to $89.4 billion).
The GDP of Norway is $370 billion which results in a GDP per capita of $59,300.
The economy of Norway is sensitive to changes in output and prices in the offshore oil and gas sector as these are major export markets, alongside its fishing industry.
Norway's Top 5 Commodity Exports
| Commodity | Amount (Annually) |
| --- | --- |
| Crude Petroleum | $22.8 billion |
| Petroleum Gas | $20.7 billion |
| Non-Fillet Fresh Fish | $6.4 billion |
| Raw Aluminum | $2.42 billion |
| Fish Fillets | $1.71 billion |
Norway's Other Notable Exports
Passenger and Cargo Ships – $1.29 billion
Raw Nickel – $891 million
Liquid Pumps – $679 million
Valves – $541 million
Hydrogen – $477 million
The top export destinations of Norway are the United Kingdom ($18.5 billion), Germany ($12.8 billion), the Netherlands ($9.5 billion), France ($6.13 billion) and Sweden ($5.76 billion).
Norway's Top 5 Commodity Imports
| Commodity | Amount (Annually) |
| --- | --- |
| Refined Petroleum | $1.8 billion |
| Nickel | $970 million |
| Raw Aluminum | $456 million |
| Soybeans | $192 million |
| Coffee | $189 million |
Norway's Other Notable Imports
Cars – $5.1 billion
Passenger and Cargo Ships – $2.14 billion
Computers – $1.46 billion
Iron Structures – $892 million
Light Fixtures – $529 million
More Information on Norway's Imports/Exports
Crude Petroleum
Oil is the world's second-biggest export product and Norway ranks in tenth place in the global standings, giving it a 3.3% share of a global market that is worth $678 billion annually.
The value of global exports of crude petroleum has fallen by almost 60% in the last five years and all of the top fifteen exporting countries suffered declines in their export values over this period of time, including Norway.
Petroleum Gas
With crude petroleum accounting for 26% of Norway's exports petroleum gas exports are not far behind at 23%, meaning that petroleum products represent 52.6% of all the country's exports (refined petroleum at 3.6% included).
Germany and the United Kingdom are major export destinations for Norway's petroleum gas exports, accounting for 64% of total exports of this product.
Non-Fillet Fresh Fish
Worldwide exports of non-fillet fresh fish are $18.4 billion per year and Norway is the leading exporter with a market share of 35%, with Sweden being the second largest exporter at 19%.
Norway predominantly exports to European destinations and non-fillet fresh fish exports represent 7.2% of the country's total export values.
Raw Aluminum
Norway is the fourth largest aluminum exporter in the world and has a 5.8% share of a worldwide export market that is worth $41.7 billion annually.
Fifteen countries control about 75% of this export market and only five of these nations managed to grow the value of their aluminum exports during the last five years.
Norway was not one of these countries that increased its export values but it managed to maintain its market position during this period, while countries such as South Africa (-32%), China (-26.5%) and the United States (-24%) posted declines.
Fish Fillets
Exports of fish fillets account for 1.9% of Norway's total annual exports and are responsible for 9.6% of a global market worth $17.9 billion, making Norway the second-largest exporter.
Fishing is an important industry for Norway and the country controls some of the world's richest fishing grounds, The North Sea, the Barents Sea and the Norwegian Sea polar front, plus some important fish breeding grounds just off its coast.
Some Interesting Facts About Norway
Norway has some of the highest gasoline prices in the world, even though Norway is one the biggest exporters of oil in the world.
Norway has won more medals in the Winter Olympics than any other country.
Norwegian King Olav V won an Olympic gold medal for sailing in 1928.
Based on the number of inhabitants, Norwegians are the biggest coffee consumers in the world.
All figures based on OEC/IMF 2016 calculations and projections unless otherwise stated.
Interested in Trading Commodities?
Start your research with reviews of these regulated brokers available in .
Loading table...
CFDs are complex instruments and come with a high risk of losing money rapidly due to leverage. Between 73.90%-89.00% of retail investor accounts lose money when trading CFDs. You should consider whether you understand how CFDs work and whether you can afford to take the high risk of losing your money.