Disclosure:
Your support helps keep Commodity.com running! We earn a referral fee for some brokers & services we list on this page.
Learn more...
What is Euronext?
Euronext is a European marketplace for trading shares, fixed income, derivatives, commodities, ETFs and other financial products.
Euronext also assists companies with raising equity and debt capital, listing their securities and managing their exchange listings.
It operates the leading marketplaces for European trading in virtually every major asset class. The exchange plays a vital role in providing liquidity in the European marketplace.
Euronext operates the following business segments:
Service
Description
Listings
Euronext operates a marketplace for the public listing of debt and equity securities. It also helps companies manage their listings.
Trading
Euronext operates marketplaces for trading nine different classes of assets:

Equities
Fixed Income
Funds
ETFs
Warrants and Certificates
Indices
Equity Derivatives
FX Derivatives
Commodities

Products
Euronext develops and offers trading products that augment the trading experience:

FastMatch - An ECN for the FX spot market
Euronext Synapse - a platform for connecting traders with pools of liquidity
Euronext Block - a platform for trading large block orders
ETF MTF - a platform for trading ETFs across all of Europe
Euronext Expert Market - electronic marketplace for trading non-listed securities by public auction
AtomX - a derivative trade capture service for the OTC market
Best of Book - best execution service for retail orders
APA / ARM - services to help clients comply with European MiFID II and other regulations
Trade Confirmation System - service for reporting trades made outside of regulated markets
Internal Matching Service - in-house trade matching service
Cleared Borrow and Lending Market (CBLM) – a service that allows members to borrow and lend stocks on European cash markets

Market Data
Euronext offers real-time, historical and reference data for assets traded on its platforms
Technology
Euronext develops and licenses technology such as the new Optiq multi-market trading platform
History of Euronext
The birth of Euronext occurred in September 2000 when three European bourses – Amsterdam Exchanges, Brussels Exchanges and Paris Bourse – merged into one entity. The merger enabled the parties to take advantage of the financial harmonization in Europe created by the formation of the European Union (EU).
In all three cities, Euronext managed both securities and derivatives markets. Although some skeptics believed the new exchange would jeopardize the national character and financing function of each of the member nations, proponents of the merger saw reasons for optimism. The creation of the euro currency and the increasing global and electronic presence in securities trading made the new exchange a logical next step for financial markets.
Key Events in the History of Euronext
Event
Subject
Year
Commentary
Acquisition
London International Financial Futures and Options Exchange (Liffe)
2001
Expanded Euronext presence into the United Kingdom
Acquisition
Lisbon Stock Exchange
2002
Expansion of Euronext into the leading marketplace in Portugal
Merger
New York Stock Exchange (NYSE)
2006
In an effort to prevent a takeover by NASDAQ, NYSE enters into a $10 billion merger agreement with Euronext.

The merger was completed on April 4, 2007

Technology Development
NYSE Euronext develops the Universal Trading Platform (UTP)
2008-2009
The new electronic platform provides for trading of equities, bonds, options and futures
Product Launch
Euronext London
2010
London-based securities market targeting new international issuers
Attempted Merger
Deutsche Börse Group
2011
Deutsche Börse attempted to acquire NYSE Euronext for nearly $10 billion
The combination received approval from US antitrust authorities in 2011

The European Union blocked the merger in February 2012 over antitrust concerns



Acquisition
Intercontinental Exchange (ICE)
2013
ICE, a global operator of trading marketplaces and clearing houses,

acquired NYSE Euronext

for $8.2 billion
Divestment
Euronext
2014
ICE separated the continental European operations of NYSE Euronext and Euronext London from the rest of the company and launched a public offering of Euronext N.V.



ICE kept NYSE and Liffe and maintained them as separate entities.
In order to stabilize the new public company, a group of 11 investment firms took a stake in Euronext. These traders, called reference shareholders, own a 33.36% stake in Euronext.
The investment consortium – consisting of Euroclear, BNP Paribas, BNP Paribas Fortis, Société Générale, Caisse des Dépôts, BPI France, ABN Amro, ASR, Banco Espirito Santo, Banco BPI and Belgian holding public company SFPI – agreed to maintain a three-year lockup period.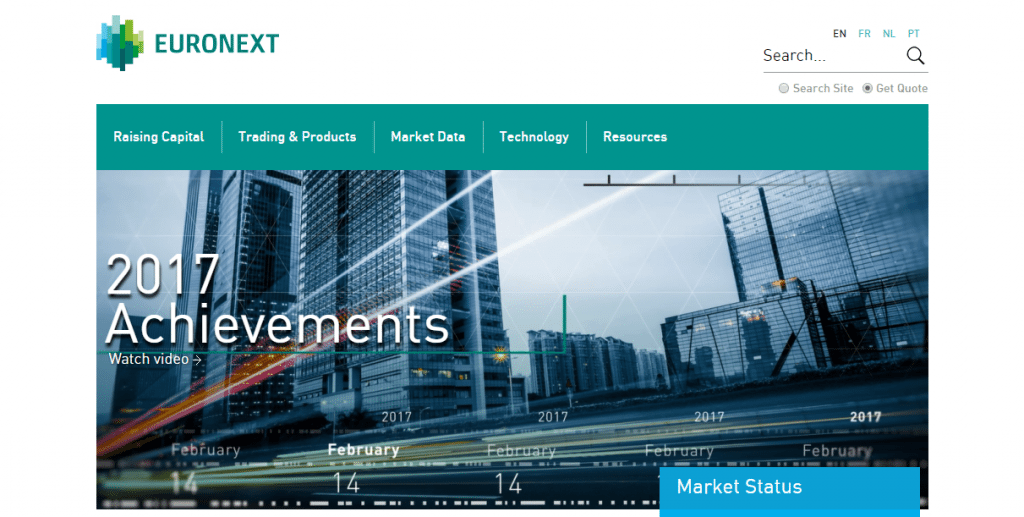 Who Are the Euronext Executives?
The Managing Board of Euronext consists of six individuals who oversee the management of the daily operations of the exchange group.
Managing Board of Euronext
Name
Position
Information
Stéphane Boujnah

Chief Executive Officer
Boujnah is both CEO and Chairman of the Managing Board.

Prior to joining Euronext, he was Head of Santander Global Banking and Markets for continental Europe.

Previous roles include:
Managing Director at Deutsche Bank responsible for the development of the investment banking operations in France (2005 - 2010)
Founder of KM5 Capital, an advisory company specializing in raising equity and providing M&A advice for venture capital funds and technology companies
Director of the European M&A team of Credit Suisse First Boston Technology Group in Palo Alto and London (2000 - 2002)
Lee Hodgkinson

CEO of Euronext London Limited
Head of Markets and Global Sales of Euronext
Hodgkinson joined Euronext (when it was part of NYSE Euronext) in 2009 as CEO of SmartPool, the European dark pool joint venture with J.P. Morgan, HSBC and BNP Paribas
He previously served on the executive committee of NYSE Euronext, where he led the sales and client coverage division in Europe and Asia for the Liffe and Euronext businesses
Previously, he was CEO of SIX Swiss Exchange's blue-chip international equity business, SWX Europe
Anthony Attia

CEO of Euronext Paris
Global Head of Listing


Attia previously served as Chief of Staff to the President and Deputy CEO of NYSE Euronext (2010 - 2013)
After the merger between NYSE and Euronext, he served as Senior Vice President in charge of designing and deploying the UTP trading platform (2008)
He served as Executive Director, Head of Operations for Euronext (2004). He was responsible for market surveillance, the operational relationship with customers, and business development projects in Amsterdam, Brussels, Lisbon and Paris
Paulo Rodrigues da Silva

CEO of Euronext Lisbon

CEO of Interbolsa

Member of the Managing Board of Euronext N.V.


In 2016, da Silva joined Caixa Geral de Depósitos (CGD) as an Executive Board Member, with overall responsibility for technology, operations, marketing, communications and organization
He was also responsible for the coordination of the 2017-2020 strategic plans that supported CGD's recapitalization process
From 2000 to 2009, Paulo held several positions at Vodafone Group
Maurice van Tilburg

CEO of Euronext Amsterdam

Member of the Managing Board of Euronext


Van Tilburg was previously Head of Business Projects & Design of the European Equity and Equity Derivatives Markets at Euronext
He oversaw the process reform of business initiatives and project delivery of new products and services
Prior to that Van Tilburg was in charge of issuer support and execution of corporate actions across all Euronext Cash Markets in Europe
Van Tilburg started his career in the exchange sector in 1995 at the EOE Options Exchange in Amsterdam
Vincent Van Dessel

CEO of Euronext Brussels
Van Dessel has been in his current role since 2009. His previous roles include:
General Manager of Euronext Brussels (2003 -2009)
Chairman of the Market Authority of the Brussels Exchanges (2000 - 2003)
Images sourced from – https://www.euronext.com/en/traders/corporate-governance/managing-board
How is Euronext Regulated?
Euronext's five securities markets – Amsterdam, Brussels, Lisbon, London and Paris – and four derivatives markets – Amsterdam, Brussels, Lisbon and Paris – fall under the regulated markets framework of the Markets in Financial Instruments Directive II (MiFID II) of the European Union.
The Markets in Financial Instruments Directive (MiFID) is an EU regulation designed to increase transparency across all member nations. The regulation was passed in 2004 and implemented in 2007.
MiFID harmonizes securities laws across the 28 EU member states as well as Iceland, Liechtenstein and Norway. MiFID incorporates the concept of a passport, which means that firms that have regulatory approval to operate in one EU state can offer their services in the others as well.
As a result of the 2008 global financial crisis, the EU made MiFID more expansive and created MiFID II and Markets in Financial Instruments Regulation (MiFIR). These changes went into effect in 2018. MiFID II made the reporting requirements of derivative contracts more stringent. Commodity contracts are subject to position limits under MiFID II and more onerous reporting requirement.
Euronext regulated markets are governed by harmonized and non-harmonized Rule Books that the various Euronext exchanges implement and interpret through Notices.
In addition to regulated markets, Euronext also operates Multilateral Trading Facilities (MTFs). Each of these MTFs has its own organizational memos and rules:
Euronext Growth operated by Euronext Brussels, Euronext Lisbon and Euronext Paris
Euronext Access operated by Euronext Brussels, Euronext Lisbon and Euronext Paris
Euronext Expert Market operated by Euronext Brussels
Trading Facility operated by Euronext Brussels
Euronext Synapse operated by Euronext London
Euronext Block operated by Euronext London
You can find the rules for each of these entities at the regulation section of the website.
Euronext Market Undertakings is an entity that is licensed by the relevant regulators as defined by MiFID II.
The European Securities and Markets Authority (ESMA) maintains the list of Regulated Markets. As European market operators, all Euronext markets are subject to the national laws and regulations in force as well as EU regulations.
You can find additional information about regulation in the company's annual registration documents.
What Products Does Euronext Trade?
Euronext traders can transact business in one of two broad categories of products:
Cash / Spot market: Transactions in which delivery and payment take place shortly after the transaction is concluded
Derivatives: Securities that derive their value from the performance of another instrument such as an asset, index or interest rate. Futures and options are the most commonly traded derivatives
Products Traded on Euronext
Category
Sub-category
Market Facts
Cash/Spot
Shares / Equities
About 1,300 listed issuers
More than €3.6 trillion in market capitalization
Domestic and international companies
Fixed Income:

Corporate
Regions
Governments
Financial Institutions

Traders in this segment can access:
Retail-focused regulated markets
Illiquid credits (through the Euronext Synapse platform)
Funds:
Euronext Fund Service Amsterdam: a platform for fund trading in Europe that gives access to

more than 160 open-end funds

from a variety of issuers
Euronext Fund Service Paris: facilitates investment in open-end funds across the globe through a broker
Customers can invest in open-end funds across the globe
Simplified and

automated subscription/redemption service

to access funds through a broker
Exchange Traded Products:

Exchange Traded Funds (ETFs)
Exchange Traded Commodities (ETCs)
Exchange Traded Notes (ETNs)

One of the fastest growing investment categories in the world
Warrants and Certificates: A pre-packaged investment strategy based on derivatives including:
Single security
Basket of securities
Options
Indexes
Commodities
Debt issuance
Foreign currencies
Swaps

Indices: Euronext has launched Morningstar European Indices and associated instruments. It has also offered to

make available benchmark indices and create derivative products based on those indices.

Parties can license these indices and create ETFs, ETPs and structured products for low cost
Derivatives
Equity Derivatives:

Stock Options
Stock Futures
Dividend Derivatives
Equity Index Derivatives
ETF Options

Provide a leveraged way to invest in equity and equity-linked products
FX Derivatives: Euronext offers five FX derivatives:

Euro / Dollar Futures
British Pound / Euro Futures
British Pound / Euro Options
British Pound / Dollar Futures
British Pound / Dollar Options

To exchange one currency for another at a specified date in the future at a price that is fixed on the date of the transaction

Exchange traded and centrally cleared

Trade on Euronext Amsterdam Derivatives Market
Commodities:

Corn futures
Milling wheat futures
Nitrogen futures
Options on corn futures
Options on milling wheat futures
Options on rapeseed futures
Options on rapeseed meal futures
Options on rapeseed oil futures
Rapeseed futures
Rapeseed meal futures
Rapeseed oil futures
Residential wood pellet futures
Skimmed milk powder futures
Sweet whey food grade powder futures
Unsalted lactic butter futures

Products allow traders to manage agricultural price volatility
How Does Euronext Conduct Trading?
Euronext conducts trading on several electronic communication networks (ECNs).
Optiq
Optiq is the latest generation multi-asset electronic trading platform offered by Euronext. It replaced the Universal Trading Platform (UTP) for trading of most asset classes at Euronext.
Optiq provides traders with a streamlined and fast way to send orders for execution. It can accommodate connections with approved Independent Software Vendors (ISVs) (see below) and is compliant with MiFID II.
Euronext offers other targeted platforms for trading in specific asset classes or market situations:
FastMatch FX
FastMatch FX is the fastest growing ECN in the spot FX market. The credit crisis of 2008 has led to an evolution toward greater transparency in the FX market and an increase in electronic trading.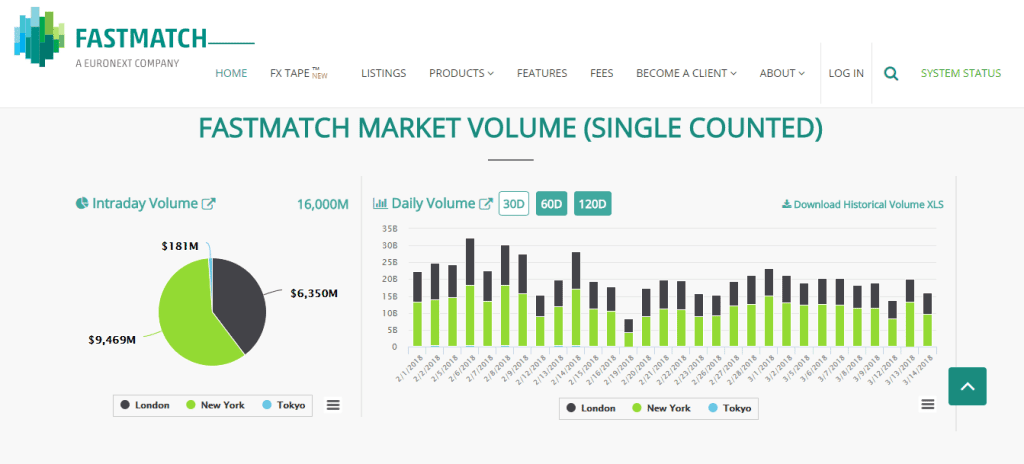 FastMatch FX provides customers with access to large pools of liquidity in FX markets. The ECN has the following features:
Colocation in four data centers: London, New York, Tokyo and Greenwich
10 times lower latency compared to most competitors' ECNs
Smart order routing
Customizable liquidity pools
Euronext Synapse
Euronext Synapse was developed in partnership with Algomi to serve customers transacting in illiquid fixed income markets.
The service brings together banks and customers and provides liquidity, execution and reporting features in one platform. Euronext developed Euronext Synapse to increase trading opportunities in sparsely traded bonds.
Euronext Synapse efficiently searches for counterparties and brings together pools of liquidity for bond traders.
Euronext Block
This multilateral trading facility (MTF) allows market participants to proactively trade large blocks of securities.
The platform has a feature called Euronext Block's Invitation to Trade (ITT), which allows traders to invite trusted counterparties to submit block liquidity.
Traders can use Euronext Block to transact in 3,000 instruments across 15 markets.
ETF MTF
This is a single Pan-European platform for trading all European listed ETFs.
Euronext Expert Market
This is the electronically traded market for selling non-listed securities by public auction. Public auctions take place every Tuesday to trade securities, bonds and other fixed income instruments.
AtomX
This system allows traders to report customized OTC transactions.
The platform allows reporting of bilateral contracts with customized expiry dates and strike prices. Traders can report European or American style options and physically or cash-settled products. Essentially AtomX gives traders in the OTC market the security and efficiency of an exchange market.
What Type of Memberships Does Euronext Offer?
All applicants to Euronext must complete an application, undergo a due diligence review and sign an agreement affirming that he/she will adhere to all regulations of the exchange. Interested applicants can consult the Euronext Rule Book 1 and Euronext Trading Procedures for more details.
Euronext does not accept memberships from individuals or firms that are unauthorized unless the individual or firm is awaiting authorization pursuant to MiFID or can demonstrate why authorization is not necessary.
Prospective members can choose memberships in the Securities/Cash market, the Derivatives market or both.
The steps for applying for membership are as follows:
Submit an application and necessary documentation
Gain connectivity to Euronext markets
Configure and test connection
Begin trading
Key Contacts Registration
During the application process, every prospective member firm must identify key contacts. These individuals have special responsibilities and obligations:
Authorized Representative: Usually a CEO, COO or compliance officer, the authorized representative is responsible for disseminating legal or regulatory information within the firm and identifying the Responsible Person.
Responsible Person: Euronext will direct all inquiries regarding business conducted on its markets to the Responsible Person. The Responsible Person must ensure that all activities carried out on Euronext exchanges are conducted in accordance with the exchange rules and regulations.
Market Makers
Firms that intend to disseminate two-sided markets on a regular basis, such as high-frequency traders, must register as market makers with the exchange.
Euronext has a variety of market making schemes. Traders can obtain details about these schemes in the market maker section of the website.
What Are Euronext Margin Requirements?
Central counterparties (CCPs) provide protection to market participants by acting as a seller to the buyer on a trade and the buyer to the seller. In this regard, they protect market participants from the risk of default and they allow markets to operate safely and efficiently.
Euronext has relationships with two CCPs:
LCH and EuroCCP – For cash markets including warrants and certificates
LCH – For derivatives markets including commodities
These clearinghouses act as central counterparties on all transactions. Each of these clearinghouses employs the necessary procedures to protect market integrity and safeguard market participants from systemic risk.
Each clearinghouse also tries to balance market safeguards with the optimization of capital efficiency.
LCH website notes its use of the SPAN® margining methodology.
SPAN® Margin Model
LCH uses the SPAN® Margin Model to calculate futures and options margin. Traders generally have to post initial margin based on the riskiness of a position and any possible offsets the clearing firm may apply. Sometimes LCH can require additional margin to account for factors such as illiquidity, concentration risk in an asset class or other factors.
Traders should consult the LCH and EuroCCP websites for more details about how they calculate margin.
What Are the Fees and Charges for Traders?
Euronext charges transaction fees for both cash market and derivatives trades executed on its platforms. It bases the fees it charges traders for executions in its cash markets on two factors:
The mechanism for trading (e.g., auction or continuous)
The level of liquidity in the product
The exchange designs its cash fee scheme to charge lower fees for more liquid instruments and to encourage providing liquidity in less liquid securities.
Euronext derivatives traders pay trading fees based on three factors:
The product
The type of account
The role of the member
Euronext does not charge either initial or annual membership fees. However, members receive charges for connecting to the exchange systems and clearing through the exchange partner clearing firms.
You can obtain details on all fees in the documents available at the Fees & Charges section of the website.
What Market Data Does Euronext Offer?
Euronext makes a variety of different types of market data available to its customers.
Real-Time Data: Euronext makes real-time data available either through the exchange or through authorized vendor partners of the exchange. Traders can obtain real-time data for equities, derivatives, indexes and bonds.
Historical Data: Euronext offers historical tick data on all instruments traded on Euronext markets. Traders can use this data to back-test trading strategies, develop risk and execution models and perform post-trade analysis.
Corporate Actions: Corporate action data products such as dividend news, corporate action calendars and contract notices.
Reference Data: Provides detailed information on trading product attributes.
Index Data: Provides current and historical details on index compositions and weightings.
What Educational Materials Does Euronext Offer?
Euronext operates local websites for traders in each country in which it operates. These sites provide educational materials and publications to help inform traders about the exchange and its products. You can find the links to these sites in the traders' section of the website.
Does Euronext Have Vendor Partners?
Euronext works with many Independent Service Providers (ISVs) that help traders connect to the exchange's technology and systems:
Actant Ltd
ATEO
BLOOMBERG LP
Celoxica Limited
Charm BV
Communicating Ltd
Comunytek Consultores
CQG
Cunningham Trading Systems, LLC
Deriva BV
Digit Base
EasyScreen Ltd.
Eccoware
ELIDATA Srl
Fidessa
Finantech
FIS Global (Sungard)
FMR Computers & Software Ltd.
GenXs BV
GuavaTech
GX2 Systems
Ingalys
ION Trading
Itiviti AB
JJ Informatica Financiera SL
List-Group SpA
OnixS
ORC Software
Quod Financial
Rithmic, LLC
Riverrun Systems Ltd.
Rolfe & Nolan
RTS Realtime Systems Group
SLIB
Sol-3 GmbH & Co KG
Stellar Trading Systems
Super Derivatives
Syntel Financial Software
Tbricks
Teleinvest International AG
Tick Trading Software AG
TradeSense
Trading Technologies International, Inc.
Ullink SAS
Vela Trading Systems LLC
Visual Trader
How Can You Get Started Trading?
Many regulated brokerage firms offer contracts for difference (CFDs) based on products traded on Euronext.
CFDs are a derivative instrument that offers retail traders a different way to invest in financial markets. CFDs allow traders to use leverage to bet on the price of financial assets. The value of a CFD is the difference between the price of a financial instrument at the time of its purchase and its current price.
Many regulated brokers worldwide offer CFDs on shares, commodities, indexes, forex and other financial assets. Customers deposit funds with the broker, which serve as margin. The advantage of CFDs is that traders can have exposure to financial assets without having to purchase shares, ETFs, futures or options.
Traders can open an account at one of these regulated brokerage firms and begin trading CFDs based on products traded on Euronext.
CFDs are complex instruments and come with a high risk of losing money rapidly due to leverage. Between 71.00%-89.00% of retail investor accounts lose money when trading CFDs. You should consider whether you understand how CFDs work and whether you can afford to take the high risk of losing your money.
Further Reading