Disclosure:
Your support helps keep Commodity.com running! We earn a referral fee for some brokers & services we list on this page.
Learn more...
Trading Decred is not much different than trading other blockchain-based cryptocurrencies. Traders have a few possibilities to gain exposure to Decred prices, including:
Digital currency exchanges
Over the Counter (OTC)
Online brokers
This post explores some of these methods and presents reasons for and against trading Decred. If you are already familiar with the detail, you can jump straight to our list of brokers who offer cryptocurrency trading.
How to Buy Decred
Acquiring Decred isn't as simple as buying Bitcoin, Litecoin, or Ethereum. If you want to purchase one of the "big three" it's as easy as logging onto an exchange and purchasing your tokens directly with fiat currency.
Some exchanges will even let you use a credit or debit card. Decred, like many other altcoins, is generally obtained by trading it for other cryptocurrencies through an exchange. The easiest way to do this is to trade Bitcoin for Decred.
Most users opt to go through an exchange like Bitfinex. This involves purchasing cryptocurrency with fiat currency and storing your tokens in a virtual wallet. While this approach is common it carries a number of risks. You should make sure to do your research before selecting an exchange.
Coinbase
If you want to buy Bitcoin to trade for Decred then one choice is an exchange called Coinbase. It has an easy-to-understand interface and you even have the option to buy BTC using your credit or debit card.
Coinbase's fee is competitive. Purchasing BTC will typically result in a 3.99% fee if using a credit or debit card and a 1.49% fee for most kinds of bank transfers.
Coinbase requires an ID and your address when registering. This is to comply with anti-money-laundering (AML) and know your customer (KYC) legislation.
While not technically a legal requirement in most countries, ID checks are considered best practice by many exchanges. It helps prevent the exchange from being used to conduct criminal activity.
However, there are legitimate reasons not to want your ID revealed to an exchange and privacy-conscious traders will want to take a different route.
LocalBitcoins
If you are unwilling or unable to reveal your identity then you may want to choose to purchase Bitcoin through LocalBitcoins. This peer-to-peer exchange does not require any identification and it allows users to purchase Bitcoin with almost any currency.
If you decide to use LocalBitcoins you should remember to vet other users thoroughly. The exchange has a review function and you really should use it. Some unscrupulous users have been known to attempt to scam new traders.
If you are unsure about a user or see bad reviews then it is generally safest not to make the trade. Some LocalBitcoins users will even meet in person to conduct business in an attempt to ensure both parties are being honest.
However you choose to acquire your Bitcoin the next step is to convert it into DCR.
Tux Exchange
Tux Exchange is a relatively young exchange and it doesn't have many pairs yet, but you can trade BTC for DCR. The exchange offers a 0% maker and 0.3% taker fee on all trades.
In order to use Tux Exchange, you will first need to transfer your Bitcoin to the Tux wallet.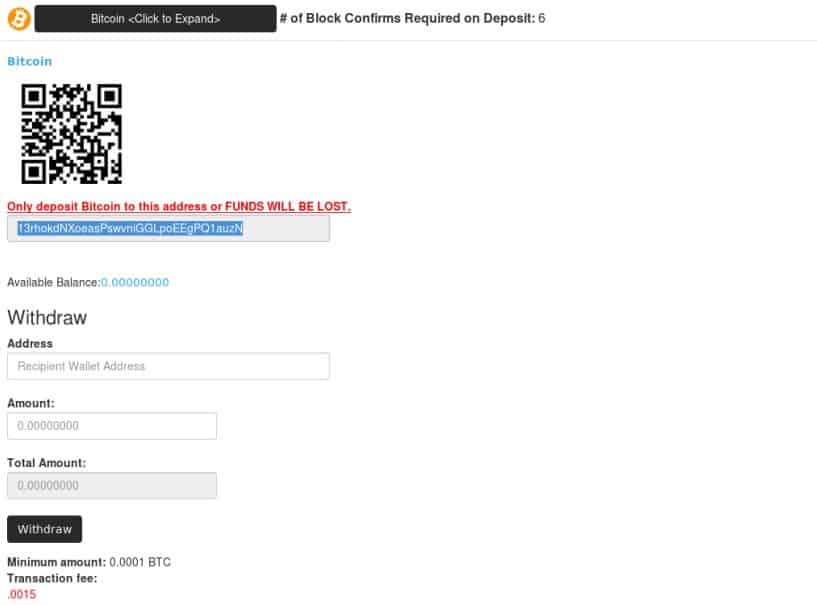 Always ensure that you transfer to the exact address listed or you may lose your funds.
To do this:
Go to the Wallet section and scroll down until you find your Bitcoin wallet.
Transfer the funds from your own wallet to this address and wait for the transaction to process.
When your Bitcoin transfer has been approved it will appear in your wallet and you're now ready to buy DCR.
Next:
Click the "market" tab and scroll down until you see DCR. You will see charts detailing current price trends.
Continue to scroll down until you see options to buy and sell. Simply enter the amount of DCR you want to buy and how much BTC you are willing to pay for it. Tux Exchange adds the total up for you.
Once you're happy with your trade click buy and the order goes onto the exchange.
Now you simply need to wait for your order to be fulfilled and you will have successfully figured out how to buy DCR.

Simply enter the amount of DCR you want to buy and the cost in BTC will appear in the total.
How to Trade Decred
One method is to not buy cryptocurrencies at all but instead trade Contracts for Difference (CFDs) through a regulated broker.
IMPORTANT: CFDs are not available in the USA due to local regulation, and regulated brokers do not accept US citizens or US residents as clients.
A CFD is a contract between you and the broker. Instead of directly buying cryptocurrencies, you would buy a CFD and take a short or buy position.
If the market moves in your favor then you will receive money based on your CFD. If it moves against you then you will have to pay. This allows you to take advantage of cryptocurrencies without having to take on the risk of owning a single token.
Online Crypto Brokers in
Here is a list of regulated brokers available in that offer CFDs and other trading products on cryptocurrencies such as Decred.
Loading table...
CFDs are complex instruments and come with a high risk of losing money rapidly due to leverage. Between 73.90%-89.00% of retail investor accounts lose money when trading CFDs. You should consider whether you understand how CFDs work and whether you can afford to take the high risk of losing your money.
Reasons You Might Trade Decred
Unique hybrid consensus method.
Strong community and development team.
Democratic blockchain could lead to a stronger currency.
Unique Hybrid Consensus Method
By combining Proof-of-Work and Proof-of-Stake consensus methods, Decred has put itself ahead of the curve. The only major cryptocurrency to do this is Dash, and even then, the approach taken by Decred is arguably more democratic as it does not require a large amount of capital to participate.
By ensuring that both Stakeholders and Miners rely on each other for rewards, Decred can help prevent either group from completely dominating the network and controlling the debate.
Strong Community and Development Team
While Decred is still relatively small compared to say Bitcoin or Ethereum, the team behind it has involved the community every step of the way. This is important because it means that people trading the currency are less likely to suddenly sell everything.
Many traders in DCR have done so because they believe in the future the currency represents. The community involvement in development decisions also means that people are likely to hold onto DCR so that they can vote on future decisions. This could increase the value of DCR as a long-term asset.
Stronger Currency Because of Democratic Blockchain
One of the biggest problems for Bitcoin in recent memory has been the scalability debate. The argument tore a huge rift in the community and left a lot of bad blood. The argument eventually led to the Bitcoin Cash hard fork.
A stronger level of user involvement in the direction of the blockchain could help prevent arguments around issues like scalability from escalating to that level.
Furthermore, active user involvement in the future of the blockchain will theoretically make it easier to implement radical solutions that a small team of developers may not have considered.
Potential Risks of Trading Decred
Decred does not have much market share
Decred has potential – but this is no guarantee of success
Exchanges aren't always safe
Decred Does Not Have Much Market Share
Despite the promising technology behind it, Decred has failed to garner mainstream appeal. This is partially because of the name recognition that large coins like Ethereum and Bitcoin enjoy and partially due to the relatively low number of exchanges that trade in Decred.
This means that it is difficult to predict when, if ever, Decred will finally make a breakthrough.
Potential Is No Guarantee of Success
Decred is still a small currency and unless it can gather mainstream support it will take a long time for Decred to make a breakthrough.
A strong community and good development team can take a coin a long way but they will hit a stopping point if they can't garner mainstream attention.
The development fund could provide a potential fix for this problem if the community decides to devote a portion of it towards advertising the currency in an attempt to get it listed on more exchanges.
Exchanges Aren't Always Safe
Keep in mind that exchanges are not safe and you will need to be serious about your security. Always enable two-factor authorization and avoid keeping all of your coins in a single wallet.
Also, remember that you should never leave your coins in an exchange wallet unless you are planning to exchange them. If you don't own the keys to your wallet then you don't own the tokens inside it.
The best way to secure your Decred is in a hardware wallet or by putting them in cold storage. Cold storage involves keeping your cryptocurrency in an offline wallet that only you have access to.
Remember that you are entirely responsible for your own security. You will also need to take extra care to ensure that your computer is secure and password protected. Any breach could result in your coins finding their way into the wallet of a hacker.
You will also need to keep very careful track of your wallet's access codes. If you misplace those then your DCR investment will be trapped in a wallet you can no longer access.
On top of this, there are risks that you have no control over. Whenever you use an exchange you are relying on them to protect you and your DCR. The problem is that they sometimes fail to do this properly.
The most well-known example is the MtGox debacle. In 2013, MtGox was by far the largest Bitcoin exchange with control over 70% of the market.
The cracks started to show in May 2013 as FinCEN seized their accounts. This led to many users losing the ability to withdraw USD from the exchange. The situation continued to deteriorate as hackers attacked MtGox and stole around $500 million worth of Bitcoin, forcing MtGox to file for bankruptcy.
Sadly, it seems as though exchanges have not learned their lesson. In August 2017, Bitfinex was hit by a similar hack. The attackers emptied random wallets and stole around $72 million worth of cryptocurrency.
In order to prevent individual users from losing everything, Bitfinex decided to spread the losses, reducing everyone's account balance by 37%.
There is a safer way to trade cryptocurrencies by using a regulated broker such as Plus500. The Plus500 platform gives you the ability to trade contracts for difference (CFDs) on a variety of cryptocurrencies and they are regularly adding new ones.
Further Reading