Disclosure:
Your support helps keep Commodity.com running! We earn a referral fee for some brokers & services we list on this page.
Learn more...
Intercontinental Exchange (ICE) establishes, operates, acquires, and grows global marketplaces for trading and clearing commodities, derivatives, shares, fixed income, ETFs, and other financial products.
ICE marketplaces also play a key role in capital formation for companies across the globe.
How Does The ICE Operate?
ICE operates in six lines of business:
Markets: ICE operates regulated and liquid markets that offer trading in a variety of asset classes across multiple global exchanges.
Clearing and Risk Management: ICE operates seven clearinghouses that serve derivative asset classes in the United States, United Kingdom, Europe, Canada and Singapore.
Listings: ICE operates the New York Stock Exchange (NYSE), which is one of the most recognizable equity markets in the world. The family of exchanges operated by the NYSE Group within ICE trades more US equity volume than any other exchange group.
Technology: The ICE suite of technology products supports every part of the trade lifecycle from price discovery and execution to clearing and settlement.
Data: ICE has a range of data products used by quote distributors, traders, risk managers and brokers to obtain actionable information in a variety of formats.
Customer Service: ICE customer service help desks, technical account managers and product experts answer questions and provide tutorials on ICE products for customers.
What Are The Major Asset Classes Of The ICE?
These exchanges offer trading in global benchmark products across all major asset classes including equities and equity options and derivatives based on the following:
Agriculture
Energy
Metals
Interest rates
Credit
Foreign exchange
Freight
Single stock and equity indexes
Emissions
ICE and its portfolio of companies operate global electronics trading platforms that enables users worldwide to access markets in all of the products it trades.
It also operates broker services for OTC markets and a network of clearing and data services.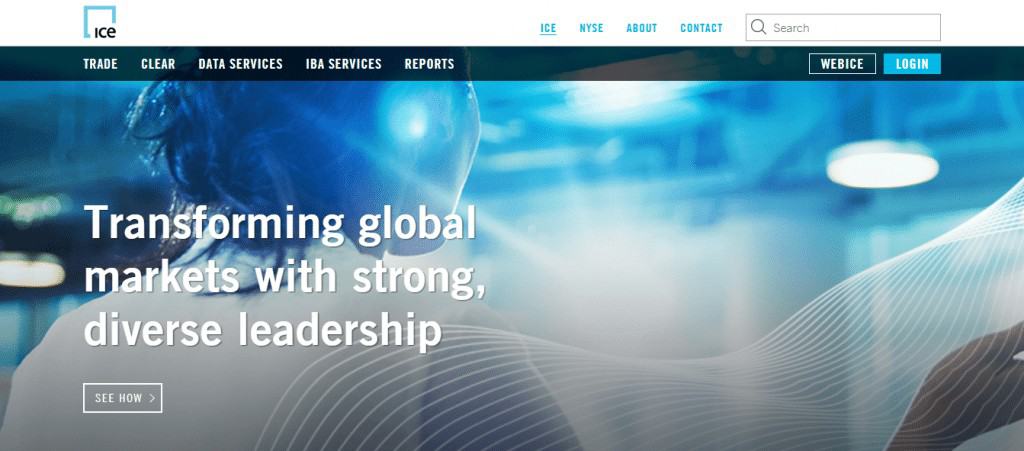 Its huge array of products, exchanges, clearing and financial data services makes ICE a highly influential player in global financial markets. ICE marketplaces and services help connect individuals, institutions and companies across the globe that need to manage risk or seek to profit from assuming risk.
Brief History of ICE
The founder of ICE, Jeffrey Sprecher, developed and operated power plants in the 1990s. He saw the need for an organized and fully functioning market in natural gas for electricity power generators.
In 1997, Sprecher acquired Continental Power Exchange, Inc. for the purpose of developing and building an electronic platform for the over-the-counter energy market.
In May 2000, Sprecher and a small group of his colleagues launched ICE.
In 2001, ICE expanded into energy futures trading with the acquisition of International Petroleum Exchange, and in 2002, ICE introduced the industry's first cleared OTC energy contracts.
By the mid-2000s, ICE began to grow through numerous product launches and acquisitions. Some of the key additions to the ICE portfolio of products and services include the following:
Who Are the ICE Executives?
The ICE has management team consists of more than 20 executives that run the corporate entity as well as the various exchanges and clearing operations. Some of the key executives include the following:
Name
Position
Information
Jeffrey Sprecher

Chairman and CEO
Sprecher is Founder, Chairman and CEO of Intercontinental Exchange, Inc. (NYSE: ICE) and Chairman of the New York Stock Exchange. He has served as the company's Chief Executive Officer since May 2000 and as Chairman of the Board since November 2002.

ICE began by offering energy swaps, and under Sprecher's tenure, it has grown into a network of global exchanges.

Charles Vice

Vice Chairman
Vice previously served as Chief Operating Officer of ICE beginning in July 2001 and President beginning in October 2005.

Vice heads global technology, information security and operations for ICE.

He has a background in the application of information technology in the energy and financial services industries. Prior to the founding of ICE in 2000, Vice was a Director at Continental Power Exchange (CPEX), an electronic power trading market.
Scott Hill

Chief Financial Officer
Hill has been the CFO of ICE since May 2007.

He is in charge of all facets of ICE's finance and accounting functions, treasury, tax, audit and controls, business development, human resources and investor relations.

Hill also manages ICE's global clearing operations. Prior to joining ICE, Hill served as Assistant Controller for Financial Forecasts and Measurements at IBM, where he managed global financial performance and worked with all business units and geographies.
Benjamin Jackson

President

Jackson is in charge of coordinating ICE's global futures and OTC trading businesses.

He also heads the integration planning and execution of ICE's acquisitions and joint ventures. Jackson serves on the Commodity Futures Trading Commission (CFTC) Energy and Environmental Markets Advisory Committee. He previously served as Chief Commercial Officer for ICE, and prior to that President and Chief Operating Officer of ICE Futures U.S. Prior to joining ICE in July 2011, Jackson led the energy and commodities business at SunGard, a preeminent software and technology provider to commodity market participants.
David Goone

Chief Strategy Officer

Goone oversees all facets of ICE's product line, including futures products and capabilities for ICE's electronic platform.

He represents ICE on industry boards including the Options Clearing Corporation, National Futures Association and the Depository Trust & Clearing Corporation. Prior to joining ICE in 2001, Goone was Managing Director and Head of Product Development and Sales at the Chicago Mercantile Exchange.
Mark Wassersug

Chief Operating Officer

Wassersug leads operations for ICE, including IT infrastructure, data networks, data centers and engineering.

Previously he was SVP for Operations. Prior to joining ICE in 2001, Wassersug worked as a strategic planning and technology consultant in internet infrastructure and e-commerce for Exodus Communication.
Images sourced from – http://ir.theice.com/governance/management
Acquisition
Year
Product Launch
New York Board of Trade (NYBOT) – an exchange that trades many soft commodities
Winnipeg Commodity Exchange – an exchange that later became ICE Futures Canada
2007
Creditex – a credit default swap (CDS) broker
YellowJacket - an instant messaging platform for traders that later became ICE Chat
2008
ICE Clear Europe – The first new clearing house in the United Kingdom in more than 100 years.
2009
ICE launches two new CDS clearinghouses.
Climate Exchange – an exchange that expanded ICE presence in emissions trading
2010
NYSE Euronext – acquisition makes ICE a leader in many asset classes including interest rates and shares. The purchase also included the NYSE Liffe Exchange, which is Europe's second-largest derivatives exchange (see below).
2013
ICE Endex – a continental European energy exchange
Interactive Data Corporation – an industry leader in providing financial market data and analytics
2015
Standard & Poor's Securities Evaluations, Inc. (SPSE) - a leading provider of fixed income evaluated pricing
MERSCORP Holdings - a national electronic registry system that tracks the changes in servicing rights and beneficial ownership interests in mortgage loans
2016
NGX – a Canadian energy exchange and clearinghouse
2017
What Is The NYSE Liffe Exchange?
ICE controls NYSE Liffe as the result of a series of takeovers. Euronext acquired the Liffe exchange in 2002. The NYSE then acquired Euronext in 2007 and formed NYSE Euronext.
In 2013, ICE acquired NYSE Euronext to help bolster its European futures presence. In June 2014, ICE spun off Euronext (excluding Liffe) through an initial public offering (IPO). ICE retained Liffe and integrated into its ICE Futures Europe business.
How is ICE Regulated?
ICE has a trading and clearing presence across the globe, and, therefore, falls under the regulatory jurisdiction of many global agencies and regulators.
A few of the more prominent ICE markets and regulatory regimes include the following:
US Futures
Commodity exchanges in the United States fall under the regulation of the Commodity Futures Trading Commission (CFTC). The CFTC mission is to facilitate "open, transparent, competitive, and financially sound markets."
The agency works to limit systemic problems and safeguard market participants, consumers and the general public from fraud, manipulation, and abusive practices.
The CFTC has broad powers to enforce the laws and regulations that govern commodities trading in the United States, including the operations of ICE.
US Shares
NYSE Regulation (NYSER) is a division of the NYSE responsible for monitoring activities on the NYSE stock, bond and options markets and addressing non-compliance with NYSE rules and federal securities laws.
The Financial Industry Regulatory Authority (FINRA) and other self-regulatory organizations (SROs) also perform regulatory functions in US share markets.
European Futures
As a result of the 2008 global financial crisis, the EU made the Markets in Financial Instruments Directive (MiFID) (*an EU regulation designed to increase transparency across all member nations) more expansive and created MiFID II and Markets in Financial Instruments Regulation (MiFIR).
These changes went into effect in January 2018. MiFID II made the reporting requirements of derivative contracts more stringent. Commodity contracts are subject to position limits under MiFID II and more onerous reporting requirement.
ICE Futures Europe and ICE Endex (* a European natural gas and power trading exchange) have instituted rigorous procedures to ensure compliance with MiFID II requirements.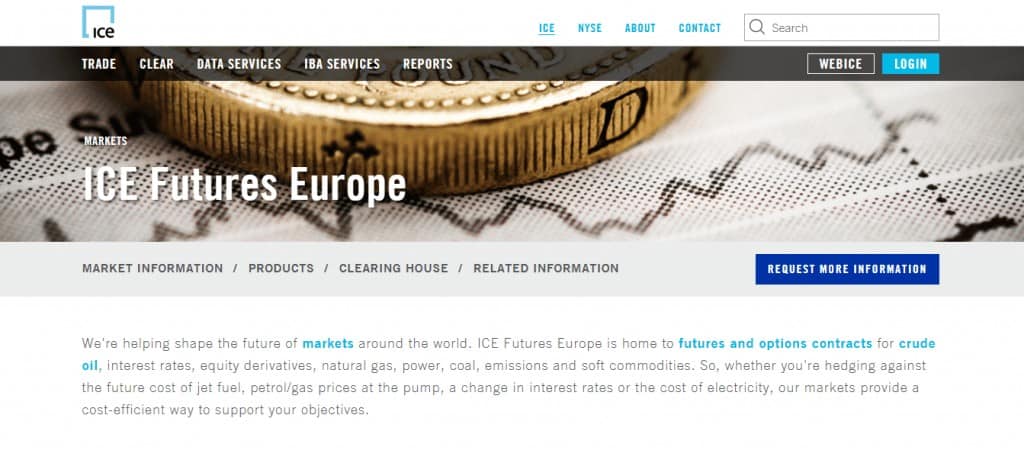 Wholesale Energy Markets Integrity and Transparency Regulation
Regulation on Wholesale Energy Markets Integrity and Transparency (REMIT) is an EU regulation designed to increase transparency and stability in European energy markets. The European Union adopted REMIT in 2011.
REMIT prohibits, among other things, insider trading and market manipulation in energy markets and requires market participants to
register with the appropriate national regulatory agencies and report wholesale energy transactions. REMIT also authorizes regulators to collect transaction reports and regulate energy market participants.
ICE Futures Europe and ICE Endex have implemented exchange REMIT reporting facilities to comply with these regulations.
The European Market Infrastructure Regulation (EMIR) is European legislation for the regulation of over-the-counter derivatives. EMIR requires that counterparties and central counterparty clearinghouses report the details of all derivatives contracts as well as any modifications to those contracts and termination of the contracts.
On September 19, 2016, ICE announced that the Bank of England authorized ICE Clear Europe as a central counterparty in accordance with EMIR.
On July 3, 2016, the European Union began enforcing a new Market Abuse Regulation aimed at curtailing market manipulation and the disclosure of inside information.
In July 2016, ICE Futures Europe announced it revised its guidance on certain types of trades to reflect implementation of the Market Abuse Regulation.
What Products Does ICE Trade?
ICE offers customers access to trading and/or clearing for 11 different categories of products:
Category
Products
Exchange
Market Facts
Agricultural

ICE offers futures and options on futures for agricultural commodities spanning seven categories:

Canola
Cocoa
Coffee
Cotton
Frozen orange juice
Grains
Sugar

IFCA
IFUS
IFLX
Some ICE agricultural futures are financially settled, while others are physically settled.
Credit

ICE offers two five-year credit index futures:

Investment grade
High yield

IFUS
Both products are cash settled futures contracts with $100,000 notional principal.
Energy

ICE offers futures and options on futures for energy commodities spanning eight categories:

Coal
Crude oil and refined products
Electricity
Emissions
Liquefied natural gas
Natural gas
Natural gas liquids
Petrochemicals

IFEU
NDEX
NDXS
ICE offers both financially and physically settled energy products
Energy products trade on both the Endex and Ice Futures Europe exchanges
Equity Derivatives

ICE products include futures and options on futures and cover these product groups:

FTSE Indexes
MSCI Indexes
NYSE and Russell Indexes
Single stock options

IFLL
IFLO
IFUS
ICE offers futures and options contracts on some of the most popular indexes and shares.
Foreign Exchange

ICE offers futures on the following currency groups:

Majors
Emerging Markets
Cross Rates
ICE US Dollar Index

IFUS
IFSG
ICE also offers options contracts on the ICE US Dollar Index.
Freight

ICE offers futures for the following freight categories:

Dry
Wet

IFEU
ICE also offers average price options on some freight products.
Interest Rates

ICE offers futures and options on futures for the following interest rate categories:

Short-Term Interest Rates
Medium-/Long-term interest rates
Swapnotes
Eris Interest Rates

IFLL
Interest Rate products cover popular markets in Europe as well as Eurodollar and the notional bond future Swapnote.
Metals

ICE offers futures and options on futures for these metals commodities:

Precious metals
Iron ore

IFUS
IFEU
IFSG
Most ICE metals futures are physically settled. Iron ore contracts are financially (cash) settled.
Environmental

ICE offers futures and options on futures on both financial and physical environmental futures.
IFED
Physical environmental commodity futures include, among other contracts, the following:
California carbon allowances
Ontario carbon allowances
New Jersey solar renewable energy certificates (RECs)
Connecticut compliance RECs
Cross-state air pollution allowances
Regional greenhouse gas initiatives
OTC

ICE OTC products include the following:

Credit default swaps (CDS)
ICE swaps trades
Physical energy

ICES
IEPA
ICE OTC physical energy contracts include the following:

Crude oil and refined products
Electricity
Natural gas
Natural gas liquids

Cash Equities

The NYSE provides investors with access to markets in the following:

Stocks
Bonds
Exchange-traded funds (ETFs)
Options

NYSE
NYSE operates seven exchanges:

NYSE
NYSE American
NYSE Arca
NYSE National
NYSE Arca Options
NYSE American
Options
NYSE Bonds
The ICE Platform
All ICE futures and options trading takes place through a Globally-Distributed Single Point of Access.
ICE's single platform gives traders access to all of the futures and options markets and the tools for managing a trading account.
The ICE platform is app-based. Traders receive five basic apps with the platform:
| Apps Included in ICE Platform | Functionality |
| --- | --- |
| Position Keeper | Allows traders to easily track their risk and check P&L for individual positions or the whole portfolio in real time. |
| Live Quotes and Customized Request for Quotes (RFQs) | Shows traders real-time market activity and allows for customization of the data presentation. |
| Real-Time Market Alerts | Allows traders to set customized alerts to match their trading strategies. |
| Charting Tools | Allows traders to analyze price and volume trends by using a variety of charting, drawing and technical tools. |
| Smart Order Entry | Allows traders to customize criteria for triggering orders. |
Traders can also download these optional apps:
Instant messaging: Provides traders with access to a directory of other ICE marketplace participants
News Feeds: Delivers breaking market news to traders
Options Analytics: An advanced app for pricing options and managing risk
How Can You Connect To The ICE Platform?
ICE offers four options for connecting to its platform:
Direct Market Access: ICE uses Secure Financial Transaction Infrastructure (SFTI®) Direct Market Access (DMA) to allow traders to connect to global markets through a single, secure point of access. Traders can obtain the full list of DMA options on the ICE website.
Wireless: ICE offers ultra-low latency wireless routes designed to deliver fast connections needed for capital markets trading.
Colocation & Hosting: ICE has several options for colocation or proximity hosting to ICE markets.
High-frequency traders would most likely require these services.
ICE also offers front-, middle-, and back-office solutions for receiving data feeds from the exchange and ordering tick history services.
What Market Data Does ICE Offer?
ICE makes a variety of different types of market data available to its customers:
Real-Time Market Data: ICE real-time market data is available in all assets classes and in a variety of different formats.
Historical Data: ICE historical data is available in a variety of different formats and reports.
NYSE Data: ICE keeps an extensive library of listed quotes, market reports, transaction data and statistics for NYSE products. Daily share volumes are available as far back as the 1880s.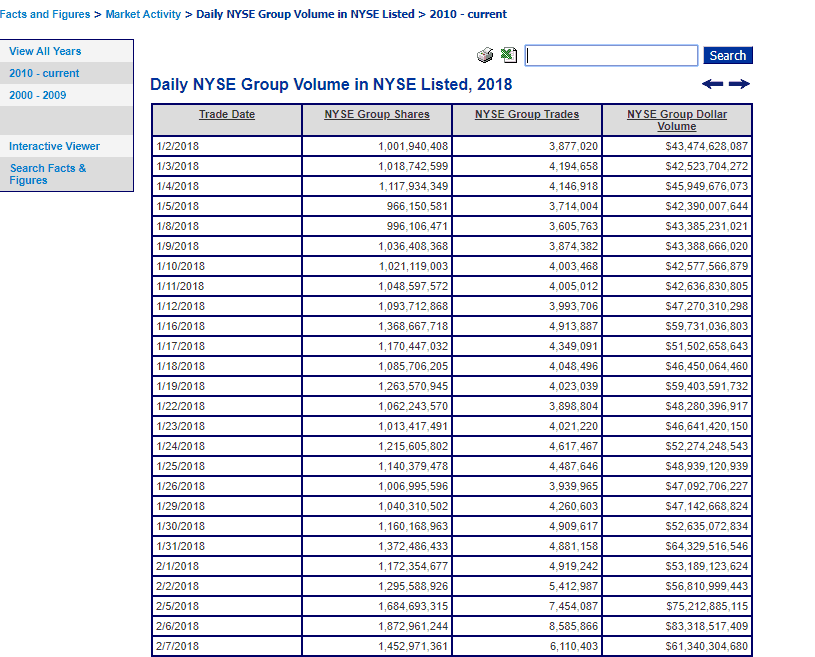 Quote and Data Distribution: ICE Data distributes its data to authorized parties for use in applications.
ICE Proprietary Data: ICE makes its data available in the form of a View Only Service. This subscription provides real-time access to trading activity.
What Market Services Does ICE Offer?
ICE offers a variety of services to market participants:
Evaluated Pricing and Mark-to-Market Data: ICE provides evaluations across commodities, equities, FX and fixed income markets.
These evaluations can help traders value illiquid and thinly traded securities.
They represent independent good-faith opinions of what a market buyer would pay for these securities. ICE also provides mark-to-market and OTC data for derivatives market participants.
Reference Data: ICE provides reference data for 10 million instruments. This enables traders to track information such as terms and conditions, corporate actions, entity linkages and identification information.
Analytics Tools: ICE provides fixed income tools to help portfolio managers with risk management, regulatory compliance and investment decisions.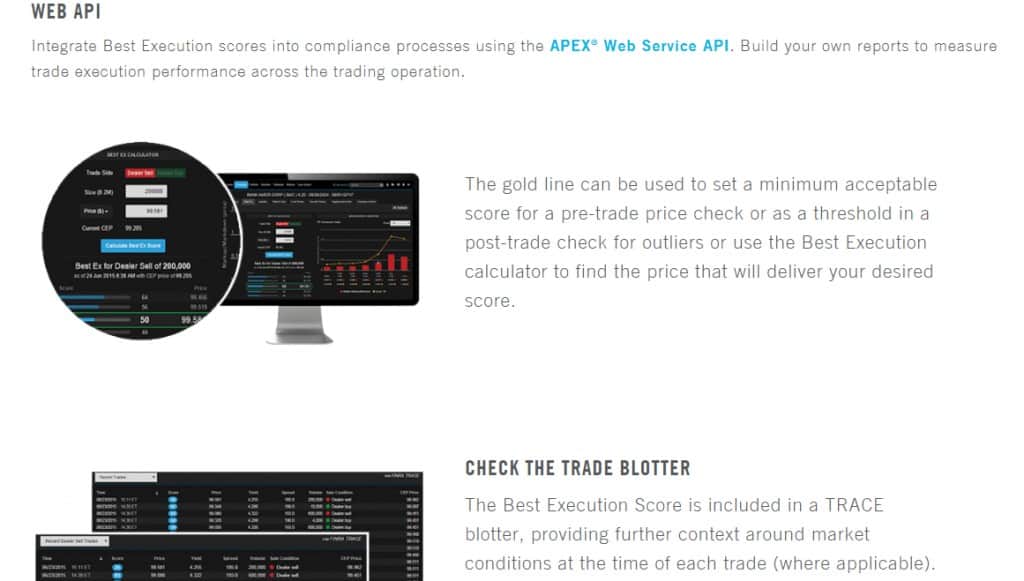 Index Services: ICE designs and distributes indexes used as benchmarks in equities, fixed income and derivatives markets.
ICE Benchmark Administration: ICE licenses the use and redistribution of benchmarks LIBOR, LBMA Gold Price and ICE Swap Rate. These benchmarks play a key role in areas such as determining loan and mortgage rates and the price jewelers charge buyers for gold.
Regulatory Support: ICE provides tools to help institutions comply with Fair and Accurate Credit Transaction Act (FACTA), MiFIR, MiFID II and other regulatory requirements.
Securities Evaluations: ICE Data Services Securities Evaluations provides end-of-day evaluated prices for CDs, corporate and government securities, structured finance instruments and US municipal bonds.
Managed Services: ICE can procure, configure and manage connectivity for its customers.
Memberships, Charges, And Margin Requirements
Each ICE Futures exchange has its own individual policies and applications for membership. In addition, each exchange has its own classes of membership. Traders should consult the ICE website for specific details.
However, traders may not have to obtain a membership of any kind to access ICE futures markets. ICE Futures U.S. does not require a membership to trade its products.
Traders simply need to apply for trading access after receiving authorization from an ICE Futures US Clearing Member. Traders can obtain the participation request forms at the membership section of the ICE Futures US website.
However, other ICE exchanges require various levels of membership, so traders should consult the particular membership site for more details.
What Are ICE Margin Requirements?
ICE operates seven clearing houses across North America, Europe and Asia. These clearinghouses ensure that the exchange employs the necessary procedures to protect market integrity and safeguard market participants from systemic risk.
Each ICE clearinghouse tries to balance market safeguards with the optimization of capital efficiency. Specific margin requirements vary among the clearinghouses.
SPAN® Margin Model
Most ICE clearing houses use the SPAN® Margin Model to calculate futures and options margin on at least a daily basis. Traders generally have to post initial margin based on the riskiness of a position and any possible offsets the clearing firm may apply.
Sometimes clearing firms will require additional margin to account for factors such as illiquidity, concentration risk in an asset class or other factors.
Clearing Account Types
ICE offers different types of account structures that could impact the type of margin required to trade. Accounts where assets are segregated offer the individual account holder more protection, but may be costly in terms of margin.
On the other hand, co-mingled or omnibus segregated client accounts may provide margin relief since positions can offset one another.
What Are the Fees and Charges for Traders?
Each ICE exchange has its own exchange and clearing fees. Fees vary according to factors such as whether a trade is a regular screen trade, a crossing trade or a block trade. Traders should consult the Exchange & Clearing Fees documents for more details.
In addition, ICE assesses monthly data fees for providing market information to traders. Traders can consult the document outlining these fees for details.
What Educational Materials Does ICE Offer?
ICE offers global training and educational classes for traders with all levels of experience.
Courses include live in-person instruction, video on demand and customized training for large organizations and companies. ICE courses cover all asset classes traded on its exchanges. Traders can find a schedule and course fees, where applicable, on the ICE Education section of the website.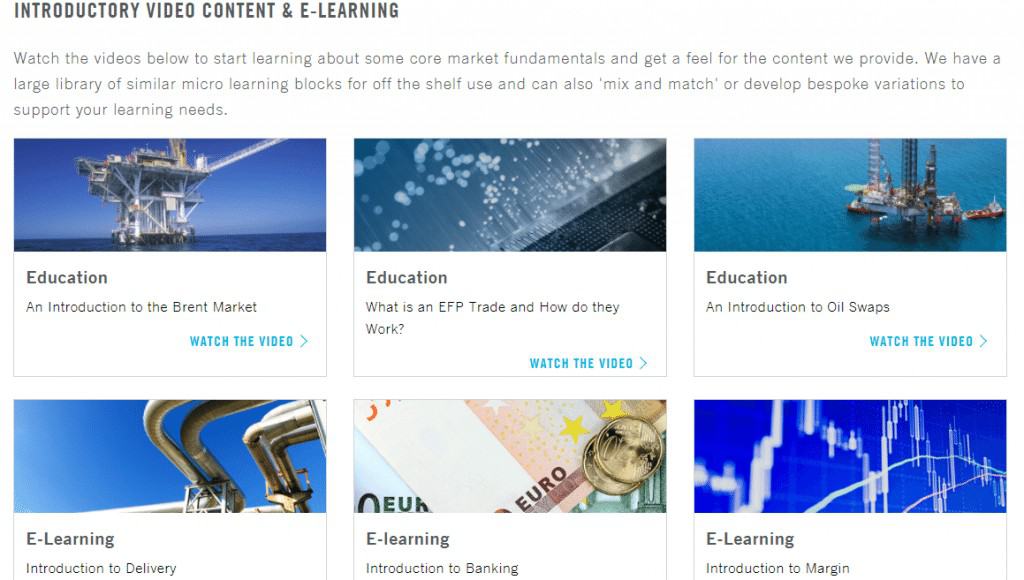 New traders may benefit from the introductory videos and e-learning content ICE offers. Introductory videos topics include the following:
The Brent market
What is an ETP trade and how do they work?
Introduction to Oil Swaps
Introduction to Delivery
Introduction to Banking
Introduction to Margin
How To Start Trading At ICE
Many regulated brokerage firms offer contracts for difference (CFDs) based on products traded on ICE exchanges.
CFDs are a derivative instrument that offers retail traders a different way to invest in financial markets. CFDs allow traders to use leverage to bet on the price of financial assets. The value of a CFD is the difference between the price of a financial instrument at the time of its purchase and its current price.
Some regulated brokers worldwide offer CFDs on shares, commodities, indexes, forex and other financial assets. Customers deposit funds with the broker, which serve as margin.
The advantage of CFDs is that traders can have exposure to financial assets without having to purchase shares, ETFs, futures or options.
Traders can open an account at one of these regulated brokerage firms and begin trading CFDs based on products traded on ICE exchanges.
CFDs are complex instruments and come with a high risk of losing money rapidly due to leverage. Between 71.00%-89.00% of retail investor accounts lose money when trading CFDs. You should consider whether you understand how CFDs work and whether you can afford to take the high risk of losing your money.
ICE's Vendor Partners
ICE depends on its robust software platform to attract and retain customers.
To facilitate software development on this platform, the exchange allows outside software companies to create software applications that connect to its API.
The following companies developing on the ICE platform have passed conformance certification requirements:
Further Reading