Disclosure:
Your support helps keep Commodity.com running! We earn a referral fee for some brokers & services we list on this page.
Learn more...
What is the Zhengzhou Commodity Exchange?
Zhengzhou Commodity Exchange (ZCE) is a securities exchange in China that operates a marketplace for trading, clearing and settling agricultural and other commodities futures and options.
ZCE is one of four futures exchanges in China and one of three that deals in commodities. It was the first pilot futures market to receive regulatory approval by the State Council, the chief administrative authority of the People's Republic of China.
ZCE is one of the top ten global commodity exchange ranked by trading volume. Among China's commodities futures exchanges, it places just behind Dalian Commodity Exchange, but ahead of the Shanghai Futures Exchange.
However, in terms of growth in trading volume, ZCE is one of the fastest growing major commodities exchanges in the world. Whereas many other major commodities exchanges saw declines or flat growth in recent years, ZCE has expanded its year-over-year trading volume by more than 50%.
ZCE offers all of the features found in modern futures exchanges including electronic systems for trading, delivery, clearing, risk control, news releases and member services.
With China's population increasing and its economy forecast to overtake the United States' economy as the world's biggest within the next thirty years, ZCE is sure to play a vital role in ensuring economic prosperity not only for China but for all modern trading nations.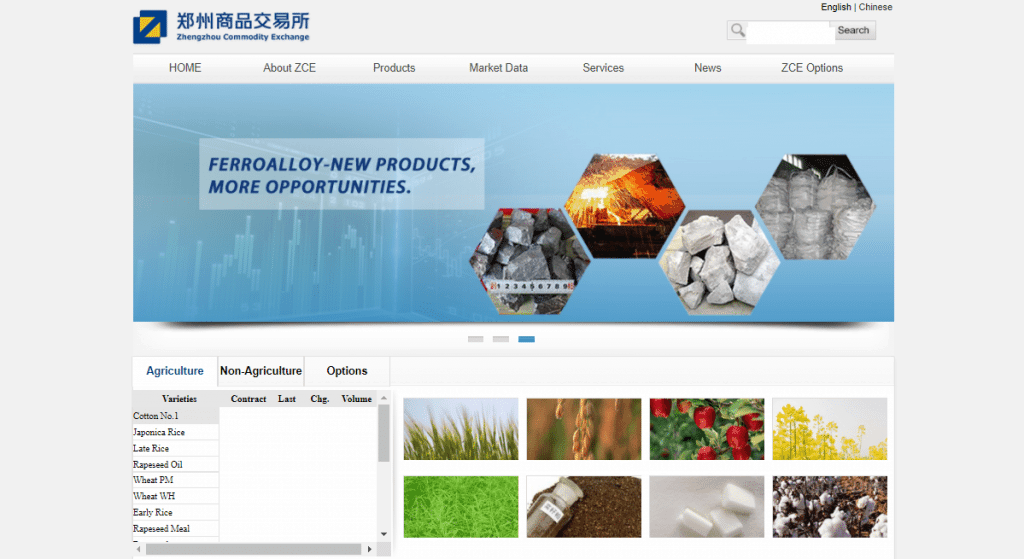 History of the Zhengzhou Commodity Exchange
Zhengzhou has a long history as a center of trade and commerce in Asia. However, ZCE was not established until 1990.
In the 1980s, wide-ranging economic reform programs implemented by China's premier Deng Xiao Ping led to the liberalization of markets. By 1988 the Research Group of China set up the Zhengzhou Grain and Oil Futures Market, which was the first formal commodities trading market in communist China.
In July 1990, the State Council approved the renamed Zhengzhou Grain Wholesale Market (CZGWM) to run on an experimental basis.
By August 1990, China established the Regulatory Commission of China to oversee the exchange. The Governor of Henan Province, where Zhengzhou is located, became the first Chairman of the commission.
By October 1990, CZGWM opened for business and commenced auction trading for cash grain and oil.
Key Events in the History of ZCE
Event
Year
Commentary
China's first forward contract
1991
Signed under the organization and supervision of CZGWM
Regulation
1992
The Futures Trading Regulation of China Zhengzhou Commodity Exchange (CZCE) begins
New entity formed
1993
ZCE formally commences operations as a futures exchange and launches contracts on

wheat, corn, soybeans, green bean and sesame.

New trading and systems
1994
Afternoon trading sessions begin
New listings in peanut kernel, soybean meal, red bean, rice, 5-year and 2-year Treasury notes, aluminum and cotton
New computer system implemented for trading and clearing
Membership
1995
Joins International Options Market Association and begins remote trading operations
Technology
1997
Begins electronic management of clearing data
Exchange for Physical (EFP)
2001
Executes first successful EFP with hard white winter wheat
Technology
2002
Introduces electronic systems for capital management
Cooperative Agreement
2005
Signs Memorandum of Understanding (MOU) with

Chicago Mercantile Exchange (CME)

Cooperative Agreement
2008
Signs MOU with

NYSE-Euronext.

Cooperative Agreement
2014
Signs MOU with energy market exchange operator

TMX Group

New Product
2017
Launches white sugar option trading after receiving regulatory approval
How is the Zhengzhou Commodity Exchange Organized?
The General Assembly is the governing body of ZCE and consists of all exchange members. The Board of Directors is a standing body that oversees policies of the exchange.
The ZCE Board of Directors consists of a Chairman and 15 directors – nine member directors and six non-member directors. The Office of the Board of Directors is the standing and functioning body for the Board.
The Board of Directors is divided into 10 special committees that oversee specific areas of the exchange operations:
Strategic Development
Product
Supervision
Trading
Delivery
Member Qualification Examination
Arbitration
Finance
Technology
Clearing
ZCE also has a President, who serves as the legal representative for the exchange. Under the President's supervision are the Vice President and 19 departments that perform different tasks depending on the business needs of the exchange. Some of the important departments include:
General Office
Office of Board of Directors
Department of Agricultural Products
Department of Non-Agricultural Products
Futures Derivatives
Delivery
Clearing
Market Surveillance I and II
Legal and Auditing
Media Relations and Information
IT Planning and Development
Systems Operation and Maintenance
IT Services
Finance
Human Resources
Administration
ZCE also operates five subsidiary companies including E-Sunny Information Technology Company, ZCE Futures and Derivatives Institute Company and R&D Beijing Centre.
How is the Zhengzhou Commodity Exchange Regulated?
ZCE oversees the regulation of the exchange and clearing house it operates in accordance with the Zhengzhou Commodity Exchange Constitution, Zhengzhou Commodity Trading Rules. In this capacity, ZCE functions as a self-regulatory organization (SRO). It conducts regulatory activities with the principles of "openness, fairness, justness and good faith."
ZCE performs its functions according to laws set out in China's securities ordinance Futures Trading Management Ordinance, Futures exchanges Regulation.
Other laws and regulations that pertain to securities markets and trading in China include:
Individual Income Tax Law of the People's Republic of China
Regulation on the Administration of Futures Trading
Rules on Risk Disposal of Securities Companies
Enterprise Income Tax Law of the People's Republic of China
Property Law of the People's Republic of China
Anti-Money Laundering Law of the People's Republic of China
Enterprise Bankruptcy Law of the People's Republic of China
Law of the People's Republic of China on Funds for Investment in Securities
You can find the specific text of these laws at the Laws and Regulations section of the ZCE website.
What Products Does ZCE Trade?
ZCE products fall into three categories: agricultural futures, non-agricultural futures and options.
All futures contracts on ZCE are settled with physical delivery.
Category
Products
Contract Size (per lot)
Minimum trading margin

Agricultural Futures

Strong gluten wheat
20 metric tons
5%
Common wheat
50 metric tons
5%
Cotton #1
5 metric tons
5%
White sugar
10 metric tons
6%
Rapeseed oil
10 metric tons
6%
Early rice
20 metric tons
5%
Japonica rice
20 metric tons
5%
Rapeseed
10 metric tons
5%
Rapeseed meal
10 metric tons
5%
Late Indica rice
20 metric tons
5%
Cotton yarn
N/A
N/A
Apple
N/A
N/A
Non-Agricultural Products

Pure Terephthalic Acid (PTA)
5 metric tons
6%
Flat glass
20 metric tons
6%
Thermal coal
100 metric tons
5%
Methanol
N/A
N/A
Ferroalloy
5 metric tons
5%
Options

White sugar
Calls and puts on the white sugar future (10 metric tons)
N/A
How Does the ZCE Conduct Trading?
ZCE members have access to a fully operational electronic platform that incorporates trading, delivery, clearing and risk controls. Members and traders can directly input their own orders on the platform. The platform also delivers relevant information such as market news and changes in exchange rules.
News outlets including Reuters, Bloomberg and Shihua release information about trades executed on the exchange.
Does the Exchange Require Memberships?
ZCE adopts a membership system for trading on the exchange. Members come from 27 provinces, municipalities and autonomous regions and across China and comprise both futures trading company participants (about 80% of members) and non-futures company accounts (about 20% of members).
What Are Margin Requirements?
ZCE has outlined its rules concerning margin requirements for positions and portfolios in a document entitled Detailed Rules for Futures Clearing of Zhengzhou Commodity Exchange.
Generally the rules are consistent with how other futures exchanges handle margin. Traders are required to deposit initial margin when opening a position. The exchange allows offsets for positions that reduce risk and may require additional margin to keep positions open.
Traders can locate this document here.
What Are the Fees and Charges?
ZCE published the detailed rules for trading on the exchange at the Knowledge Center section of its website.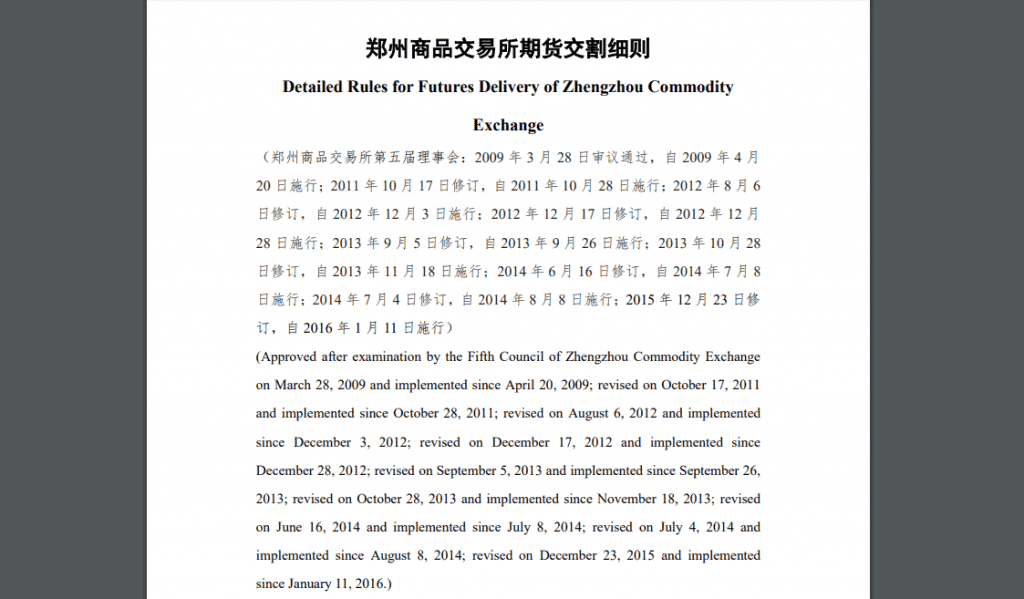 This series of documents covers the rules for trading and the costs of memberships, trading and clearing products on the exchange.
What Market is Available?
ZCE makes market data available to members and the public:
Trading Data
ZCE provides daily, weekly and monthly reports for each contract month and each commodity traded on the exchange. The reports contain the following information:
Previous Settlement
Open
High
Low
Close
Settlement
Change
Volume
Open interest
Open interest change
Turnover
Delivery settlement price
Historical Data
Traders can download historical data in text format or excel spreadsheets.
Traders can download this data at the Market Data section of the exchange website.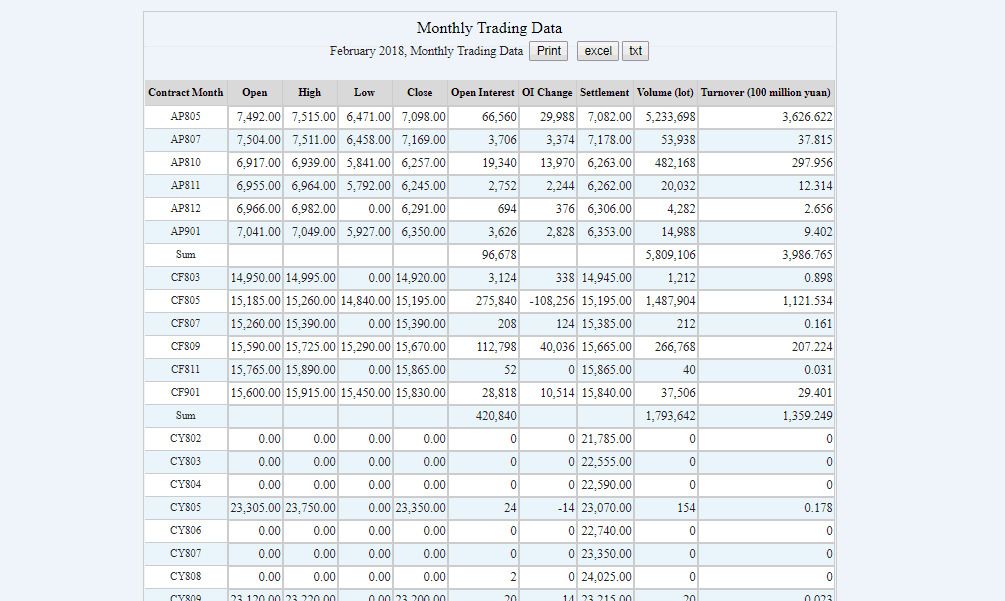 What Educational Materials Are On Offer?
ZCE offers online training course for each product traded on the exchange. Traders can obtain more information about these courses and the software requirements for viewing them at the Online Training course section of the website.
ZCE also offers detailed product brochures for each commodity.
Does ZCE Have Vendor Partners?
ZCE works with data distributors in China and around the world. Thomson Reuters and Bloomberg are among the 18 data distributors the exchange lists as its partners. You can obtain a complete list of these distributors at the Market Data section of the website.
How Can You Get Started Trading?
Many regulated brokerage firms offer contracts for difference (CFDs) based on products traded on the Zhengzhou Commodity Exchange such as agricultural commodities, coal and ferroalloys.
CFDs are a derivative instrument that offers retail traders a different way to invest in financial markets. CFDs allow traders to use leverage to bet on the price of financial assets. The value of a CFD is the difference between the price of a financial instrument at the time of its purchase and its current price.
Many regulated brokers worldwide offer CFDs on shares, commodities, indexes, forex and other financial assets. Customers deposit funds with the broker, which serve as margin. The advantage of CFDs is that traders can have exposure to financial assets without having to purchase shares, ETFs, futures or options.
Traders can open an account at one of these regulated brokerage firms and begin trading CFDs based on products traded on the Zhengzhou Commodity Exchange.
CFDs are complex instruments and come with a high risk of losing money rapidly due to leverage. Between 71.00%-89.00% of retail investor accounts lose money when trading CFDs. You should consider whether you understand how CFDs work and whether you can afford to take the high risk of losing your money.
Further Reading