Disclosure:
Your support helps keep Commodity.com running! We earn a referral fee for some brokers & services we list on this page.
Learn more...
What is the Tokyo Commodity Exchange?
The Tokyo Commodity Exchange (TOCOM) is Japan's largest commodity futures exchange.
TOCOM trades more than 24 million contracts annually, which represents 98.5% of Japan's commodity futures. About half of all trading on TOCOM originates outside of Japan.
Therefore, the exchange serves not only commodities traders in Japan, but also the rest of Asia and the global trading community at large.
History of TOCOM
TOCOM was established in 1984 as the result of the merger of three exchanges:
Tokyo Textile Exchange – 1951
Tokyo Rubber Exchange – 1952
Tokyo Gold Exchange – 1982
Event/Product Launch
Year
Commentary
Electronic Trading
1991
Started continuous trading on electronic platform
Palladium
1992
Aluminum
1997
Discontinued aluminum trading in 2010
Oil Refined Products
1999
Listed gasoline and kerosene
Crude Oil
2001
Electronic Trading (Upgrade)
2003
Launched second generation platform
Gas Oil
Discontinued listing in 2006
Gold Options
2004
Auction Floor Abolished
Japan Commodity Clearing House Co., Ltd. (JCHH)
2005
Commenced multi-exchange clearing house operations
Rubber, Precious Metals and Aluminum EFP
Introduced exchange future for physical (EFP) product, which is a transaction between two parties in which

a futures contract on a commodity is exchanged for the actual physical good.

Gold Mini
2007
Introduced smaller-sized gold futures contract
Platinum Mini
2008
Electronic Trading (Upgrade)
2009
Launched third generation platform
Extended Trading Hours
Extended trading until 11pm (7pm for rubber)
Nikkei-TOCOM Commodity Index Market
2010
Launched Nikkei-TOCOM Commodity Index futures (discontinued listing in 2012)
Emissions Trading
Established Emissions Trading Exchange Preparatory Corporation Inc. in collaboration with Tokyo Stock Exchange Group, Inc.
Gas Oil
Reopened market
Extended Trading Hours
Extended trading until 4am (rubber excluded)
JCHH
Became a subsidiary of TOCOM
Margin Change
2011
Introduced SPAN margin model at JCHH
Agricultural Products
2013
Launched soybean, Azuki (red bean), corn and raw sugar (raw sugar listing discontinued in January, 2015)
Japan OTC Exchange Inc. (JOE)
Established a joint venture with Ginga Energy Japan, Inc., to provide an OTC trading platform
Overseas Trading
2015
Granted registration as Foreign Board of Trade (FBOT) by the Commodity Futures Trading Commission (CFTC)
Gold
Launched rolling spot futures
Gold
2016
Launched physical gold transaction
Electronic Trading (Upgrade)
Launched fourth generation platform
Oil
2017
Launched physical oil transaction
Platinum
Launched rolling spot futures
OTC
JOE became wholly-owned subsidiary of TOCOM
Oil
Launched cash-settled oil products futures
How is TOCOM Regulated?
TOCOM oversees the regulation of the exchange and clearing house it operates, and in that role, functions as a self-regulatory organization (SRO). The Commodity Derivatives Act in Japan sets forth the process for self-regulation and the establishment of a Self-Regulatory Committee.
A Self-Regulatory Committee (SRC) must be composed primarily of outside directors to ensure that is independent from trading, clearing and other operations of the exchange.
The TOCOM SRC has the power to make decisions on matters concerning self-regulation. TOCOM also has established a department in charge of self-regulation to support the Self-Regulatory Committee.
TOCOM self-regulatory functions cover the following three areas:
Regulatory Function
Description
Examination of Members' Qualifications
The period of examination of new members' qualifications covers about three months. The process takes place as follows:

TOCOM consults/explains requirements to prospective member
Exchange provides membership form to applicant
Member returns application

SRC examines and approves application

Applicant pays registration fees
Exchange concludes membership agreement
Member deposits guarantee funds

Sanctions Against Members

If the exchange suspects that a member has violated laws and regulations or the rules of the Exchange, the SRC decides the specific sanctions to be imposed.

The process takes place as follows:
Occurrence of a case deemed highly likely to fall under unfair trading or another exchange violation.
The SRC:

Investigates
Offers the subject of the investigation an opportunity to explain
Decides on any sanctions, when appropriate

SRC notifies the member of the type of sanction and the reason for its imposition
Examination of Trades and Trade Practices
TOCOM monitors all transactions carried out in the markets of the Exchange, and investigates the status of transactions and price trends to detect unfair trade practice, including market manipulation.
Traders can consult the compliance and self-regulatory sections of the TOCOM website to learn more about each of these regulatory functions and to see examples of the following:
Explanations of unfair trading under the Commodity Derivatives Act
Examples of trade practices that might trigger actions by the Exchange
Explanations of trade practice surveillance techniques
Case studies of unfair trading
What Products Does the TOCOM Trade?
The TOCOM website provides the following guide to its listed products:
Explanation of the TOCOM Listed Products Guide
Market
Each TOCOM listed product falls into one of four broad categories: precious metals, oil, rubber or agricultural.
Products
This column provides a description of the specific commodity.
Market Data
The market data column provides links to the section of the TOCOM website that provides more details about the product:
Quotes for Individual Products: This page shows the following information for each trading session:

Contract month
Last settlement price
Open
High
Low
Close
Change
Volume
Settlement
Traders can also find links to pages with margin requirements, circuit breaker triggers, business calendars and historical data.
Open Interest: This page shows the long and short open interests for commercials and non-commercials and other categories such as funds, retail traders and proprietary trading firms. Traders can also locate near and back month settlement prices.
Stocks and Warehouse Receipts: Traders can track warehouse receipts for those commodities stored in warehouses. This allows traders to gauge changes in supply of the commodity.
Trading Guide
Traders can find all of the contract specifications for each TOCOM commodity.
How Can You Start Trading?
Many regulated brokerage firms offer contracts for difference (CFDs) based on products traded on TOCOM such as precious metals, oil, rubber and agricultural commodities.
CFDs are a derivative instrument that offers retail traders a different way to invest in financial markets. CFDs allow traders to use leverage to bet on the price of financial assets. The value of a CFD is the difference between the price of a financial instrument at the time of its purchase and its current price.
Traders can open an account at one of these regulated brokerage firms and begin trading CFDs based on TOCOM products.
CFD commodity brokers available in :

CFDs are complex instruments and come with a high risk of losing money rapidly due to leverage. Between 71.00%-89.00% of retail investor accounts lose money when trading CFDs. You should consider whether you understand how CFDs work and whether you can afford to take the high risk of losing your money.
How Does TOCOM Conduct Trading?
TOCOM conducts all trading electronically on its fourth generation trading platform. Features of the platform include the following:
NASDAQ Technology: The platform runs on NASDAQ's Genium INET technology and its Pre-Trade Risk and SMARTS Market Surveillance technology
Integration with J-GATE: TOCOM integrates its trading platform with the Osaka Exchange's derivatives trading system (J-GATE), which also runs on the same NASDAQ trading technology
Mutually-shared Trading System: The integration between TOCOM and the Osaka Securities Exchange (OSE) allows customers to seamlessly trade both financial products and commodities on the same platform. (* The integration of trading between two separate exchanges is one of first of its kind in the world. NASDAQ and TOCOM have been technology partners since 2009)
What Type of Memberships Does TOCOM Offer?
TOCOM offers six different classes of memberships:
Membership Classes
Tokyo Commodity Exchange Membership Options
Membership Category
Trade Permissions
Access to TOCOM
Broker Member
Proprietary transactions
Customer transactions
Direct
Trade Member
Proprietary transactions
Direct
Remote Broker Member
Proprietary transactions
Customer transactions

(only based on consignment of commodity clearing transactions)

Direct
Remote Trade Member
Proprietary transactions

(only based on consignment of commodity clearing transactions)

Direct
Affiliate Member
Members who have qualifications other than the above
Indirect
Associate Member
Foreign customers who trade often in TOCOM markets
Indirect
(* TOCOM does not require a member to have a business location in Japan. However, Remote Brokers and Remote Trade Members must designate their clearing brokers as Agents for Service of Process. Indirect trading must take place through Commodity Derivatives Business Operators.)
TCOM has received regulatory approval to provide direct market access to market participants in the United States, Singapore, Hong Kong and Dubai.
Membership Requirements
Membership Category
Eligible Applicants
Broker Member
Japanese entities licensed as Commodity Derivatives Business Operators by the Ministry of Economy, Trade and Industry (METI) or the Ministry of Agriculture, Forestry and Fisheries (MAFF)
Remote Broker Member
Foreign entities licensed as equivalent to Commodity Derivatives Business Operators in the country where the office is located.
Trade Member
Commercials that engage in physical trading activities of TOCOM listed commodities
Commodity Derivatives Business Operators such as Futures Commission Merchants (FCMs)
Foreign FCMs
Specified OTC Commodity Derivative Dealers
Commodity Trading Advisers (CTAs), proprietary firms and financial institutions
Remote Trade Member
Affiliate Member
Traders should consult the TOCOM membership brochure for further details including the fees and dues associated with each type of membership.
What Are the Margin Requirements?
The Japan Commodities Clearing House (JCCH), a wholly-owned subsidiary of TCOM, establishes rules concerning margin requirements for TOCOM customers.
The JCCH requires clearing margin from participants to protect against the possibility of a Clearing Member defaulting on an obligation. The amount of collateral required depends on many factors.
Beginning in 2011, JCCH began using the proprietary SPAN margin model developed by the Chicago Mercantile Exchange (CME). The model relies on historical volatility and price fluctuations to determine margin requirements for positions. Traders can find additional details in the Clearing Margin Rules manual.
What Are the Fees and Charges?
The TOCOM website lists the following yen-denominated fees levied on Broker Members. This fee schedule does not include trading system-related costs and excludes consumption tax or guaranteed fund required:
Market Divisions
Precious Metals
Oil
Rubber
Agricultural Product & Sugar
Chunkyo Oil
Registration Fee
Per Market Division: JPY 10 million (cap: JPY 25 million (exclude the registration fee for Agricultural Product and Sugar Market)
Monthly Membership Dues
JPY 60,000 per Market Division
JPY 40,000
Fee to Amend Registered Name
JPY 1 million
Exchange Fee
(per contract; one-way)

Standard Futures: JPY 59
Mini Gold and Mini Platinum: JPY 20
Gold Rolling-Spot and Platinum Rolling-Spot: JPY 20
Gold Options: JPY 12 (Exchange fee related to option exercise and assignment is the same)
Cash-settled Oil (Lorry-based products): JPY 20
Platts Dubai Crude Oil: JPY 74
All products: JPY 20
Delivery Fee
(per contract; for each side)

All products: JPY 144
Give-up Fees
(per contract; one-way)
*charged only to a member who take-up positions
Standard Futures: JPY 5
Mini Gold, Gold Rolling-Spot, Gold Options, Mini Platinum, Platinum Rolling-Spot and Cash-settled Oil (Lorry-based products): JPY 2
All products: JPY 2
Position Transfer Fees
*charged only to a member who takes positions
The amount calculated by multiplying the number of long/short position by JPY 5.
Fees for application
and Trade Cancellation
Trade cancellation fees per executed trade shall be calculated as follows:
The amount calculated as SCB trigger level times the contract unit multiplier or 100,000 yen, whichever the higher.
The TOCOM website lists the following dues requirements for Trade Members, Remote Trade Members and Remote Broker Members:
Market Divisions
Precious Metals
Oil
Rubber
Agricultural Product & Sugar
Chunkyo Oil
Monthly Membership Dues

A person or prospective person who satisfies certain requirements to be a Member of the Exchange prescribed in Article 94 of the Market Rules of the Exchange: JPY 50,000 per Market Division
Those that do not fall under the preceding paragraph: JPY 10,000 per Market Division

Same as on the left: JPY 30,000
Same as on the left: JPY 5,000
What Market Data is Available?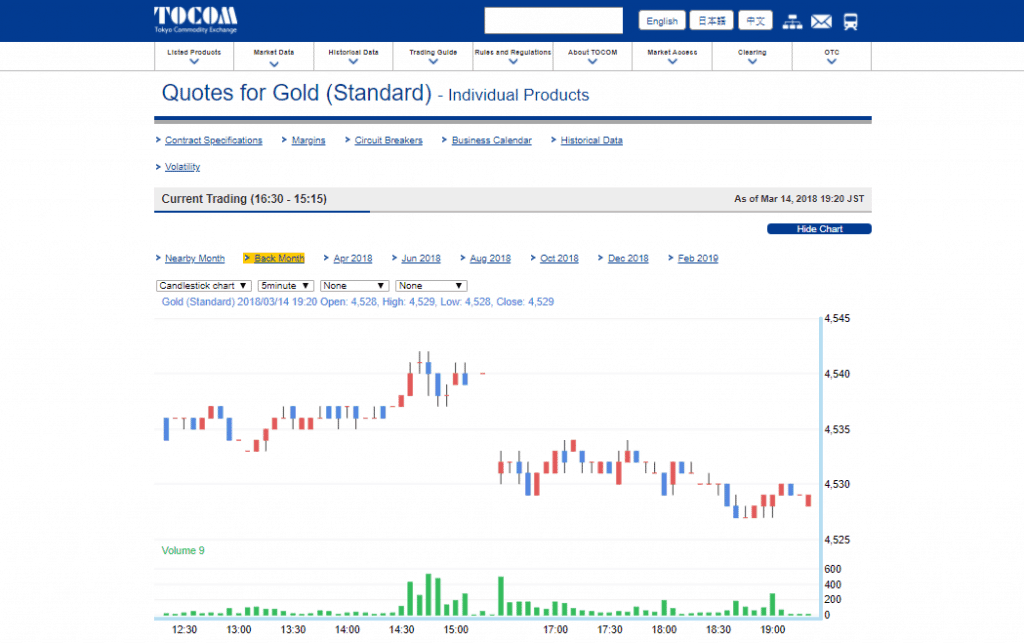 TOCOM provides a variety of market data and news feed options for its customers including the following:
Quotes for Individual Products: Please refer to Explanation of the TOCOM Listed Products Guide in Products section above.
Quotes for All Products by Trade Date: Previous five days of historical price data for each TOCOM listed product.
Quotes for All Product by Session: Previous five days of historical price data organized by trading session (day session or night session)
Spread Market (Calendar): Trade data for each expiring month of futures contract
Spot Oil Market: Gasoline spot prices
Periodic Quotes for All Products by Trade Date (Futures): Quotes for each expiration month for futures contracts.
Trading Volume and Open Interest: Includes each commodity and expiration month
Nikkei TOCOM Commodity Index: Shows calculated historical values for index
Miscellaneous Categories: Other data TOCOM makes available includes the following:

Open Interest by Category
Top 10 Volume by Member
Month-End Open Interest
Concentration of Positions Held By Large Traders
Market Structure Analysis
TOCOM makes comprehensive historical market data available in a variety of different file formats. Traders should consult the historical data section of the TOCOM website for a complete menu of formats.
Traders can also find the fees for data and instructions for ordering here.
TOCOM operates in the following lines of business:
Service
Description
Exchange-Traded Markets
TOCOM operates an electronic platform for trading four categories of commodities:

Precious Metals
Oil
Rubber
Soft Commodities

Clearing and Settlement

Japan Commodity Clearing House Co., Ltd. (JCCH)

is a central clearing house for commodity trades.

JCCH is a wholly-owned subsidiary of TOCOM.
Over-The-Counter (OTC) Markets
TOCOM's wholly-owned subsidiary

Japan OTC Exchange (JOE)

operates an OTC trading platform for commodities and a brokering function centered on petroleum and liquefied natural gas (LNG) markets.
Data Services
TOCOM provides fee-based market data to both members and non-members including current and historical data.
Does TOCOM Have Vendor Partners?
Beginning in 2003, TOCOM began working with Independent Software Vendors (ISVs) to bring its products and services to more market participants. The following is a list of TOCOM-approved ISVs:
FIS
ION Trading Japan
Nihon Techno Systems Ltd.
TRAdE WORKS COMPANY LTD.
Multi Wave Co., LTD.
Trading Technologies Japan
RTS Realtime Systems
Fractal Systems Inc.
Success Consulting Co. Ltd
AIRFRONT CO LTD
SOLEKIA Limited
Orc Japan KK
CQG International Ltd
Trade Systems Co. Ltd
INTEC Inc.
Three A System Corporation
FFasttFill plc
NTT Communications Corporation
Future Assist Corporation
Fidessa Group plc
ULLINK Japan
Bloomberg Trading Services Japan
FlexTrade Systems Pte Ltd
CyberQuote Japan Ltd
INTERTRADE Co. Ltd
Simplex Inc.
Zhengzhou Esunny Information Technology Ltd Co.
Stellar Trading Systems
Atplatform Technology Limited
Who Are the Tokyo Commodity Exchange Executives?
The Board of Directors of TOCOM consists of eight directors, including the President and CEO of the exchange.
Name
Position
Information
Takamichi Hamada
President & CEO

Hamada has been CEO of TOCOM since 2015.

He also serves as an Auditor at Strategic Investment Partners, Inc. and a director at Fuji Electric Co., Ltd.

His previous roles at Fuji Electric Co., Ltd include:
Senior Managing Executive Officer
General Manager of Corporate Administration Group
Senior Executive Officer of Corporate Administration Group

Other previous roles held by Hamada include:
Chair of Directors of Foundation Venture Enterprise Center
Executive Director of The Tokyo Commodity Exchange
Masaaki Nangaku
Chairman
& Senior Executive Adviser


Nangaku has been Senior Executive Adviser at TOCOM since June 2009.



He served as CEO and President of TOCOM until June 2009.

His previous roles include:
Senior Executive Vice President of Mitsubishi Electric Corp with responsibility for the following:

Auditing
Government & External Relations
Legal Affairs
Export Control
Intellectual Property

Director of Mitsubishi Electric Corp
Member of the council of Japan Finance Corporation for Small and Medium Enterprise
Umetaro Nagao
Chief Operating Officer
Nagao also serves as Senior Executive Managing Officer and Director at TOCOM.
Further Reading