Disclosure:
Your support helps keep Commodity.com running! We earn a referral fee for some brokers & services we list on this page.
Learn more...
What is the Singapore Exchange?
The Singapore Exchange (SGX) is an investment holding company that operates one of Asia's leading financial marketplaces.
SGX operates the most liquid, offshore marketplace for trading the major equity indexes of China, India, Japan and the Association of Southeast Asian Nations (ASEAN). The exchange plays an important role in providing liquidity in the Asian marketplace.
SGX provides a full range of services:
Services
Description
Markets
SGX operates regulated and liquid marketplaces for trading equities, fixed income and derivatives.
Clearing and Settlement
The Central Depository (CDP), a wholly owned SGX subsidiary, provides clearing and settlement for SGX securities market products including:

Shares
ETFs
REITs
Business Trusts
Bonds
Structured warrants
Extended Settlement contracts

Depository
The CDP also operates as a central securities depository for SGX.

This function allows the book-entry transfer of securities rather than the transfer of physical certificates.

Listings
SGX operates an international marketplace for the listing of shares and bonds:

The exchange provides listings for more than 750 companies with a market capitalization in excess of $750 billion
More than 40% of listed companies and 75% of listed bonds originate outside of Singapore


Data Services
SGX offers a comprehensive suite of data products for market participants including:

Real-time price feeds
Historical data
Reference data

Technology
SGX offers a diverse array of trading technology and market connectivity solutions for customers
SGX delivers customized indexing products across a range of asset classes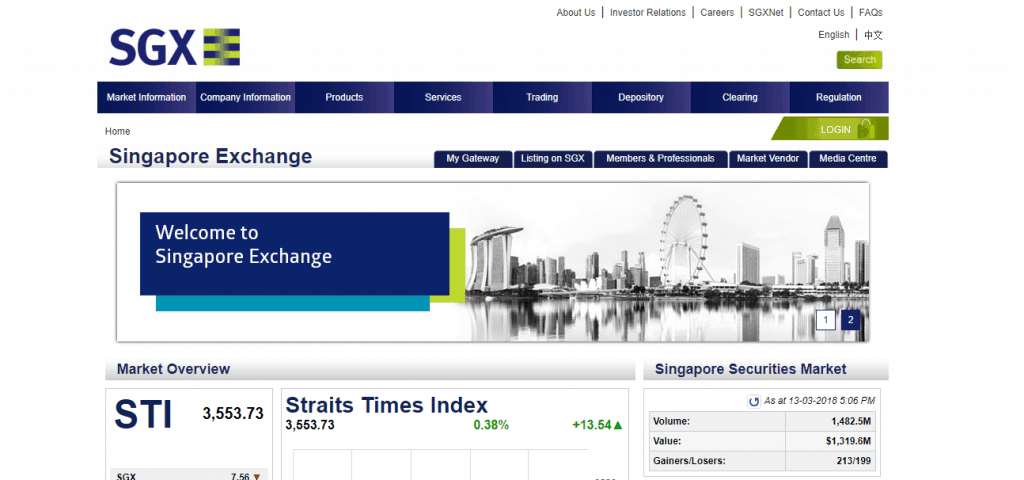 History of the Singapore Exchange
The holding company that operates SGX was formed on December 1, 1999, and it acquired the assets of three predecessor exchanges:
Stock Exchange of Singapore (SES)
Singapore International Monetary Exchange (Simex)
Securities Clearing and Computer Services Pte Ltd (SCCS)
Each of these exchanges received shares in the new entity known as Singapore Exchange Limited.
On November 23, 2000, SGX listed its shares for trading on its own exchange. SGX became the second exchange in Asia Pacific to have its shares listed via a public offering and private placement. (* Shares of the Australian Stock Exchange ("ASX") began trading in 1998).
Key Events in the History of SGX
Event
Subject
Year
Commentary
Investment
Bombay Stock Exchange
2007
SGX acquires a 5% stake.
Opening
Beijing office
2008
Expansion into China.
Joint Venture
Nomura's Chi-X
2009
This partnership, which received approval from the Monetary Authority of Singapore (MAS) in 2010, created a dark pool trading platform.
Opening
London Office
2010
Decision to open office is part of a $250 million investment in Reach, a new faster trading platform based on Nasdaq OMX technology.
Partnership
NASDAQ OMX
2011
Partners collaborate on a suite of tools to support companies listed in Asia.
New Initiative
Dual currency trading
2012
SGX provides for trading of stocks, bonds and other investments in

both Singapore and US dollars.

Acquisition
Energy Market Company
2014
SGX acquired the remaining 51% of Energy Market Company (EMC). It acquired a 49% stake in 2012.

EMC operates Singapore's wholesale electricity market.

Acquisition
The Baltic Exchange
2016
The Baltic Exchange is the world's only independent source of maritime market information for the trading and settlement of physical and derivative shipping contracts.
Who Are the Singapore Exchange Executives?
SGX is organized into 10 divisions, including the office of the President, which report to the CEO. Four additional divisions report to the President. SGX has a management team and board of directors with decades of both industry and financial markets experience.
Name
Position
Information
Kwa Chong Seng
Chairman
Kwa has served as a director on the SGX Board since September 2012 and Chairman of the Board since September 2016.

He has 40 years of experience in the petroleum industry.



His current roles include:
Chairman of Singapore Technologies Engineering Ltd.
Non-executive director of Seatown Holdings Pte Ltd.
Chairman of the Advisory Committee of Dymon Asia Capital Ltd.
Deputy Chairman of the Public Service Commission
Board member of the Defence Science and Technology Agency
Loh Boon Chye
Chief Executive Officer
Loh has served as CEO since July 2015. He also serves as an Executive and Non-Independent Director on the SGX Board.

Loh has 27 years of experience in the financial services industry.



His recent roles include:
Deputy President and Head of Asia Pacific Global Markets at Bank of America-Merrill Lynch (December 2012 to May 2015)
Country Executive for Singapore and Southeast Asia and a member of Bank of America-Merrill Lynch Asia Pacific Executive Committee

Between 1995 and 2012, Loh held various roles with Deutsche Bank AG:
Head of Corporate & Investment Banking for Asia Pacific
Head of Global Markets for Asia
Chief Executive of Global Markets at Deutsche Bank AG in Singapore
Muthukrishnan Ramaswami (Ramu)
President
Ramaswami was appointed President in 2012.

He oversees operational aspects of SGX

including:

Membership & International Coverage (including all of SGX's overseas offices)
Market Data & Connectivity
Operations & Technology

Prior to his current role, Ramaswami presided over all the product groups covering Securities, Fixed Income, Derivatives and Market Data & Access.

Ramaswami previously held senior positions at Citigroup in Operations, Technology and Transaction Banking in various locations including Mumbai, Singapore, Hong Kong, London and New York.
Chng Lay Chew
Chief Financial Officer
Chng oversees Finance, Treasury and Investor Relations as well as the Facilities Management Unit.


He has 30 years of experience in accounting and financial management.



In his previous role, Chng oversaw the finance functions of DBS Group's operations in all countries outside Singapore.
Agnes Ko
Chief Risk Officer
Koh was appointed Chief Risk Officer in January 2014.

She is responsible for advocating for and leading enterprise risk management activities at SGX

including:
Formulating the risk framework
Assessing new products and business strategies
Managing the clearing risk of SGX's securities and derivatives clearing house

Koh joined SGX in 2005. She is a chartered accountant and a member of the Singapore Institute of Chartered Accountants.
How is the Singapore Exchange Regulated?
SGX oversees the regulation of the exchanges and clearinghouses it operates, and in that role, functions as a self-regulatory organization (SRO). In addition, SGX works closely with three outside agencies that have regulatory oversight in the securities industry:
Monetary Authority of Singapore (MAS): An integrated supervisor overseeing all financial institutions in Singapore — banks, insurers, capital market intermediaries, financial advisors, and the stock exchange.
Commercial Affairs Department (CAD): Part of the Singapore police force that supports the nation's Anti-Money Laundering/Counter-Financing of Terrorism (AML/CFT) framework.
Accounting and Corporate Regulatory Authority (ACRA): The national regulator of business entities, public accountants and corporate service providers.
SGX has adopted six key principles that inform how it conducts regulation of its markets:
Guiding Principle
Description
1
Disclosure-based regulation
Providing

timely, accurate, and adequate disclosure

of all matters needed to make informed decisions about SGX listed products.
2
Comprehensive risk management
Making the

safe and efficient operation of SGX clearing houses

a very high priority.
3
Risk-based targeting of regulatory activities
Allocating greater regulatory resources to sponsors, member firms and matters that pose the greatest regulatory risks.
4
Balanced approach to international best practice
SGX aims to ensure that its rules and regulatory activities are

consistent with international best practice

for exchanges.
5
Transparency
SGX consults market users, where appropriate, on the proposed introduction of new products and initiatives. The exchange also aims to

keep the public informed

via its website.
6
SGX as frontline regulator and managing regulatory conflict
Maintain a

collaborative relationship with regulatory and enforcement agencies

such as the MAS, CAD and ACRA on matters such as:

Regulatory policies
Risk management
Regulatory oversight
Enforcement actions



SGX self-regulatory functions cover the following six areas:
Regulatory Function
Description
IPO Admissions
Reviewing applications for listings
Accrediting and authorizing issue managers, full sponsors and registered professionals who introduce issuers
Listing Compliance
Ensuring that listed companies comply with exchange rules
Surveillance
Monitoring price movements and trading for unusual activity
Disciplining members, trading representatives or registered representatives when necessary for rules violations
Member Supervision
Admitting and monitoring members to ensure compliance with SGX rules.
Regulatory Development and Policy
Providing input for SGX initiatives and helping craft new solutions and policies.
Listing Policy and Product Admission
Developing the listing policy of SGX and managing the SGX listing manual.
Traders can consult the regulatory section of the SGX website to learn more about each of these regulatory functions.
What Products Does the Singapore Exchange Trade?
SGX products fall into three categories: securities, fixed income and derivatives.
Category
Products
Market Facts
Securities
Stocks
Investors can buy and sell ordinary (common) and/or preference (preferred) shares depending on the company.
Real Estate Investment Trusts (REITs)
Professionally managed funds that invest in income generating real estate assets.
Exchange Traded Funds (ETFs)
Open-ended investment funds that attempt to replicate the performance of an underlying index or asset class (

such as commodities

)
Leveraged and Inverse Products (L&I)
Financial derivatives that amplify the daily returns of an underlying index
L&I products aim to keep a daily constant amount of leverage during the investment time frame (e.g., 2x or 3x)
Daily Leverage Certificates (DLCs)
A DLC offers investors fixed leverage of three to seven times the daily performance of the underlying index it tracks.
Structured Warrants
Products issues by financial institutions that enable investors to participate in the price performance of an asset at a fraction of the asset price.
American Depositary Receipts (ADRs)
Shares that trade in the United States and represent an investment in a foreign company.
Fixed Income
Retail Bonds
Wholesale Bonds
Seasoning Bonds

SGX offers bond trading to both retail and institutional investors.

Retail traders are restricted to purchasing only certain types of fixed income products. SGX has a

separate trading platform for institutional bonds traders.

Derivatives
Equity Index
Track the performance of benchmark indexes.
Equities
Single stock futures (SSFs) track the performance of individual stocks.
Dividend Index
SGX is the first exchange in Asia to trade dividend future contracts.
Foreign Exchange
Futures and options contracts on major Asian currencies.
Interest Rates
Futures and options contracts on bonds.
Iron Ore and Steel
Swaps and futures contracts.
Rubber
Futures and forward contracts.
Freight
Dry bulk futures and options.
Coal
Swaps and futures contracts.
Petrochemicals:

Benzene
Para-xylene
Polypropylene
Polyethylene
Styrene monomer
Mono-ethylene glycol

Swaps and futures contracts.
Gold
Physically deliverable Kilobar gold futures contract.
Oil
Swaps and futures contracts on refined oil and fuel oil products.
Natural gas
Swaps and futures contracts on liquefied natural gas (LNG).
Electricity
Quarterly and monthly base load electricity futures.
How Can You Start Trading?
Many regulated brokerage firms offer contracts for difference (CFDs) based on products traded on SGX such as commodities or shares of Asian companies.
CFDs are a derivative instrument that offers retail traders a way to invest in financial markets. CFDs allow traders to use leverage to bet on the price of financial assets. The value of a CFD is the difference between the price of a financial instrument at the time of its purchase and its current price.
Traders can open an account at one of these regulated brokerage firms and begin trading CFDs based on SGX products.
CFD commodity brokers available in :

Loading table...
CFDs are complex instruments and come with a high risk of losing money rapidly due to leverage. Between 73.90%-89.00% of retail investor accounts lose money when trading CFDs. You should consider whether you understand how CFDs work and whether you can afford to take the high risk of losing your money.
How Does the SGX Conduct Trading?
The SGX conducts trading on its exchange with two different trading engines. Each one is designed for trading specific asset classes:
Reach
Securities traders on the SGX use the Reach trading engine developed by NASDAQ-OMX and built on its Genium platform. This platform offers high speed and reliable access. Traders can purchase one of two REACH access plans depending on their needs:
SGXAccess Fix is designed to allow traders to connect to SGX with minimal reconfiguration or redevelopment of their trading systems.
SGXAccess API offers faster trading speeds and lower latency. This connection gives traders access to the market through a proprietary application interface.
Titan
Derivatives traders on the SGX use the Titan trading engine developed by NASDAQ-OMX and built on its Genium INET version 4 platform. This platform also offers high speed and reliability and can support a range of functions including order sending, market feed, quotations and drop copies of transactions. Traders can purchase one of two Titan access plans depending on their needs:
Titan DT API provides access to the Titan DT trading engine using a proprietary application interface on the Genium trading platform. Trading participants can choose access speeds ranging from 10 to 50 transactions per second. Traders can access this service via one of four ways (see below).
Titan DT OUCH/ITCH offers faster trading speeds and lower latency. This connection gives traders access to the market through a proprietary application interface.
SGX offers four options for connecting to its trading engines:
SGX's Managed Network Service: SGX can procure, configure and manage connectivity for its customers
Co-Location Service: SGX offers three tiers of service for colocation or proximity hosting to SGX markets. High-frequency traders would most likely require these services.
Liquidity Hubs: SGX offers a connection to its market engines through a variety of global Points of Presence (PoPs).
Approved Network Service Providers: SGX works with approved Independent Software Vendor Platforms (ISVs) that can offer a connection to the exchange.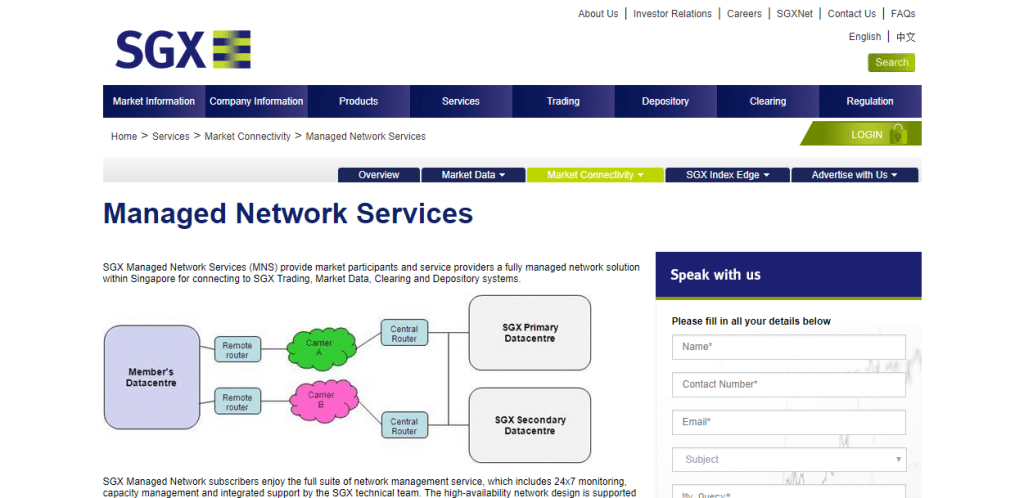 What Type of Memberships Are On Offer?
SGX offers different types of memberships for both securities and derivatives traders:
Securities Membership Options
Membership Category
Description
Trading Member
Market participants who choose to offer specialist equities execution-only services can become a Trading Member.

Trading Membership requirements:
Qualified by a member of the Central Depository ("CDP") at all times
Maintain a minimum base capital of S$1million
Hold a Capital Markets Services License (if operating within Singapore)

Remote Trading Member requirements:
Comply with SGX capital and financial requirements
Be appropriately licensed in home jurisdiction
Clearing Member
Clearing Members have clearing rights. Their role is to act as a third party clearer for Trading Members and themselves (if they have trading rights).

Clearing Member requirements:
Maintain a minimum base capital of S$5 million
Hold a Capital Markets Service License
Trading and Clearing Member
Clearing and Trading members must meet the following requirements:
Maintain a minimum base capital of S$5 million
Hold a Capital Markets Service License
Derivatives Membership Options
Membership Category
Description
Trading Member
A Trading Member can hold customer accounts and monies and has to clear its trades through a Clearing Member. Trading Members can be located offshore.

Trading Membership requirements:
Maintain a minimum base capital of S$1million
Hold a Capital Markets Services License (if operating within Singapore)

Remote Trading Member requirements:
Comply with SGX capital and financial requirements
Be appropriately licensed in home jurisdiction
Clearing Member
Clearing Member requirements:
Maintain a minimum base capital of S$5 million
Hold a Capital Markets Service License
Remote applicants can apply to clear AsiaClear products
Trading Member (Proprietary)
A Trading Member (Proprietary)

trades solely for its own account and or for the proprietary account(s) of its related/associated corporations.



Trading Member (Proprietary) can be based offshore, and there are

no licensing or base capital requirements

for Trading Member (Proprietary).

Trading Member (Proprietary) has to appoint a Clearing Member to clear its trades.
Traders can consult the membership section of the SGX website for more details and application forms.
What Are the SGX Margin Requirements?
The CDP requires collateral from participants to protect against the possibility of a Clearing Member defaulting on an obligation. The amount of collateral required depends on several factors.
CDP uses two cut-off times (* snapshots are taken at 11:30 am and market close. Margin calls will be issued by 2.30pm and 6.00am (the following day) respectively) to determine margin for client portfolios. It then calculates Maintenance Margin (MM) and Variation Margins (VM) for each portfolio.
Factors including market volatility and traded value of the portfolio can impact margin.
Maintenance margin: After posting initial margin, a market participant is required to keep up maintenance margin, which is the amount of equity required to retain an open position. Maintenance margin covers potential risk to a confidence interval of at least 99%.
Variation margin: This is the payment of additional funds that may be deemed necessary when the account balance falls below the maintenance margin or initial margin requirement.
Traders should consult the CDP Clearing Rule Practice Note 6A.5.2 Calculation of Amount of Clearing Member Required Margins for further details.
What Are the Fees and Charges?
Securities traders at SGX pay the following transaction fees excluding structured warrants:
| Membership Category | Description |
| --- | --- |
| Trading Fee | 0.0075% of traded value |
| Clearing Fee | 0.0325% of traded value |
| Goods and Services Tax | Prevailing GST rate |
Trading fees for structured warrants are 0.001% of traded value, while clearing fees for those products are 0.004% of traded value.
Fees for derivatives vary by contract type. Traders should consult the clearing schedule on the SGX website for more details.
What Market Data Does SGX Make Available?
SGX provides a variety of market data and news feed options for its customers:
Service
Description
Target Audience
Securities Market Direct Feed
Real-time price information directly from securities trading engine.
Information vendors
Institutions
Trading firms
ISVs
Derivatives Market Direct Feed
Real-time price information on all SGX futures and options contracts direct from the trading engine.
Information vendors
Institutions
Trading firms
ISVs
Post-Trade Data Feed
Service for viewing and managing trade orders independent of main trade access.
Clearing Members
Back Office
SGX News
Real-time corporate statements and action announcements.
Information vendors
Institutions
Trading firms
ISVs
Historical and Reference Data
Daily, weekly, monthly and yearly historical data including:
Prices
Turnover
Market capitalization
Trade execution
Researchers
Academics
Fund Managers
Consultants


Traders should consult the SGX market data section of the website for policies and fees regarding data usage.
What Educational Materials Does SGX Offer?
SGX operates SGX Academy, which provides investor education and training to traders of all skill levels.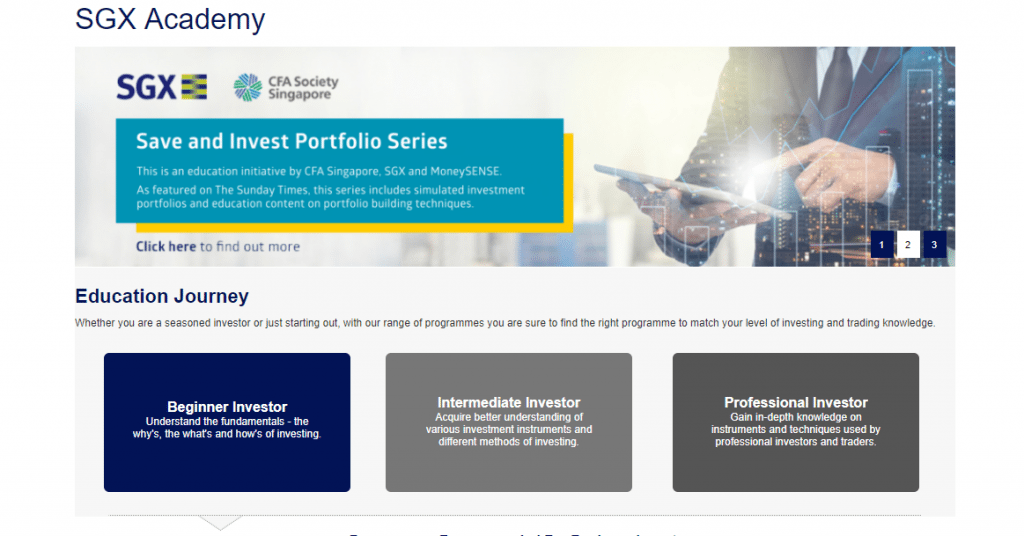 Programmes
Traders can search this section of the site by course level, date, prices and course category. Categories include in-person seminars and courses held in Singapore, E-training and live events held with SGX partners.
Topics cover every aspect of trading and investing. E-courses offered through SGX Academy include the following:
Business and Market Cycles
What Moves the Market?
Economic Indicators
Diversifying Your Portfolio
The Math Behind Trading
How to Place Orders
Reading Annual Reports
Benefits of Exchange Traded Funds
Financial Ratio Shortcuts
SGX / CBOE Partnership
SGX has a partnership with the Chicago Board of Options Exchange (CBOE), which is one of the leading options exchanges in the world, to offer options education e-courses. These courses are designed for all skill levels of trading and allow students to learn at their own pace. Traders can consult the CBOE Options Institute at SGX for more details.
Webinars
SGX periodically holds live webinars for its trading community. Webinar speakers are experts in their fields and offer structured lessons on topics of interest to market participants. Traders can get more information at the SGX Academy website.
Does the Singapore Exchange Have Vendor Partners?
SGX works with many outside vendors that supplement the trading and clearing experience. The following vendors provide data for the securities and/or derivatives markets at SGX:
ACTIV Financial Systems Inc
Apex International Financial
Blashnet Co Ltd
Bloomberg Finance L.P.
Capital IQ, Inc
Capital Master Pte Ltd
CarryQuote AG
CQG Singapore Pte Ltd
eDaily Co Ltd
FactSet Research Systems Inc
Fidessa PLCFMR, LLC
GlobalView Software Inc
HiThink Flush Information Network Co Ltd
Imagine Software Inc
Interactive Brokers LLC
Interactive Data Real Time Services
Investment Technology Group Inc
IRESS Data Pty Ltd
Jiji Press Ltd
LiquidNet Asia Ltd
Market Data Ltd
MarketPrizm Ltd
MarketSource International Pty Ltd
MorningStar Real-Time Data Ltd
N2N Connect Pte Ltd
NextVIEW Pte Ltd
OptionsXpress Inc
QuantHouse SAS
Quick Corp Ltd
Shanghai DZH Limited
Singapore Press Holdings Pte Ltd
SIX Financial Information Ltd
SunGard Financial Systems (France) SAS
Sysjust Corporation Ltd
Systex Corporation
Telvent DTN Inc
TD Direct Investing (Europe) Ltd
Thomson Reuters Asia Pte Ltd
VWD Vereinigte Wirtschaftsdien AG
Yonhap Informax Inc
The following ISVs has been tested and approved by SGX for providing order management solutions:
Further Reading