In this guide to understanding the Commodity Select Index (CSI), we'll show you what this chart looks like, explain its components, and teach you how to interpret it.
What Is the Commodity Select Index (CSI)?
The Commodity Select Index (CSI) was intended by Welles Wilder to be used to select the best commodity to trade by weighing the volatility and trending characteristics of each futures market.
What Does the CSI Look Like?
The chart below of the 100 oz. Gold Futures contract illustrates the Commodity Select Index: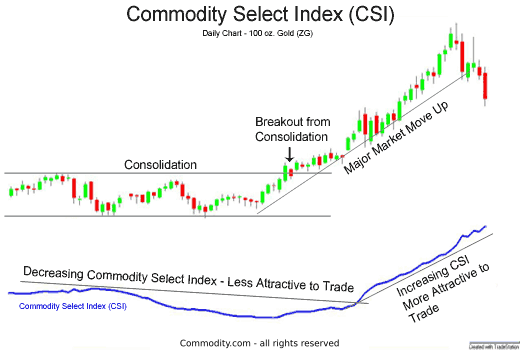 What Are the Components of the CSI?
Directional Movement
Market Volatility
Margin Requirements for the futures contract
Commission Costs
The Commodity Select Index is usually calculated over 14-periods and includes the ADXR in its calculation.
What Does the CSI Indicate?
According to Wilder, the higher the Commodity Select Index the better the risk-reward setup.
Summary
The Commodity Select Index is yet another technical indicator created by Welles Wilder and chronicled in his popular book, New Concepts in Technical Trading Systems.
Regulated Brokers: Where Can I Trade Commodities?
Start your research with reviews of these regulated brokers available in .
CFDs are complex instruments and come with a high risk of losing money rapidly due to leverage. Between 74%-89% of retail investor accounts lose money when trading CFDs. You should consider whether you can afford to take the high risk of losing your money.
FAQ
Below are some commonly asked questions about the CSI.
What is a momentum indicator?
A momentum indicator like the Commodity Select Index shows the difference between the price of an asset today and its previous price during a given timeframe. It can be helpful in identifying price uptrends or downtrends. If the momentum indicator is positive, that means an uptrend in the price is sustained, but if the indicator is negative, it means that the price is trending downward.
Further Reading
Learn more about technical analysis indicators, concepts, and strategies including: