Disclosure:
Your support helps keep the site running! We earn a referral fee for some
brokers
& services we list on this page.
Learn more...
Last Updated on
The Commodity Select Index CSI was intended by Welles Wilder to be used to select the best commodity to trade by weighing the volatility and trending characteristics of each futures market. According to Welles Wilder, the higher the Commodity Select Index, the best risk-reward setup.
The chart below of the 100 oz. Gold Futures contract illustrates the Commodity Select Index: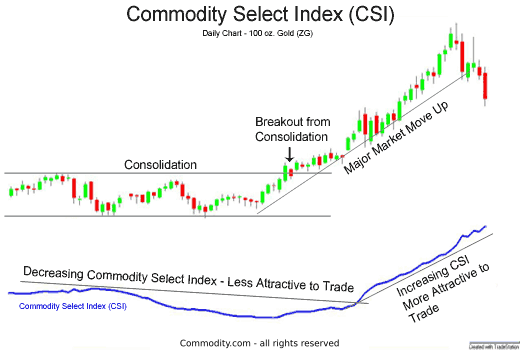 Four main inputs to the Commodity Select Index:
Directional Movement
Market Volatility
Margin Requirements for the futures contract
Commission Costs
The Commodity Select Index is usually calculated over 14-periods and includes the ADXR (see: ADX) in its calculation. The Commodity Select Index is yet another technical indicator created by Welles Wilder and chronicled in his classic and ever popular book, New Concepts in Technical Trading Systems.
The information above is for informational and entertainment purposes only and does not constitute trading advice or a solicitation to buy or sell any stock, option, future, commodity, or forex product. Past performance is not necessarily an indication of future performance. Trading is inherently risky. Commodity.com shall not be liable for any special or consequential damages that result from the use of or the inability to use, the materials and information provided by this site. See full disclaimer.