Disclosure:
Your support helps keep the site running! We earn a referral fee for some
brokers
& services we list on this page.
Learn more...
Last Updated on
The Mass Index is used to warn of a future price reversal. The theory behind the Mass Index is that reversals occur when the price range [high – low] increases (i.e. more volatility).
The chart below of the E-mini S&P 500 future shows the Mass Index warning of an impending price reversal: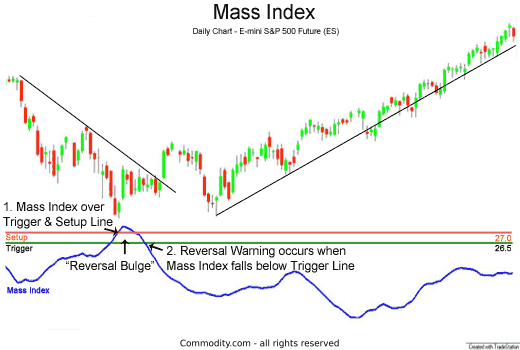 The components for a Mass Index reversal of trend, "Reversal Bulge" as the creator of the Mass Index, Donald Dorsey refers to it, are listed below:
Mass Index rises above the trigger line (set at 26.5) and the setup line (set at 27).
Mass Index then falls below the setup line. When the Mass Index falls below the trigger line, then a reversal of the prior trend is expected.
The Mass Index is presented as a useful technical tool that traders might use to time entry into bottoming markets.
The information above is for informational and entertainment purposes only and does not constitute trading advice or a solicitation to buy or sell any stock, option, future, commodity, or forex product. Past performance is not necessarily an indication of future performance. Trading is inherently risky. Commodity.com shall not be liable for any special or consequential damages that result from the use of or the inability to use, the materials and information provided by this site. See full disclaimer.