Disclosure:
Your support helps keep Commodity.com running! We earn a referral fee for some brokers & services we list on this page.
Learn more...
Last Updated on
Part of the ADX indicator, the Directional Movement Index (DMI) consists of two lines, the DMI plus line (DMI+) and the DMI minus line (DMI-), which generate potential buy and sell signals.
The chart below of the E-mini Russell 2000 Future shows an example of the DMI: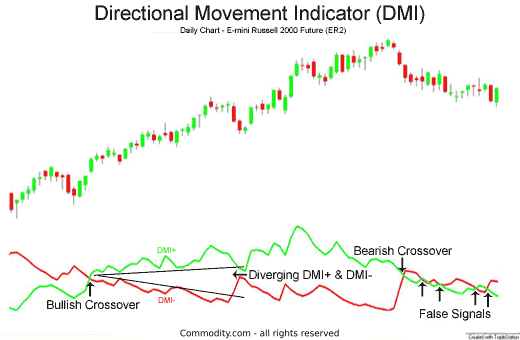 DMI Bullish Crossover Potential Buy Signal
When the DMI+ crosses above the DMI-.
DMI Bearish Crossover Potential Sell Signal
When the DMI- crosses below the DMI+.
Note: The DMI crossovers can generate many false signals, other indicators should be used for confirmation of the DMI crossovers.
The Average Directional Movement Index (ADX) is an important addition to the DMI+ and DMI- indicators. In fact, the ADX is calculated using both DMI lines. Click ADX to go to the ADX webpage (see: ADX).
The information above is for informational and entertainment purposes only and does not constitute trading advice or a solicitation to buy or sell any stock, option, future, commodity, or forex product. Past performance is not necessarily an indication of future performance. Trading is inherently risky. Commodity.com shall not be liable for any special or consequential damages that result from the use of or the inability to use, the materials and information provided by this site. See full disclaimer.