Disclosure:
Your support helps keep Commodity.com running! We earn a referral fee for some brokers & services we list on this page.
Learn more...
Price Channels suggest possible buy and sell signals based on price breakouts.
Upper Price Channel: The highest high over a user-defined time period.
Lower Price Channel: The lowest low over a user-defined time period.
The user-defined time period is generally 20 periods. To further illustrate how a price channel is created a chart of the Nasdaq 100 ETF (QQQQ) is shown below: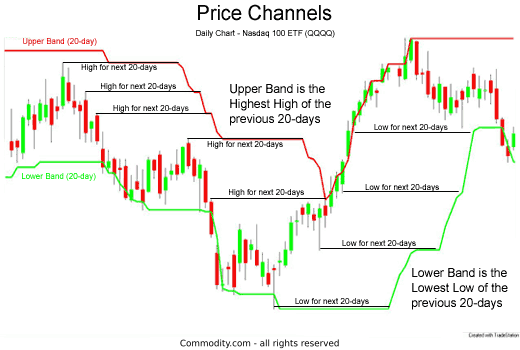 Price Channels are used mainly to identify price breakouts. The possible buy and sell signals are shown below in the chart of the QQQQ's: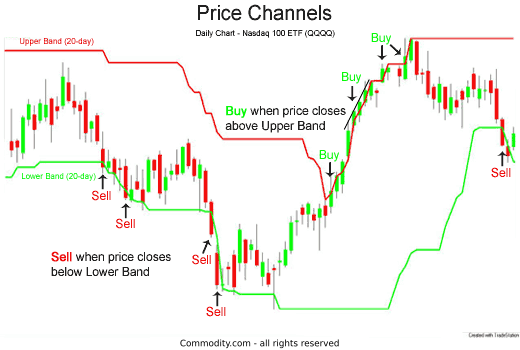 Price Channel Potential Buy Signal
A trader might buy when price closes above upper bands. This is similar to a trader buying a breakout above resistance, where the resistance just happens to be whatever the highest high was of the past 20 trading days.
Price Channel Potential Sell Signal
A trader might sell when price closes below lower bands. This would be like selling a breakout below support, but the support in this case is whatever the lowest low was of the previous 20 trading days.
How to Start Trading
If you are interested in trading using technical analysis, have a look at our reviews of these regulated brokers available in to learn which charting & analysis tools they offer:
Loading table...
CFDs are complex instruments and come with a high risk of losing money rapidly due to leverage. Between 73.0%-89.0% of retail investor accounts lose money when trading CFDs. You should consider whether you understand how CFDs work and whether you can afford to take the high risk of losing your money.
Further Reading
Learn more about technical analysis indicators, concepts, and strategies including Momentum, Elliot Waves, Market Thrust, Moving Averages, and Fibonacci Patterns.
Also see our guides on Forex, Crypto and Option brokers to find out which tools brokerages offer their clients.