Disclosure:
Your support helps keep Commodity.com running! We earn a referral fee for some brokers & services we list on this page.
Learn more...
Gann Fans, created by W. D. Gann, are based on the premise that prices move in predictable patterns.
Gann's theory is based on time/price movements with the 1 time unit by 1 price unit (i.e. 1 x 1) being the main angle (45-degrees).
However, there are other angles such as the 1 x 2, 2 x 1, 1 x 4, 4 x 1, etc. Gann Fans are drawn from major price peaks and bottoms and are used to show trendlines of support and resistance.
The following Gann Fan (1 x 8) is shown on the price chart of Corn futures: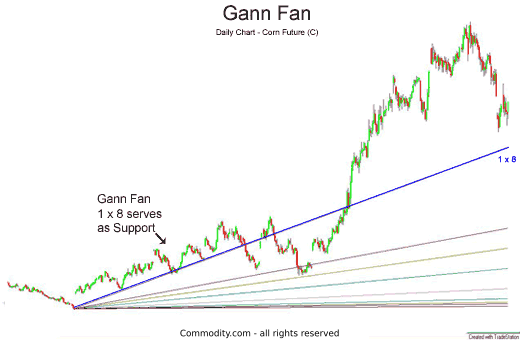 The price of Corn futures was held up by a support line that rose at a rate of 8 price units by 1 time unit (1 x 8).
The chart of Wheat below shows both an upward Gann Fan and a downward Gann Fan, both the 1 x 8 angle: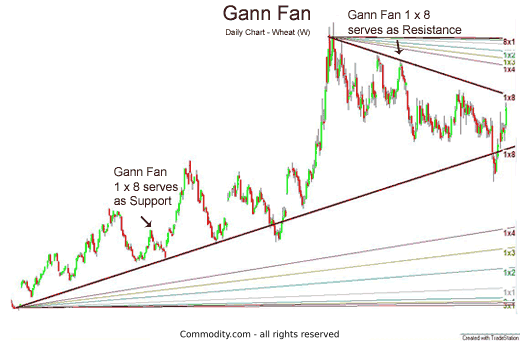 In the chart of wheat futures above, wheat prices were held up by the 1 x 8 support line. When wheat prices peaked and subsequently began to fall, wheat was held down by the 1 x 8 resistance line.
Gann Fanns are an art and involve intense study by potential users. The fact that the creator W. D. Gann wrote most of his studies on Gann Fans and angles in a cryptic language doesn't help the potential student of Gann Fans either.
How to Get Started Trading
If you are interested in trading using technical analysis, have a look at our reviews of these regulated brokers available in to learn which charting & analysis tools they offer:
Loading table...
CFDs are complex instruments and come with a high risk of losing money rapidly due to leverage. Between 73.0%-89.0% of retail investor accounts lose money when trading CFDs. You should consider whether you understand how CFDs work and whether you can afford to take the high risk of losing your money.
Further Reading
Learn more about technical analysis charting concepts and strategies including Momentum, Market Thrust, Moving Averages, Exponential Ribbons, and Average Directional Movement.
If you'd like a primer on how to trade commodities in general, please see our introduction to commodity trading here.